Hi crush monsters, this is Straddler On The Street, a feature where I celebrate all of you incredible Autostraddle readers by hunting you down, demanding you chat with me, and then writing about you on the Internet so we can all crush on you. Get excited, because butterflies in your stomach 24/7 is a fantastic way to live.
Header by Rory Midhani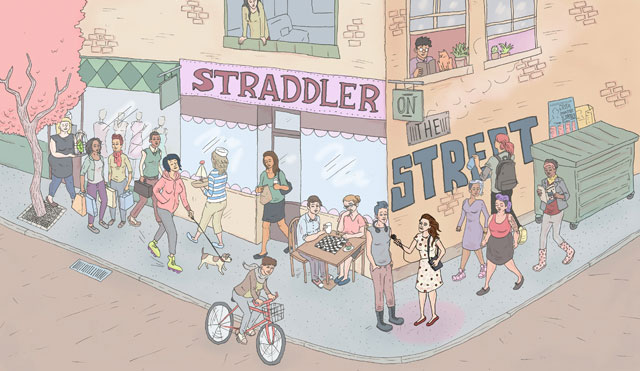 ---
Straddler On The Street: Jillian, 26
Guys, Jillian made me want to run away to a farm. Specifically her farm, in Kansas. Do you know that I live in Brooklyn and never in my life have I ever considered running away to Kansas? But Jillian made me want to do it for real. I guess she's just persuasive like that.
When Jillian originally emailed me her submission for this column, she told me she should be my very first Straddler On The Farm. In case I needed more convincing (I didn't) she pitched herself like this:
I'm a 26 year old queer farmer who moved to Oregon to escape the confines of Red Kansas, met a girl, fell in love, got married, and moved back to Kansas to start the food revolution here with my queer farmermates… and I look great covered in dirt.
Did I mention Jillian is very persuasive and very awesome?
Tell me what it's like to be queer in Kansas.
It's an interesting experience, to say the least. I feel like I spend a lot of my time being afraid of ignorant and intolerant people – I've dealt with my fair share of threats, been in fights because I'm a queer, and been prayed for more times than I can shake a stick at. Luckily, I have an amazing group of friends who always circle the wagons when they sense danger, and more and more, I'm surprised by the awakening compassion in people who I always thought were against my lifestyle.
Wow, that is both scary and wonderful. Is the atmosphere of Kansas part of why you moved to Oregon for some time?
I moved to Oregon so that I would know whether or not my feelings about Kansas were true. I'm a seventh generation Kansan, and I love my state more than most people love their parents. Getting out was really important to me, and since we've had an evil dictator in our governorship for the past three years, I thought it would be a good time to try something else.
Can you talk about some of the things you love about Kansas?
Damn near everything. My body doesn't function without the wind to power me, and the sound of the meadowlarks singing in the grass and the wind rustling through the cottonwood trees has been my lullaby since birth. The people of Kansas are without a doubt some of the greatest in the world. We work harder and longer than any other people I've ever met, and historically have stood for progression and advancement, both socially and agriculturally. My momma lives in Kansas, too, so that's really the biggest kicker.
What was Oregon like, and why did you decide to move back to Kansas?
I was here in Kansas, miserable, bored, and broke, and my very best bird friend Sarah told me I had to leave. So I looked into WWOOFing in Oregon, close to [my friend] Stacy so that I would have someone familiar in the area.
I ended up at the Gypsy Cafe in Wolf Creek, an intentional art farm, where I got to help finish a cob studio, learned how to grow lots of interesting plants, and how to live in community with others. I had the most enchanted summer of my life… we got to swim in crystal clear rivers, the coast was only 80 miles away, and the redwoods were within driving distance! For a kid from the prairies, seeing that much green was pretty much the best thing ever.
In July, Kalyn arrived as a WWOOFer at the GC, and we fell madly in love. I had intended to return to Kansas last September, but decided to stay in Oregon for awhile longer, and Kalyn and I spent the winter living in a converted school bus at the Gypsy Cafe while I worked for We'Moon, an astrological date book for women that runs out of the main house on the land. I absolutely loved living there, and it gave me a chance to grow and explore my identity in ways that I wouldn't have been able to if I had stayed in Kansas.
I decided to come home because I missed my people. I have the best group of friends, and my longing for them and for the Kansas wind pulled me right back here.
I was going to ask you about WWOOFing! I think it is a thing I want to do. Now I want to even more. You are married, yes? Did Kalyn move back to Kansas with you?
Kalyn and I got married legally in Seattle on January 25th. We had a wedding here on our farm on May 10th to celebrate with our friends and family, since it was just us in Seattle – my mom watched via Facetime.
Kalyn is pretty much the best thing that ever did happen in my life. She is here with me in Kansas, somewhere she never thought she would live, but so far it's working out for her. She grew up in the city, in Michigan, so she's adapting to the Kansas weather and open spaces.
Congratulations! I'm so happy for you guys. Let's talk farming. Did you grow up farming? What is it like?
I did grow up farming! My dad was a farmer, and his dad before him, and so on and so forth. My life now is much different than it was as a child though, because my dad worked on a much larger, more industrial scale. As a kid, my favorite memories are checking cattle with my pops, and riding in the wheat truck to the elevator.
Now, the farm where I live is working toward building a permaculture, where everything works together to create a sustainable business. We're in the process of starting a CSA, where we grow food for local families, and we have chickens for both egg and meat production. It's stressful. We spend a lot of time figuring out the best way to better the lives of our livestock, and how to lower our impact on the Earth, while still producing enough to feed our friends and ourselves. When we strike the right balance though, we'll be golden.
This is definitely not a life for everyone. I struggle with wanting to be more social [and] more material, but I have to be home around dusk to shut up the chicken coop, and even if I'm hungover, they still need to be let out and fed in the morning, and the plants need to be watered, the crops need to be tended. I've gained immense respect for my father, and feel bad about whining on all those Christmases and birthdays when the cows had to be fed before anything fun could happen.
How early do you usually have to wake up?
My natural alarm clock goes off between 6:30 and 7. Our days start around 8 right now, but in the summer we'll be outside working by 7, so I'll be up by 5:30.
Yikes! I feel proud if I'm up making tea by 7. I have a question that might sound super dumb, or maybe will just out me as a total city girl with an internet addiction. Do you have internet on the farm?
We do have internet on our farm, but the router only allows one computer to attach to it. I use an actual computer about once a week. Rural internet access is a big issue. We have satellite internet, which gives us about enough bandwidth to watch two episodes of Battlestar Galactica on Netflix. It's nice. I spend too much time connected on my phone as it is, and not having the additional enticement of my laptop means I spend more time looking at the actual physical world around me.
Wow. I think I'm jealous. I worry that I'm turning into a robo-cyborg but I don't know how to stop because I am literally paid to sit at a desk and be online all day.
Blurgh. That would drive me insane.
Ha, maybe it is driving me insane! Time will tell!
You're welcome to come visit us! We have tent space! And work!
Wait I was just about to ask you that. Could I come visit you and work on your farm?!
Um, yes. My wife and I live with a gay boy, Colby, who owns the farm, and Stacy, my WWOOFing friend! We would love to have visitors.
Oh my god okay I am going to take you up on that at some point. Seriously. Relatedly, if someone wanted to hypothetically run away from the city and live on a farm, what would you advise them?
If you want to run away and farm, I would seriously recommend looking in to WWOOFing. It's the best way to do it. Also read You Can Farm by Joel Salatin. It's the best book. He gives me hope when I'm sad that I can't buy all the Brandi Carlile tickets in the world. Ask yourself how you feel about putting your hands in poo. If you think you could never ever do that, then you probably shouldn't be a farmer.
Hahaha – noted! What are some things you do to relax?
In the spring and summer, we spend our free time mushroom hunting, or fishing, or having all of our close friends over for food. We also spend a few weeks at assorted music festivals, like Wakarusa. In the winter, we don't do much at all. If we get enough snow we might hook an innertube to the back of the four wheeler and go sledding, or we just stay in and glare at the sun for looking so nice and warm, but being so cold.
When you think about the future, what do you see?
We're starting a revolution in Kansas. We've always been a state that stood for what is right and good in this world, and our farm is going to begin reclaiming that. K and I will raise our family here, in the house we're hoping to someday build on the homestead just north of where we are now. I'm planning on diversifying our livestock here at Fuller Foods, and I'll be spending a lot of my time developing sustainable grazing patterns and ethical processing habits so that I can provide healthy, well raised meat to my community.
That all sounds so cool and big and exciting and awesome! On a much smaller scale — what is your absolute favorite meal?
Chicken fried steak, mashed potatoes and gravy, and Brookville corn. I'm glad to know that you don't think I'm entirely crazy. I visited my grandmother shortly before she passed, and I was telling her that my life plans included farming… she damn near got up out of her hospital bed and clocked me one right there.
I don't think that sounds crazy at all. Before I let you go, is there anything else you'd like to share with the Autostraddle community?
I want them to come visit us! Especially the ones from Kansas. I know you're out there. Also. This is a big one for me: Quit eating crap blindly from your grocery store. Please.
And, I love you.
---
If you would like to be featured as a future Straddler on the Street, please email vanessa [at] autostraddle [dot] com. Include a few photos, 3-5 sentences about yourself and put "Straddler Submission" in your subject line. Approximately a million people have submitted so far, so please be patient as Vanessa goes through her inbox — you're all sexy with really smart brains, and don't you forget it!