Just in time for summer! HOODIES!
Y'all have been requesting an Autostraddle Merch hoodie situation for awhile, but it took us a long time to find an affordable AND high-quality hoodie situation. At last the time has come for us to unleash this $48 masterpiece upon you, thanks to our dear friends at Mammoth Printshop.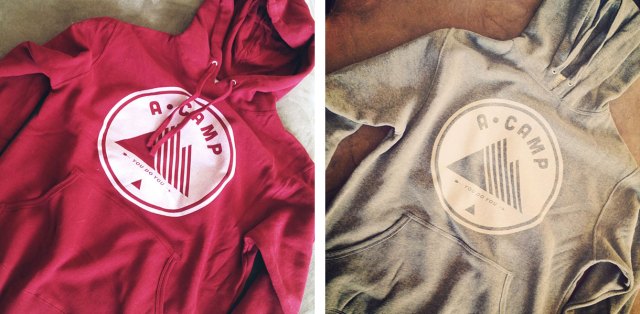 These Independent Apparel hoodies are 80% cotton, 20% polyester and comes in two colors: concrete and cardinal red, so even if you can't be at A-Camp or don't even know what the hell A-Camp even is, the look remains yours for the sporting. The imprint is a new retro-style A-Camp logo.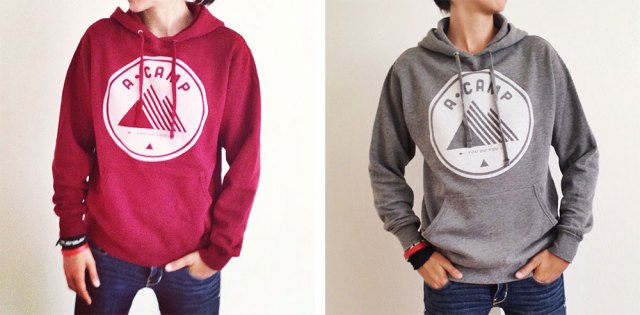 The sizing is unisex — in the photos above, that's me wearing an extra small: I'm 5'5″ and I think I have a shorter-than-average torso. Anyway, that's also unwashed so I can imagine there's some shrinkage that comes with a dryer situation.
I think you'll really like these. And we didn't order many because we're always afraid we won't sell out of anything even though we always always do. Because you guys are awesome. So get 'em cause you'll love 'em. You know that guy with the raspy voice in the Mens Wearhouse commercials who says "ya gonna like the way ya look, I guarantee it,"? I feel like him right now except I actually mean it.
[If you're coming to A-Camp, we'll be selling hoodies and other merch there, so bring cash!]