Do you know how many questions we get about sex? Talking about sex is something that we don't do enough, as a society. So we're going to start answering a few more questions about what we do in bed. Welcome to You Need Help: Sex EDition. Disclaimer: not everyone answering questions will be a medical professional. These are our opinions. These articles about sex are to promote conversation, so if you agree or disagree with what we say, please feel free to leave it in the comments. Discussion, much like sex, is a healthy part of life. And as always, you do you. Or someone else.
---
This question came at us from the Sex Panel at A-Camp:
Q: What are your feelings on double-ended dildos?
A: SO MANY FEELINGS. I actually own one – the Share, in black ($105). I don't use it so much anymore, as I'm not super into penetration at the moment, but it was actually my only dildo for a while, so I can tell you a bit about that and a bit about double-ended dildos in general.
The Positives
Double dildos can be a hyper-positive experience for those partnerings where both people enjoy penetration. The cool thing about a double dildo is you have an increased sensation while fucking – every stroke you make into your partner, you can also feel in you. That's kinda special, as normally dildos don't offer much in terms of physical sensation for the wearer. With many double dildos the wearer's end of the double dildo is pretty thick, so if you're really into a full feeling, you'll probably really like a double dildo.
I also find that, when coupled with a well-fit harness, double ended dildos can increase your control – the more of your body in contact with your dildo, the more aware you are of the positioning/direction of it. It's easier to feel when something changes, like if on the out-stroke your dildo falls out of your partner.
In terms of masturbation, a double dildo basically has a built in handle and a perfect angle. It is SUPER SUPER EASY to fuck yourself with a double dildo. If you like g-spot stimulation during masturbation and looking for a toy that can do that plus strap-on fucking, a double dildo is a pretty badass choice. You can also jack off with this dildo while penetrating yourself, so if you like the visual stimulation of jacking off plus a deeper sensation, also a great pick.
The Negatives
If you don't feel like getting penetrated, you can't wear this dildo any other way. Even coupled with a harness, that bulbous end needs to go somewhere. Of course you can use it with your hands (see above: built in handle) but if you feel like wearing it without being penetrated, you're a bit S.O.L. This is less of a big deal if it isn't your only dildo.
You also can't really start right away with it on. When I was using my Share exclusively, I had to get down with my bad self for a little while before I could comfortably insert my end – the wearer's end is pretty big. I mean, not that much foreplay is a bad thing, but if you want to, say, start with a blow job where your partner is giving head to the dildo you have strapped on, that's very difficult.
If you want to do it from behind, you can't really flip a double dildo around so that the curve works with your partner's body. If you flip it around it just… points backwards.
Also, everyone's orifices are different, and while the business end might be perfect for your partner, the bulbous end might be too big or small for you. Or vice-versa, it could be perfect for you and too much/little for your partner.
The "Strapless Strap-On"
Many people think of double dildos as The Dildo You Can Use Without a Harness – the Share is even marketed that way. But I'm here to tell you that it is actually quite hard (har har) to use that way. I tried it a few times – the first time it kept slipping out at inopportune moments. Keeping it where you want it is like one tremendous kegel exercise – even if you have super well-conditioned muscles, you're still moving/thrusting/stroking vigorously. Ish is gonna move. When I finally got the hang of that, I found I had very little control over where the dildo went and how hard/fast/deep my strokes were. It was as if my dildo was controlling me, like I was but a marionette on a string. Plus it was EXHAUSTING to keep that thing in and to mentally calculate the margin of error every time I thrust.
My supreme recommendation is to couple that sucker with a harness and don't let any marketing strategy tell you that you should be a wizard with the dildo  sans-straps. Once I went with a harness I was super happy with my Share. And many double dildos are made to work with harnesses and not are not strapless, so read up on the one you pick.
There Are A Few Options
I've been speaking only to the Share since that's where my experience lies, but there are a few other options for you.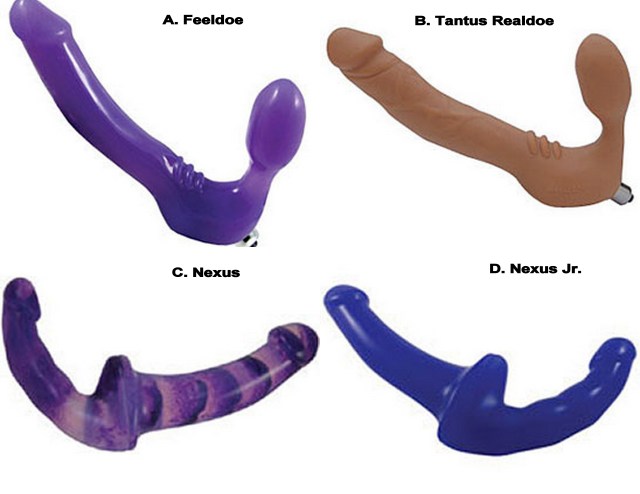 A. Feeldoe. Comes in two sizes, slim (purple) and classic (blue). The slim's business end is 6 1/2 inches long and 1 1/4 inches in girth, and the wearer's end is 3 1/4 inches long and 1 1/2 inches in girth. The classic is just a bit bigger all around, with the business end clocking in at 7 inches long, 1 3/8 inches in girth and the wearer's end at 4 inches long. The wearer's end is the same girth in both models. It's silicone (therefore boilable) and has a hole for a bullet vibrator. $150.
B. Tantus Realdoe. This is very similar to the Feeldoe, but looks a bit more realistic. In fact, it's so similar to the Feeldoe that it has the EXACT SAME measurements as the classic. It's also silicone and it also has a vibrator hole. So. Legit. Same thing, more realistic. The negative bit is that it only comes in this one "flesh" color, which obviously is not the color of many people's flesh. $175.
C. Nexus. Now you'll notice this has a vastly different shape than the previous two, and the Share. If you like a deeper penetration as the wearer, this one is def. your pick – the wearer's end is 5 inches long and 1 1/4 inches in girth. The business end has a little bit less to it than the Feeldoe or Realdoe – 6 inches long and 1 1/2 inches in girth. Silicone, comes in purple marble. $105.
D. Nexus Jr. Exactly what it sounds like – the Nexus, but smaller. Business end: 5 1/4 inches long, 1 1/4 inches in girth. Wearer's end: 4 1/2 inches long, 1 1/4 inches thick. Silicone, comes in blue. $96.
Lube. All the Lube.
If you're either the wearer or the person getting fucked, you need lube. Go get some lube. Find some paraben-free, glycerin-free lube. Use that lube.
Go forth and fuck double-endedly.