Surely someone has proven, scientifically or statistically, that eccentricity thrives in times of economic strife. Because without a doubt; 2009 was The Year of the Weirdo.
The disillusioned proletariat is no longer interested in watered-down standard-issue art! We've been left desolate and recessed following eight years of mainstream cracker-jack "traditional" family values, eight years of Capitalist Religion, eight years of folksy dogma disguising the smart-alecky aristocracy joyriding our collective wealth into hell's barren handbasket!  So what did we do? We turned to the weirdos.
We elected the geekiest president of all time; a scrawny egghead with big ears and questionable athleticism who's own wife admits she assumed he was going to be a "a little weird, a little nerdy" when they first met.
In 2009 we were nothing if not ready for a pop star who loudly credited the gays with "lifting her up" and forewent boring ol' nip-slips & for ten-inch crystal-encrusted heels, golden underpants and a model of the solar system orbiting her magenta Goldilocks-Bob wig.
The it-ensemble of this year's breakout show bears no resemblance to the Kelly Taylors and Brendan Walshes who, back in the 90s, occupied the same Fox time slot that Glee occupies now with the high school drama Beverly Hills 90210. Glee's motley crew of oh-so-adorable dorks are frequently subjected to Slushee Facials (not nose jobs) and they often sing rock-pop ballads in their heads, or while washing cars, or alone to the mirror, and with each other, in matching pajamas.
We also lost the greatest weirdo of all time, Michael Jackson, this year, and the reaction to his death was perhaps the only unanimous moment of the year.
There were so many freaks, geeks and losers to fawn over this year — who will, we hope, make 2010 the best year ever. And as you know, we're all about the queer, outsider perspective on everything, and it may've been a bad year for everything else, but it was a great year for Outsiders. So much to choose from!
These aren't the People of the Year, or the Best of Anything.
They're just Autostraddle's most-talked-about most-admired personalities of 2009. They're our Auto-Icons.


20. Vogue Evolution – Drama Club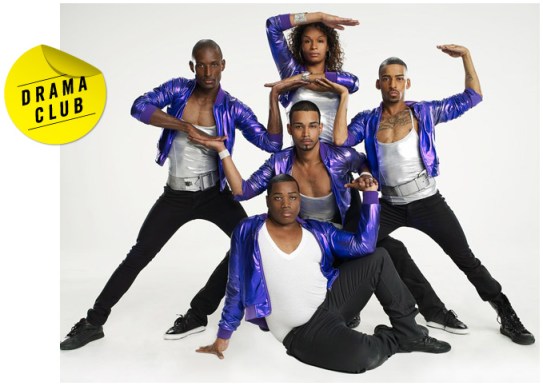 America's Best Dance Crew featured its first all-gay/transgender (Leiomy Maldonado is a trans woman) dance crew, "Vogue Evolution" this year. In their first appearance, Lil' Mama revealed her secret awareness of the Voguing Ball Competition underground (history sidenote; rent Paris is Burning asap, kids, holler) and all the judges agreed that America is ready. Shane Sparks said, "Y'all just ripped the stage … it's about time for this style to be exposed. It's been underground for so long … thank you."
It's not often that we'll say we agree wholeheartedly with Shane Sparks, but these kids did bring a ridiculously significant underground style into the mainstream (quote AC Slater) and event though they didn't win, they brought some genuine diversity of gender expression, body size, race and sexuality to a show which often congratulates itself for showcasing such diversity (and is #1 in its timeslot on cable amongst 12-34 year olds). We love them. We just really, really love them.
2010: Follow them on twitter and check in at their website for updates. Leiomy will be guest starring on the National Talent Search's College Tour in Atlanta in mid-January.


19. Jane Lynch – The Queen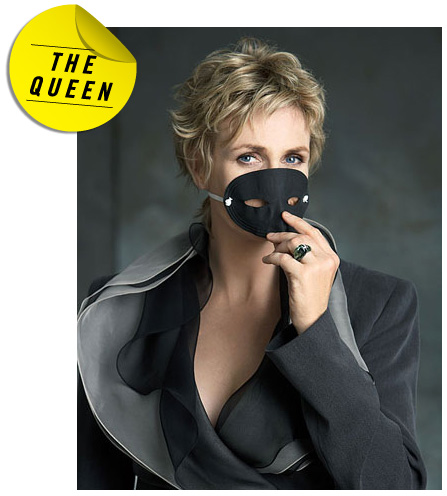 We've been aware that Jane Lynch can do no wrong for quite some time now — starting in 2000 with her role as a dog trainer romancing Jennifer Coolidge in Best in Show. Really by the time she showed up in Season Two of The L Word and Alex sat behind her on an airplane to Dinah Shore in '08, we were 95% convinced that The Lynch could do no wrong. And then in 2009, the rest of the world caught on to what we knew already. Lynch guested on Reno 911 and Two and a Half Men, was a series regular on Party Down and is now perhaps best known as Sue Sylvester on Glee.
2010: More episodes ahead of Glee and The Cleveland Show (Jane Lynch does a voiceover). She stars in Paul, a Sci-Fi/Comedy starring Sigourney Weaver, Seth Rogen, Jason Bateman, Kristen Wiig, Blythe Danner and Jeffery Tambor, which is due out in 2010.


18. Shannon Wentworth – Businesswoman of the Year
Shannon's a big deal right now. Why? The actual service provided by Sweet Lesbian Travel (Incredibly Awesome Vacations) isn't even really the point. The point is that she's created a company which manages to encompass so many of our community's most reveled ideals — Environmentalism, Community Service, Philanthropy, Social Responsibility, Business Success & Mutual Support — without sacrificing style, fun, hot girls or a good-looking website. Sweet's celesbian-packed maiden voyage provided an unforgettable vacation and unrivaled networking opportunities — an an inspiring experience to be surrounded by so many ambitious queer and queer-friendly ladies (and the occasional dude!).
2010: Sweet kicks off the year with an African safari from February 7-16, 2010. A Cruise to the Hawaiian Islands goes from July 31 to August 7 2010 and Sweet will take over the Cozumel Palace Resort from September 4-11, 2010.


17. Lindsay Lohan – Dyke Drama of the Year
Even if her first public lesbian relationship wasn't exactly perfect, perhaps this year Lindsay learned that lesbians aren't always great girlfriends but they are always great girl friends. No one's public meltdown could've landed on softer more welcoming ears & shoulders. The gossip rags tore her to pieces but the gay media stayed largely polite, and maybe that's 'cause she wasn't really so unlike your heartbroken best friend, crying on the floor in the handicapped stall while you stroke her hair and tell her it's okay. If Lindsay Lohan was your BFF all broken up you would tell the teacher she was sick so she could miss class, and you'd let her cut corners or throw things at the wall or embarrass herself at the party.  And when she got better again, you'd pretend like none of that hysterical stuff ever happened. And you'd tell her she still looks pretty, too.
2010: Lindsay Lohan is set to expand her leggings label, 6126, to a full-fledged contemporary apparel line for fall 2010.
Action/Thriller Machete will premiere April 16, 2010. Lindsay's co-stars include Michelle Rodriguez, Robert DeNiro, Jessica Alba, Steven Segal, Rose McGowan & Cheech Marin.
"Modern-day fairy tale" The Other Side is currently in production. Lindsay's co-stars include Jason Lee, Giovanni Ribisi, Woody Harrelson, Kieran Culkin, Anjelica Huston, Alanis Morissette & Dave Matthews.
Musical/romance Dare to Love Me is also in production. Lindsay Lohan plays "La Ritana."
More importantly, Lindsay has announced on Twitter the following plans for 2010: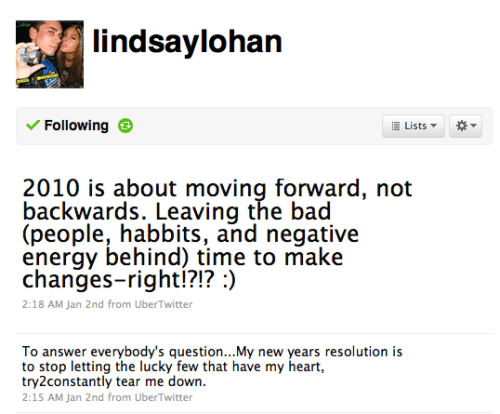 WHAT DOES IT MEAN?


16. Jill Bennett & Cathy DeBuono – Celesbians of the Year
From executive producing and starring in We Have To Stop Now to their live weekly vlog The Gloves Are Off to globetrotting around film festivals with And Then Came Lola, out actresses Jill Bennett and Cathy DeBuono were very busy bees in 2009. In their spare time they also managed to become cover girls for Curve Magazine and spend some quality time with Autostraddle for an exclusively candid interview.
2010: Season 2 of We Have To Stop Now premieres this Spring. We were on set during filming on the Sweet Cruise and can confirm that the second season will be off the chain. Guest stars include Meredith Baxter, Erin Foley, Nicol Paone and Kate McKinnon among MANY others. Pre-order your subscription for season 2 now!


Next: Funny Girls, Sources & Activists!
15. Wanda Sykes – Funny Girl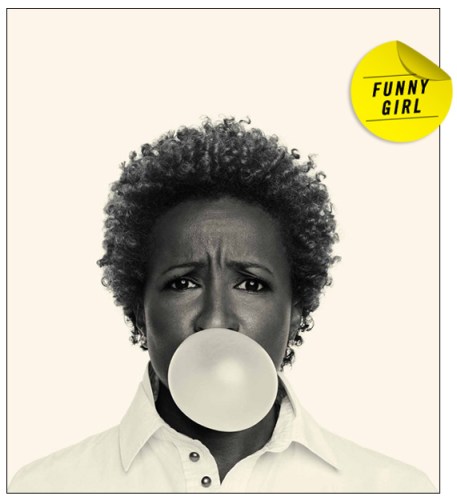 Wanda Sykes busted down a huge barrier by becoming one of the first African-American actresses to come out of the closet in 2008. And her career has absolutely not slowed down one bit since then — she spoke at the 2009 Presidential Correspondents' Dinner, got her own late-night show, hosted an HBO special, continued guest-starring on The Old Adventures of New Christine, was honored in the OUT 100 and was the first out lesbian African-American woman to appear on the cover of Ebony magazine.
2010: Wanda's show is on at Saturday nights at 11pm on the Fox network. The DVD of I'ma Be Me is coming out in February.

14. Dan Choi – Activist of the Year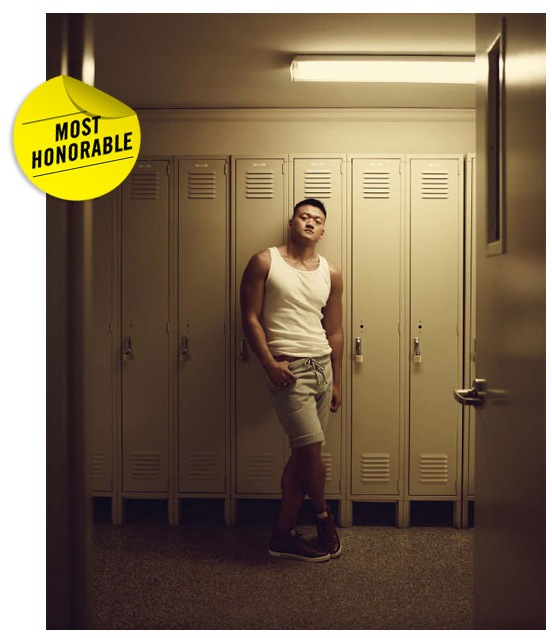 "Hey, good to see you!" Dan exclaimed when we ran into him at the National Equality March. "You guys really started a shitstorm last time I talked to you!" Indeed. We'd first caught Dan at an anti-gay-marriage rally in Manhattan only a few weeks into what would become a year of activism; he'd just published his "Open Letter to Obama" and been axed from the military for coming out on The Rachel Maddow Show, and he was therefore still new to the game and let us film him kissing his cute boyfriend on camera. Everyone loved it!
Since then he's become a star activist — and still after all this time what he wants is actually what many Americans want — he wants his job back. He wants what he's worked for to be his again because he deserves it.
2010: A schedule of Dan's events can be found on the Knights Out website.
Speaking of Activists… we didn't talk enough about this lady this year, but Robin McGehee is what the next generation of activists is all about and she co-chaired this years National Equality March. She founded the Meet in the Middle movement, which rallied Californians to protest against Prop 8. McGehee is a pionner in grassroots activism, and we think that's just what the equality movement needs. She was forced to resign as president of the PTA at her son's Catholic school because her work for the No on 8 movement went against church teachings, according to the school.


13. Julie Goldman – Comedian of the Year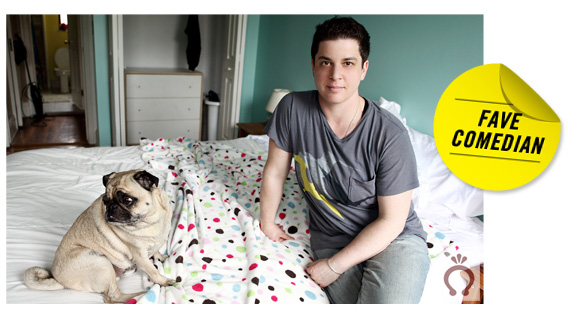 If Julie Goldman doesn't make you pee in your pants laughing, you probably aren't drinking the doctor-recommended 8 glasses of water a day. We interviewed her in May after she'd finished filming the third season of Logo's Big Gay Sketch Show and caught up with her later on in LA, where she's been doing stand-up and working on her romantic comedy The Nicest Thing with her mega-cute writing partner, Brandy Howard. They also have a little bloggity blog called "It's Not Gay, It's Fashion," which is required reading.
2010: We actually can't tell you what she's doing in 2010, because it's going to be a BIG SURPRISE …but we do want you to be ready. Are you ready? I don't think you're ready…

12. Pam Spaulding – The Source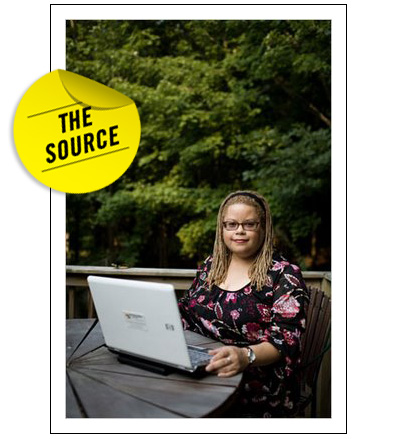 We appreciate a news source reliably on top of their shit as soon as shit happens and Pam Spaulding's "House Blend" blog is that source. If it's gay and it's politics and it happened, Pam is there at all hours of the day. It puts the major news orgs to shame. With a traditional unimposing design and sidebars decorated with "endorsements" from anti-gay leaders ("Pam is a 'twisted lesbian sister' and an 'embittered lesbian' of the 'self-imposed gutteral experiences of the gay ghetto.'") "The Blend"s straightforward, sharp, quasi-folksy and vigilant voice is persistently relevant and progressively fair. We are confident this will continue in 2010, obvs.

11. The cast of The L Word – Gossip Girls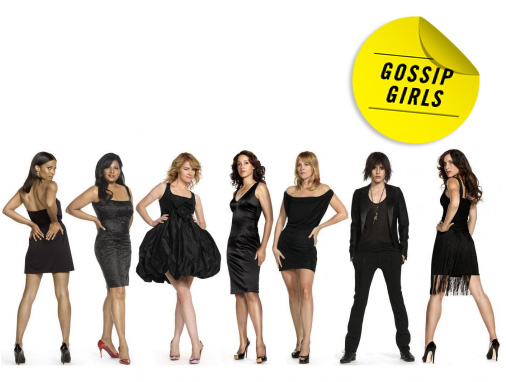 Perhaps there's one upside to Season Six's Spectacular Failure — it officially crossed the line from bad to terrible; into territory where no one with half a brain could speak intelligently about the show or defend its merits without sounding like a complete f*cking liar/moron.
So as Season Six wrapped itself up in a big ball of terrible and the cast moved on to new projects, honest reports came trickling in from the ladies, and at last we were able to find out what everyone really thought.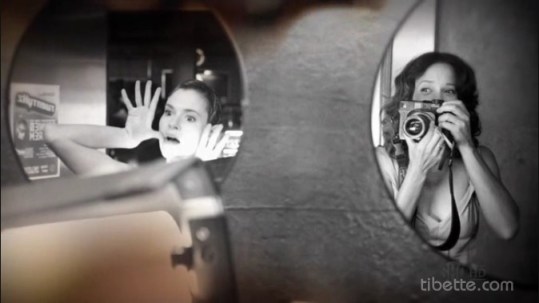 Jennifer Beals sat next to Ilene at the Times Talk Panel, calmly asserting:
"The final season just didn't do these women justice. It should've celebrated these women's lives instead. I would do the scenes and then go to my trailer and yell WHYYY???"
Mia Kirshner talked to badmachine
:
"I can defend Jenny… she seemed bipolar to me, and an artist in search of herself. I never wanted Jenny to be a hero. I admired Ilene for making her a complicated, often unlikable character, but perhaps a truthful character that pushed people's buttons. But especially [during] Prop 8, what does this say about a show that was supposed to be about friendship? I guess I was just sad that there was no redemption on that end."
Rose Rollins on The Liz Feldman show: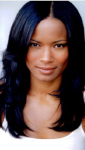 "At the end of six years all of these women with all these different incredible stories — I mean ridiculous at times, but overall, you know? It's disappointing, I feel like the note is surrounded by negativity, we're ending on a negative note and I feel like it's totally contradictory for what this show represents and how it should inspire women."
I think it was a surprising way to end the show, definitely. . . . There was a reason behind it — I'm not too sure what that reason was, but I'm told there was one. If my favorite show ended that way I'd be like, "What?!"
As we said goodbye to their characters, we got a little bit more of their personalities in return. And the exchange was well worth it.
2010: Jennifer Beals' will continue her reoccurring role on Lie To Me and her film The Book of Eli premieres in Los Angeles on January 11th. Rose Rollins is currently filming the Girltrash movie directed by Angela Robinson. Mia Kirshner will begin her guest spot on The Vampire Diaries on January 21 and plays Lilith In Dark Days Dark Knights, currently in production. Also you should buy her book, I Live Here, it's amazing. Kate Moennig's show Three Rivers is in limbo but probs will not go on. Leisha Hailey and her band Uh Huh Her are finishing up their new album.

10. Jasmyne Cannick: Community Mobilizer of the Year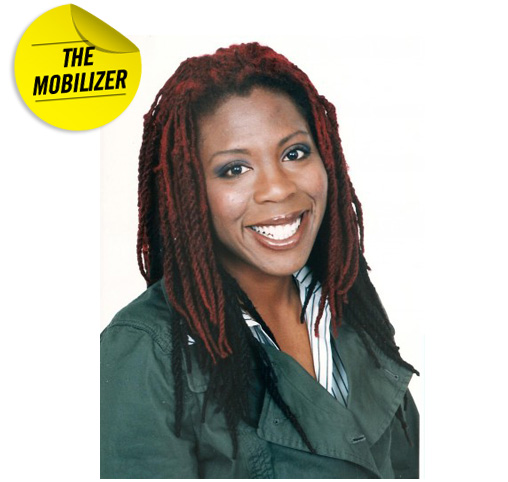 Journalist & community activist Jasmyne Cannick caught wind of Mitrice Richardson's story in September and her WTF meter went off real loud: Mitrice, a 24-year old African-American lesbian and former beauty pageant contestant who'd recently graduated from Cal State Fullerton with a 4.0 GPA while holding down two jobs, had vanished and not enough was being done to track her down. As Cannick wrote; People Don't Just Up and Disappear.
Mitrice hadn't been seen since 1:25 a.m., when officers at the Lost Hills Station (where she'd been taken after uncharacteristically not paying her bill at a restaurant and had told guests she was from Mars) released her into an area off the Ventura Freeway she was unfamiliar with. There were no busses, Mitrice had no car, no cellphone and no purse. After seeing her booking photo, her father commented, "She looked like a demon had come inside her. That was not my daughter." Anyone who's seen a person in a manic or psychotic state knows that look. And that's only the beginning of where things have gone wrong — read about it here. Because of Jasmyne's work, we came upon the Mitrice story and told you about it in November.
Jasmyne is a cyber-heroine of the year for utilizing her extensive experience working with office holders on all three levels of government to assist undeserved & vulnerable population groups, as well as her presence and authority on the web, to mobilize the community to respond to Mitrice's disappearance and demand answers. She pressured community activists (Black People Nut Up or Shut Up), supported Mitrice's family and relentlessly pursued answers from the police department while providing updates online and developing resources to rally via web. It's a true testament to the power of the web and political savvy harnessed by the right person. Richardson's family & girlfriend have called Jasmyne a godsend for the work she's done — work Jasmyne did because she simply felt it was the Only Thing — The Right Thing — to do. Mitrice is still missing. (Visit www.bringmitricehome.org for info on how you can help)
The story has now been covered by The Advocate and People and in December, Congresswoman Maxine Waters (CA-35) sent a letter to Federal Bureau of Investigation (FBI) Director Robert Mueller requesting an investigation into the disappearance of Mitrice Richardson.
2010: Jasmyne is a super busy lady with a full-time PR job, a blog, a serrrious weight-loss regimen and loads of activism work. This year, in addition to the ushe, she'll also be hosting weekly club nights and doing the 2010 Dinah in Color Event from April 29-May 2 in Las Vegas, Nevada. Her website also announces plans to participate in a BET Network Special.

9. Drew Barrymore & Ellen Page – The Big Tease of The Year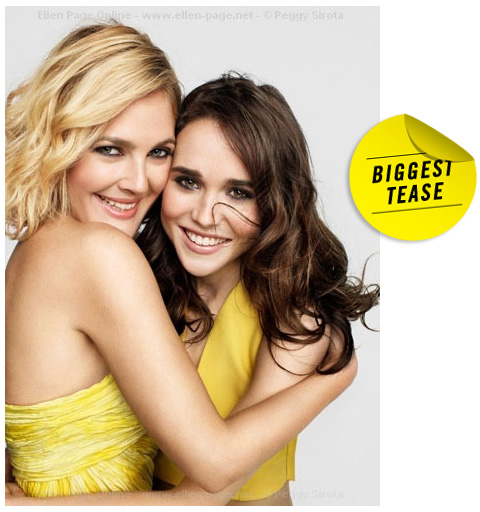 Oh, if only. One of the most fabulous opportunities for lesbian speculation ever, the duo raised eyebrows and opened Lezbro Pants all 'round the 'web with their PDA and gushing love for each other during the Whip It! press tour. The Marie Claire article where they were kissing was really icing on the cake of the affectionate glances, red carpet hand-holding and nonstop cuddling we'd already over-analyzed. Thank you for blessing us with your loveliness, you lovely girls. And Ellen, if Drew is just playing games with your Sapphic heart, I hope you got some girl-on-girl action out of that deal. But honestly; their friendship seems so genuine and cute — a refreshing thing to see when there's so much backstabbing and burning happening in other Hollywood social circles. And hey, Whip It! was the girl-power movie of 2009 so props for that!
2010:
Ellen Page: In Peacock, which has no release date but is completed, Ellen will star with Susan Sarandon, Josh Lucas, Bill Pullman, and Cillian Murphy. July will see Christopher Nolan (The Dark Night)'s next film Inception, an Action/Sci-Fi/Thriller film starring Ellen along with Leonardo DiCaprio, Joseph Gordon-Levitt, Lukas Haas and Michael Caine. Ellen is currently filming Super with Kevin Bacon, Liv Tyler, Rainn Wilson, about an ordinary man who becomes a superhero with good intentions and no skills.
Drew Barrymore: Going the Distance will come out in October 2010. She co-stars with Justin Long, which makes us sad because we want her to be canoodling with Ellen Page, not Justin Long! Also in the film are Christina Applegate, Ron Livingston & Kelli Garner.
She's also listed as an executive producer on the reality TV spin-off Tough Love: Couples and will appear in the documentary Teenage Paparazzi, directed by Entourage's Adrian Grenier, which examines the relationship between celebrity and society. Other heavyweights will appear in the film including Lindsay Lohan, Whoopi Goldberg, Eva Longoria Parker, Paris Hilton, Rosie O'Donnell, Alec Baldwin, Mario Lopez and Kevin Connolley.

Next: Revival, artist, man of the year, and our favorite freak
8. The Ladies of Sister Spit – Revival of the Year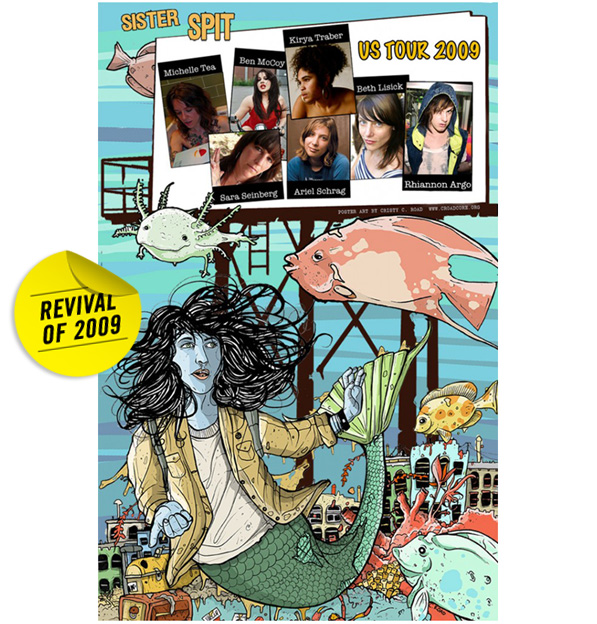 Michelle Tea and Sini Anderson started Sister Spit in 1994 as an answer to San Francisco's testosterone-heavy open mic nights. The Sister Spit Ramblin' Road Show began in 1997 when most of Team Autostraddle was still in high school and therefore unable to attend any shows. Luckily for us and you and The World, Tea decided that Fall 2009 was the perfect time to bring spoken-word back to the masses with Sister Spit: The Next Generation.
Exec. Editor Laneia caught up with the whole crew (Michelle Tea, Beth Lisick, Ariel Schrag, Kirya Traber, Sara Seinberg, Rhiannon Argo, Tania Katan, Ben McCoy) in Phoenix and it basically changed her entire life.
2010: The girls will get back to it with a new lineup starring Michelle Tea, Lynn Breedove, Nicole J.Georges, Lenelle Moise, Elisha Lim, Len Plass & Annie Danger (and other yet-unannounced guests), kicking off Thursday, April 8th in San Francisco.

7. Ellen Von Unwerth: Artist of the Year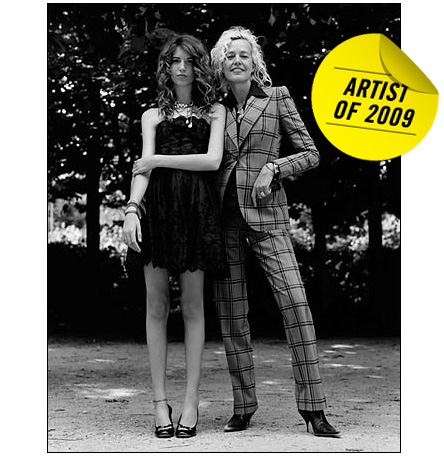 Do you know who Ellen Von Unwerth is? You should, 'cause she's responsible for 50% of your most favorite photos ever — especially the genderqueer & lesbionic ones, like the smokin' hot Jenny Shimizu shoot immortalized in her book Couples. She's also the favorite photographer of our photographer, Robin! 2009 brought a new book, gallery shows, and some of your favorite photoshoots of the year; Lady Gaga on the cover of OUT magazine, Lindsay Lohan's "Car Crash Couture," and of course the Whip It! cast's Hot Skates for V Magazine featuring the best Autostraddle of all time.
Here's a gallery of some of Unwerth's homosexiest work of the year:

6. Ellen DeGeneres & Portia DeRossi – Cutest Couple
We couldn't ask for a better representation of lesbian relationships — and on top of it these ladies are both super-smart, talented, and successful. We've thought Ellen was funny since like the 90s, and Portia was kickass since like Ally McBeal, and really every day waking up and seeing they're actually girlfriends feels like a dream come true, it must be REALLY exciting for them! If they break up we will probably quit life. This year they let Americans inside their home & relationship via Ellen's Show and put an ADORABLE face to the same-sex marriage fight.
2010: The Ellen Show will go on and Ellen will also be joining the American Idol judging panel, premiering on January 12th. In addition to her role in Better Off Ted, Portia De Rossi will be working on the Arrested Development movie.


5. Nicole Pacent & Rachael Hip-Flores: Critters* of the Year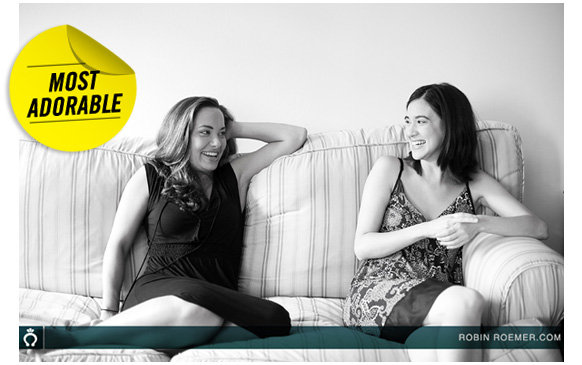 Rachel (straight & engaged!) and Nicole (bisexual) are adorable, genuine, hopeful, and actual friends in the cutest geeky-ist way ever. On Anyone But Me, this ease translates into an on-screen lesbian relationship that really rings true, if often awkward. Their chemistry gives the show an emotional & hilarious kick that keeps viewers coming back for more.
But I know what you're asking yourself — WHAT IS A CRITTER, AUTOSTRADDLE? What does it mean for these ladies to be referred to as the highest honor in the land, CRITTERS OF THE YEAR? Let us explain, as a Top 100 Critters of the Century list is surely around the corner.
* Critter: A critter is someone who does things that normal people do in a way cuter than the average person. It can be used as a noun, adjective, or a greeting. Examples of critter behavior are as follows: being super cute and fun all the time, not causing drama, wearing hoodies that make you want to cuddle no matter what your relationship is, a stranger being super nice for no reason for no personal benefit for themselves, making the best out of awful situations, always being up for anything.
Critter is totally not a sexual term at all, although obvs we've probs all had sex with critters, it is by no means a qualification for the term.
Examples of Critters: Ellen Page, Spencer Carlin, Charlyne Yi, Alice Piesecki, Rihanna, Brandon Walsh, Intern Emily Choo, Tegan & Sara, Jonathan Taylor Thomas in Home Improvement, Kate Moennig in a hoodie, Autostraddle Design Director Alex Vega. (definition by Cait, from here)
2010: The second season of Anyone But Me is currently airing on Blip TV!

4. Tegan & Sara – Musicians of the Year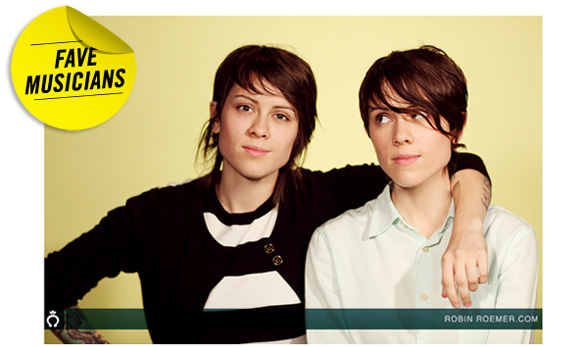 We want to give them this award every year, but it's so much easier to do it when they've put out such an awesome album. Sainthood dropped in 2009, and we said so much about it then (the review! the interviews! the track breakdowns!) that we're not sure we can say anything else about them now besides that our love for them grows deeper every day.
2010: Tour! From January 5th-27th, they'll be touring Canada. Feb 12th 'til April 8th they'll be stopping all over the USA.


3. Adam Lambert – Man of the Year
We fell in love with Adam at first sight; and though his American Idol loss was depressing, we suspected he'd do just fine on his own and now he has. He's been open about his sexuality in a way that few (if any?) male pop stars have before him, and he's ruffled many feathers while doing so. And for that, we can do nothing but salute him! Furthermore, he's making you like a queer sensibility and surrender to its power during a media-saturated era of oft-dashed hopes, and so is Lady Gaga, so maybe this is the year the public started to love the rowdy inverted stereotype they've always had of the queers. Rock 'n roll is about deviance, and Deviance is the new Friday Night. His video for For Your Entertainment makes us feel how straight girls feel about Slave 4 U.
2010: Adam has announced plans for "a tour that pulls out all the stops with "costumes, fire, dancers" and "the whole nine yards." ADAM WE WILL BE THERE.


2. Rachel Maddow – Nerd of the Year
Would Rachel maintain the momentum her show earned during the 2008 Election Season? As she reminded us last month with her 30-minute interview with ex-gay leader Rich Cohen — YES. Smart, dorky, sassy, and completely unaffected by whatever people say about her, she might be the most reasonable human being on television. Bonus — she's so geek-hot-adorable.
2010: Rachel will be mixing drinks and eliminating right-wing extremism every night at 9pm on MSNBC!

1. Lady Gaga – The Freak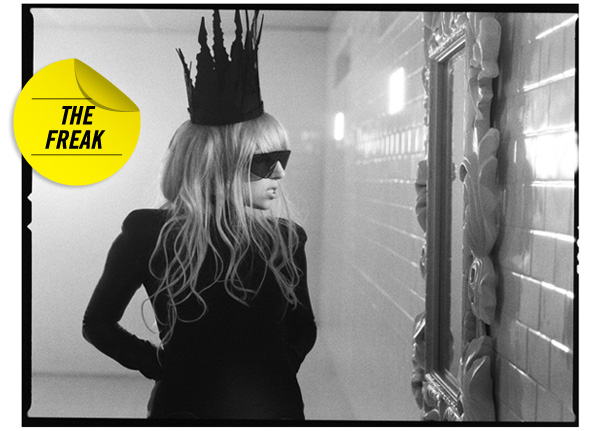 We actually don't even care if she's had sex with a woman before — her allegiance to the GLBT community has never really even been about that. It's about waving her freak flag high, being candid, and breaking boundaries by bringing performance art into the pop cultural stage.
Gaga's songs are merely the soundtrack to Lady Gaga: The Performance, as saucily suggested by the Gossip Girl Lady Gaga-scored Snow White musical episode a few weeks back — what pop star at the height of their career subjects themselves to a prime-time teen drama or to reality shows (she'll guest on Launch my Line this week)? Lady Gaga! Because she's an equal opportunity performer, finding value in every stage on every set.  She goes through incredible effort to assure universal access to Lady Gaga: The Performance, which is unique for an artist of her style. She's appeared on just about every award or talk show and performed just about everywhere in the world. She has made herself impossible to forget and despite overexposure, is consistently memorable.
Her second album is, like the first, f*cking amazing. Even if you don't like Lady Gaga: The Performance, the work itself is undeniably good stuff. It's solid, quality pop music.
We love her especially because in interview after interview, regardless of who she is talking to, she is relentlessly loyal to the gay community. No other pop star at her level has so vocally supported gay rights, or done anything like citing her opportunity to speak at the National Equality March as the highlight of her career. She wore red latex to visit the Queen of England but dressed demurely & respectfully for the gays… it's always inspiring when someone who has a voice uses it as best they can.
2010: She'll be touring the US until the end of January, the UK in February and the beginning of March, Australia in March to April, two Asia dates, and yet-to-be determined European tour dates in May. All updates can be gotten straight away on Lady-Gaga-net.
---
Hey Jane Lynch & you other rockstars –
wanna show off your Icon-status?
Copy and paste this code to show off your icon badge
on your website/blog/myspace/whatevs:
<a href="https://www.autostraddle.com/top-20-of-2009-the-autostraddle-icons-24024″><img title="Auto-Icon-Badge" src="https://www.autostraddle.com/wp-content/uploads/2010/01/Auto-Icon-Badge.png" alt="" width="160″ height="163″ /></a>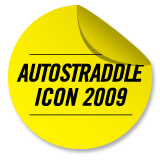 Pages: 1 2 3See entire article on one page