.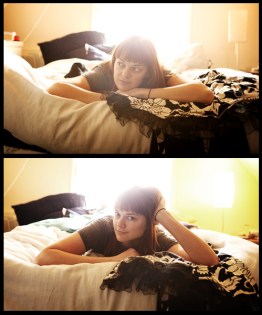 Hi all, it's me again, Robin your photoblogger! This week I'm gonna share some sexiness with you.
I'm sleepy and getting over a weird throat thing, soooo I'm pretty sure the best remedy is shiny and sparkly things! Sexy things! Sexy, sexy, sexy. What an odd — yet thrilling — concept! As a portrait photographer, I obviously have a very strong visual interest in people. I like to look at people … people I'm talking to, people at shoots, people again while editing at my desk. (That sentence is super creepy … I'm leaving it.) There's such an immeasurable variety of visual make-up for humans, so many ways to be sexy. But when I'm photographing people, I find that they all seem to aspire to the same cookie-cutter image of perfection. I'm lucky to be in a position as a photographer where I can enable women to see that they're smokin' hot just the way they are.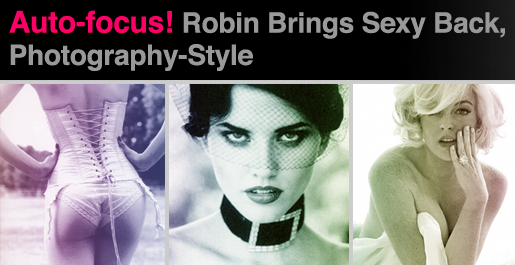 If you took away the "liquify" tool in Photoshop, you'd get a much clearer picture of what Beyonce or Britney or even Heidi Klum look like. It's therapeutic and empowering to counteract the photoshopped lies of the "beauty" media by gently encouraging women to confidently defy a standard image of beauty.
I love what companies like Dove are doing — thinking outside the Size 2 box. Every woman has a right to feel sexy. Own your beauty!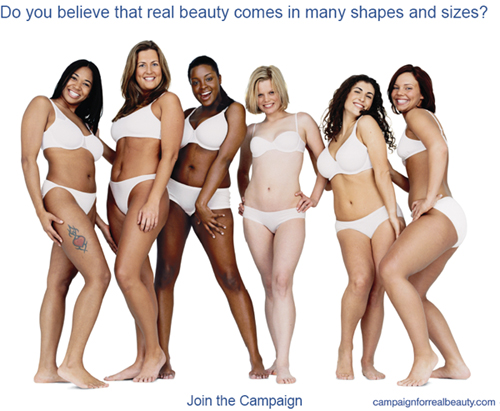 Part of what I do professionally is boudoir, which is, to put it plainly, sexy photos. I do this type of work because I like being able to make people feel beautiful. When done right, there isn't anything cheesy or pornographic about it.  Why should models be the only ones who get to be styled and photographed like celebrities?
I've had twentysomething clients and 70-something clients, curvy and skinny, exhibitionists and super-shy introverts. The point of a sexy photograph for me is not to give someone an overly photo-shopped image of someone reminiscent of themselves, but to photograph someone in their best light.
What makes this person uniquely beautiful? It could be a really awesome smile, or super-shiny hair that's fun to highlight. And sometimes all it takes is a nice photograph to renew the sense of glamor and sex appeal that gives a woman confidence. These images are at their best when we use natural light and a familiar setting …. but the best of the best? A woman being comfortable in her own body. There's nothing sexier.
Below are some of my favorite sexy photographs of women and a few more of my own.

I've had this print hanging in my room for about three years. I'm not sure why I love it so much. It's got something to do with the classic vintage feel and the slightly androgynous styling (I'm into that look … in case you haven't noticed). The model's facial expression is intriguing, as is the slightly odd positioning of her hands. It's almost got a little circus freak show vibe, but at the same time it strikes me as soft … and really pretty.  She's in my bathroom now because I can't figure out where to put her!

I'm a sucker for Lindsay Lohan.  I know there are a lot of people with a lot of negative things to say about her, but I love her.   I think Mean Girls did it for me; I've been a huge fan ever since.  [Her recent eharmony spoof? Love it!] Lohan easily lends herself to the misunderstood sex symbol image we associate with Marilyn Monroe. Also, clearly, she makes freckles look awesome and I think she really nailed the character here. Bert Stein's backlit studio series is really simple and super hot.

Ellen Von Unwerth's Revenge
Ellen's stuff is amazing, it's also really graphic. So if you're under 18, gymnophobic, or my mom, please do yourself a favor and don't go to this page.  Ellen has been described as another Helmut Newton but personally I think she's better and somewhat less offensive.  Her book Revenge is a photographic fantasy story about three women who arrive by chauffeured limousine at the Chateau of their guardian, the Baroness, and get into all kinds of kinky trouble.  Bondage ensues.  Unwerth's reputation as a fashion photographer with no boundaries is what I love about her.

Pamela Hanson "Bis"
I love this photo.  I found it on some random poster site when i was in college looking for images to hang on my walls. The strength/softness of it and the almost candid feel of the moment are really beautiful to me.  Plus, isn't her dress super cute?  Pamela's fashion stuff is really gorgeous.
From my own sexy archives:
Go seduce someone! Now!
[ad#postads]