15. Wanda Sykes – Funny Girl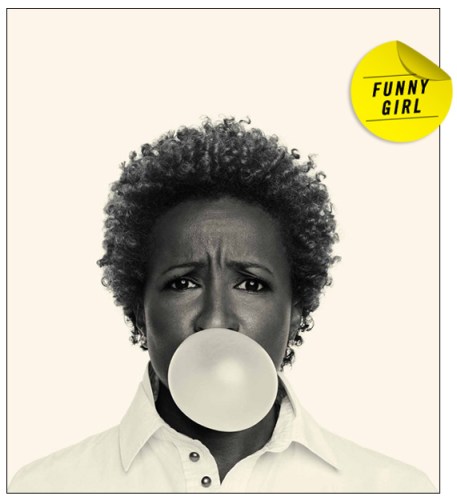 Wanda Sykes busted down a huge barrier by becoming one of the first African-American actresses to come out of the closet in 2008. And her career has absolutely not slowed down one bit since then — she spoke at the 2009 Presidential Correspondents' Dinner, got her own late-night show, hosted an HBO special, continued guest-starring on The Old Adventures of New Christine, was honored in the OUT 100 and was the first out lesbian African-American woman to appear on the cover of Ebony magazine.
2010: Wanda's show is on at Saturday nights at 11pm on the Fox network. The DVD of I'ma Be Me is coming out in February.

14. Dan Choi – Activist of the Year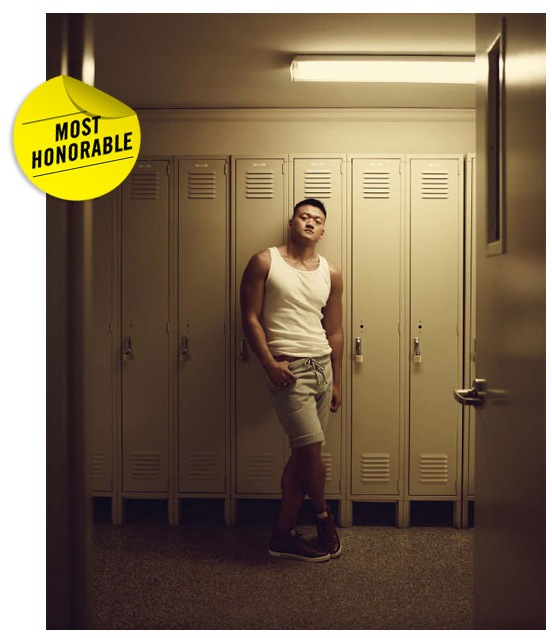 "Hey, good to see you!" Dan exclaimed when we ran into him at the National Equality March. "You guys really started a shitstorm last time I talked to you!" Indeed. We'd first caught Dan at an anti-gay-marriage rally in Manhattan only a few weeks into what would become a year of activism; he'd just published his "Open Letter to Obama" and been axed from the military for coming out on The Rachel Maddow Show, and he was therefore still new to the game and let us film him kissing his cute boyfriend on camera. Everyone loved it!
Since then he's become a star activist — and still after all this time what he wants is actually what many Americans want — he wants his job back. He wants what he's worked for to be his again because he deserves it.
2010: A schedule of Dan's events can be found on the Knights Out website.
Speaking of Activists… we didn't talk enough about this lady this year, but Robin McGehee is what the next generation of activists is all about and she co-chaired this years National Equality March. She founded the Meet in the Middle movement, which rallied Californians to protest against Prop 8. McGehee is a pionner in grassroots activism, and we think that's just what the equality movement needs. She was forced to resign as president of the PTA at her son's Catholic school because her work for the No on 8 movement went against church teachings, according to the school.


13. Julie Goldman – Comedian of the Year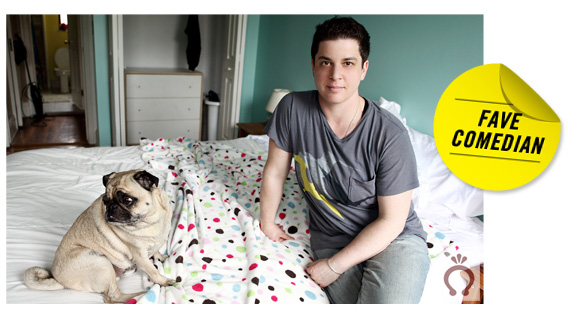 If Julie Goldman doesn't make you pee in your pants laughing, you probably aren't drinking the doctor-recommended 8 glasses of water a day. We interviewed her in May after she'd finished filming the third season of Logo's Big Gay Sketch Show and caught up with her later on in LA, where she's been doing stand-up and working on her romantic comedy The Nicest Thing with her mega-cute writing partner, Brandy Howard. They also have a little bloggity blog called "It's Not Gay, It's Fashion," which is required reading.
2010: We actually can't tell you what she's doing in 2010, because it's going to be a BIG SURPRISE …but we do want you to be ready. Are you ready? I don't think you're ready…

12. Pam Spaulding – The Source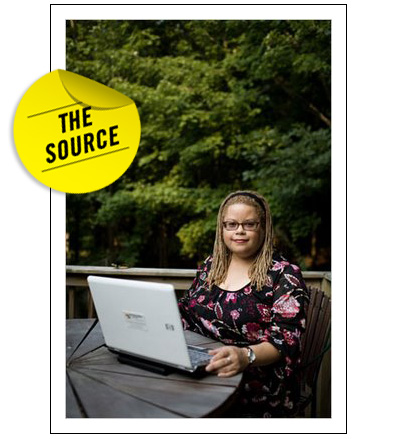 We appreciate a news source reliably on top of their shit as soon as shit happens and Pam Spaulding's "House Blend" blog is that source. If it's gay and it's politics and it happened, Pam is there at all hours of the day. It puts the major news orgs to shame. With a traditional unimposing design and sidebars decorated with "endorsements" from anti-gay leaders ("Pam is a 'twisted lesbian sister' and an 'embittered lesbian' of the 'self-imposed gutteral experiences of the gay ghetto.'") "The Blend"s straightforward, sharp, quasi-folksy and vigilant voice is persistently relevant and progressively fair. We are confident this will continue in 2010, obvs.

11. The cast of The L Word – Gossip Girls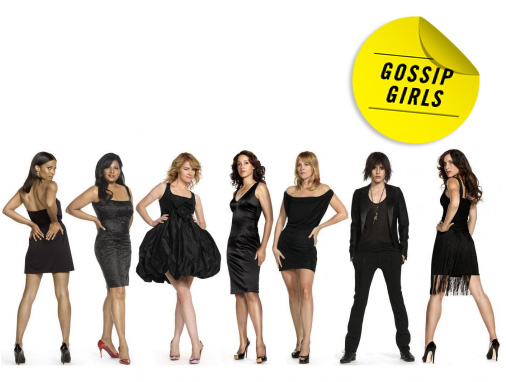 Perhaps there's one upside to Season Six's Spectacular Failure — it officially crossed the line from bad to terrible; into territory where no one with half a brain could speak intelligently about the show or defend its merits without sounding like a complete f*cking liar/moron.
So as Season Six wrapped itself up in a big ball of terrible and the cast moved on to new projects, honest reports came trickling in from the ladies, and at last we were able to find out what everyone really thought.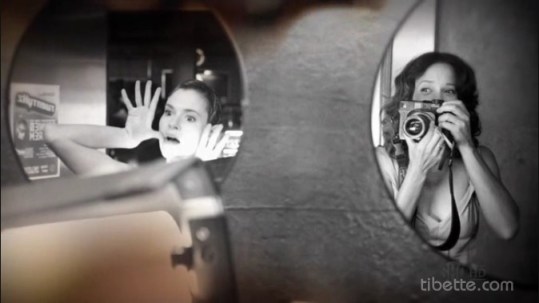 Jennifer Beals sat next to Ilene at the Times Talk Panel, calmly asserting:
"The final season just didn't do these women justice. It should've celebrated these women's lives instead. I would do the scenes and then go to my trailer and yell WHYYY???"
Mia Kirshner talked to badmachine
:
"I can defend Jenny… she seemed bipolar to me, and an artist in search of herself. I never wanted Jenny to be a hero. I admired Ilene for making her a complicated, often unlikable character, but perhaps a truthful character that pushed people's buttons. But especially [during] Prop 8, what does this say about a show that was supposed to be about friendship? I guess I was just sad that there was no redemption on that end."
Rose Rollins on The Liz Feldman show: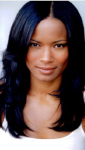 "At the end of six years all of these women with all these different incredible stories — I mean ridiculous at times, but overall, you know? It's disappointing, I feel like the note is surrounded by negativity, we're ending on a negative note and I feel like it's totally contradictory for what this show represents and how it should inspire women."
I think it was a surprising way to end the show, definitely. . . . There was a reason behind it — I'm not too sure what that reason was, but I'm told there was one. If my favorite show ended that way I'd be like, "What?!"
As we said goodbye to their characters, we got a little bit more of their personalities in return. And the exchange was well worth it.
2010: Jennifer Beals' will continue her reoccurring role on Lie To Me and her film The Book of Eli premieres in Los Angeles on January 11th. Rose Rollins is currently filming the Girltrash movie directed by Angela Robinson. Mia Kirshner will begin her guest spot on The Vampire Diaries on January 21 and plays Lilith In Dark Days Dark Knights, currently in production. Also you should buy her book, I Live Here, it's amazing. Kate Moennig's show Three Rivers is in limbo but probs will not go on. Leisha Hailey and her band Uh Huh Her are finishing up their new album.

10. Jasmyne Cannick: Community Mobilizer of the Year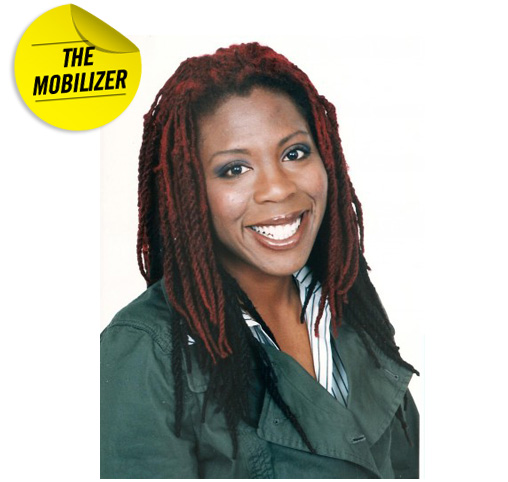 Journalist & community activist Jasmyne Cannick caught wind of Mitrice Richardson's story in September and her WTF meter went off real loud: Mitrice, a 24-year old African-American lesbian and former beauty pageant contestant who'd recently graduated from Cal State Fullerton with a 4.0 GPA while holding down two jobs, had vanished and not enough was being done to track her down. As Cannick wrote; People Don't Just Up and Disappear.
Mitrice hadn't been seen since 1:25 a.m., when officers at the Lost Hills Station (where she'd been taken after uncharacteristically not paying her bill at a restaurant and had told guests she was from Mars) released her into an area off the Ventura Freeway she was unfamiliar with. There were no busses, Mitrice had no car, no cellphone and no purse. After seeing her booking photo, her father commented, "She looked like a demon had come inside her. That was not my daughter." Anyone who's seen a person in a manic or psychotic state knows that look. And that's only the beginning of where things have gone wrong — read about it here. Because of Jasmyne's work, we came upon the Mitrice story and told you about it in November.
Jasmyne is a cyber-heroine of the year for utilizing her extensive experience working with office holders on all three levels of government to assist undeserved & vulnerable population groups, as well as her presence and authority on the web, to mobilize the community to respond to Mitrice's disappearance and demand answers. She pressured community activists (Black People Nut Up or Shut Up), supported Mitrice's family and relentlessly pursued answers from the police department while providing updates online and developing resources to rally via web. It's a true testament to the power of the web and political savvy harnessed by the right person. Richardson's family & girlfriend have called Jasmyne a godsend for the work she's done — work Jasmyne did because she simply felt it was the Only Thing — The Right Thing — to do. Mitrice is still missing. (Visit www.bringmitricehome.org for info on how you can help)
The story has now been covered by The Advocate and People and in December, Congresswoman Maxine Waters (CA-35) sent a letter to Federal Bureau of Investigation (FBI) Director Robert Mueller requesting an investigation into the disappearance of Mitrice Richardson.
2010: Jasmyne is a super busy lady with a full-time PR job, a blog, a serrrious weight-loss regimen and loads of activism work. This year, in addition to the ushe, she'll also be hosting weekly club nights and doing the 2010 Dinah in Color Event from April 29-May 2 in Las Vegas, Nevada. Her website also announces plans to participate in a BET Network Special.

9. Drew Barrymore & Ellen Page – The Big Tease of The Year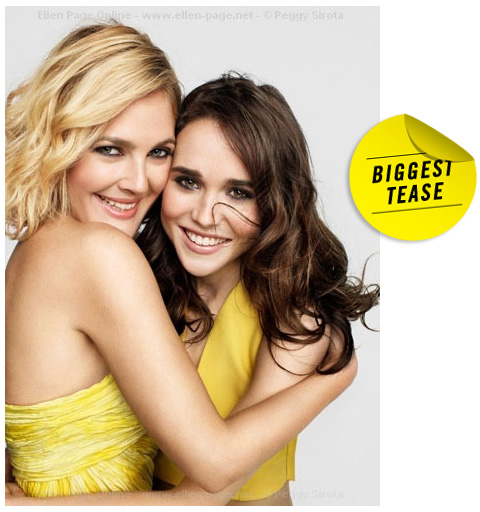 Oh, if only. One of the most fabulous opportunities for lesbian speculation ever, the duo raised eyebrows and opened Lezbro Pants all 'round the 'web with their PDA and gushing love for each other during the Whip It! press tour. The Marie Claire article where they were kissing was really icing on the cake of the affectionate glances, red carpet hand-holding and nonstop cuddling we'd already over-analyzed. Thank you for blessing us with your loveliness, you lovely girls. And Ellen, if Drew is just playing games with your Sapphic heart, I hope you got some girl-on-girl action out of that deal. But honestly; their friendship seems so genuine and cute — a refreshing thing to see when there's so much backstabbing and burning happening in other Hollywood social circles. And hey, Whip It! was the girl-power movie of 2009 so props for that!
2010:
Ellen Page: In Peacock, which has no release date but is completed, Ellen will star with Susan Sarandon, Josh Lucas, Bill Pullman, and Cillian Murphy. July will see Christopher Nolan (The Dark Night)'s next film Inception, an Action/Sci-Fi/Thriller film starring Ellen along with Leonardo DiCaprio, Joseph Gordon-Levitt, Lukas Haas and Michael Caine. Ellen is currently filming Super with Kevin Bacon, Liv Tyler, Rainn Wilson, about an ordinary man who becomes a superhero with good intentions and no skills.
Drew Barrymore: Going the Distance will come out in October 2010. She co-stars with Justin Long, which makes us sad because we want her to be canoodling with Ellen Page, not Justin Long! Also in the film are Christina Applegate, Ron Livingston & Kelli Garner.
She's also listed as an executive producer on the reality TV spin-off Tough Love: Couples and will appear in the documentary Teenage Paparazzi, directed by Entourage's Adrian Grenier, which examines the relationship between celebrity and society. Other heavyweights will appear in the film including Lindsay Lohan, Whoopi Goldberg, Eva Longoria Parker, Paris Hilton, Rosie O'Donnell, Alec Baldwin, Mario Lopez and Kevin Connolley.

Next: Revival, artist, man of the year, and our favorite freak
Pages: 1 2 3See entire article on one page