Feminist and out "radical lesbian" Mary Daly died Sunday at the age of 81. A philosopher and known mostly for of her controversial work in theology, she shaped many of the arguments held today about women and their relation to religion.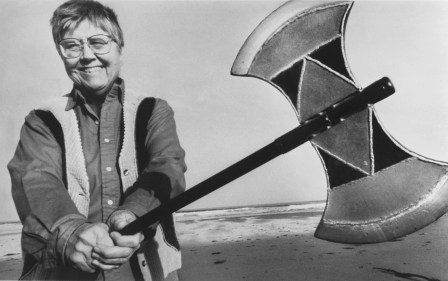 Daly jumped on the feminist scene as a major voice with her first book, The Church and the Second Sex, published in 1968, which is considered on par with The Feminine Mystique as far as influence on the women's movement. Daly followed up with Beyond God the Father: Toward a Philosophy of Women's Liberation in 1973.
Daly was on the theology faculty at Boston College for more than 30 years, though the university tried to fire her after her first book. Student outrage helped her keep her job. Her practices were certainly not without critics, though. She ruffled a few feathers when she protested Condoleezza Rice's commencement speech at Boston College. And her refusal to allow men to attend her classes outraged many for sexism. That policy eventually led to her retirement as part of a legal settlement.
---
Daly once wrote in The New Yorker: "Ever since childhood, I have been honing my skills for living the life of a Radical Feminist Pirate and cultivating the Courage to Sin," she wrote in the opening of "Sin Big." …The word 'sin' is derived from the Indo-European root 'es-,' meaning 'to be.' When I discovered this etymology, I intuitively understood that for a woman trapped in patriarchy, which is the religion of the entire planet, 'to be' in the fullest sense is 'to sin.' "
She was known to have a wry, wicked sense of humor and a way with words, which means she left behind many "colorful" quotes:
The fact is that we live in a profoundly anti-female society, a misogynistic "civilization" in which men collectively victimize women, attacking us as personifications of their own paranoid fears, as The Enemy. Within this society it is men who rape, who sap women's energy, who deny women economic and political power.
The Boston Globe's tribute to Daly quotes Sister Joan Chittister, a feminist author and a member of the Benedictine Sisters of Erie, Pa., as saying: "Her legacy is a cloud of women witnesses and male theologians, too, who have now been released into whole new understandings of what the tradition really holds and really means for all of us, male and female. She was a great thinker, she was a great icon. She will be maligned by some, but history will see her very differently."
The National Catholic Reporter goes into more detail about her specific theological theories.
NPR has an audio story on her life.
---
We don't agree with all or most of her philosophies; her ideas about transgender identity were particularly regressive. But by pushing the envelope in so many areas, Daly broke important ground for the women's movement. Her concentration on theology helped attack one of the greatest bastions of patriarchy: religion.
As she once said: "There are and will be those who think I have gone overboard. Let them rest assured that this assessment is correct, probably beyond their wildest imagination, and that I will continue to do so." We hope her work — and discourse around the weaknesses of her work — inspires many to "continue to do so."