RACHEL: Rachel Maddow does her victory lap — it's no secret that we love Rachel Maddow like Whoa. She has a spot on our Televisionary Awards and on our yet-to-be released Autostraddle 20 Icons of 2009, which I have been trying to write for about a week now without sounding like a captionist for the USA Today and so far have failed, although the second sentence of the intro is really coming together.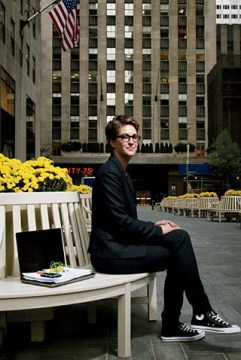 Rachel however has no such issue with her words, and last night she defined her show's mission statement, culled retrospectively from the past year and a half of intrepid reporting: to expose the forces on the fringe of American Politics (particularly the conservative movement); such as The Family, the Teabaggers, Freedom Works, the ex-gay "quack movement," the American evangelicals at work in anti-gay legislation in Uganda, Rick Berman ("Dr.Evil"), the motivational seminars that George W spoke at, and the John Birch Society.
Why talk about this nonsense, Rachel asks? Well, she quotes a 1961 California State document about "The Birchers," in which the Attorney General justifies the time spent investigating this fringe group: "The Birchers have an equal right with the prohibitionists, the vegetarians, the Republicans and the Democrats and to that matter any Americans speaking individually or in a group … to an expression of their views, and no official no matter how highly placed can say them nay. In America preposterousness prevents the acceptance, but not the expression, of ideas."
Rachel then notes, "Isn't that perfect? … Exactly. You have the right to say anything you wanna say … but we also have a  right to report on it. And if what you're espousing is crazy, we're going to report that it's crazy."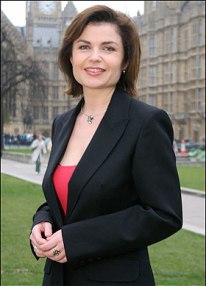 COMING OUT: One more lesbian got in under the cut for a 2009 coming out — BBC Newsgirl Jane Hill is a BIG OLD LESBIAN. "The pretty 40-year old is seeing a TV camerawoman" says The Sun. Furthermore, "she has been living with her partner Sara and their dog Mavis for a year, it was claimed." You guys, Jane Hill is just like us! (@thesun)
LAST CALL: Chicago's only full-time lesbian nightspot in Chicago, Stargaze, will be closing its doors for good following its New Year's Eve celebration tonight. (@chicagoist)
LOOKING BACK: LGBT Legal – The Call for a New Decade: As this decade ticks to its close, I am left thinking about fear. Racism, heterosexism, misogyny and xenophobia are still fueling our lives and shaping our world, and the common denominator is fear. (@huffpo)
NEW YEAR'S EVE: Single on New Year's Eve? Lemondrop has three options to make your night a little less torturous, because:
Let's be honest. New Year's Eve is often one gigantic Amateur Hour that starts in sticker shock (whoa whoa whoa, it's $90 to get into this crappy bar?) and ends in disappointment. And when you're single?  Forget about it. New Year's Eve is an advancing Apache war party and you're a confused, lost ranch hand stumbling around the plain, weak from dehydration. It's a goddamn bloodbath. (@lemondrop)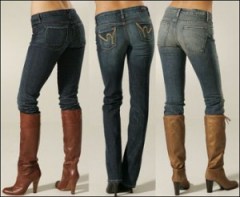 SKINNY JEANS: According to a survey conducted by Special K cereal (take that for what it's worth), over 1/3 of British women think fitting into old jeans is better than sex. About 35% of those surveyed admitted owning a pair of old jeans that they kept in the back of their closet in hopes of fitting into them again (@telegraphuk)
COLLEGE WINTER BREAK: Why do college students get such long winter vacations? Most working adults don't get much official time off during the holidays.  But students get tons of vacation time—some college breaks last as long as six weeks. How'd these kids get so lucky?
The shift toward a longer winter break actually represents a move back to an earlier tradition. Britain's Oxford and Cambridge Universities, upon which many of the oldest American colleges modeled themselves, settled into standardized terms in the mid-13th century. Students enjoyed a winter break of nearly a month between the Michelmas and Hilary terms at Oxford, and between Michelmas and Lent at Cambridge. (@slate)
FANTASY BODIES: I find this really comforting actually: Kate Winslet tops a poll of British women as having the "best celebrity body," above Megan Fox and Beyonce. (@dailymailuk)
MICHAEL MUSTO: New York City staple: The Village Voice's Michael Musto's year and decade in review: "It will be remembered, if at all, as the decade of the TMI generation. The 15-second fame gang. The micromanaging maniacs. The attention-whoring-for-lunch bunch. The iPhone, iPod, iMac, IMAX, and eye-lift folks. The people who have already forgotten this paragraph." I'm also hoping to forget the image of this cover, which I fear is permanently burned into my brain. (@villagevoice)
HILLARY CLINTON: For the 14th time, Americans have voted Hillary Clinton the most admired woman. But guess who's number two? You betcha – it's Miss Going Rogue herself, Sarah Palin.  While Clinton received 16% of the 1,025 votes, Palin was disturbingly close behind with 15%. That's it you guys. THE APOCALYPSE IS NIGH. From this point I think only Hillary can save us. (@upi)