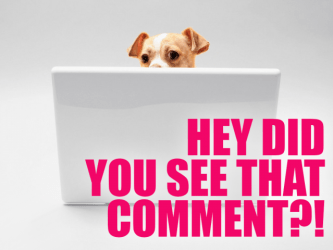 Hey champions! How did it feel to win all the awards this week? I jumped in circles of excitement around my room and listened to Brittani's playlist a lot of times. The Oscars were on the same night and were made not only bearable but entertaining by the comedy recap stylings of our very own Lizz. Riese recapped another painful episode of Glee, DapperQ debuted He Said/We Said on Autostraddle, and Crystal brought you the weekly music fix. Whitney told you about what the Supreme Court might have to say about affirmative action, Lizz talked about boots galore, and Taylor helped you learn how to fly better. We wrapped up February with a full frontal assault of art attacks including Bex Freund, The Cunning Stunts, comics, Jenny Holzer, Tamara de Lempicka, 10 contenporary lesbian photographers, Ellis Avery, Alice Hyde, Mars Hobrecker, Michelle Muldrow, Laura Doughtie, Mira Stanic, Kathryn Weaver, Ariel Schrag, Beth Wexler, Fiona Shaw and Lizzie Spaceship. And kicked off March with a brand new calendar girl, Ness.
---
On Glee Episode #314 Recap: On My Way To Driving This Recap Into a Brick Wall:
The Dumbell Is More Like It Award to millbot: "'…trembling in fear about her upcoming marriage to a Grain Elevator.'
That's not fair. A grain elevator is at least uplifting."
The Also Guinness Award to Tiger Gray: "I AM IRISH AND I HAVE NEVER TASTED ANYTHING THAT WASN'T A POTATO OR A TURNIP, WHAT ARE YOU TALKING ABOUT
/sarcasm"
On We Won A Thing and So Did You: Autostraddle Sweeps Bloggies 2012:
The Your Mom Award to Sawyer: "I propose we hold a party. Ideally in someone's pants."
On Priest Protests Grieving Lesbian's Existence By Ditching Her Mom's Funeral, Makes Bad Day Worse:
The Tempeh Award to Ash: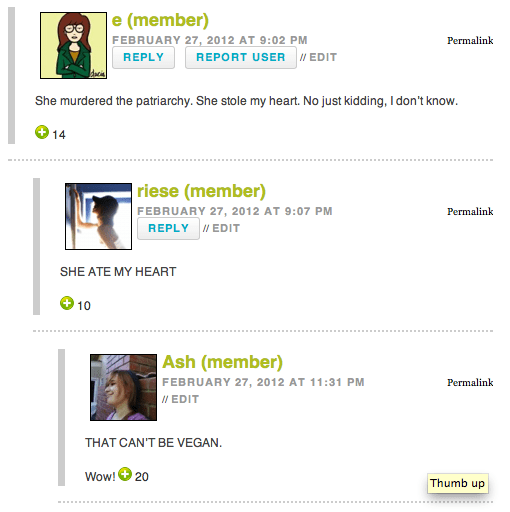 On Autostraddle Calendar Girls 2013: Ness is Miss March:
The Me Too Award to turtle: "this turtle is jealous… i could totally dig living in a mansion in Ness's bedroom…"
The Dent in the Space-Time Continuum Award to cait-o: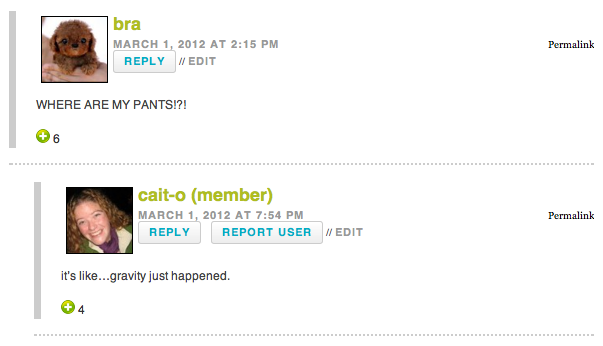 On Today is Say Something Nice on the Internet Day!:
The Best Community Blog Award to Basically Everyone: Just go read them, you winnerette, you.