Art Attack Month: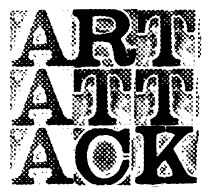 0. 1/28/2012 – Art Attack Call for Submissions, by Riese
1. 2/1/2012 – Art Attack Gallery: 100 Queer Woman Artists In Your Face, by The Team
2. 2/3/2012 – Judy Chicago, by Lindsay
3. 2/7/2012 – Gran Fury, by Rachel
4. 2/7/2012 – Diane Arbus, by MJ
5. 2/8/2012 – Laurel Nakadate, by Lemon
6. 2/9/2012 – 10 Websites For Looking At Pictures All Day, by Riese
7. 2/10/2012 – LTTR, by Jessica G.
8. 2/13/2012 – Hide/Seek, by Danielle
9. 2/15/2012 – Spotlight: Simone Meltesen, by Laneia
10. 2/15/2012 – Ivana, by Crystal
11. 2/15/2012 – Gluck, by Jennifer Thompson
12. 2/16/2012 – Jean-Michel Basquiat, by Gabrielle
13. 2/20/2012 – Yoko Ono, by Carmen
14. 2/20/2012 – Zanele Muholi, by Jamie
15. 2/20/2012 – The Malaya Project, by Whitney
16. 2/21/2012 – Feminist Fan Tees, by Ani Iti
17. 2/22/2012 – 12 Great Movies About Art, by Riese
18. 2/22/2012 – Kara Walker, by Liz
19. 2/22/2012 – Dese'Rae L. Stage, by Laneia
20. 2/22/2012 – Maya Deren, by Celia David
21. 2/22/2012 – Spotlight: Bex Freund, by Rachel
22. 2/24/2012 – All the Cunning Stunts, by Krista Burton
23. 2/26/2012 – An Introductory Guide to Comics for Ladygays, by Ash
24. 2/27/2012 – Jenny Holzer, by Kolleen
25. 2/27/2012 – Tamara de Lempicka by Amanda Catharine
26. 2/27/2012 – 10 Contemporary Lesbian Photographers You Should Know About, by Lemon/Carrie/Riese
27. 2/27/2012 – Read a F*cking Book: 'The Last Nude,' by Amanda Catharine
28. 2/27/2012 – Spotlight: Alice Hyde, by Laneia
29. 2/28/2012 – Spotlight: Mars Hobrecker, by Laneia
30. 2/28/2012 – Spotlight: Michelle Muldrow, by Laneia
31. 2/28/2012 – Spotlight: Laura Doughtie, by Rachel
32. 2/28/2012 – Spotlight: Sadie Lee, by Mira
33. 2/29/2012 – Spotlight: Kathryn Weaver, by Laneia
34. 2/29/2012 – Ariel Schrag, by Whitney
35. 2/29/2012 – Spotlight: Wex, by Laneia

Wex draws from pop culture by deconstructing tv shows from the 80s and 90s — like, literally. She breaks it all down by pixels and color, and then reconstructs them using a custom-made system that was built using a programming language called 'max/msp/jitter.' "It all sounds pretty intense," she says, " but also, I'm looking to subvert the meaning of this material in a way that will make what it is seem meaningless.
Artist Statement:
Beth is interested in exploring the human condition, particularly within media saturated cultures. By using elements familiar within pop-culture – teevee shows, bright colors and pop music – she creates work that references the familiar while also leaving room for exploration and question. As an allusion to temporal transformation and a desire to point to a perpetual state of change she tends to work primarily with time-based media. Utilizing tools for video and sound she deconstructs instances of time only to reconstruct alternate possibilities. Other areas of interest are the transference of media such as turning data from video sources into sound or using frames of video on three dimensional cultural artifacts. In an attempt to create pieces that are unique, her work is created through a series of processes that are then applied in real-time systems, which often lend themselves to performance.
Slice, dice, cut, remix, mash, confuse, distort, destroy, rebuild, repeat. These verbs aptly describe what I do to media when I approach it creatively; mindfully revolting against the stronghold it had on me in my much more passive youth. Gathering source material from pop-culture – or, the pop culture that I once knew and have been influenced by, as if suspended in time, stuck in the 90's – I'm now interested in dissecting it, showing my appreciation for it by using and abusing it, and so rebelling against the cycle within which it exists.
Learn more about Beth Wexler (Wex)!