If you've ever wondered why PSAs are typically no more than 30 to 60 seconds long, you should watch this episode of Glee.
If you've ever lost sleep over the dangers of texting-while-driving, you should watch this episode of Glee.
If you enjoy long mediocre auto-tuned musical numbers performed by a group of boys you don't care about in outfits that are so 2009, you would really like this episode of Glee.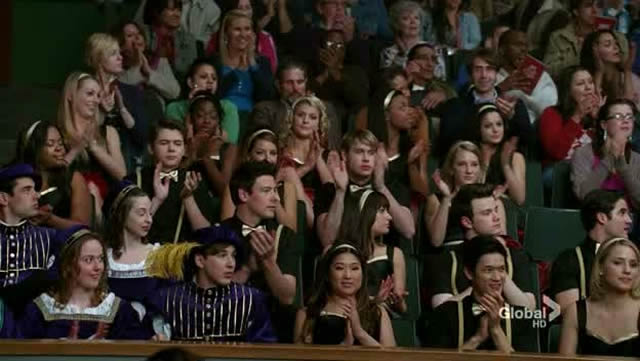 If you prefer a wink and a nod over a hug and a kiss, you should watch this entire season of Glee!
If you want to hang yourself from the ceiling, you should watch this episode of Glee!
Mhm, yup, although I'm typically a bastion of unconditional compassion, sympathy and tolerance on the gay teen suicide issue — this episode was so bad that I cannot maintain that standard and I will most likely be making fun of suicide!
Here's why: in their review for The Girl With the Dragon Tattoo, Brandy Howard had the following to say, directed at David Fincher: "I'm not gonna let you make me feel — make me think I saw something that made me feel something because I had to watch a small girl get sodomized." Soooo… Ryan Murphy, listen up: I'm not gonna let you make me feel — make me think I saw something that made me feel something because I had to watch a gay teenager hang himself.
Also I'd like to remind you that I've been through the psychological ringer myself, so to speak, and therefore I am permitted by the Laws of Comedy to make as many jokes about it as I want to. And to be honest, I feel obligated to. This is our territory, this topic, upon which mainstream media is frightened to unpack lest they Offend the Gays. I respect that, I really do, and I have a job to do here too, and I'm gonna do it. Despite Glee's homosexual staff, the story they told this week rang as hollow and simplistic as the stories mainstream news outlets often churn out about actual gay teen suicide victims. It was stupid and ridiculous.
Gay teen suicide stories demand a reverence that silences nuance in favor of simple stories with easy messages, and I think that style enabled dramatic and hugely beneficial cultural change for the first year or so following Summer 2010's suicide "epidemic," but I think things like this episode of Glee are doing us a disservice now.
So, on that ENORMOUSLY CHEERFUL note — let's begin!

So, we open in Java the Hut, where Kurt & Rachel are attempting to innocently consume frothy beverages and talk about themselves when Sebastian the Evil Gay shows up to shove forward his plan to eliminate New Directions from Regionals with befuddling velocity and absurdity.
"We can't come here anymore," says Kurt, when Sebastian the Evil Gay shows up. "I THOUGHT THIS WAS A SAFE SPACE!" he screams with his eyes.
Yup, Sebastian's just graduated from the Apple Store's Photoshop Seminar and is super-duper proud of himself for learning how to photoshop Finn's face onto somebody else's naked body!
Sebastian threatens to spread said artistic statement web-wide unless Rachel drops out of Regionals — okay, I'm sorry, I need a time out already.
Time Out #1:
Listen, we suspend our disbelief for this show quicker than we remove our pants and switch into sweatpants after a long day of work/trip to the grocery store, but this Sebastian-Slaughtering-Glee situation — like so much of what gets ground into lentil-loaf and dished into our parched gullets every week on this show — is completely fucking ridiculous!
So, Sebastian, an adolescent male enrolled at a prestigious boy's prep school, literally sends another choir-boy (Blaine), a former student of said prep school, to the hospital by throwing a cup of ROCKS at his FACE, damaging said choirboy's actual EYEBALL.
However William insists the New-Fangled Directions have little recourse because nobody at Dalton truly cares, and we all suspect the class's entire convo about the incident only exists to set up Artie's "we're not gonna take it anymore!" speech which consequently serves to set up Artie's next musical number.  That musical number was pretty awesome but nevertheless William left us all befuddled by both Dalton and his own unprofessional, child-neglect-y response to unspeakable and honestly terrifying violence. No private school administrator would allow a slimy douchebag who pre-meditatively spiked a Slushee with rocks in order to assault another teenager to attend his school. Sebastian is a bona-fide risk to the other students! Limaohio.com would be all over this!
Not only is throwing rocks at someone's face actual physical assault — and Blaine would've been offered the chance to file a police report during his trip to the ER, mind you — it's not prep-school behavior, it's not any school behavior. It's actually pathological and if this show was even in the same galaxy as "real life" (and I think this show does want to remain in real life's galaxy, if not its immediate orbit or seven furious suns), Sebastian would've been expelled from that school lickity split or at the very least suspended, reprimanded, or put on some kind of pebble-free probation.
And then AND THEN! This episode, when Sebastian threatens to cyberbully Finn with doctored photos of Finn's naked body — which is so novel, I mean, really, I bet everybody would've been like "OH MY GOD IT'S ACTUALLY FINN" and I'm also dying to know who Sebastian blew at Google because his confidence regarding instant SEO mastery is a bit unnervingly inaccurate — and the Glee kids take this ish to class, William claims he reported it to Dalton, Blaine insists they're gonna do nothing about it (WHAT?!!) and William says "You guys are just gonna have to deal with things like this!"
Unlike Kevin's roll-off into the Wonderful World of Michael & Janet Jackson's "SCREAM," however, this scene isn't a musical number set-up, though it does provide Rachel an opp to mention that she's performing at Regionals regardless and won't "negotiate with terrorists."
Finn, apparently also smoking the crack that convinced William that Rachel dropping out of Regionals is the one & only way to stop Sebastian from going mini-viral, is appalled that Rachel's unwilling to throw her dreams aside in order to protect Finn's penis issues. Slow-clap for Rachel, though, seriously. It's almost like she was… Rachel. For just one moment in time.

Next up, Sue initiates a convo with Quinn in Sue's office about pregnancy because Sue is pregnant now because this show takes place in the same world where Major Magic was born. Quinn recommends Saltines and lollipops.

These are my notes for the next scene:
2. oh god gay bullying story
a) a graphic of some kind
b) borrrrinnnnggggggg this is boring, nobody has even ever sang a song
So, pull out your party hats, peons, 'cause your favorite character Karofsky is back for an extended run!
Yup! See, Karofsky got "outed" last week at The Breadsticks Garden when Joey McJock spotted him with Kurt, who is essentially a burning bush when it comes to gay association. Despite Kurt's attempt to cover for Karofsky, Joey McJock apparently spilled the beans to everyone at this new school we're so desperately interested in, and now his teammates have done a little anti-gay graffiti art on the lockers of Karofsky and his (probably gay) alphabetical locker-mates.
Now, what happens next is monumentally confusing. See, in episode 307, "I Kissed a Girl and Riese Hated It," Finn outed Santana (eventually on public television) to SAVE her life, but here Karofsky is outed (in school) and it completely destroys his life immediately. I guess girls just don't count.
Meanwhile, Blaine is wailing some song for some abstract reason I've since forgotten, but I believe it's called "Cough Syrup," which reminds me of when I used to drink a bottle of cough syrup every night for demented/depressive reasons and also The Carter Documentary.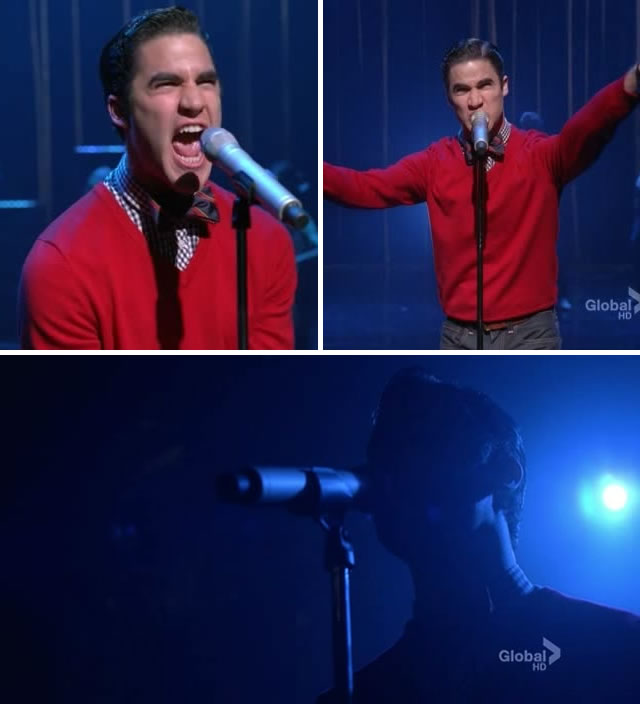 Blaine's number is intercut with Karofsky making his bed, changing his outfit and playing with his business belt.
Then Karofsky starts rearranging his furniture or, really, just his chair. Probably is gonna change a lightbulb or something. Oh, whoops, JK! He's gonna kill himself!
Womp-WOMP!

Next up is an unbearable staff meeting re: Karofsky, which I unfortunately was unable to watch because I'm over the age limit for not barfing during this scene, which I believe is 13 or whenever it is that kids become literate these days.
Okay though, just one thing — Figgins tells the teachers they've gotta take immediate action to prevent "cluster suicide" (aka "The Werther Effect," named for The Sorrows of Young Werther, a Goethe novel about a "massive wave of emulation suicides after a widely publicized suicide"), which'd be meta if Figgins didn't completely miss the mark in his interpretation of how, precisely, to prevent such a thing — while it's true that increased consciousness, support and empathy from school administration will do worlds to help other kids at risk, that's not specifically what's at stake with The Werther Effect.
"Copycat suicide" happens when a person emulates someone else's suicide based on knowledge gleaned about that suicide from television or the media. "Cluster suicides" happen when a well-known suicide, aka a "suicide contagion," spreads throughout a school system, community or, where celebrities or other public figures are concerned, nationally. Wikipedia notes that "to prevent this type of suicide, it is customary in some countries for the media to discourage suicide reports except in special cases."
Just simmer on that for a bit, k? Just absorb this episode and simmer on that.

We cut to The God Squad, where Quinn points out that "what [Karofsky] did was selfish, he didn't just want to hurt himself, he wanted to hurt everyone around him. I went through the ringer, but I never got to that place." It's a relevant point to discuss but this is Glee, so let's twist it around and eat it and spit it out and then have Kurt cry all over it and then let's have Mercedes put her unfortunate hat on it and then it can go to the courtyard singing a song called "I Wish I Was a Relevant Point" to the tune of The Little Rascals' "I Have Two Pickles."
'Cause hey-o, Kurt pops in to God Squad to play Oppression Olympics with Quinn!
Kurt: "Quinn, please. Sure you had a baby when you were 16 and you had a bad dye job for two weeks but seriously? The world never stopped loving you. And you're going to Yale, you have no idea what Karofsky is going through."
Quinn: "You really want to try to compare —"
Kurt: "– the despair, the self-loathing."
Quinn: "I just can't imagine things getting so messed up that you would take your own life."
Kurt: "That is so harsh and reductive. Have some compassion. Do you know they're still writing on his facebook? Better luck next time and try, try again?"
Say what you will about Finn's penis but his step-brother's got some serious balls, declaring himself Champion of the Oppression Shot-Put against not only Quinn, but a black woman and a really nice guy whose family was evicted from their home last season. Furthermore, having made it through the death of his mother and some serious anti-gay bullying himself, Kurt's lack of perspective and apparent need to project his own sense of guilt onto everyone else in the world is, surprise, inconsistent w/r/t his character! But cheers to Chris Colfer for giving it his all, seriously.
You can watch the rest of this scene, or you can read this article, it's the real-life version of the PSA they're clumsily putting on right now.

Back in the Hallowed Hallways of McKinley High, Finn lets Rachel know that despite his upcoming three-inch scandal, he's not planning on killing himself, and Rachel affirms she too plans to remain alive.
Then they decide to get married ASAP, like right after Regionals on Saturday, because life is too short and it's only a matter of time before Rachel wakes up, sees Finn lying next to her, and shoots them both in the face.
Finn: "But wait… what if we lose?"
Rachel: "I thought we agreed I was singing on Saturday."
Okay, high five to Rachel. High five.

Back at Java the Hut, the gang meets up with Sebastian the Evil Gay, but before Santana can truly lay the smack down, Sebastian lays the boring melodramatic crap down.
The Warblers will be dedicating their performance to Dave Karofsky, says Sebastian the Suddenly Sanctimonious Gay, which I'm sure will make Karofsky feel 100% better about everything, what a meaningful gesture, and The Warblers will be "taking donations for Lady Gaga's Born This Way Foundation" at Regionals and so, um, a tip of the hat to you, Stefani Joanne Angelina Germanotta.
Sebastian reveals that he was an asshole to Karofsky at a bar and therefore "it's all fun and games, until it's not." I'd argue scarring someone's retina is also "not fun and games," but I could argue and argue and argue all night with this show and never get off, so!
It's a cheap moment in a bargain-basement episode — Sebastian, who thus far has acted like a complete sociopath, is suddenly inspired by Karofsky's attempted suicide to retcon himself? Really? If this episode is a 60-minute PSA — and it is — it's a lousy one so far. Want to transform a sociopath into an angel, all ye bullied children of America? TRY AND KILL YOURSELF. That'll show 'em!
Sebastian and those like him should stop bullying because it's mean. Because it's unkind to torture the living. Because without compassion we are animals, because without compassion we are sociopaths, because without compassion we may as well be dead.
Oh, by the way! Santana — also gay, also a bully once-upon-a-time, also suffering presently 'cause her grandmother has banished her, also the victim of an unwilling outing on a public stage — has nothing to say about this, because the writers of this show have no earthly idea what to do with women's stories!

William arrives at class with a tub of peanut butter. See, Irish Breakfast has never tasted peanut butter in his entire life! Luckily, Irish Breakfast is still alive and therefore can eat peanut butter. But, had Irish Breakfast killed himself for some reason, he never would've made it to this day where he's being spoon-fed peanut butter by a curly-haired Barbie Sweet Talking Ken Doll in a cardigan. You follow?
This segues — awkwardly, in case you're wondering — into a really GRIPPING conversation about how life is worth living!
As William relates his own near-death experience following an adolescent incident in which he was caught cheating on a test, I remove both my eyeballs from my skull with a wine opener, smash them into bits and insert what's left of them into my eyesockets, then break a glass plate over my head.
Then I watch that suicide-convo scene in The Breakfast Club that knocks this entire season out of the water, and return to witness William's Game of "things I'm looking forward to" aka "reasons not to kill myself."
I've decided to sugarcoat this scene for you via animated gifs.+
Q: What are you looking forward to, chitlins?
Sam: "Someday I wanna make enough money to buy my parents a new house so they don't ever have to go through losing their home again."
+
Mercedes: "I'm most looking forward to meeting Rachel Berry's children."
+
Artie: "I wanna be there to see my kid's first steps."
+
Sugar: "I wanna be there to see Sex and the City Part III."
FOUR FOR YOU, SUGAR MOTTA, FOUR PARTS OF SEX AND THE CITY FOR YOU.
+
Puck: "I'm sorta embarrassed to admit it, but I really do wanna graduate high school."
+
Finn: "I'm gonna petition the army to change my dad's dishonorable discharge status to an honorable one."
+
Quinn: "I'm looking forward to graduating from Yale at the top of my class."
+
Santana: "I'm looking forward to the day when my grandmother loves me again."
+
Brittany: "I want Lord Tubbington to kick his ecstasy addiction."
+
Blaine: "I'm looking forward to marriage equality in all 50 states."
+
Mike: "I'm looking forward to the first time I dance at Carnegie Hall."
+
Tina: "I just want a song."
+
Kurt: "I'm looking forward to watching my Dad make a difference in Congress."
+
Rachel: "I'm looking forward to being friends with all of you for the rest of my life."
Irish Breakfast says he sure does love the peanut butter, but that he's mostly looking forward to Winning Regionals. YAYAYYAYAY! Regionals!!!
All this being said, peanut butter can truly make life worth living. (Also: melted cheese)

Pages: 1 2See entire article on one page