Jamey Rodemeyer was 14 when he killed himself last week. He was gay and he was bullied. He was bullied in school and he was bullied online, where his tormentors posted encouraging messages like "JAMIE [sic] IS STUPID, GAY, FAT ANND UGLY. HE MUST DIE!" on Jamey's various internet presences.
Since Jamey's death, many public figures and activists have come forward to beg the American people to stop being assholes to gay people. 500 people came to Jamey's funeral. Lady Gaga, Jamey's favorite human/musician/artist, dedicated a concert to him this weekend and bought a ticket to an Obama fundraiser in order to get some face time with the president about anti-bullying initiatives. Ricky Martin, the pop star who remained closeted for most of his professional life, tweeted: "This needs to stop now. How many lives lost before someone listens. #MakeALawForJamey."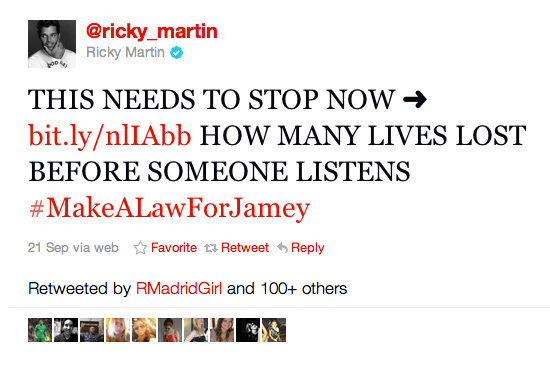 But despite being dead and having two of the universe's most popular pop stars in his corner, Jamey Rodemeyer remains an ample target for his bullies. On The Today Show yesterday, Jamey's parents shared a really upsetting story. Their daughter attended the homecoming dance where a Lady Gaga song was played and she and her friends started chanting for Jamey — only to be interrupted by Jamey's bullies, screaming unfathomably inappropriate things like "You're better off dead!" and "We're glad you're dead!" Obviously Jamey's sister went home upset.
Here's The Today Show interview with Jamey's parents, where they also discuss how they want things to change in a way that Jamey's death won't be in vain:
Visit msnbc.com for breaking news, world news, and news about the economy
Last night Jamey's sister appeared on Anderson Cooper 360 to tell her story:
What non-sociopathic human being could even comprehend delighting in the self-inflicted death of a teenage boy? I bet nobody reading this article could imagine doing that. Human beings don't do that. Maybe criminals do that, or The Westboro Baptist Church, but just a normal human being with a heart and soul? Not so much. Even a homophobic asshole generally would refrain from bullying a dead person out of decency.
Also, bullies. Bullies will do that. Bullies don't live by the laws of adulthood or the laws of humanity. The strength or scope of any given mandate or initiative is irrelevant to these kids — the fact that it's a mandate or initiative at all and that it comes from grown-ups is enough to make them all tune out.
There are heaps of studies on what makes someone a bully. Aggression at home is a trigger, obviously, as is just general confusion about home life, inconsistent parenting, low self-esteem, or a desire to gain status. Some kids would be better serviced by Child Protective Services than the High School Guidance Counselor because they come from homes so abusive and hateful that it's no surprise those children come to school angry. Maybe in this case, kids came from homes where homophobia/discrimination is encouraged. Who knows, perhaps they live in a country where a gay soldier is booed during a Republican Presidential Debate!
Constance McMillen's bullies didn't change their ways, even when the entire country and Famous Celebrities were calling them out for being assholes. In fact, they kept on strong and set up their own prom and invited everyone but Constance and a few other outcasts.
What do we do when increased awareness and Bullying Prevention Programs and It Gets Better fail to change the final result of a child's life?  Outside of what parents/families of bullies and the bullied should do for their children, what can be done on a macro level?
Here's what I think we need to do or maybe could do, based on my incredible expertise:
+ Make a Law for Jamey:  Lady Gaga and Ricky Martin aren't politicians, but they have points — is it time for a "law" against bullying? How would such a thing be enforced? What would it say, exactly? In every group of bullies, there's gotta be at least one kid who wants to play varsity sports or get into a good college. Maybe the repercussions of having "suspended for bullying" on their permanent records or being kicked off the team might get at least part of the school too scared to bully online or off.
+ Online Accountability: Formspring Anyone using formspring to attack someone with hate speech should be liable for those words. Formspring should set something up where IP addresses of bullies can be revealed to the formspring account owner under extreme circumstances like this one.
+ Stop Legalizing Discrimination: We still live in a country were discrimination against gay people is not only accepted, it's mandated.
+ Gay History in Schools: California's FAIR Act is on the right track. What can we say for kids who only hear about gay people when they're hearing gays condemned to hell or discriminated against by the government? A more productive and open-minded conversation needs to take place in a mandated environment.
+ Making it Better Now: It Gets Better is meaningless to kids who can't see a viable future due to the darkness of the present. What about a Big Brothers/Big Sisters program matching up gay kids with gay adults? Gay kids usually don't have mentors and rarely have parents or even friends who understand what it's like to be gay. Maybe college LGBT groups should visit schools to give a living, breathing example and answer questions.
What do you think?