Somewhere between uptown and downtown, I realized I was fucked. Maybe it was the drugs, maybe it was exhaustion, or too much soy, or maybe it was food poisoning or that old black magic. I was biking home and felt like I could fly, maybe, like they did in ET.
The last thing I remember before everything turned to Glee was being in my apartment, thinking "my head is made of stars and my pillow is a cloud," and lying on my bed.
Later, I'd wake up but I wouldn't actually wake up at all, because later I'd wake up in Glee.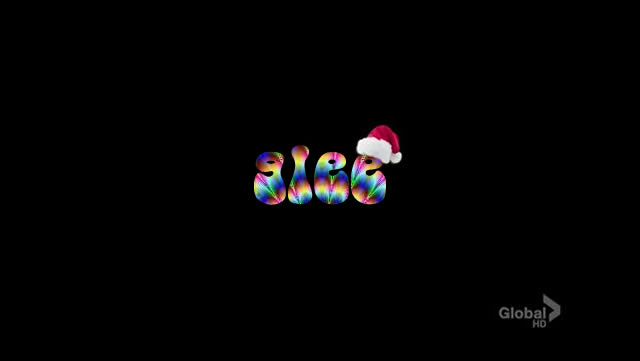 The first thing I hear when I start hearing things again is the opening chirps of "All I Want For Christmas is You," and before opening my eyes I'm 75% sure I'll wake up in a winter wonderland containing more cheery chirps and Mariah Carey looking stoned in a white-fur-trimmed red snowsuit: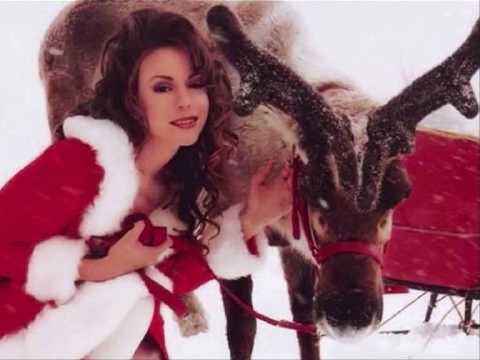 See, "All I Want For Christmas Is You" is one of my favorite songs of all time. The song's appearance in Love Actually was the only part of that terrible movie that didn't make me want to light my face on fire. There was that time I pulled over at a gas station somewhere between Toledo and Columbus to burn "All I Want For Christmas is You," 12 times, onto a CD-R, so that I could pop it in the CD player and listen to nothing but that song 'til I got to Grove City.
But the first thing I see when I start seeing things again isn't Mariah Carey on a sled.
It's Mercedes, wearing a beautiful rack-flattering plum-colored dress, in The Glee Room, decorating a Christmas tree for no reason!
Yup, I've dived head-first into what I'll call Magical Mystery Glee, where everything's totally fucked up, and I'm there too, but I can't see myself, and sometimes I'm watching the episode, sometimes I'm the camera, and sometimes I'm a Pirate Queen on a mission to spread Brittana Love throughout the nation. It's like a wacky drug test and this shit is B-A-N-A-N-A-S and oh, it doesn't get any better.
I once heard that the only thing more boring than listening to someone describe their dream is to listen to someone describe their acid trip, but seriously this little "episode" is totally worth telling.
So everybody's there — the entirety of The New Troubletones. Pretty wrapped boxes of packing peanuts are stacked high on tables recently constructed by Western Ohio's Pop-Up Three-Piece Backup Band. Mercedes and Finn, with constipated facial expressions, are unfurling a roll of wrapping paper for Mike Chang to burst through, trained-seal-style, and behind them, Kurt's dancing a jig with a CANE in plaid pajama pants and a sweater he stole from Mother Hubbard while Blaine snatched Cookie Monster's Monsterpiece Theater get-up.
Brittany and Santana decorate Mercedes like she's a tree, and as Mercedes sings all the children attempt to strangle each other with giant tinsel boas, except Santana and Brittany, who attempt to merge into one body by wrapping themselves momentarily in a giant tinsel boa.
It doesn't work.
Magical Mystery Glee is even more confusing than actual Glee. In Magical Mystery Glee; Mercedes and Sam are together and her ex-boyfriend never existed, Blaine and Kurt are on the football team, that Senior Class President thing never happened, everybody actually gives a shit about Irish Breakfast, Rachel isn't Jewish, Puck isn't Jewish, Sam is maybe-bisexual, Irish Breakfast is maybe-bicurious and Klaine and Finchel haven't had sex yet. Also, Rachel's become like oddly status-conscious and super-bitchy about material possessions and sometimes is not Rachel but is Lea Michele, I think, and then later is Dorothy Gale, or Joan Crawford, or a butterfly.
At the end of this song, Rachel & Finn stick their tongues down each other's throats like two horny high school teenagers and my head does backflips, torturing me with image upon image of this unholy union that has nothing to do with the relationship I was rooting for two years ago. Every kiss is like Finn's face in a salty open wound.
And that's when a demonic voice from above tells me that I've come here, to Magic Mystery Glee, to find proof that Brittany and Santana are a real couple.
My mission as I believe it to be at that time is to summon Brittana proof for Ryan Murphy or else risk Christmas and Hannukah getting cancelled. Obvs this is a whacked out drug trip dreamstate where this kind of shit makes perfect sense.


So, back in the Hashish Hallways of McKinley High, Rachel's presenting Finn with a gift list which includes personal delights such as "spray-tan" and "teeth whitening," and Finn tells Rachel "all I  want for Christmas is you" and then she says, "All I want for Christmas is you, too. And five things on that list," and then they kiss AGAIN.
Swing over to Sue's office, where she says a bunch of crazy shit including something about Sarah Palin and reindeer hunting and then rallies Artie, Kurt and Blaine, all adorned in inexcusable holiday attire, to come torture the homeless with a Maroon 5 Mash-up on Christmas Eve.

Then we're back in the Gayly Garnished Glee Room, where Finn's killed William Goodboy, eaten him, and taken over Glee Club!
Irish Breakfast says something unbalanced about missing his Potato Family and the children delight as he serenades them with "Blue Christmas" and his chain wallet.
The kids are still dressed up for a Very Merry Christmas, except Kurt, who's sporting a Ski Bunny Safari look complete with camouflage and ear-warmers, 'cause after this class he's heading straight for Killington.
As Blue Christmas FINALLY ends, Santana says, "Gosh, that song was so depressing, I think I might actually be dead right now."
Then Rachel The Non-Jew waxes on about the spirit of Christmas or some bullshit that her character would never say and Tina pipes in claiming last year Glee Club Christmas was like The Island of Misfit Toys, which's the first of many Magical Mystery Moments in which a teenager will reference something only my Grandmother knows about.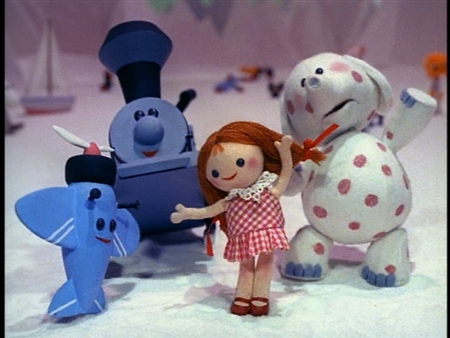 Also, Santana and Brittany are sitting farther apart than we are from Russia, so I'm like FUCK, the voices in my head are gonna conspire and blow out my brain from the inside like a coal mine.
Suddenly William Goodboy shows up, also obscenely festive in a plaid-vest situation, and announces nobody's getting coal in their stockings this year 'cause everybody's gonna be on television, which is the obvious opposite of "coal in a stocking."
William Goodboy explains that Mr. Television Man was "blown away" by how many songs The New Directions got to sing at Sectionals and wants them in his Glee Christmas Special, and then like ten seconds later, William Goodboy explains that Mr. Television Man was blown away by Arite's Dawson-Leary-esque supreme co-direction skills at West Side Story and wants Artie to direct his Glee Special.
This Television Guy guy is like, heavy into McKinley High. Like McKinley High is this major cultural institution, like the Smithsonian.

Then there's this weird part of this trip/dream where I'm underground and the cave walls are lined with glee tumblrs on tiny shiny screens and the Rachel/Finn version of "Last Christmas" (from Last Christmas) is playing over and over, and I'm screaming that I've gotta find Brittana Truth, bring it back to Haymitch, and make Dorothy Snarker post it on her tumblr, or else the Whos in Whoville will run out of tampons.
Then there's these two deer, and I realize that the deer ARE Brittany and Santana!
BUT THEN, next thing I know…
…we're back in the Hysterical Hallways of McKinley Magical Mystery High, where Irish Breakfast drops his books so that Sam has an excuse to talk to him. Sam — who is actually Heath Ledger in Sam's body — saddles up to Irish Breakfast's locker, which's decorated from head to waist with stock photography and trinkets from the St.Patrick's Day Closeout Sale at that store in the mall, to have a man-to-man.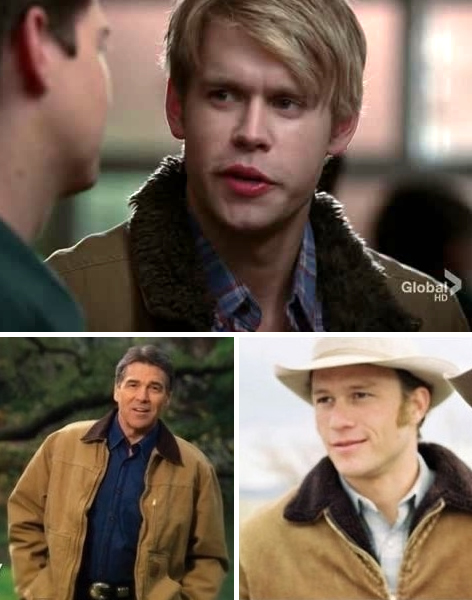 Although Irish Breakfast's parents reside one ocean and 30,000 miles away and Sam Heathledger's within a few hours of his allegedly impoverished family, Sam parallels the two experiences, and then parlays that into inviting Irish Breakfast over for Christmas Dinner with Jake Gyllenhaal and Alvin and the Chipmunks. Sam is like, "I'll be your Christmas Sponsor," and I'm like "WHAT THE FUCK IS THAT FUCKERY!?!" but then I remind myself that this isn't real, it's just fevered hallucinations, so it doesn't have to make sense.
Irish Breakfast drops that Brit-Brit & Fam are "going on a trip to see a gay Santa, Santa Fe" and at first I'm like PARTY and then I'm like; FUCK! 'cause this fucks with my ability to get the golden proof that Santana and Brittany are actually girlfriends and twitpic it and if I don't do that I'll become pregnant with Arlene's Devilbaby from True Blood. High stakes Christmas.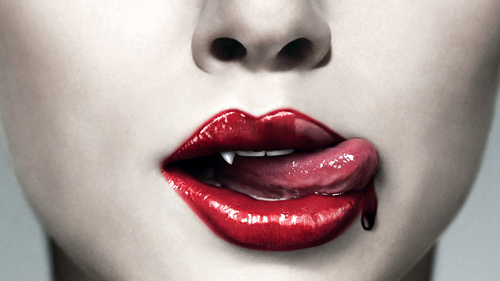 A character actor with a face like a pincushion calls Artie a "modern day Tiny Tim" and then Chewbacca tells Artie that he's gotta fit Star Wars into his Christmas Special.
Then! THEN! THIS: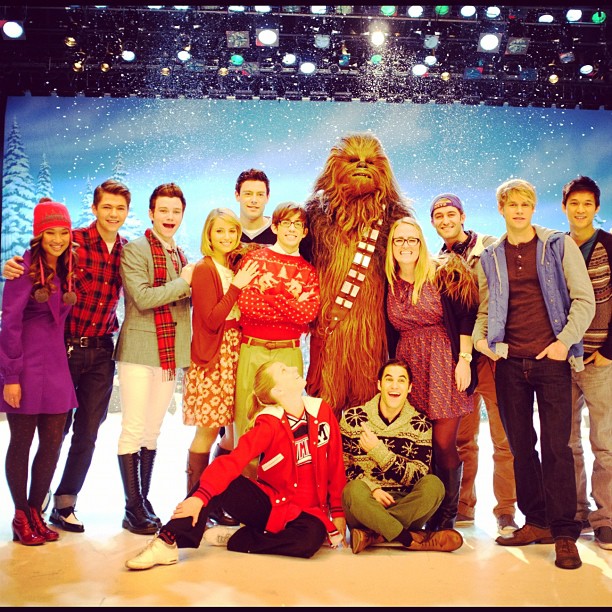 Right? What the fuck? So, obviously, I'm like THIS:
and then like this: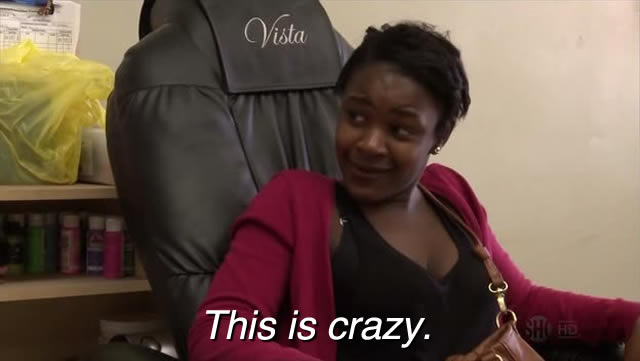 and then we're back to this:
SORRY, not that, but THIS:
Then Artie tells Mr.Television that it's gonna be in black and white as an homage to The Judy Garland Christmas Special, which happened in 1963. But like — WHOA — Judy Garland!? Major throwback!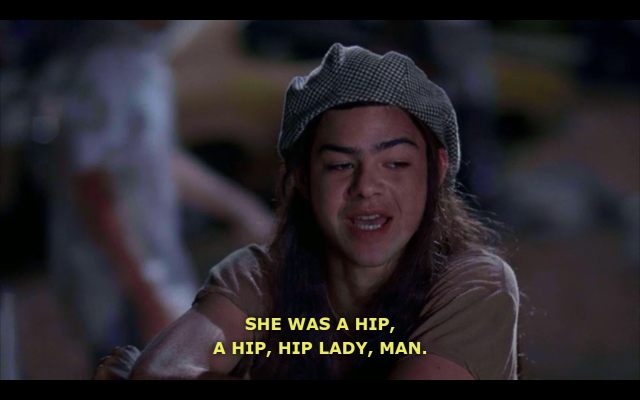 So in Magical Mystery Glee I guess Artie is gay.
Cut to, I think, the auditorium, which Dasher and Dancer have decorated with snow-frosted Christmas Trees donated by Sugar Motta's benevolent father figure. Lea's wearing a green dress singing Joni Mitchell's River and it's super sad, in a way, but it's also snowing.
Artie says "River" has harshed his mellow and made him suicidal and additional words come out of Rachel's mouth while I frantically search for any sign of Lima's Favorite Lesbians but all I can confirm is Brittany's shoulder and then, eventually, her sad sad face!
You wanna know who's bummed? BRITTANY. Girlfriend is BUMMED the FUCK OUT. Like she's a somber cheerleader dropped into Ghost World and is now smart enough to be cynical about everything. Sometimes she looks like this:
And sometimes it's more like this:
And then oftentimes, she appeared like so:
Whatevs, back to THIS hootenanny:
Artie's volleying with The Gays on the topic of Frosty the Snowman, yay or nay, and suddenly Sam gets really dramatic and quits the Glee Christmas Specialtabtacular. He's gonna find a red bucket and spend the night outside of Odd Lots, pretending to be the Salvation Army and collecting change for The Poor.

Then we're back in the Hussy Hallways of McKinley High where Rachel (locker adorned with a rainbow flag and Cory Monteith's headshot), overtaken by The Spirit of Kim Kardashian (as it was written by Finn mere moments ago), demands "bling," which's clearly my subconscious re-routing back to this:
Back to Finn (who's actually Jesus, but I'll explain that later), who's got a present for Rachel and it doesn't look like a Sno-Cone machine.
It isn't, it's a Pig which'll somehow feed a family with #thirdworldproblems, because as I said (and will explain later) Finn isn't actually Finn in this dream (thank GOD) but a really dopey-looking Jesus Figure.
Rachel's like, "I'm a vegan," and I scream YOU'RE ALSO JEWISH AND THEREFORE DON'T EAT PORK ANYHOW and this whole situation is clearly my subconscious addressing my own guilt that we've been using the word "Christmas" a lot on Autostraddle to describe "the holidays" which totally contributes to Jewish Erasure and me, me OF ALL PEOPLE, should know better, because I am a Jew.

Right, so! Then suddenly we're back at the Winter Wonderland of The Glee Room! Rachel and Blaine perform a forgettable rendition of a Christmas song I've never heard before and I'm trying to Jedi Mind Control Brittany and Santana, in matching knee-socks and the Winter Edition of the Cheerios Uniform, into a frottage situation.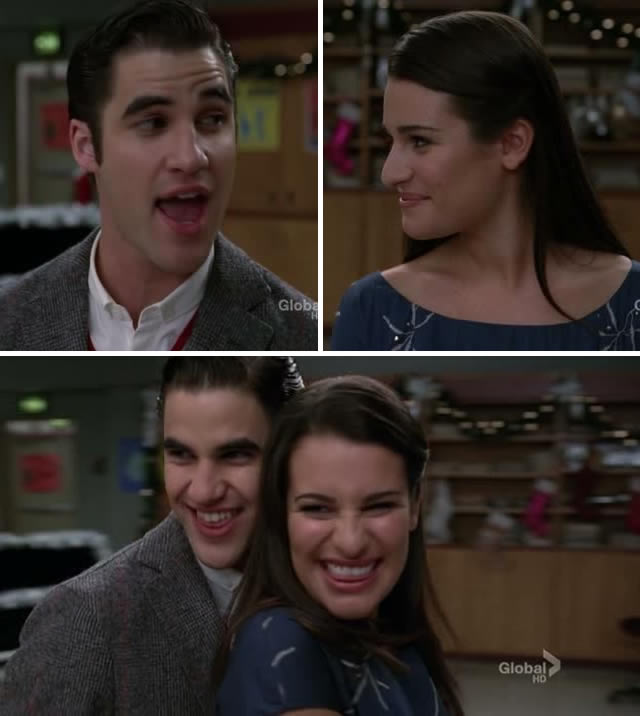 Brittany and Santana jump out of their pants to dance a dance of romance, briefly, but soon enough they're back in their chairs, not making out.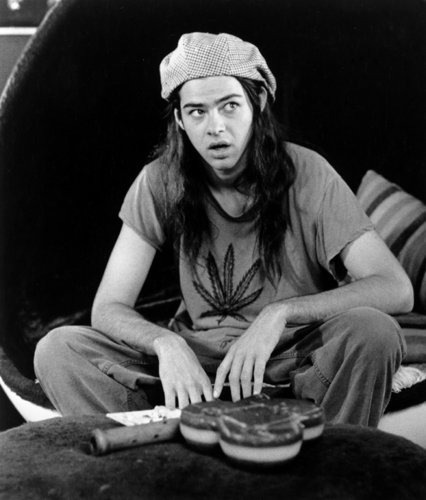 Sue, who is almost but not quite a totally different person this in Magical Mystery Glee, is drawn to the Glee Room by a psychic force of scriptwriting magic. She wants to confirm the Gleeks will be do-gooding that Friday with Teh Homeless but they're totally over it because of the Christmas Show Spectacular on Television. Artie and Sue fight like Artie is the adult and Sue is a kind child with a nice haircut who just wants to feed all the animals. It's super weird.
Sue asks the room for confirmation that they're ditching the needy to meet their own needs and Quinn stares at the wall like she just got an abortion.
And then — I wake up.
Pages: 1 2See entire article on one page