Not for long, though. So, I rise and drink four glases of water like water is going out of style, and then feel woozy and lie down again and this time I wake up in outer space except actually it's not, and I'm watching Magical Mystery Glee, but in this totally different dream world that is supposed to be "television" and it's all in black and white but not yet. Because it's The Past, but it's also right now, and nobody's Jewish, and all of these singles will be available on itunes for less than you'd pay to sponsor a child in need.
Unfortunately, if I'm unable to prove that Santana and Brittany are lesbian lovers than I'll have to send an Autostraddle Team Member to the reaping  — so I'm devastated to see Santana and Brittany introduced as merely the foreground of a gaggle of Other Cheerios. They'll never make out in front of the other Cheerios. That's like, the rules of lesbianism.
Like a stab in the subconscious from an axe murderer, we're shuttled along, Star Tours Style, to Chalet Glee Garland Garden, which's owned by the OTHER gay couple:
Then everything goes black and white, and Blaine and Kurt are suddenly like, the owners of this chalet conveniently located in the backlot of Gold Star Chili, spreading homosexuality to all the young gay boys of the 1960s.
The boys are gesticulating wildly, snapping compulsively, and delightfully singing "Let it Snow" from start to finish while Brittany and Santana remain in the dugout, chomping on bubble gum and wondering when Brittana Will Be On. I can't see that Brittany-Santana part, obvs, I just know it's happening, because I'm all-knowing.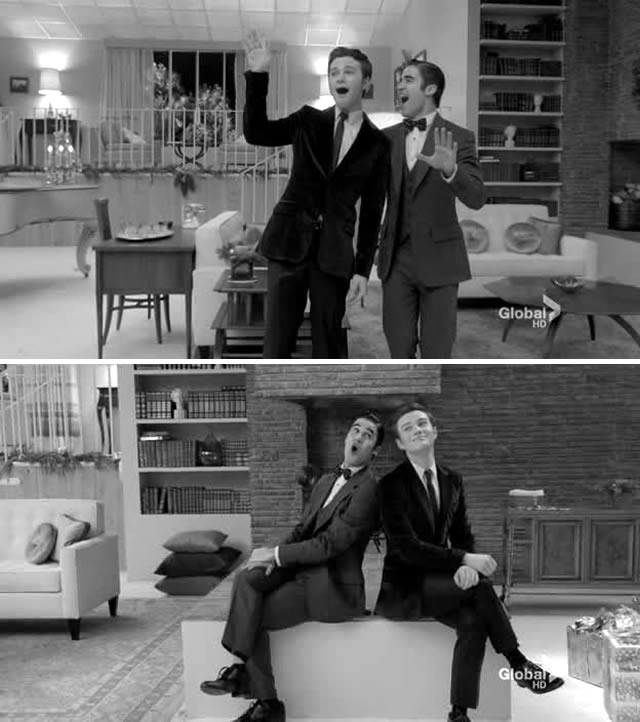 Clearly the same thing happened to these fellas last year — they were forced to acclimate to the indoors on account of blustery snowdrifts of freezing cold winter wonderlands and subsequently required to sing about their weathered situation — except this time it's slightly less rapey. Because in my imaginary world, everything's a lot less rapey.
At the song's end, Blaine and Kurt turn to the camera and begin to address us directly, which at first looks like this: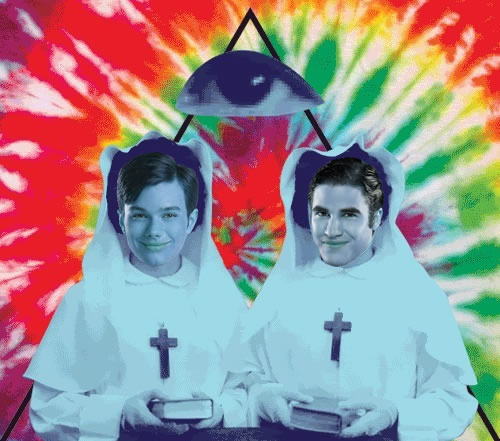 … but then it looks like THIS:
Kurt: "I'm Kurt Hummel one of your hosts this evening, and this is my best friend and Holiday Roommate, Blaine Anderson."
Blaine: "Welcome to our bachelor chalet."
This crazy ass motherfuckery is as fucked as it is funny. There's some fuss over Kurt's ebay bid on a laser-powered diamond necklace transporter, which is from a different time period but whatever, it's just a device to lead us to the next plot twist (aka "message for me from the droids") which is that THE INTERNET IS DOWN.
Then I'm flipping out like a flapjack because everyone knows Brittana really only actually exists on the internet, we'll never find them on the show itself, let alone a show-within-a-show-within-an-acid-trip!
Anyhow, so what happens next? Well, in Magical Mystery Glee, Rachel and Mercedes are besties and Rachel is also bisexual, thus the rubber gloves, and then she becomes an old-timey actress I can't identify but it's way more delightful than her traditional personality! It's ten thousand times crazier and funnier than she's been all season.
My jaw hurts in solidarity with these children who are sporting smiles as strained as Saran Wrap over a giant casserole. Then there's this weirdness:
Rachel: "Blaine, this is for you –"
Blaine: "Oh! Why thank you so much, Rachel!"
Rachel: [to us in a funny voice] "It's a bowtie with little Christmas trees on it!"
Blaine: "Would you look at that?"
Rachel: "Would you look at that!! — there's a little surprise under the wrapping paper…"
Blaine: "Why they're candy-cane striped capri pants! You know, what the best part is, I actually don't already own a pair! If you can believe that!"
Kurt: "Jewels and short pants and bowties and good friends, truly this is an ideal evening."
???!!!
We pause for a delightful presentation of "My Favorite Things," a single you can buy on itunes for only $1.99. Kurt says he forgot to turn on the oven and also, this:
Kurt: "And then I said to Justin Timberlake, that's not egg nog!"
And also this:
Blaine: "Geez you guys, it's really coming out down there."
Kurt: "Blaine is right, you guys. Global climate change is no laughing matter. Our over-reliance on fossil fuels is causing erratic weather patterns like this one — [gestures towards the window]"
Right? Random, but funny!
Then! THEN! Finn and Puck arrive dressed as Luke Skywalker and Han Solo because that is precisely how much shit is out of hand. Oh also, Santa Claus is coming to town, but you probs already knew that. It happens every year.
Finn knows how to operate a tambourine and is singing a song that's actually in his range, but it's mostly a blur, though I do remember feeling like this:
Oh, who's this at the door?! Obviously it's the Cheerios Rhythm Gymnastics Team, lead by Heather Morris, dressed in porny Santa outfits and white Go-Go-Boots! They're singing a song I recognize from a recent nightmare and every time the "camera" moseys over to Brittana area, it cuts immediately, and our necks are snapped like owl-necks, but we survive.
AND then — AND THEN! — and this is when I'm sure this is a drug thing or a fairy thing because my brain could not come up with this complete tomfoolery, AND THEN Irish Breakfast shows up, in an elf outfit, with a miniature book he refuses to read Frosty the Snowman from.
Kurt: "We asked our friend Itchy to stop by and read us a lighthearted, heartwarming, upbeat happy Christmas tale, Frosty the Snowman."
Itchy the Christmas Elf: "Actually I was going to read that, but I searched my heart and I'm going to read one from a different book."
I'm 95% sure that he's gonna whip out Ulysses and we'll be stuck in this limbo hell until Valentines Day, but instead he reads, I think, The Bible?  Everyone stares at him like they're really into Jesus.
In one or two group shots one can see that Brittany and Santana are holding hands, which isn't enough. Which means I can't save Christmas. Also that thing about Brittany going to Santa Fe isn't true anymore, and she's not too happy about it:
When Irish Breakfast says "Christ Our Lord," Rachel Berry shoots a look at Finn, because Finn is Jesus Christ.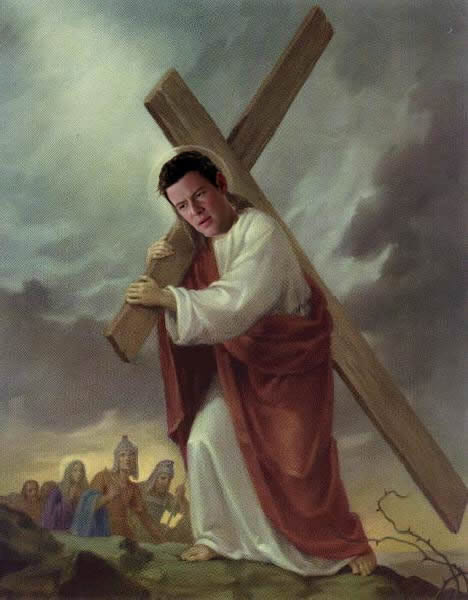 So then that whole part is just over and we're back in color at The House of Good Deeds, where Quinn and Sam are serving baked ziti to the best-dressed group of homeless people I've ever seen. Sam says he'd heard Quinn had a rough year but that she seems fine to him, because in Magical Mystery Glee he didn't talk to her about her rough year exactly seven days ago and declare her issues #whitegirlproblems.
Then WHO'S AT THE DOOR? It's Artie, some more random children, Emma, and a giant turkey! The gang says that Itchy the Elf's little Sunday School episode inspired them all to come to the Home of Good Deeds, after they were done filming their show, which, like EVERYTHING that happened during this Coma to End and Begin all Comas, has nothing to do with anything and doesn't make any sense at all!
Before anyone else can say something embarrassing, it's time for another musical number. Finn warbles and everyone pretends to like it because he's Jesus and Jesus has a lot of power.
Mike Chang is dancing with a twelve-year-old and nobody opens any presents because they are all filled with copies of the Glee Christmas Album. A few kids are listening to Irish Breakfast read a story with no fucking idea what he's saying. Do they know it's Christmas? I feel like they don't.

Rachel is back to being actual Rachel and actual Rachel named the pig Barbara and I'm like, fuck, there are like no minutes left, the countdown is on.
Then Finn gives Rachel a star he named after himself, which she hangs up next to the coupons for back massages and other theoretical Finn presents represented by pieces of paper, and then he gives Rachel earrings which she sticks in a Salvation Army bucket.
Then Irish Breakfast asks Sam to be his Valentine's Day Sponsor because at this part in Magical Mystery Glee, they are both gay.
I guess this is when it hits me — gradually, and then suddenly — that we're out of minutes, that my head hurts, that I can't save Christmas after all. That I'm going to wake up from this fever dream with a gnawing pit of emptiness that can only be filled by fulfilling my mission to prove Brittany and Santana are truly in love. I've failed on my mission! I've FAILED! And just as I admit defeat, I wake up, feel terrible all over again, and then remember that it was just a dream so it doesn't matter, and then I remember that actually w/r/t Brittana, that dream is not so different than reality, so then I get sad again.
I roll over on my mattress and there's my girlfriend, right there, on her tiny computer accessing The Internet, and I wonder if she's been here this whole time and if I talked in my sleep. But it sounds like she's watching Glee, which I realize I missed while I was sleeping, but as I strain to see her screen she tells me it's over and I ask her if it's worth watching or recapping. She tells me, "The highlight of this week's episode of Glee was the BevMo commercial."
So I flip on my own laptop and the only thing I see is this picture of Ryan Murphy, staring right back at me:
Happy Holidays, Motherfuckers!
Pages: 1 2See entire article on one page