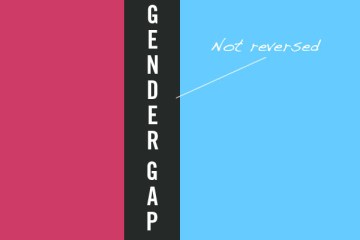 Good news! The gender gap is closing!
In an article titled "They Call it the Reverse Gender Gap," Luisita Lopez Torregrosa argues that there is a "global trend" of young single women out-earning men and of increasing female breadwinners, and that in today's new matriarchal society, many men will have to "import brides" and do housework:
"As the year ends, much of the talk around women — at least in the United States — has moved from empowerment and global gender gaps to the trend of young single women out-earning men and the rise of female breadwinners.
She opens with:
For starters, young women today — and not just in the United States — are moving quickly to close the pay gap, or in some cases have closed it already.
According to The Institute for Women's Policy Research, female full-time workers made only 77 cents for every dollar earned by men in 2010, resulting in a gender wage gap of 23 percent.   2010 census data showed that the wage gap between men and women didn't budge in 2010, but has remained steady. According to the 2011 World Economic Forum, U.S. wage equality overall is only at 0.65. Not 1.08. Of course, that data takes into account all women, and the data Torregrosa uses (and fails to cite, but we found it ourselves) is as follows:
…  a study shows that in most U.S. cities, single, childless women under 30 are making an average of 8 percent more money than their male counterparts, with Atlanta and Miami in the lead at 20 percent.
The Time magazine article about the study quickly points out  that outside of that specific demographic group, times are not a'changin' – "The rest of working women — even those of the same age, but who are married or don't live in a major metropolitan area — are still on the less scenic side of the wage divide." Economist Mark J. Perry sums that up nicely: "If you control for all of the important variables that contribute to wage differentials (age, marital status, having children, etc.), i.e. impose ceteris paribus conditions, there is no evidence of gender discrimination, and either there is no statistically significant wage gap, or now there's a wage gap in favor of women." 
Time points out that the cities where women earned more than men shared one of three characteristics: the city had knowledge-based primary local industries (such as New York or LA), the city was experiencing a decline of a manufacturing base, (that's where you won't necessarily see women making more as you'll be seeing men making less), or the city had a majority minority population, as Hispanic and black women are twice as likely to graduate from college as their male peers.
Torregrosa attempts to create an image of the "young independent single woman" that simply isn't reflected on the ground because she's essentially comparing apples to apples. Female college graduates still earn 33% less than male college graduates. This graph from The Bureau of Labor Statistics displays wage disparities between men and women in the same industries: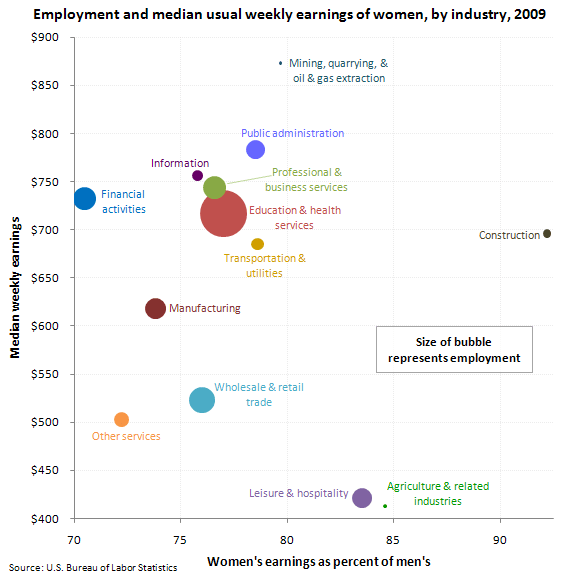 Just last week, in fact, Forbes published an article using current data from the Institute for Women's Policy Research showing that the unfounded "Mancession" (already a problematic concept to begin with) is "over," and that women aren't recovering lost jobs as quickly as men are.
There are plenty of other factors in this picture too — according to an interview with Dominic Barton in the Wall Street Journal, "if you look at the corporate world today, about 53% of the workers coming in are women. Then it dwindles. The female participation rate kind of goes 53% at the entry level, and then 37% at the next level up — lower-middle management. Then, at the VP level, it's 28%. And at the executive committee, it's about 14% and then, 3%."
Sociologist Mariko Chang revealed in a talk on "Shortchanged: Why Women Have Less Wealth and What Can Be Done About It" that despite the rise of women's earnings to 78% of men's, women still own only 36% as much wealth. Salary is only one piece of the financial picture.
According to the 2011 World Economic Forum, the overall gender equality score in the United States is 0.741 (where 0 is inequality and 1 is equality). Iceland, which has ranked first for the last three years, has a score of 0.853. (According to a quick Google search, Iceland's major newspapers are not publishing stories of all-out panic over women "reversing the gender gap." But that's not really the point).
So, now that we've dealt with 10% of the reasons why that "women earn 8% more than men because they are women" statistic is irrelevant, let's move on to this zinger, also presented as evidence of the powerful "emergence of [a] cohort of high-earning young women and [an] increasing number of female breadwinners":
"[Young women today] are marrying later and later, or not marrying at all. They no longer need husbands to have children, or want no children (40 percent of births in the United States each year are now to single women)."
So, WOW! Wow. Bet you never thought you'd see "40 percent of births in the United States each year are now to single women" as evidence of a reverse gender gap! That's not such encouraging information when nearly 41 percent of unwed mothers with children under 18 live on incomes below the federal poverty line. How many of these women are unmarried, but in a serious relationship? How many have female partners/co-parents? But most importantly — how many of those women chose to independently get deliberately pregnant with the intention of raising their child alone? What if I told you that 59% of women who choose single motherhood have POSTGRADUATE degrees? We're not talking "a majority" here.
And the Reach Advisors study doesn't get to what happens before everyone comes back from mat leave to find that someone who was hired at the same time has been promoted above them. (Women with children are also 50% less likely to be hired than another women with equivalent qualifications and no children, because they are seen as less devoted to their jobs. Men with children are equally or more likely to be hired than men without, and are seen as more devoted to their jobs.)  Shortchanged points out that "mothers face stereotypes that decrease their perceived credibility, capability, and worthiness of promotion in the workplace, whereas men experience a wage increase with fatherhood. Mothers receive a 4% wage penalty for the first child and a 12% penalty for each additional child."
There are also no statistics about what happens after 30, when more women start having kids — and when you're making a generalization about the future of gender relationships, you should probably look at the future.
The New York Times similarly misrepresents data about college graduation rates. The article cites the fact that 55% of college graduates are currently female. However, it does not look at which fields or which colleges this includes. Female engineers are still outnumbered four to one, according to a 2010 report from the University of Waterloo. While female doctors (in Britain) are predicted to outnumber male doctors by 2017 (which newspapers called "bad for medicine"), they are still expected to make less and not reach equally high professional positions. Jane Dacre, the medical school director at University College, London, who released the study, said, "For 500 years men have dominated the medical profession and that has been seen as the status quo, but as soon as there's a sniff of women dominating the profession there is a crisis. I don't think we have yet reached an era of feminization. What we are doing is reaching equality."
Some studies have shown that over the course of a lifetime, male college graduates will earn over a million dollars more than women college graduates will over the course of a lifetime.
Equality: even more fun than saying the gender gap is closed and not following up with actual evidence.
So now that we've assembled information disproving the thesis upon which she begins anecdotally fleshing out, let's see how this imaginary trend is allegedly changing our everyday lives and gender roles: "Increasingly, if by no means the majority, women bring home the bacon while husbands or male partners take care of an ever greater share of the domestic front." This argument for a reversal of roles does not, as the author seems to imply, completely transform the gender landscape. It still implies that there are two roles, and that one is better, and that there is no alternative.
Woven in with the wage-gap discussion is another, far more worrying tone, which are the interviews with young women quoted in the work:
"'Women here are doing the same jobs as men,' [a 29-year-old Parisian, Natacha Richard, single and childless, who came to New York to work in the beauty business because, she said, women have more opportunities and freedom here than in France] said. 'They are getting paid almost as much or sometimes more and doing the jobs better, and on top of that, women are the ones who have children and who care for children. What's there for men to do?'
Ms. Bolick laid it out, saying, 'If, in all sectors of society, women are on the ascent, and if gender parity is actually within reach, this means that a marriage regime based on men's overwhelming economic dominance may be passing into extinction.'
A cause to rejoice? Only future years will tell."
Can you imagine what this discourse will look like if the numbers actually do back up the story these people are telling? Do you see to what degree we're literally being brainwashed by bullshit into believing things are better than they are because people are so fucking petrified of how powerful women could be if they took over?
Earlier this year there was a similar "panic" in Canada over girls out-performing boys in schools. According to the results of the 2010 Pan-Canadian Assessment Program, which tests grade eight students across the country, female students performed better than male students in reading and science and at about the same level in math. According to some experts, boys are often less strong at reading, and thus performed worse on the test because "the current system is setting boys up for failure." The most sensible thing anyone said came from an education professor: "I don't discount the issue that there are issues for boys, but I don't think it's helpful to think of boys as a homogenous group."
It's not that girls and boys learn differently, it's that different children learn differently. Looking at data as if gender is the only relevant category, and as if one gender is being "set up for failure" because the curriculum isn't designed solely around them, is just lazy. So is looking at data about employment rates and college graduation and salary as if gender is the one and only factor.
It's possible to work for an educational system that serves all children and bends to meet individual education needs, and every time we fail to do so in lieu of chalking all our children's differences up to intrinsic gendered characteristics or placing all of our efforts in blocking a reverse gender gap, we perpetuate gaps in performance. Which leads to gaps in the opportunities for our children, whatever their gender.
And while the "reverse gender gap," does not actually exist, they still do.