In an infuriating instance of life imitating art, an unnamed high school student in the Alpine School District of Utah was outed to his family this week — not by peers or bullies, however, but by his school. After the the student referenced his sexual orientation in a school project and teachers overheard cruel comments from his peers, the school district decided to contact the boy's parents and let them know about his sexual orientation as a precaution for potential bullying. The student is 14 years old, and is described as being "nervous" when school officials told him about their plan. He eventually agreed to let them proceed, although he insisted on being out of the room when his parents were told.
The school's decision was immediately controversial; while the boy's parents are described as "supportive," they're also keeping him home from school "until the controversy subsides."
In the aftermath of 15-year-old Larry King's murder by a fellow classmate, King's mother claimed that if the school had somehow "contained" her gay son's "behavior," he might still be alive today. The school officials in the Alpine School District don't appear to have tried to discipline or "contain" their student, although a teacher did take him aside when his assignment clearly referenced his sexual orientation and confirmed that it was intentional and okay. But their actions do seem to reflect the panicked atmosphere around gay bullying — district spokeswoman Rhonda Bromley described the school's actions as being "proactive" against bullying. How will his parents' knowledge (and the ensuing controversy) prevent the kind of bullying that has driven too many kids to suicide and self-harm? How is their school now safer for this student and others who may identify as queer because of this decision? The answers to those questions aren't immediately evident, definitely not to us and probably not to district officials, either. The implication seems to be that they had to do something — that if they had overheard other kids making fun of this student's assignment and done nothing, they would be just as culpable as the dozens of other school officials who saw bullying problems and did nothing, and then ended up weeks later at funerals for the children they didn't protect. What else were they supposed to do? Aside from notifying his parents with their concerns about potential bullying without mentioning their child's sexual orientation, which seems extremely possible to have done.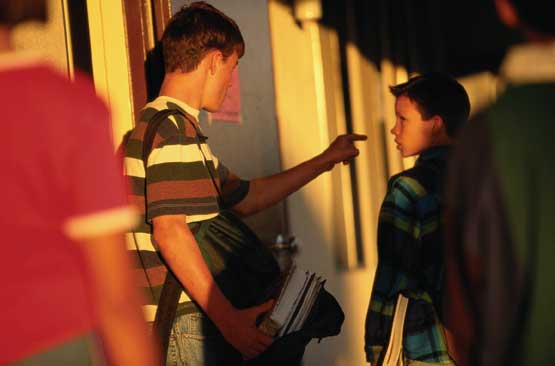 As well-intentioned as the school may have been, however, the truth is that outing this student (even with his cajoled "permission") isn't in any way an appropriate or an effective response to bullying. As GLSEN explained in their reaction to the incident:
"Outing a student not only violates their right to privacy, but also could compromise their safety. Parents can be notified of their child being bullied at school, but without disclosing their sexual orientation or gender identity… Taking away the choice for an LGBT student to come out on their own terms opens the door to significant risks including harassment at school and family rejection. Schools should be able to provide LGBT students with support and resources in order to make an informed decision if and when they decide to come out to their school community and family."
The Alpine School District may be one of the first examples of a new facet of the teen gay bullying problem: that schools may fully understand the problem of gay bullying and be genuinely motivated to combat it, but simply not understand enough about their queer students' lives to do a good job — and may in fact make things much worse. As GLSEN points out, for many young people, home is the least safe place in the world to be out. From the outside, it seems like almost pure luck that this student happened to have supportive parents; the school's decision could easily have ended in an intractable home life or worse, a lack of home life at all if the student was disowned, kicked out, or sent to an ex-gay program. But, as the school noted, the student was out in the classroom — without specific education on queer issues, or "cultural competency," it may not occur to a school official (or any straight person) that queer people of all ages make very careful and deliberate choices about exactly how out we are in each part of our lives. Being out in one sphere, like work or with our friends, in no way implies that we should also be out in any other place. It in no way implies that being out in any other sphere is safe.
So far, there have been plenty of stories about school districts that apparently don't care about the torment their students are living with, like Michele Bachmann's own district, Anoka-Hennepin. But what about school districts who care, and truly don't know where to start? Looking at this story — and looking at the fact that the student is now missing weeks of school because of the controversy — a few things seem evident. First, that the student's wishes should be respected: the student themselves knows better than anyone what s/he is experiencing and how they would like it to be dealt with, and making that decision for them is at best disrespectful and at worst irresponsible and dangerous. As GLSEN's statement says, support, resources, and the ability to make an informed decision are some of the best things you can do for any young person anywhere. If the school district knows that they aren't sure what to do with GLBT issues, and it seems clear that Alpine doesn't, why not ask the kids who would know?
But second — and this is important — what happened to the bullies? The Salt Lake Tribune reports that "…an adult aide overheard other students making negative comments to the boy about being gay. An assistant principal admonished the students for their comments." That's the last we hear about the bullying students for the rest of the article. If bullying and harassment of gay students is a problem, and it is, how hard is it to admit that the problem lies not with the gay students, but with their bullies? Why were these kids "admonished" once, and the boy they teased waited alone and terrified while he was outed to his parents in a separate room? What would have done more to prevent bullying from happening again — a gay student being outed as gay to his parents, or bullies being outed as bullies to their own?
When Larry King's mother lamented that her son wasn't "contained" by school officials for his own safety, she is obviously speaking from a place of grief, but also implying something heartbreaking: that he really was somehow 'asking for it,' that if he had acted "normal," he would not have deserved the completely, totally, utterly undeserved thing that was done to him. And when school districts, or any adult, make a student's sexual orientation the center of the discussion when it comes to gay bullying, they're buying into that ideology. That the root of the gay bullying epidemic is "gay," not "bullying." And no matter how sincere their good intentions, young people deserve better than that. A 14-year-old in Utah is at home right now, kept there by his supportive parents who for now at least feel that it's the best way to keep him safe and protected — and the students that he was originally thought to need protection from are still in the classroom. From here, that seems like a different kind of bullying, not its solution.