This week on Glee, everyone was excited to mash things up, just like babies who wish all those bananas on all the banana trees could be mashed up into mashed-up bananas and the Glee fans who want to take said hypothetical mashed-up banana paste and blowtorch it into Finn's eyeballs.
But before we begin, is Rumor Has It/Someone Like You still stuck in your head? Me too. So let me just address that for a minute.
There are quantifiably positive assets to this video: the song suits Mercedes and Santana vocally, it's got good choreography, it's a well-orchestrated mash-up, the dresses are cute, it almost makes up for Margot Tennenbaum butchering "Turning Tables" last season.
So yes, there were those things.
But something else too, right? The way Santana sings "don't forget me, I begged" the second time she sings it? We watched that video 654 times not knowing where it'd fit in to this week's episode but knowing something was different about Santana. She seemed… well… vulnerable.  The Santana who performed that song wasn't the Cheerios Captain or the brassy firecracker from Lima Heights Adjacent or the Glee Club Diva — the Santana who performed that song was just a teenage girl.
She sings/dances like a person who's just been told something terrible is about to happen and isn't sure yet what that "something" will be, only that it will be terrible. That "something" is tragically unknowable and therefore that "something" is really really bad — not because of its severity but because of its unfamiliarity. It's like the difference between a hurricane and an alien invasion. The first is horrible but predictable. You've seen hurricanes on the news, in movies, read about them in school. The second could be anything.
And on that note, let's begin.



This week's episode was directed by Eric Stolz, who you may recall from a spate of 80s/90s movies about underemployed Generation Xers with a lot of feelings. Also from Capricia.
As per ushe, I'll be recapping only the parts I deem worthy of my attention. Obviously the following things are not worthy of my attention: Sue/Burt Senate Situation, Quinn/Puck/Shelby/Beth Baby Mama Drama Situation.
In short, Puck pursues Shelby as he's certain they're the "ultimate mashup" and despite being 18, he's banged tons of older chicks and is ready to ride the Shelby Train to Tuna Town. Of course when he follows up that assertion with "I'm in love with you," it's patently clear that despite looking 29, he is indeed 18. Puck rats out Quinn's baby-snatching plans, throwing Child Protective Services and Quinn off the trail. Subsequently, Shelby redacts Quinn's Beth-visitation-rights which inspires Quinn, for some ungodly reason known only to Ryan Murphy if to anyone at all, to call Shelby a "cash whore," despite the fact that Shelby only takes American Express. Hey-o!
Also Sue wants voters to think Burt Hummel has a baboon heart.
Also, that he is married to a donkey:

We pick up right where we left off, with the happy de-virginized couples cuddling on their respective bloody bedsheets. JUST KIDDING! Hahaha it's Glee. Each episode is its own little world, like Legos.
We open in 1985 (circa Weird Science), where Puck's pitching a tent for Shelby at her whateverith hour class in which the entire Glee Club is enrolled.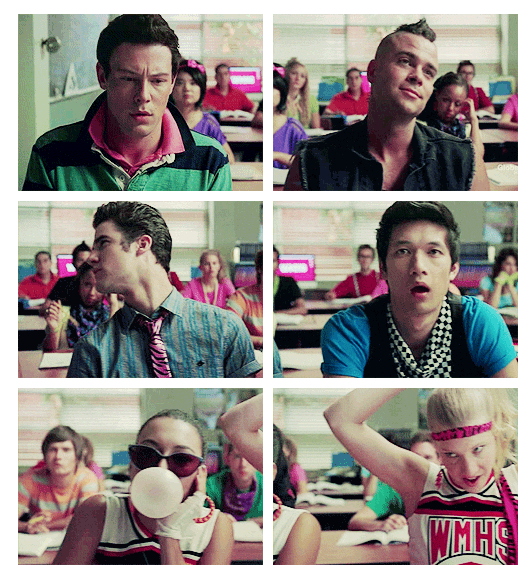 We pan the students  — Santana, in sassy sunglasses, pouts and pops bubble gum, Brittani teases her ponytail, talks to herself and adjusts her shoelace-inspired warrior princess headband — eventually landing back on Puck's little ditty and his inappropriate-for-teenagers fantasy:
We transition seamfully back to the Glee classroom, where Blaine and Mike grab their penises and shake their legs like they've got squirrels in their pants and Puck sings "Hot for Teacher" like a really really really poor man's Van Halen.
Finally this goat rodeo releases us from its insufferable grip and Rachel expresses concern that the song's subject matter is clearly too racy for the Semiannual Final Sectional Regional National Physical Glee Contest or whatever.
Before anyone can explain that nobody performs songs more than once on this show and therefore she's got nothing to worry about, Will clears it up by declaring it's only dirty if Puck's INTENT was dirty, because intent is nine-tenths of the law.  Rather than fess up that he's jonesing for Taye Diggs' hot wife, he says he just loves Van Halen, and Will's like PARTY ON WAYNE 'cause you know if anyone supports the "Hot For Teacher" concept, it's Will Schuster.

So, we're now into the eighteenth week of campaigning for School Leader President Council and Brittany's handing out balloons and promising robot teachers as well as something about MySpace I can't decipher due to ungodly amounts of mumbling allowed on this set.
Meanwhile, Kurt's gypsy-wandering around McKinley wearing all of Marco Polo's Original Oriental Textiles and his great-grandmother's rotting olive green afghan from the Civil War and, I think, a doo-rag. Kurt really takes layering to a whole new level here — odd, considering his layers were cited last episode as an impediment to the possibility of hot wild animal buttsex.
Sue says something to him about smear tactics and how swiftboating is the only way down the canal leading to his Student Leader victory, but Kurt insists on playing it clean. He's mosquito-netted his entire body for crying out loud.

Next we rendez-vous in the auditorium, where The Troubletones and New Directions have been ordered by their respective songleaders to go. In the few minutes preceding the Arrival of the Adults, Santana and Rachel start fighting. Santana takes a cheap shot at Rachel about her alleged moustache. This is redic cause Lea Michele would never let that happen, girlfriend is v. serious about effective beauty regimens.
But before the War of the Words can truly take off, Will emerges from the wings with a guitar and Shelby shocks 'em via the backdoor carolling the opening chords of a "You and I" mashup. About 50% of the children then magically transform into sanguine idiots, swaying back and forth like birds on Trazodone. 49% decide to, um, turn the piano around in a circle:
The remaining 1% is Santana, who ambivalently surveys all these victims of helium overdose (via Brittany's campaign balloons).
Will announces that this rousing Lake Woebegon musical incident has effectively displayed the message that "sometimes bringing together two conflicting things can create something totally unexpected," as if Mercedes' t-shirt's combination of "t-shirt" and  "gigantic glittery image of a giant bottle of perfume" hadn't been making that point from the moment we entered the room.

At Glee Club, for which Kurt has donned full Polo Regalia and is a hop skip and a jump away from a permanent spot in The Saddle Club, the team is divided about which band to mash-up. Basically everyone is on one side and Finn is on the other.
Finn and his ovaries demand that they do Hall & Oates because Hall & Oates are awesome for "staying together over the long haul." Furthermore, the unnecessary character Irish Spring will take the lead, because that's the worst idea ever and Finn has the worst ideas ever. Everyone does what he wants anyway though because they're afraid of being crushed by his hands.
Rachel nearly pops her top with excitement about "staying together for the long haul" and the rest of us cringe 'cause Rachel Berry really needs to break up with Finn Hudson and therefore the "long haul" is petrifying.
Enough about Hall & Oates, what's happening in the HALLWAY?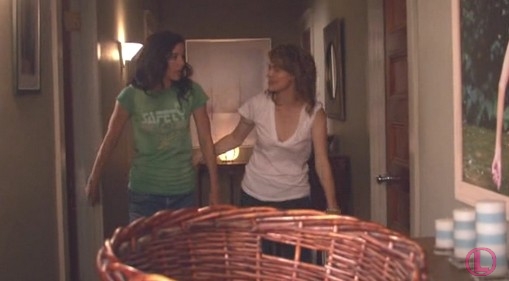 NO NOT THAT HALLWAY! This hallway:
Finn, like any lesbian with more feelings than only one girlfriend can handle, has found someone bored enough to listen to his psychodrama overanalysis of Santana's psychological makeup. He surmises that Santana's "trash talk" (a "sports term" Finn shares with Irish Spring, 'cause Irish Spring doesn't know it 'cause there are no sports in Ireland) aims to undermine the Gleeks' already delicate egos and convince them that they're the losers we all know they are. This is basic queer theory.
Look, it's Santana and Brittany!
Santana: "Hey there, Orca."
Finn: "Hey, Santana. You look like an ass-less J-Lo."
[Sidenote: an ass-less J-Lo still has this face, is the thing: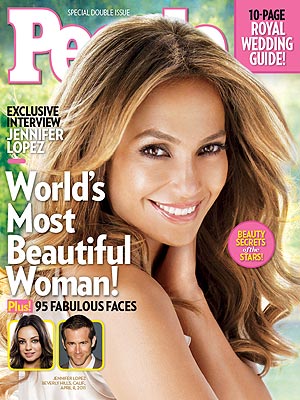 ]
Irish Spring: "You're skinny like all the crops failed on your family's farm."
Santana: "That is the lamest thing I didn't understand a word of."
Brittany: "Not one word."
Then Santana digs her claws in and really goes for it, this time revealing accidentally how, exactly, she got this way:
Santana: "Is that really all you can come up with? You seriously think you can out-insult me? I'm from Lima Heights. I was raised on insults. It's how mi abuela put me to sleep at night. And she is not a nice lady; you know, she tried to sell me once. And it wasn't until I got to kindergarten that I learned my name wasn't 'Garbage Face.'"
Sure, it's hyperbolic, but there's truth beneath it. Trash-talking is more than a sport to Santana, it's a survival mechanism.
There's only one way to settle this, says Finn, and before you can moan "Sing-Off" or scream "SCATTERGORIES!" he says "dodgeball." That should be easy for Finn the Lesbian to handle, he's been dodging balls all his life. Hey-o!

Pages: 1 2See entire article on one page