McKinley High Dodgeball Dork-Off is in session, and Rachel's jabbering in Kurt's ears about her college admissions status which interests him about as much as it interests us. Then Rachel's little face gets sad, and she begins —
Rachel: "I really… I really miss you, Kurt. And I really want to be your friend again."
Kurt:  "Well, maybe you should have thought of that before you walked over me on your borderline-sociopathic climb to the top."
Kurt, shoelaces securely fastened, leaves Rachel alone to think about what she's done. It's interesting that this episode it's not just Santana who breaks, it's Rachel, too — and by "breaks" I mean "takes the mask off." They get a little one-note sometimes — Santana is mean, Rachel is ambitious, and that's all there is to it. But you take that all away and they're both girls with hearts like everyone else, who get lonely and scared sometimes too.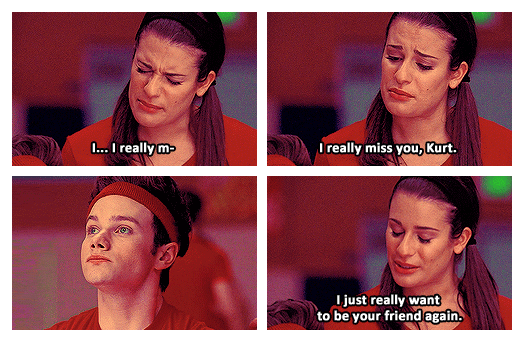 Basically Kurt and Rachel have to reunite because who are these freshly popped cherries supposed to ask for condom recommendations besides each other?
Irish Spring, because he comes from Ireland where there are no sports, only potatoes, confesses that he's unfamiliar with the rules of this American Game of Cruelty and Abuse and therefore solicits Puck's expertise on "the rules." "Don't die," says Puck, which means dodgeball = life because dodgeball and life have the same rules. Unless you're like a suicide bomber or something, then I don't know what your rules are. Probably similar to Papi's Rules of Poker.
So basically there are like ten smokin' hot girls in little athletic shorts and kneesocks, acting like aggressive teenage boys. Easy on the eyes.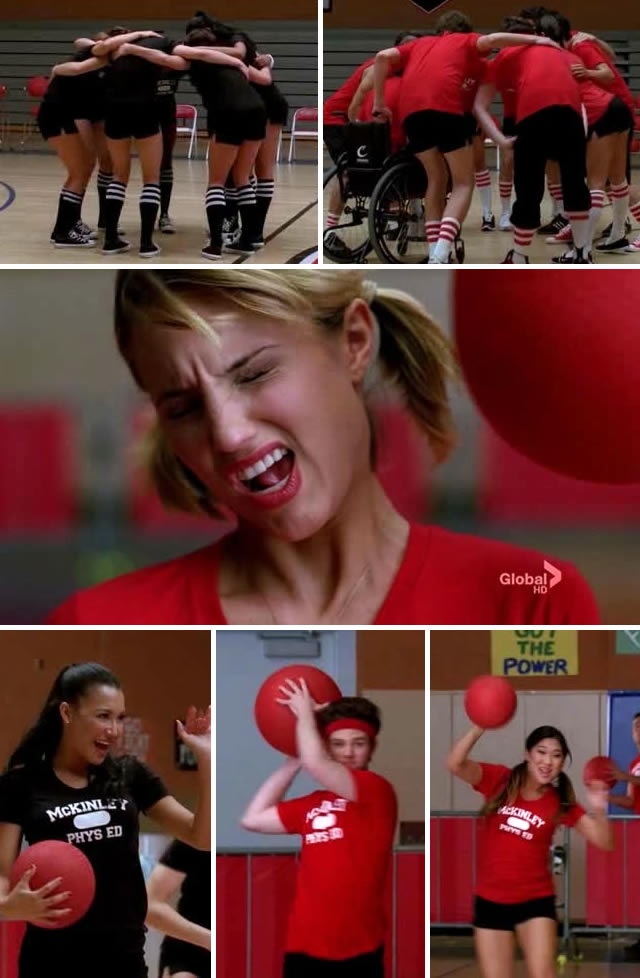 The song, Hit Me With Your Best Shot/One Way Or Another, clangs along in the background as the kids make funny faces while throwing balls at each other. Some literally fly through the air, like Crouching Tiger Hidden Dragon. The Mean Girls are clearly winning, as every ball they lob seems to hit one of the innocent Gleeks right in the kisser.
Brittany S. Pierce gets fierce:
Have you ever seen Battle Royale? I had a psychotic boss at a weird place many years ago who made me watch this with her and seriously I wish I'd died afterwards because living with the memory of that film makes life nearly unbearable. Anyhow, I thought about Battle Royale during this scene. Fucked.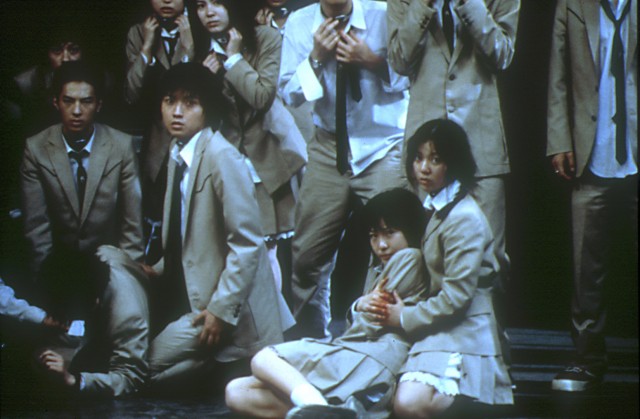 When the girls gang up on Irish Spring and all throw balls at him at the same time — an act which is, just as Kurt tells them it is, unnecessarily cruel — the game is over.
[ARE THEY?]

At Troubletones rehearsal Santana suggests they mash-up some Adele and then immediately tangents back into her Finn Hudson obsession, which rubs Mercedes the wrong way from here to mayday. Mercedes is ready to pull the troops out of Operation Finn so Santana will stop wasting time figuring out "how to make Finn Hudson cry." You don't need a Masters Degree in Mean to do that.
How to make Finn "Lesbian" Hudson cry:
1. Play him the scene in The Real L Word S2 finale where Rachel goes to therapy
2. Forget to recycle
3. Encourage bisexual erasure
4. Ask him what the weather's like up there
5. Kick him in the nads
6. Get your picture taken with Tegan while he's in the bathroom
7. Make him watch "High Art" again

Shelby: "Mercedes is right. We should all be focusing on winning because we are better, not meaner."
Santana: "I just don't have time for this kind of thinking."
Mercedes: "Well, make time. Because you are a star member of this group. And you need to represent."
Brittany leans in close to Santana and whisper-sings "stop the violence" in a private-joke tone to Santana, turning Santana into giggly mush. She barely resists the urge to grab Brittany's arm/rip off her clothes like an animal, and relents. Brittany is Santana's kryptonite. It's ADORABLE.

It's hard to side with Santana for the first half of this next scene, despite Finn's giant carcass inhabiting screenspace that'd be better allotted to girl-on-girl action and despite the unfortunate truth that Finn requires Taylor Swift level auto-tuning and has the personality of a cranky lesbian on the internet.
Her little tirade here is as unnecessary as it is transparent.
Irish: "Listen here. You can't make fun of Finn anymore."
Santana: "Shut your potato hole. I'm here to apologize. Rachel's right. I haven't been fair to you. You're not fat. I should know. I slept with you. And at some point I must have liked that you look like a taco addict who's had one too many back-alley liposuctions."
As she continues, it gets progressively more uncomfortable rather than progressively funnier — which's either character development or bad writing, it's hard to know. Santana's got this mixed-up machismo shield and she's re-started this war for no apparent reason, just like Operation Iraqi Freedom! There are no Weapons of Mass Destruction, it's just a skirmish for its own sake. Someone needs to white flag this ish.
Santana: "I'm sorry, Finn. Really. I mean I'm sorry that the New Directions are going to get crushed by the Troubletones. I'm also sorry that you have no talent. I'm sorry you sing like you're getting your prostate checked, and you dance like you've been asleep for years, and someone just woke you up…"
After finishing her monologue, Santana struts off with "Put that on your fucking clipboard" bravado while behind her, Finn gets that look on his face like Tina Kennard does when she's debating whether or not she could actually stand up for herself. And then he goes for it —
Finn: "Hey Santana, why don't you just come out of the closet?"
She freezes like someone who just got punched in the gut because for Santana, words as personal as those feel closer to a punch in the gut than an actual punch in the gut.
Finn: "I think I know why you're so good at tearing everybody else down, it's because you're constantly tearing yourself down because you can't admit to yourself that you're in love with Brittany and she might not love you back."
Finn: "That must hurt, to not be able to admit to everybody how you really feel. You know what I think you are? A coward."
You know what I think Finn is? An asshole.
The only excuse for outing someone is if they're a politician actively pursuing anti-gay policies while living a secret gay life on the side. Santana's like the only one in this show who's not running for office, so. So clearly Finn is an asshole and his flannel is so 1987.

New Directions wins the rock/paper/scissors game to go first in the Mash-Off, which is apparently thrilling for everyone.
They've "mashed up" I Can't Go For That/ You Make My Dreams and it's epically terrible.
Finn, in Miami Vice get-up lumbering around the stage like a poor man's Marty McFly, has never looked worse, because of karma. Someone's plastered moustaches on the upper lips of McKinley's most eligible bachelors and dressed all the girls like Heathers goes to prom. Or like this:
The only exciting element of this production are these Miracle Bras:
…and this facial expression:
When everyone quits your club 'cause Rachel Berry gets all the solos, you can, at the very least, let Rachel Berry get all the solos. I mean honestly.


Next up is the Student Councilorship Congress Debate, although nothing actually gets debated, besides our patience for this election season.
Brittany's platform is that she'll stop weather and show everyone her boobs, and what's not to love about that. Everyone cheers (especially Artie, seeing as Santana's secured exclusive access to the assets he once knew/loved).
Kurt aims to address obesity, add a salad bar, ban dodgeball and end bullying. He compares dodgeball to stoning, which is like comparing synchronized swimming to deer hunting. No really he gives this sort of cranky determined idealistic speech which's followed up by Rachel's speech — and Rachel drops out. Character transformation moment! She tells everyone to vote for Kurt. She's like obsessed with him now:
Rachel: "You're already so spectacular but being senior class president will just put you over the top."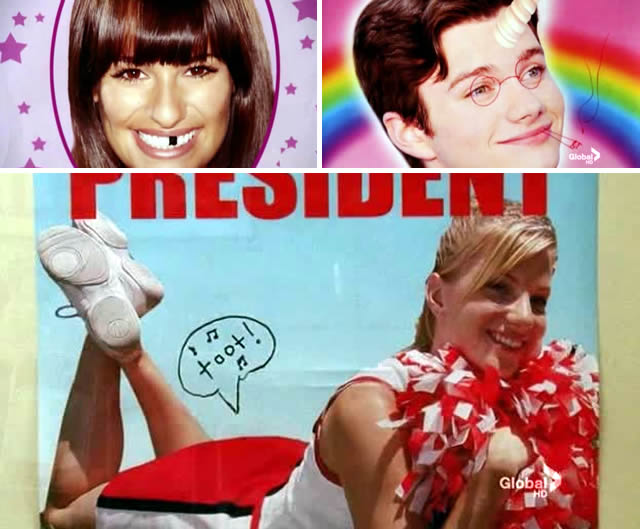 Just as Brit-Brit is thisclose to using her Santana Kryptonite to stop the madness with Finn, Santana's called into a meeting with Burt Hummel, Sue Sylvester and Will, which is as confusing to her as it is to us as this exact combination of people have never occupied a room together. I guess we're all OCCUPYING EVERYTHING these days.
Sue, who only shows her heart to the room when something truly terrible or homophobic is in bloom, tells Santana:
Sue: "In my campaign to become Ohio's newest congresswoman, I've said some things that are not true, and I don't feel good about it. I set the tone for this campaign, and now I'm afraid my slanderous chickens have come home to roost."
Sue sticks the tape in the VCR — it's a campaign ad from one of her rivals. [sidenote: This is totally illegal, right? Santana is under 18 and not running for office, if this happened in real life, she could sue their pants off and buy breast implants for the whole team and legwarmers for everybody's arms or whatever.]
The campaign questions Sue's true commitment to family values based on her decision to promote a lesbian to captain the Cheerios. I'd totally forgotten for a second that the Cheerios are a team that actually does stuff, like cheer, instead of it just being like, a personality type and a cute outfit. Those girls need to practice. I'm concerned about their readiness for the upcoming football game. Lyla Garrety would never let this happen.
Santana loses her steely exterior:
Santana: "I can't believe this is happening. I haven't even told my parents yet."
It's actually impossible for you to know how it sounded from reading those words on a screen. She was so terribly heartbroken. And she said "yet." She's not going to take it back. But it would've been nice if Finn had allowed her to let it out when she wanted to and not a moment sooner.
Lucky for her, someone pre-evacuated the hallway in anticipation of the worst moment of her life. She runs down the hallway — where is she going? (No really, where? Like, away from the office? Towards the parking lot? idk) She has never looked so small or so scared.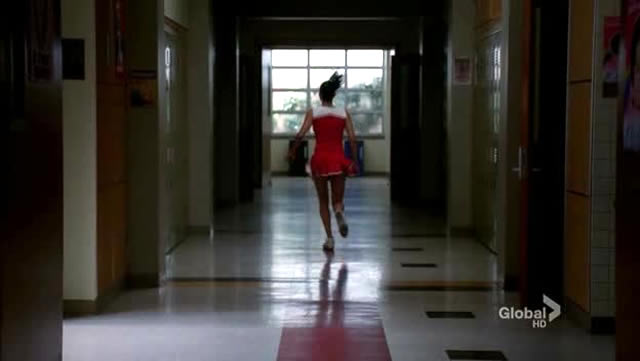 What happens between the hallway and the stage? We'll never know. I don't think Ryan Murphy knows, either, but whatever — ROLL THE TAPE:
God Santana shatters your heart into pieces here, doesn't she? The lyrics themselves aren't really even specifically relevant to her situation, but in a way they are — on a general level these are words that express a desire to control the uncontrollable, a concern that what you want could slip from your grasp so quickly.
That pause in the beginning — Glee never pauses. It's just so fucking manic, this show. But it actually lets silence tell its own story for a minute.

And before we knew what came before this scene but had seen this scene, she looked somehow like someone who'd been crying in the bathroom beforehand and pep-talked herself back onto stage — "you can do it, you know the coreography, just hit your marks and make sexy faces!" — and indeed that's what she is.

After absolutely destroying, rebuilding, and devoting a shrine to the incredibleness of Adele and cute girls in little black dresses with lots of feelings, Santana spots Finn whispering to his little muffin girlfriend and marches right up to his face, demanding to know what he's telling her. He claims he was just telling Rachel how good she'd done. TOO LITTLE TOO LATE CASH WHORE!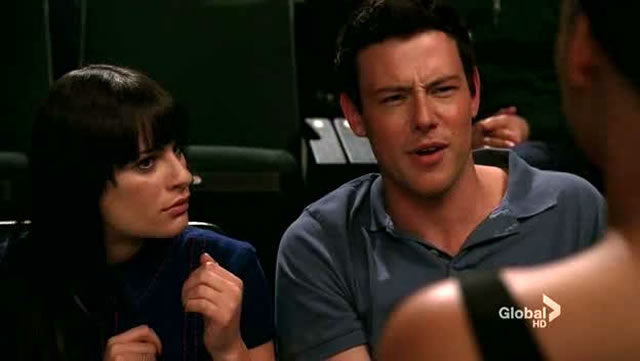 Santana: "Everyone's going to know now. Because of you."
Finn: "The whole school already knows. And you know what? They don't care."
[Oh thanks Finn, it's always refreshing to get a straight white cisgender male's perspective on how the lesbian woman of color ought to feel. I'm glad you've got it on lockdown.]
Before Finn can ask "there are other kids at this school besides us?", Santana continues.
Santana: "Not just the school, idiot. Everyone."
Finn: "What are you talking about?"
And just like that Santana's arm shoots forward like a bat out of her own personal hell, and she's slapping his stupid, stupid, stupid potato sack face.
And just like that…
…it's over.


And that's all she wrote. In two weeks, we'll reconvene for an episode entitled "I Kissed a Girl." This is the song list for that episode:

I know, right? I feel like with all that lesbian stuff there won't be enough time to follow up on Puck's relationship with Shelby.


Pages: 1 2See entire article on one page