This week on Glee, everyone was excited to mash things up, just like babies who wish all those bananas on all the banana trees could be mashed up into mashed-up bananas and the Glee fans who want to take said hypothetical mashed-up banana paste and blowtorch it into Finn's eyeballs.
But before we begin, is Rumor Has It/Someone Like You still stuck in your head? Me too. So let me just address that for a minute.
There are quantifiably positive assets to this video: the song suits Mercedes and Santana vocally, it's got good choreography, it's a well-orchestrated mash-up, the dresses are cute, it almost makes up for Margot Tennenbaum butchering "Turning Tables" last season.
So yes, there were those things.
But something else too, right? The way Santana sings "don't forget me, I begged" the second time she sings it? We watched that video 654 times not knowing where it'd fit in to this week's episode but knowing something was different about Santana. She seemed… well… vulnerable.  The Santana who performed that song wasn't the Cheerios Captain or the brassy firecracker from Lima Heights Adjacent or the Glee Club Diva — the Santana who performed that song was just a teenage girl.
She sings/dances like a person who's just been told something terrible is about to happen and isn't sure yet what that "something" will be, only that it will be terrible. That "something" is tragically unknowable and therefore that "something" is really really bad — not because of its severity but because of its unfamiliarity. It's like the difference between a hurricane and an alien invasion. The first is horrible but predictable. You've seen hurricanes on the news, in movies, read about them in school. The second could be anything.
And on that note, let's begin.



This week's episode was directed by Eric Stolz, who you may recall from a spate of 80s/90s movies about underemployed Generation Xers with a lot of feelings. Also from Capricia.
As per ushe, I'll be recapping only the parts I deem worthy of my attention. Obviously the following things are not worthy of my attention: Sue/Burt Senate Situation, Quinn/Puck/Shelby/Beth Baby Mama Drama Situation.
In short, Puck pursues Shelby as he's certain they're the "ultimate mashup" and despite being 18, he's banged tons of older chicks and is ready to ride the Shelby Train to Tuna Town. Of course when he follows up that assertion with "I'm in love with you," it's patently clear that despite looking 29, he is indeed 18. Puck rats out Quinn's baby-snatching plans, throwing Child Protective Services and Quinn off the trail. Subsequently, Shelby redacts Quinn's Beth-visitation-rights which inspires Quinn, for some ungodly reason known only to Ryan Murphy if to anyone at all, to call Shelby a "cash whore," despite the fact that Shelby only takes American Express. Hey-o!
Also Sue wants voters to think Burt Hummel has a baboon heart.
Also, that he is married to a donkey:

We pick up right where we left off, with the happy de-virginized couples cuddling on their respective bloody bedsheets. JUST KIDDING! Hahaha it's Glee. Each episode is its own little world, like Legos.
We open in 1985 (circa Weird Science), where Puck's pitching a tent for Shelby at her whateverith hour class in which the entire Glee Club is enrolled.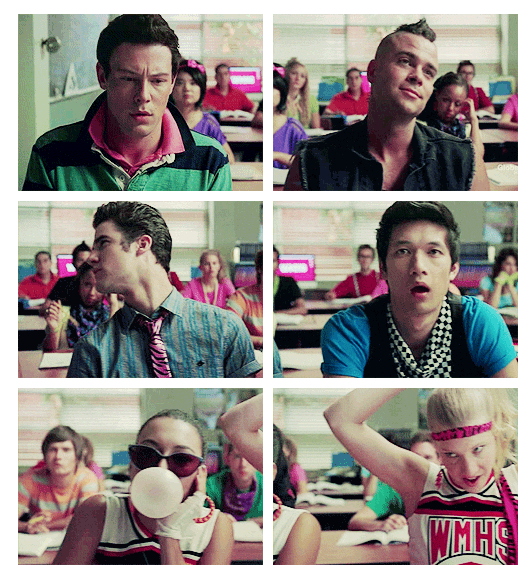 We pan the students  — Santana, in sassy sunglasses, pouts and pops bubble gum, Brittani teases her ponytail, talks to herself and adjusts her shoelace-inspired warrior princess headband — eventually landing back on Puck's little ditty and his inappropriate-for-teenagers fantasy:
We transition seamfully back to the Glee classroom, where Blaine and Mike grab their penises and shake their legs like they've got squirrels in their pants and Puck sings "Hot for Teacher" like a really really really poor man's Van Halen.
Finally this goat rodeo releases us from its insufferable grip and Rachel expresses concern that the song's subject matter is clearly too racy for the Semiannual Final Sectional Regional National Physical Glee Contest or whatever.
Before anyone can explain that nobody performs songs more than once on this show and therefore she's got nothing to worry about, Will clears it up by declaring it's only dirty if Puck's INTENT was dirty, because intent is nine-tenths of the law.  Rather than fess up that he's jonesing for Taye Diggs' hot wife, he says he just loves Van Halen, and Will's like PARTY ON WAYNE 'cause you know if anyone supports the "Hot For Teacher" concept, it's Will Schuster.

So, we're now into the eighteenth week of campaigning for School Leader President Council and Brittany's handing out balloons and promising robot teachers as well as something about MySpace I can't decipher due to ungodly amounts of mumbling allowed on this set.
Meanwhile, Kurt's gypsy-wandering around McKinley wearing all of Marco Polo's Original Oriental Textiles and his great-grandmother's rotting olive green afghan from the Civil War and, I think, a doo-rag. Kurt really takes layering to a whole new level here — odd, considering his layers were cited last episode as an impediment to the possibility of hot wild animal buttsex.
Sue says something to him about smear tactics and how swiftboating is the only way down the canal leading to his Student Leader victory, but Kurt insists on playing it clean. He's mosquito-netted his entire body for crying out loud.

Next we rendez-vous in the auditorium, where The Troubletones and New Directions have been ordered by their respective songleaders to go. In the few minutes preceding the Arrival of the Adults, Santana and Rachel start fighting. Santana takes a cheap shot at Rachel about her alleged moustache. This is redic cause Lea Michele would never let that happen, girlfriend is v. serious about effective beauty regimens.
But before the War of the Words can truly take off, Will emerges from the wings with a guitar and Shelby shocks 'em via the backdoor carolling the opening chords of a "You and I" mashup. About 50% of the children then magically transform into sanguine idiots, swaying back and forth like birds on Trazodone. 49% decide to, um, turn the piano around in a circle:
The remaining 1% is Santana, who ambivalently surveys all these victims of helium overdose (via Brittany's campaign balloons).
Will announces that this rousing Lake Woebegon musical incident has effectively displayed the message that "sometimes bringing together two conflicting things can create something totally unexpected," as if Mercedes' t-shirt's combination of "t-shirt" and  "gigantic glittery image of a giant bottle of perfume" hadn't been making that point from the moment we entered the room.

At Glee Club, for which Kurt has donned full Polo Regalia and is a hop skip and a jump away from a permanent spot in The Saddle Club, the team is divided about which band to mash-up. Basically everyone is on one side and Finn is on the other.
Finn and his ovaries demand that they do Hall & Oates because Hall & Oates are awesome for "staying together over the long haul." Furthermore, the unnecessary character Irish Spring will take the lead, because that's the worst idea ever and Finn has the worst ideas ever. Everyone does what he wants anyway though because they're afraid of being crushed by his hands.
Rachel nearly pops her top with excitement about "staying together for the long haul" and the rest of us cringe 'cause Rachel Berry really needs to break up with Finn Hudson and therefore the "long haul" is petrifying.
Enough about Hall & Oates, what's happening in the HALLWAY?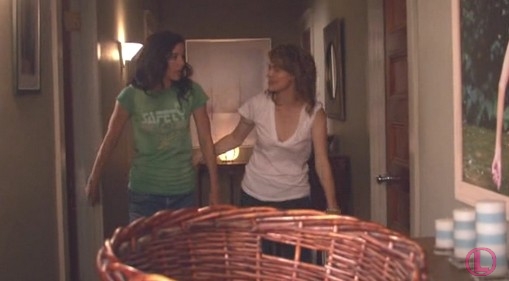 NO NOT THAT HALLWAY! This hallway:
Finn, like any lesbian with more feelings than only one girlfriend can handle, has found someone bored enough to listen to his psychodrama overanalysis of Santana's psychological makeup. He surmises that Santana's "trash talk" (a "sports term" Finn shares with Irish Spring, 'cause Irish Spring doesn't know it 'cause there are no sports in Ireland) aims to undermine the Gleeks' already delicate egos and convince them that they're the losers we all know they are. This is basic queer theory.
Look, it's Santana and Brittany!
Santana: "Hey there, Orca."
Finn: "Hey, Santana. You look like an ass-less J-Lo."
[Sidenote: an ass-less J-Lo still has this face, is the thing: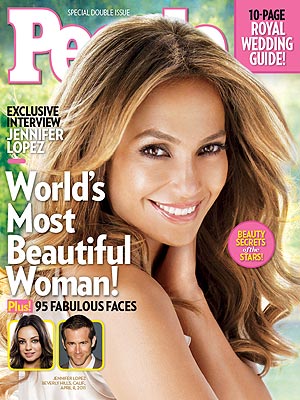 ]
Irish Spring: "You're skinny like all the crops failed on your family's farm."
Santana: "That is the lamest thing I didn't understand a word of."
Brittany: "Not one word."
Then Santana digs her claws in and really goes for it, this time revealing accidentally how, exactly, she got this way:
Santana: "Is that really all you can come up with? You seriously think you can out-insult me? I'm from Lima Heights. I was raised on insults. It's how mi abuela put me to sleep at night. And she is not a nice lady; you know, she tried to sell me once. And it wasn't until I got to kindergarten that I learned my name wasn't 'Garbage Face.'"
Sure, it's hyperbolic, but there's truth beneath it. Trash-talking is more than a sport to Santana, it's a survival mechanism.
There's only one way to settle this, says Finn, and before you can moan "Sing-Off" or scream "SCATTERGORIES!" he says "dodgeball." That should be easy for Finn the Lesbian to handle, he's been dodging balls all his life. Hey-o!

McKinley High Dodgeball Dork-Off is in session, and Rachel's jabbering in Kurt's ears about her college admissions status which interests him about as much as it interests us. Then Rachel's little face gets sad, and she begins —
Rachel: "I really… I really miss you, Kurt. And I really want to be your friend again."
Kurt:  "Well, maybe you should have thought of that before you walked over me on your borderline-sociopathic climb to the top."
Kurt, shoelaces securely fastened, leaves Rachel alone to think about what she's done. It's interesting that this episode it's not just Santana who breaks, it's Rachel, too — and by "breaks" I mean "takes the mask off." They get a little one-note sometimes — Santana is mean, Rachel is ambitious, and that's all there is to it. But you take that all away and they're both girls with hearts like everyone else, who get lonely and scared sometimes too.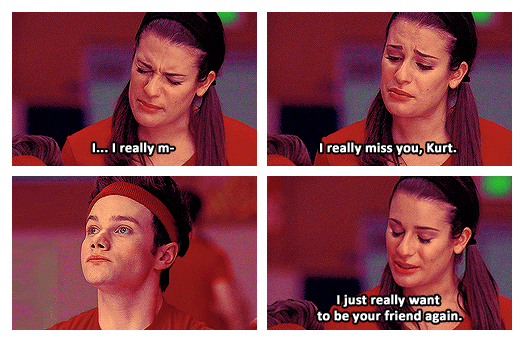 Basically Kurt and Rachel have to reunite because who are these freshly popped cherries supposed to ask for condom recommendations besides each other?
Irish Spring, because he comes from Ireland where there are no sports, only potatoes, confesses that he's unfamiliar with the rules of this American Game of Cruelty and Abuse and therefore solicits Puck's expertise on "the rules." "Don't die," says Puck, which means dodgeball = life because dodgeball and life have the same rules. Unless you're like a suicide bomber or something, then I don't know what your rules are. Probably similar to Papi's Rules of Poker.
So basically there are like ten smokin' hot girls in little athletic shorts and kneesocks, acting like aggressive teenage boys. Easy on the eyes.
The song, Hit Me With Your Best Shot/One Way Or Another, clangs along in the background as the kids make funny faces while throwing balls at each other. Some literally fly through the air, like Crouching Tiger Hidden Dragon. The Mean Girls are clearly winning, as every ball they lob seems to hit one of the innocent Gleeks right in the kisser.
Brittany S. Pierce gets fierce:
Have you ever seen Battle Royale? I had a psychotic boss at a weird place many years ago who made me watch this with her and seriously I wish I'd died afterwards because living with the memory of that film makes life nearly unbearable. Anyhow, I thought about Battle Royale during this scene. Fucked.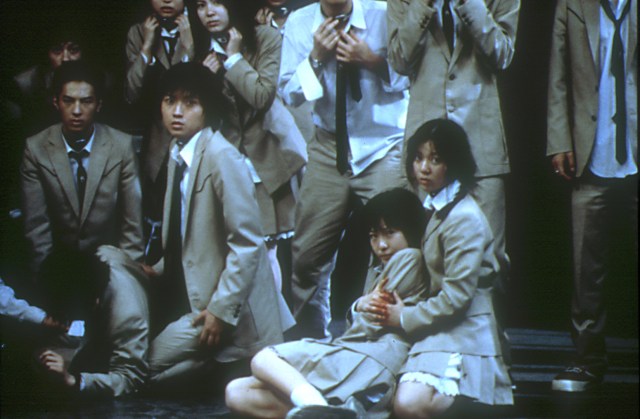 When the girls gang up on Irish Spring and all throw balls at him at the same time — an act which is, just as Kurt tells them it is, unnecessarily cruel — the game is over.
[ARE THEY?]

At Troubletones rehearsal Santana suggests they mash-up some Adele and then immediately tangents back into her Finn Hudson obsession, which rubs Mercedes the wrong way from here to mayday. Mercedes is ready to pull the troops out of Operation Finn so Santana will stop wasting time figuring out "how to make Finn Hudson cry." You don't need a Masters Degree in Mean to do that.
How to make Finn "Lesbian" Hudson cry:
1. Play him the scene in The Real L Word S2 finale where Rachel goes to therapy
2. Forget to recycle
3. Encourage bisexual erasure
4. Ask him what the weather's like up there
5. Kick him in the nads
6. Get your picture taken with Tegan while he's in the bathroom
7. Make him watch "High Art" again

Shelby: "Mercedes is right. We should all be focusing on winning because we are better, not meaner."
Santana: "I just don't have time for this kind of thinking."
Mercedes: "Well, make time. Because you are a star member of this group. And you need to represent."
Brittany leans in close to Santana and whisper-sings "stop the violence" in a private-joke tone to Santana, turning Santana into giggly mush. She barely resists the urge to grab Brittany's arm/rip off her clothes like an animal, and relents. Brittany is Santana's kryptonite. It's ADORABLE.

It's hard to side with Santana for the first half of this next scene, despite Finn's giant carcass inhabiting screenspace that'd be better allotted to girl-on-girl action and despite the unfortunate truth that Finn requires Taylor Swift level auto-tuning and has the personality of a cranky lesbian on the internet.
Her little tirade here is as unnecessary as it is transparent.
Irish: "Listen here. You can't make fun of Finn anymore."
Santana: "Shut your potato hole. I'm here to apologize. Rachel's right. I haven't been fair to you. You're not fat. I should know. I slept with you. And at some point I must have liked that you look like a taco addict who's had one too many back-alley liposuctions."
As she continues, it gets progressively more uncomfortable rather than progressively funnier — which's either character development or bad writing, it's hard to know. Santana's got this mixed-up machismo shield and she's re-started this war for no apparent reason, just like Operation Iraqi Freedom! There are no Weapons of Mass Destruction, it's just a skirmish for its own sake. Someone needs to white flag this ish.
Santana: "I'm sorry, Finn. Really. I mean I'm sorry that the New Directions are going to get crushed by the Troubletones. I'm also sorry that you have no talent. I'm sorry you sing like you're getting your prostate checked, and you dance like you've been asleep for years, and someone just woke you up…"
After finishing her monologue, Santana struts off with "Put that on your fucking clipboard" bravado while behind her, Finn gets that look on his face like Tina Kennard does when she's debating whether or not she could actually stand up for herself. And then he goes for it —
Finn: "Hey Santana, why don't you just come out of the closet?"
She freezes like someone who just got punched in the gut because for Santana, words as personal as those feel closer to a punch in the gut than an actual punch in the gut.
Finn: "I think I know why you're so good at tearing everybody else down, it's because you're constantly tearing yourself down because you can't admit to yourself that you're in love with Brittany and she might not love you back."
Finn: "That must hurt, to not be able to admit to everybody how you really feel. You know what I think you are? A coward."
You know what I think Finn is? An asshole.
The only excuse for outing someone is if they're a politician actively pursuing anti-gay policies while living a secret gay life on the side. Santana's like the only one in this show who's not running for office, so. So clearly Finn is an asshole and his flannel is so 1987.

New Directions wins the rock/paper/scissors game to go first in the Mash-Off, which is apparently thrilling for everyone.
They've "mashed up" I Can't Go For That/ You Make My Dreams and it's epically terrible.
Finn, in Miami Vice get-up lumbering around the stage like a poor man's Marty McFly, has never looked worse, because of karma. Someone's plastered moustaches on the upper lips of McKinley's most eligible bachelors and dressed all the girls like Heathers goes to prom. Or like this:
The only exciting element of this production are these Miracle Bras:
…and this facial expression:
When everyone quits your club 'cause Rachel Berry gets all the solos, you can, at the very least, let Rachel Berry get all the solos. I mean honestly.


Next up is the Student Councilorship Congress Debate, although nothing actually gets debated, besides our patience for this election season.
Brittany's platform is that she'll stop weather and show everyone her boobs, and what's not to love about that. Everyone cheers (especially Artie, seeing as Santana's secured exclusive access to the assets he once knew/loved).
Kurt aims to address obesity, add a salad bar, ban dodgeball and end bullying. He compares dodgeball to stoning, which is like comparing synchronized swimming to deer hunting. No really he gives this sort of cranky determined idealistic speech which's followed up by Rachel's speech — and Rachel drops out. Character transformation moment! She tells everyone to vote for Kurt. She's like obsessed with him now:
Rachel: "You're already so spectacular but being senior class president will just put you over the top."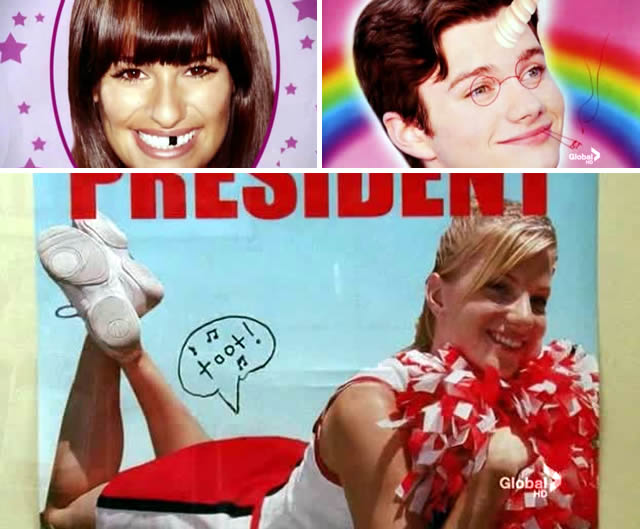 Just as Brit-Brit is thisclose to using her Santana Kryptonite to stop the madness with Finn, Santana's called into a meeting with Burt Hummel, Sue Sylvester and Will, which is as confusing to her as it is to us as this exact combination of people have never occupied a room together. I guess we're all OCCUPYING EVERYTHING these days.
Sue, who only shows her heart to the room when something truly terrible or homophobic is in bloom, tells Santana:
Sue: "In my campaign to become Ohio's newest congresswoman, I've said some things that are not true, and I don't feel good about it. I set the tone for this campaign, and now I'm afraid my slanderous chickens have come home to roost."
Sue sticks the tape in the VCR — it's a campaign ad from one of her rivals. [sidenote: This is totally illegal, right? Santana is under 18 and not running for office, if this happened in real life, she could sue their pants off and buy breast implants for the whole team and legwarmers for everybody's arms or whatever.]
The campaign questions Sue's true commitment to family values based on her decision to promote a lesbian to captain the Cheerios. I'd totally forgotten for a second that the Cheerios are a team that actually does stuff, like cheer, instead of it just being like, a personality type and a cute outfit. Those girls need to practice. I'm concerned about their readiness for the upcoming football game. Lyla Garrety would never let this happen.
Santana loses her steely exterior:
Santana: "I can't believe this is happening. I haven't even told my parents yet."
It's actually impossible for you to know how it sounded from reading those words on a screen. She was so terribly heartbroken. And she said "yet." She's not going to take it back. But it would've been nice if Finn had allowed her to let it out when she wanted to and not a moment sooner.
Lucky for her, someone pre-evacuated the hallway in anticipation of the worst moment of her life. She runs down the hallway — where is she going? (No really, where? Like, away from the office? Towards the parking lot? idk) She has never looked so small or so scared.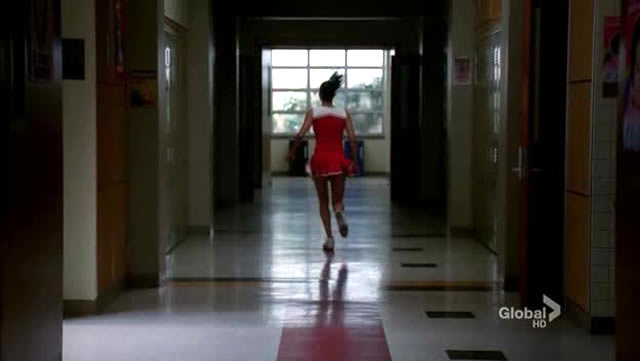 What happens between the hallway and the stage? We'll never know. I don't think Ryan Murphy knows, either, but whatever — ROLL THE TAPE:
God Santana shatters your heart into pieces here, doesn't she? The lyrics themselves aren't really even specifically relevant to her situation, but in a way they are — on a general level these are words that express a desire to control the uncontrollable, a concern that what you want could slip from your grasp so quickly.
That pause in the beginning — Glee never pauses. It's just so fucking manic, this show. But it actually lets silence tell its own story for a minute.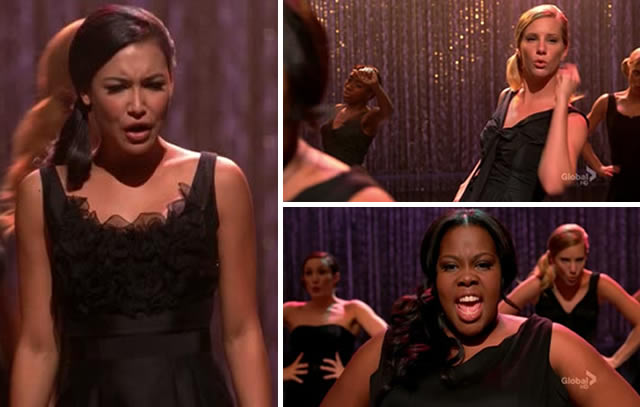 And before we knew what came before this scene but had seen this scene, she looked somehow like someone who'd been crying in the bathroom beforehand and pep-talked herself back onto stage — "you can do it, you know the coreography, just hit your marks and make sexy faces!" — and indeed that's what she is.

After absolutely destroying, rebuilding, and devoting a shrine to the incredibleness of Adele and cute girls in little black dresses with lots of feelings, Santana spots Finn whispering to his little muffin girlfriend and marches right up to his face, demanding to know what he's telling her. He claims he was just telling Rachel how good she'd done. TOO LITTLE TOO LATE CASH WHORE!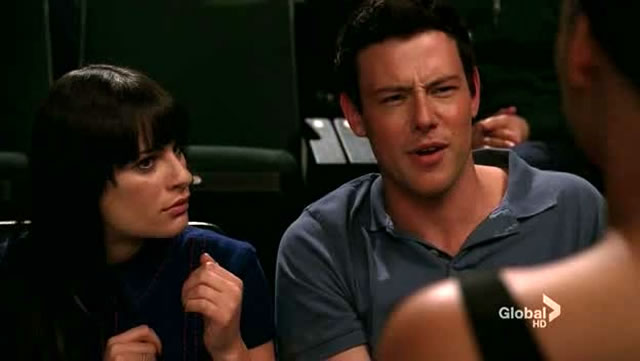 Santana: "Everyone's going to know now. Because of you."
Finn: "The whole school already knows. And you know what? They don't care."
[Oh thanks Finn, it's always refreshing to get a straight white cisgender male's perspective on how the lesbian woman of color ought to feel. I'm glad you've got it on lockdown.]
Before Finn can ask "there are other kids at this school besides us?", Santana continues.
Santana: "Not just the school, idiot. Everyone."
Finn: "What are you talking about?"
And just like that Santana's arm shoots forward like a bat out of her own personal hell, and she's slapping his stupid, stupid, stupid potato sack face.
And just like that…
…it's over.


And that's all she wrote. In two weeks, we'll reconvene for an episode entitled "I Kissed a Girl." This is the song list for that episode:

I know, right? I feel like with all that lesbian stuff there won't be enough time to follow up on Puck's relationship with Shelby.


Pages: 1 2See entire article on one page