By Carolyn & Jamie

In the past two years, nine teenagers in Minnesota's Anoka-Hennepin School District have committed suicide. Five students are now suing over ongoing gay bashing. The district is represented by Michele Bachmann. Coincidence? Critics think not.
The Anoka-Hennepin School District is identified as a "suicide contagion" area because of the high rate of suicides and suicide attempts, involving not only students but adults.
Four of the nine incidents in the past two years were by students who were either openly gay or perceived to be. One teenager, Samantha, was involved with starting a non-school-district-approved gay-straight alliance (according to Mother Jones, her mother says she wasn't gay herself, but wanted to create an anti-bullying environment). She was harassed and stalked and teased, and her friends have said that school staff saw it happen on more than one occasion, but didn't do anything. Another student, Justin Aaberg, hanged himself in his room after going to a school at which the Parents Action League encouraged students to preach to gay kids and after being told, at least once, that he would go to hell for being gay.
The school district has a number of anti-gay policies. It responded to a request to create a GSA by saying that it needed to be cleared with "legal," which is usually code for "stalling." It had a 1990s-era policy that prohibited any and all discussion of being gay, including related information about HIV and AIDS, because it might have given people the scandalous idea it was normal or valid. The 2009 update to that policy isn't much better, and requires teachers to be "neutral" in their responses to sexual orientation issues, including bullying, and which (in the words of the Southern Poverty Law Counsel, functions like a gag policy).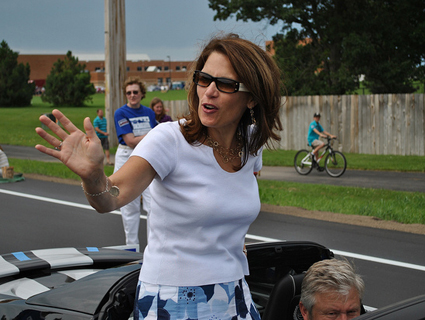 Some of the responses to issues coming from these policies have been excellent, but some have been unbelievably gross. In response to a Day of Silence held after Samantha's suicide, some religious activists held a "Day of Truth" (since renamed the not-that-much-better "Day of Dialogue") which essentially encourages homophobic bullying. From an "honest" and "compassionate" perspective! The Parents Action League handed out T-shirts. The head of You Can Run But You Cannot Hide International, the type of ministry that uses the phrase "homosexual indoctrination" on public radio, and that supports Bachmann, also criticized the less intolerant policy. Bachmann herself hasn't spoken out against the district's changes, but has gone on record several times to suggest that bullying is OK and being gay isn't.
According to Slate, Bachmann's critics are arguing that the combination of her nonsense-encouraged approach to bullying and her personal opposition to gay rights are what has made the Anoka-Hennepin district so deadly. Judging by their coverage of the Mother Jones article, the Washington Post blog, the Daily Mail, and NYMag, among others, support that conclusion.
However, in an interview with Salon's Natasha Lennary, Stuart Biegel, the author of The Right to Be Out, doesn't agree that the district's problems are solely Bachmann's fault. Instead, that the problem goes beyond just one district:
"85 percent of LGBT students surveyed nationally said they've been bullied at school. This is not a new dynamic and not limited to what's in Minnesota. When I was doing research for 'The Right to Be Out,' I came across evidence that there's been at least 10 years of criticism of anti-bullying measures as subterfuge for gay indoctrination."
Meanwhile, five students are actually suing the school district for ongoing gay-bashing, specifically for the "gag policy" that asks educators to delegate sexual orientation-related discussions elsewhere, regardless of context. The policy, which was adopted in early 2009, reads:
"The School District employs a diverse and talented staff committed to serving students and families from diverse backgrounds. The School District acknowledges that one aspect of that diversity regards sexual orientation. Teaching about sexual orientation is not a part of the District-adopted curriculum; rather, such matters are best addressed within individual family homes, churches, or community organizations. Anoka-Hennepin staff, in the course of their professional duties, shall remain neutral on matters regarding sexual orientation including but not limited to student-led discussions. If and when staff address sexual orientation, it is important that staff do so in a respectful manner that is age-appropriate, factual, and pertinent to the relevant curriculum. Staff are encouraged to take into consideration individual student needs and refer students to the appropriate social worker or licensed school counsellor."
The SPLC and the National Centre for Lesbian Rights (NCLR) will be in part representing the students. Kate Kendell, the executive director for NDLR, says that:
"There is something seriously wrong in the Anoka-Hennepin School District, and district officials know it. In school after school, kids who are perceived as gay are harassed mercilessly until they drop out, melt down or lash back. This epidemic of harassment — unlike anything we've seen in neighboring districts — is plainly fueled by the district's shameful and illegal policy singling out LGBT people and LGBT people alone for total exclusion from acknowledgement within the classroom."
Blaming Bachmann for the state of her district is easy, because everyone likes to see someone with bigoted ideas facing evidence that they are very, very wrong. Also: she's scary. On the other hand, earlier this month, the trial for the classmate who shot 15-year-old Larry King began. This past January, Lance Lundsten committed suicide as a result of bullying. And it will take a lot to forget about the multiple instances of gay-bullying-related suicides last fall. These things keep happening, and while any solution would be better than no solution, it's probably time to keep criticizing Bachmann and to start criticizing other organizational levels, too.