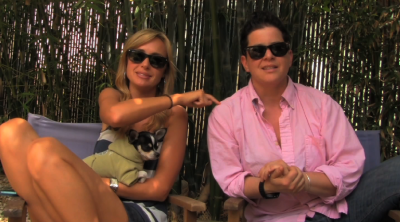 Julie Goldman and Brandy Howard are very busy international celebrities, but they're not too busy to go see a movie about four dudes called The Hangover II. The thing is that Julie hates men. So what did they think of the film? Well, you'll have to wait and see!
A quick refresher:
Julie Goldman & Brandy Howard are a sensational acting/writing duo trying to cause a sensation with their romantic-comedy, Nicest Thing.
But since no one wants to make their movie or cast them in anything, they feel it is their duty to harshly judge everyone else's work based on a sliding scale of rage, bitterness, lesbianisim, and lack of any real significant training.
Are you ready? I don't think you're ready. Do you have your wigs and pita ready in a big bowl? I hope you do. Because this episode is going to really excite you, change your life, inspire you to scale new heights, and maybe lead you to re-evaluate your perspective on baby harp seals.
A quick and important note:  Due to incredibly mind-blowing frustrating technical issues, has taken three weeks of wrestling with Final Cut to get this sucker into a presentable format for your eyeholes. So any bizarre picture problems or possible subliminal messages serve to cover up an image of Julie & Brandy's scrambled faces. And nobody wants to look at scrambled faces!
If you like it you should comment because Brandy gets really insecure if you don't. Maybe even comment if you don't like it, just to tell them that you love them.
[yframe url='https://www.youtube.com/watch?v=1vd8-xPBmbc']