This week on Glee, absolutely nothing happened. Brittany spoke maybe twice, Santana was off her game with insults and Sebastian succeeded in flying so far over the top that I'm shocked, really, that he didn't fall on his head and get eaten by wolves. Furthermore, the agonizingly existant relationship between Finn and Rachel plodded awkwardly through the Idontgiveashit lake of lost lesbian minutes and emerged engaged on the other side. Just like Jane Eyre.
That being said, I fucking loved this goddamn episode! MICHAEL JACKSON GOODNESS!
Also, Brittany and Santana are gonna make out soon — on Valentine's Day to be exact — so I will wait for my pudding.
Wanna watch it?
Wanna watch this?
Ok, let's begin!


So, one of the Sectional Judges was "high as a kite" during judging, apparently, which is the reason The Troubletones lost the Contest Show, according to the Troubletones. Kurt disagrees and insists New Directions won because they hogged the stage for like fifteen minutes JUST KIDDING because they did a Michael Jackson song. Apparently this Michael Jackson fella is like the leprechaun of Glee clubs. Irish Breakfast really oughta go home at this point, what does he really bring to the table besides sweater vests.
Also, Kurt gave Brittany's cat liposuction and turned the excess skin into a "hat":


Enough of this nonsense talking! It's time for the first musical number, Wanna Be Starting Somethin'!
Blaine, in the white jacket of an athlete from the past, dances with the sexual confidence of an adult and the joyful expectation of youth. The dancing children follow him through the hallways, into the library, and onto the glittery stage. Now we're all in flashy costumes and everyone is Lord or Lordess of the Dance, all sex and 80s-style glitz. Santana's dressed as a Sexy Nutcracker or maybe a Sassy Toy Soldier and Brittany is dressed as her Gentle Dominatrix Friend.


Next we travel to the ever-remodeling Java Joint, where the team is satisfying their never-ending craving for to-go cups and winterwear while discussing Rachel's inexcusable Michael Jackson ambivalence, everybody else's Michael Jackson love and Santana's desire to throw a mocha in Rachel's face.
Then, like a snake in the Garden of Eatin' and Drinkin' Coffee, Sebastian rains on their espresso parade by showing up, lords-a-leaping in tow.
Kurt: "Does he live here or something? Seriously he is ALWAYS here."
Turns out during one of their many AM phone chats, Blaine slipped to Sebastian that the New New Directiontones would be covering "MJ" at regionals, so Sebastian's decided to go all Bring it On-ish on their asses and decide that The Woebegone Warblers will also be doing Michael Jackson, who as you may/may not know, is an obscure pop musician from the 80s and 90s and a bit of the '00s who recently passed away.
Luckily he sang like five thousand songs, so unless The Warblers plan on pulling a New Directions and hog the stage for three years and an intermission, I think we'll be okay, but whatever. So then, this:
Sebastian: "Oh hey Kurt, I didn't recognize you, you are wearing boy clothes for once."
Santana: "Alright Twink, I think it's time that I show you a little Lima Heights hospitality –"
Sebastian: "Unless you wanna join your relatives in prison that's probably not the best idea."
He goes on to say something about pinatas and really this would be an example of someone being so arbitrarily and bitingly racist that it stops being shockingly funny and starts being another opportunity to say, "OH COME ON, who would EVER say that in real life?" Also, props to Santana for standing up for her fellow Gay.


At Glee Club, everyone yaps about Blaine being a Warbler-4-Lyfe and a Traitor until Finn The Mighty Sensei opens his piehole and spews out some cheesy nonsense about teams. "Couldn't have said it better myself," says Will because, of course, he never says anything for himself anymore anyhow. Finn should be on salary.
Will's magical whiteboard word of the week is WWMJD, which stands for "What would Marion Jones do?" and the answer is, she'd win three Gold Medals at the Olympics and then get in trouble for taking performance-enhancing drugs. It'll be like the Sudafed episode, redux.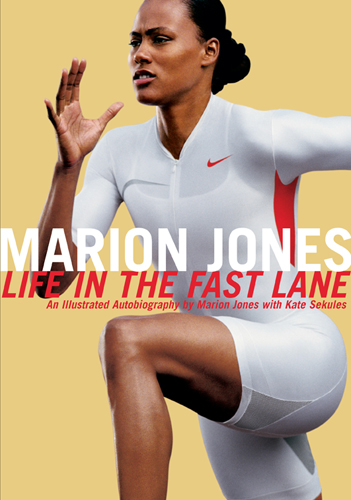 Time out: The way Glee talks about Michael Jackson this episode is so oddly arbitrary at times, like they could've stuck any pop star's name into these kids' easy sentences: "Michael Jackson would fight back!" and things like that, these intense generalities. "If Michael had listened to all that shit people said about him, he'd never have made all that music!"
Now, I'm no Michael Jackson superfan or expert, but aside from Artie's Wikipedia Facts, nobody gets specific about Michael, and that's unfortunate because Michael WAS specific. He was such a strange specific human being, specific in his beauty and in his decay and also in his talent. In other words, it's obvious whoever wrote this episode is not a Michael Jackson fan but whoever choreographed this episode knew EXACTLY what they were doing.
Anyhoo, moving on…

The Warblers and the New Directions rendez-vous in a secluded parking garage to sing and dance. Santana and Blaine are like bugs-in-a-rug/bank robbers in their street clothes and black hoodies. The Warblers only have one outfit, like dolls. It's time for BAD! Here's Michael Jackson's version, for your reference:
The number is hot and dark and punchy. The kids throb with the postured malevolence of mean baby birds as they play-kick the air and mock-fight with clenched fists and strained faces.
Then Santana has sex with the song and parts the sea and leads everybody to Egypt, where Sebastian throws a slushie at Kurt but gets Blaine instead. So now Blaine is basically blind or something. What a weird fucked-up Ohio these kids live in.


So, back at Glee, Detective Finn surmises that Slushie had rocks or darts or maybe an atomic bomb in it. Will morphs into a doormat and insists the children let the consistently reliable "system" to handle it. It's Artie's turn to give the "we're always bullied we have to stand up for ourselves" speech this week and he ends it with "and don't give me any of that It Gets Better crap because I'm not interested in it getting better. I want it to be better, like, right now."
Guessing Murph hates the D-Sav. Anyhow it's all a ploy to set up for SCREAM MOTHERFUCKERS! Here's the Michael Jackson version:

Scream, for those of you who just got born, is Michael Jackson's version of the Lindsay Lohan classic "Rumors," regarding unfortunate press attention.
When Scream  debuted in '95, I was one of the 64 million viewers glued to my set ready to have Janet Jackson blow my face off with her artsy makeup and crazy hair and middle finger. It's a song about aliens who live in a pressure tank who want to hide or destroy things. It was Janet and  Michael's first duet so it was a big big deal. It's such a hot fucking song.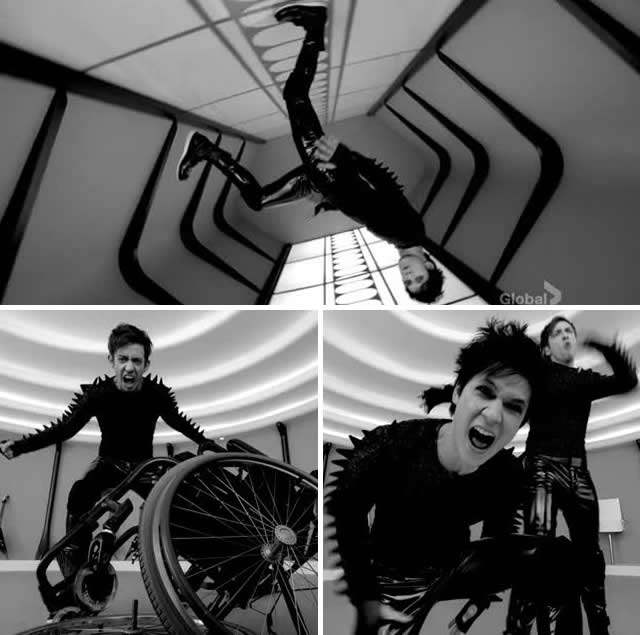 Mike Chang's got Adam Lambert all over his eyeballs and hair and Artie's kicking his wheelchair and covering his ears and screaming and doing slick robot-like dance moves. Mike Chang is dancing, like really dancing, and they're both dressed like alien space-warriors. They look like kids singing a song they barely understand or kids who want to be tougher than they are — but both of those ideas work for this song, too, maybe.
But part of what made it work, obviously, is that Michael Jackson's entire life up until that point made him want to scream, especially the few years leading up to it. Meanwhile Artie has been upset for like two minutes.


We zip on over to the Ladies Room for a Lea/Dianna rendez-vous heart-to-heart that'll enable Faberry shippers to write new lines to go with these graphics without having to pull from a bunch of different scenes.
Rachel seeks Quinn's advice on her stupid potential marriage to Finn because she's completely lost her mind and NYADA is the absolute final one-and-only way to "make it" as a singer/actress EVER and her voice isn't remotely Broadway-caliber WHAT?!
Quinn serves up a steaming platter of the truth, which's Rachel absolutely CANNOT marry that giant monument to Play-Dough and Penis known as Finn Hudson because she's got a big bright beautiful FUTURE and is a HUMAN.
Oh, PS when she wasn't ditching class with the other goth steampunk kids, Quinn was applying to Yale and got in. Hey-O!  Since we're talking about New Haven, I'll be on a panel at Yale this Sunday February 5th at 6pm about sex-positive writing! It's for Sex Week 2012. LIVE IN THE FLESH! I even cut my bangs for you! You should COME!
Quinn: "I've dated Finn, Puck, Sam — even thought I loved some of them, but by the time the snow falls in New Haven next winter, I won't know why."
Speaking of feminism, Quinn and Rachel have pulled a switcheroo, as Quinn's impending feministy song will cement. Quinn's going to Yale and Rachel Berry's pondering whether or not she ought to commit forever to a gigantic slab of Venison named Finn Hudson. Huh. Quinn reminds Rachel that her whole life-thing lies before her and she's mega-talented and I mean WHAT THE FINN FUCK?!
Quinn: "Women are finding themselves in their 30s now! Every magazine says it! We hardly know what we're gonna want in fifteen years."
I refuse to make the obvious lesbian joke. I REFUSE. However, I will point out that Quinn & Rachel spend a lot of time in the bathroom and that my only distinct memory of talking to Lea was when she was asking me for boy advice in the bathroom at New World Stages. ANYHOW, Rachel's acting like a psychotic baby lamb on tranquilizers AND uppers.
Quinn: "You can't change your past. But you can let go and start the future."
Quinn always expected a man would ultimately define her and that she'd exist in relation to him. And then there's Rachel, who never considered that possibility and now, in a moment of fear, is blindsided by this deceptively safe choice because its a popular choice — getting married, staying put. But Rachel's supposed to be more than that.
Obviously this is all Finn's fault.

Pages: 1 2See entire article on one page