This week's episode of Pretty Little Liars had multiple lesbian kissing scenes so Riese is going to hold your hand through the recap while I stick to what I do best. Speculating on what people on TV far far away from me are wearing.
First up we have Aria who, when she's not sneaking off to see her older manfriend, enjoys tie-dying at sleep-away summer camp.
While I think it's fun that tie-dying has come back in to style, I like that tie-dye stripes are in rather than the multicolored 60s swirl we all know and love. Additionally, tie-dying (or buying a previously tie-dyed) shirt is much more contemporary when it's a tank or loose tunic rather than a class T-shirt.
If you're a creative type, this video below shows how to tie-dye stripes yourself. The kid is boring as hell but there's a really good moment in the end if you wait for it.
Aria knows one long feathered earring is just SO last summer, but you too can still enjoy long dangly earrings sans the feathers. A long earring adds a glamorous but funky element to any outfit and draws the eye from your face down your neckline giving your neck an elegant look. I particularly like how Aria's are fabric.
Spencer is also playing it low-key early in the episode with this adorable bee sweater.
Animal designs have been in style for a while now, and Spencer always manages to incorporate the trendy animal of the moment. I know owls or birds are basically everyone's favorite small flying creature, but I think I'm ready to move on. I vote for moving on to bees because they are scary and certainly not doing us any good elsewhere.
The next day at school, Hanna and Aria managed to shock everyone. Hanna by wearing a dress zipped down to reveal her bra and Aria by dressing like Little Miss Muffet on Valentine's day.
I have no words for the cape that Aria is wearing, but I have a few on Hanna's cute but unrealistic dress. While I don't mind the occasional neon sports bra under a loose outer tank-top at a girl bar, it is super double not classy to unzip anything until your bra is showing. Especially at school/work/anywhere your parents will be. Also, Hanna's dress points out a specific difference between fantasy and reality. As you can see, Hanna's BB Dakota dress twists in the back: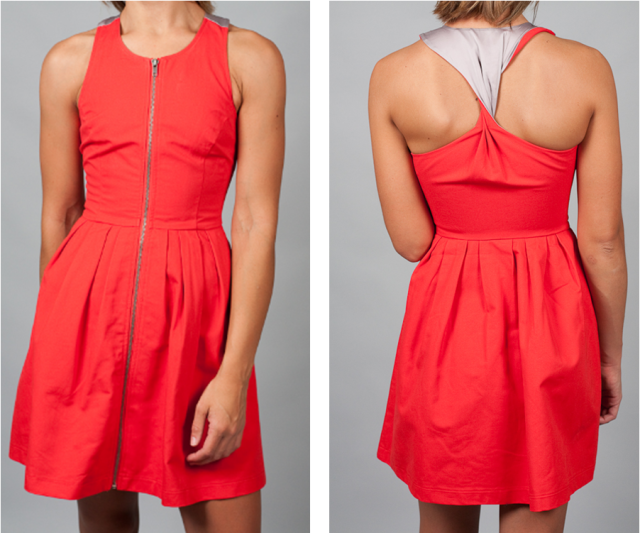 I've actually tried on this dress and the weird twisty back thing is totally bizarre looking in person. It makes the whole front buckle weirdly and I probably spent five minutes in the dressing room repeating, "Wait. How…how…um…how does this exactly go on?" before softly crying to myself. But seriously, I'm guessing it took major double stick tape to make this dress work on TV.
At least Hanna manages to show up her new stepsister, Kate. Though I'm generally 100% pro-blazer, this episode Kate taught us How to Look Totally Uptight in a Blazer Without Even Trying in 4 easy steps.
1. Wear a white button-up under a blazer. A white button-up with a blazer is sometimes necessary (like for medical school interviews) but generally I find that on bustier women there's a bit of trouble getting over the hump and they tend to make you look like a flight attendant.
2. Button that shirt all the way up to your neck. I see no reason to ever do this unless you're pairing your outfit with a dapper bow tie
3. Button you blazer all the way up. This completes your stick-up-the-ass look and ensures that your blazer will look minimally cute.
4. Make a constipated face.
Moving along, new day, new ways to look silly.
Believe it or not, you can actually buy Spencer's hat. It's available from Jennifer Ouellette for the low low price of $215. You too can look like a minor character in the cast from Oliver. Emily on the other hand decided not to dress like an idiot by wearing that cute All Saints T-shirt. See?! Look how cute it is:
Did you know that like 50% of the clothing they sell at All Saints is just cute pseudo-dark/mysterious loose tees specifically designed for you to wear on Girls Night? I know that.
The great thing about a funky but vaguely nonspecific design on a black, white or grey tee, is that you can seamlessly take it from day-to-night by adding a cool leather jacket or blazer. Emily does this by pairing her tee with her one and only one leather jacket from Sparkle & Fade.
Maya also creates a great casual date look by pairing jeans with a color blocking shirt. What I like about Maya's shirt is that the loose cut of the shirt and the asymmetry of the lines prevents her from looking like a Piet Mondrian painting.
Aria, on the other hand, knows that when you're doing something super fancy like going to a bowling alley, it's critically important that you have the appropriate level of glamor.
Jokes aside, in light of the super depressing recession, sequin tops are becoming increasingly acceptable in non-award show situations. Much like color blocking and tie-dye, the best way to tone down an extreme look like sequin is by wearing a casual and/or loose cut. A sequin one shoulder or tank-top is a little over the top for a casual day. This can even look tired out outdated. On the other hand, by combining different levels of dressiness in one garment, you can create a very modern look. Additionally, it never hurts to slap a casual jacket over a top to make it fade in to the background.
So there you have it, a rundown of this week's fashion gems from Pretty Little Liars. Tune in next week when Kate will teach us that the very best looking suit is your birthday suit!