Last night, a bill legalizing gay marriage in Washington state passed the state Senate with a vote of 28-21, three more "yes" votes than were needed for it to succeed. The vote came after an hour and a half of "contentious but respectful" debate, and the same bill is expected to pass easily in the House of Representatives. Washington's governor, Christine Gregoire, has already announced that she'll back it. As far as the legislative body goes, the movement for marriage in Washington seems to have been a big success.
Washington is an interesting case, because unlike states like Maryland or South Carolina, couples in Washington can already access the rights of marriage; their domestic partnership rights are equivalent to those of married couples. While those who protest that marriage is "just a word" not worth fighting over are usually unaware that it infers legal rights that civil unions and domestic partnerships don't, in Washington's case, the crux of the issue is whether or not the state is willing to grant same-sex families the right to the word "marriage" to describe their relationships.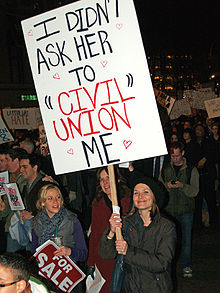 Perhaps fittingly, the debate in Washington functioned like a tiny microcosm of much of the larger national debate about marriage. It was suggested that even legislators who opposed the bill shouldn't be "accused of bigotry," but also that supporters of same-sex marriage "are not, and we should not be accused of, undermining family life or religious freedom." We don't always get to hear about the process by which legislators come to make their voting decisions, but the statement released by Senator Brian Hatfield was a surprisingly eloquent description of the moral conflict that many Americans (particularly Christian ones) seem to feel on the issue:
"Regardless of how I choose to vote on the issue of marriage equality, I will alienate myself from friends and neighbors that I have known for years," he wrote. "A vote in favor of marriage equality will enrage those who see it as a stone cast against God and the beliefs that I and thousands like me have been raised with. A vote against will label me as a bigot who is against extending the basic rights that I enjoy to all residents of our state," he added.
Concerns were expressed that the bill would somehow "lead to the silencing of those who believe in traditional marriage."
"It's ironic how a bill which purports to be about ending discrimination leaves the door open so far for discrimination going in the other direction," [Sen. Dan Swecker] said. "I'm extremely concerned that without additional protections, this legislation will create a hostile environment for those of us who believe in traditional marriage."
(Exactly how one could discriminate against "traditional marriage," or what exactly "traditional marriage" needs to be protected from, remains unclear.)
Even though the House, Senate, and governor all appear to be 100% behind this bill, that doesn't mean that same-sex marriage is a foregone conclusion in Washington. Although (thankfully) the bill's opponents failed to add an addendum that would put the bill to a voter referendum, they still have the opportunity to force a voter initiative if they can collect enough signatures of support for it. Those who oppose the bill have declared that they'll challenge it, but they must first wait until it's signed into law, and then collect 120,577 signatures before June 6th if they want to get their initiative on the ballot in November. If they aren't able to collect enough signatures; marriages can begin in June; otherwise, we'll have to wait until November to see if Washington could be the first state in which a vote by the people works for equality instead of against it.