Prologue: Robin is in the Top Five to win the People's Choice Award in the Artists Wanted Year in Review competition for her Autostraddle 2013 Calendar Photos! There are a few days left to vote so if you haven't, do it now! Do it! You guys have to do it.
Another year, another opportunity to create a kickass calendar of smokin' hot lesbians. If you've not picked up last year's calendar yet, now would be the time — they're available for the post-holiday price of $14! This year we did something completely different yet totally spectacular.
Are you ready to meet the 2013 Calendar Girls?

video edited by Sarah Croce and Lauren Aadland
Now, onward and upward — here's Robin!
Artist's Statement:
For the 2013 Autostraddle Calendar, we put on our bathing suits and hit the water! My goal this year was to do a black and white series that was playful, sexy, and all about the women. I sought to capture images that would reflect the models' feelings of freedom and comfort in their own skin. We chose a simple expanse of sand and water where the horizon is somewhat indistinguishable, and it was the perfect setting for a very personal and introspective look at each of these extraordinary women.
As a photographer, photographing an entire day at the beach is a great challenge. You need to maintain consistency as the light changes drastically throughout the day and the tides ebb and flow. This adds an interesting element in the images as over the course of the day, we watched them play and interact from sunrise to sunset. We closed the day with some very quiet, intimate interactions between the women who'd come to know each other over the course of those hours.
I love coming away from these shoots knowing that all of these women are now friends, and I hope that these images reflect those bonds formed.
A huge thank you to our beautiful models and our amazing crew for a job well-done. A special thank you to stylist and co-producer Sara Medd for being my partner in this project.
Robin, Photographer
Crew:
Robin Roemer, Photographer and Co-producer
Sara Medd, Stylist and Co-producer
Sarah Croce, Production coordinator and video
Lauren Aaland, video
Alex Vega, designer
Christina Natale, Make-up
Brandi Andrews, Make-up
Taylor Stevenson, Hair
Michelle McCaw, Hair
Sabrina Bringuier, Photo Assistant
Our February Lady is Stephanie: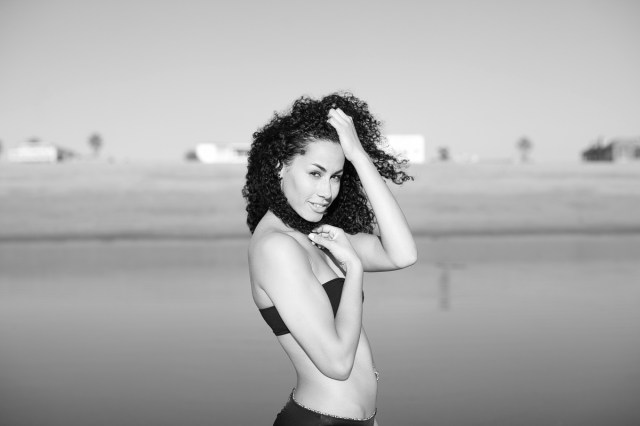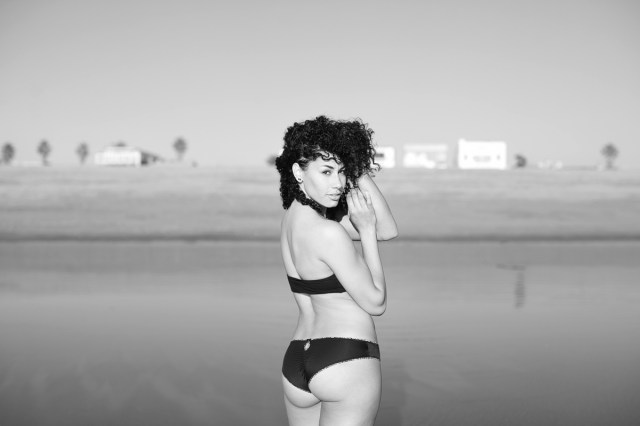 Stephanie in her own words:
"What up yo!? My name is Stephanie and I'm a 25-year-old college grad from Holy Names University. I was born and raised in the greatest place in the world: The Bay Area! Yeah I said it. I'm a high school softball coach by day and a foul-mouthed badass bartender by night. I enjoy the simple things, like sunshine, Sharpies, and SVU marathons. I don't just have a sweet tooth, I have sweet teeth. Like the whole top row. I once had an addiction to orange Tic-Tacs. I was up to two packs a day. It wasn't pretty, y'all. My tongue was always orange. I think it would be kick ass to write band reviews for Rolling Stone one day. I make a ridiculous pun at least once a day, and then giggle about it for twenty minutes.
A sense of humor gets me every time. I like athletic girls and girls who have a passion for something. I'm also a sucker for pretty eyes. Big thanks to Autostraddle, Robin, and Sara for letting me be a part of this awesome calendar!"
Robin's Phoner with Stephanie
You are one of our few models involved in the shoot who has modeled professionally before. Have you ever been involved in a shoot like this?
No I haven't. I've done group shoots before, but this was actually my first time doing a beach shoot or a shoot with all-gay models and crew. It's always fun to be in a new situation and everyone was super delightful to work with. The weather was gorgeous, the girls were gorgeous, and we had mimosas. What more could you ask for?!
What would you say is your greatest passion in life?
I would say it's a tie between softball and music. I've played softball my whole life, all throughout high school and college. It's why I enjoy coaching high schoolers so much — it's nice to give back to the sport I love and that was so good for me. I love music just as much. I can't really make it (although I'm learning guitar… slowly) but I can appreciate it! My folks raised me on the oldies and I really love going to live shows. I've been to probably over 150
You're so young and you coach high school. Are you like the cool young hot coach? Because that wasn't a thing at my high school — I feel like our youngest teacher was probably 30, which is my age, but at 18 I thought that was ancient.
Yeah pretty much! I'm always getting pulled aside by campus security telling me to get back to class. It's nice because the girls feel they can relate to me more, but I still definitely have to let them know who's boss.
So you came all the way down from San Fran for the sh0ot! What is your favorite spot in SF?
Besides the obvious Castro, I really love this spot called Butter. It's a white trash-themed bar that serves all your favorite late-night drunken munchie food, like Spaghetti O's and Frito pie.
Sounds like my kinda place!
They have jello shots, and I can get down on some jello shots
You bartend too right?
Indeed I do! I've been doing it for about 3 1/2 years.
What's the best pickup line you've ever heard?
Ohh man, I've gotten some good ones. One of my favorite pick up lines is "The only reason I'd kick you out of bed would be to f*ck you on the floor" or, "Do you have a soccer ball? Cuz I'm tryin to kick it."
Amazing. Who is your celebrity crush?
I've had a crush on Justin Timberake for about 14 years now, but I'd say Mila Kunis is definitely a contender for that #1 spot. She's just so cute and funny!
So have you seen their movie yet?
I have it on DVD and Blu-ray.
Haha, I don't judge you. I love her too. Favorite dessert?
Oooh, here in the Bay Area there is an ice cream chain called Loards. They make the best hot fudge sundaes.
I need to go back to SF, clearly. What is your biggest pet peeve?!
I hate ATM fees! I will walk a mile out of my way to find my own bank so I don't have to pay them. Don't know what it is but it gets me deep in my core. I also hate when airlines have baggage fees.
Oh YES baggage fees are the worst and then every a-hole brings a carry-on and they make you gate check your shit.
The worst! Who goes on vacation with only 3 oz of conditioner?! I'm obviously gonna need to bring more girly crap with me.

Special Note: As of December 2010, we request that the comments on Calendar Girls posts, unlike every other post on this site, be exclusively positive. These posts exist to celebrate women, so any shit-talking or criticisms of the model's appearance will get deleted. Direct concerns about the project or website as a whole can be directed to robin at autostraddle dot com or riese at autostraddle dot com!