Art Attack Month: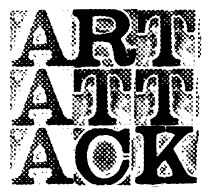 0. 1/28/2012 – Art Attack Call for Submissions, by Riese
1. 2/1/2012 – Art Attack Gallery: 100 Queer Woman Artists In Your Face, by The Team
2. 2/3/2012 – Judy Chicago, by Lindsay
3. 2/7/2012 – Gran Fury, by Rachel
4. 2/7/2012 – Diane Arbus, by MJ
5. 2/8/2012 – Laurel Nakadate, by Lemon
6. 2/9/2012 – 10 Websites For Looking At Pictures All Day, by Riese
7. 2/10/2012 – LTTR, by Jessica G.
8. 2/13/2012 – Hide/Seek, by Danielle
9. 2/15/2012 – Spotlight: Simone Meltesen, by Laneia
10. 2/15/2012 – Ivana, by Crystal
11. 2/15/2012 – Gluck, by Jennifer Thompson
12. 2/16/2012 – Jean-Michel Basquiat, by Gabrielle
13. 2/20/2012 – Yoko Ono, by Carmen
14. 2/20/2012 – Zanele Muholi, by Jamie
15. 2/20/2012 – The Malaya Project, by Whitney
16. 2/21/2012 – Feminist Fan Tees, by Ani Iti
17. 2/22/2012 – 12 Great Movies About Art, by Riese
18. 2/22/2012 – Kara Walker, by Liz
19. 2/22/2012 – Dese'Rae L. Stage, by Laneia
20. 2/22/2012 – Maya Deren, by Celia David
21. 2/22/2012 – Spotlight: Bex Freund, by Rachel
22. 2/24/2012 – All the Cunning Stunts, by Krista Burton
23. 2/26/2012 – An Introductory Guide to Comics for Ladygays, by Ash
24. 2/27/2012 – Jenny Holzer, by Kolleen
25. 2/27/2012 – Tamara de Lempicka by Amanda Catharine
26. 2/27/2012 – 10 Contemporary Lesbian Photographers You Should Know About, by Lemon/Carrie/Riese
27. 2/27/2012 – Read a F*cking Book: 'The Last Nude,' by Amanda Catharine
28. 2/27/2012 – Spotlight: Alice Hyde, by Laneia
29. 2/28/2012 – Spotlight: Mars Hobrecker, by Laneia
30. 2/28/2012 – Spotlight: Michelle Muldrow, by Laneia
31. 2/28/2012 – Spotlight: Laura Doughtie, by Rachel
32. 2/28/2012 – Spotlight: Sadie Lee, by Mira
33. 2/29/2012 – Spotlight: Kathryn Weaver, by Laneia
34. 2/29/2012 – Ariel Schrag, by Whitney
35. 2/29/2012 – Spotlight: Wex, by Laneia
36. 2/29/2012 – Spotlight: Fiona Shaw, by Laneia

You know how sometimes, the thing you just said ends up being the last thing that will be said? And it just echoes, like someone keeps rewinding the playback, so that the inflections becomes embarrassments and if you could reach out and pick it up — if picking it up would erase it — you would.
Fiona Shaw took those words and made them even bigger.
Artist Statement:
My work is, on its most basic level, about communication – or, more particularly, the difficulties we have with it. Each piece is in some way about the distance between people and our attempts to overcome it; although people themselves are never present, only remnants of activity linger, the physical objects themselves becoming abjectly anthropomorphised. As such, recurring motifs include signs/billboards, text in general, desolate and distorted spaces, broken structures and delicately balanced objects. These elements invoke a narrative (quite literally in the the form of the text pieces) that, while never quite finished, imply a disaster of the persona – heartbreak, grief – displayed through the aesthetics of a more worldly apocalypse. The fragmentary, the lost, the interrupted signal, the remainder.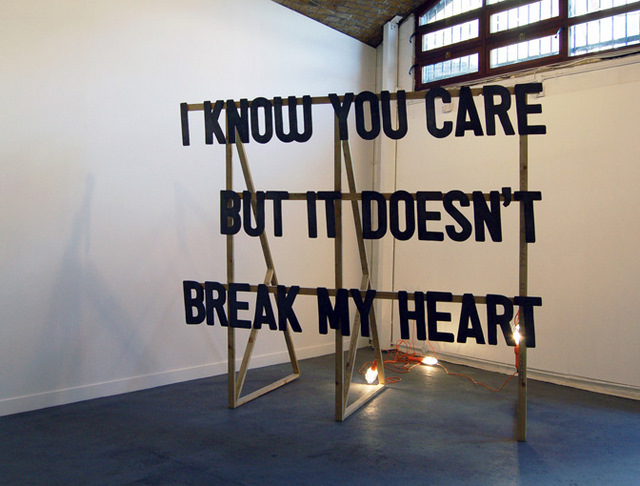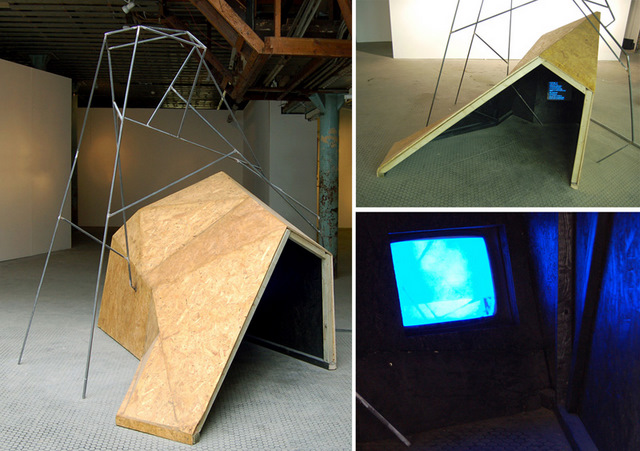 Fiona Shaw, on her art and also life:
"There are song lyrics in a few of my works, including Tegan & Sara, An Horse and Bonnie Tyler. Kate from An Horse said she was cool with it. I occasionally get emails from people who think I'm the other Fiona Shaw, telling me how good I was in Harry Potter. And it's really weird seeing your name in the True Blood title sequence."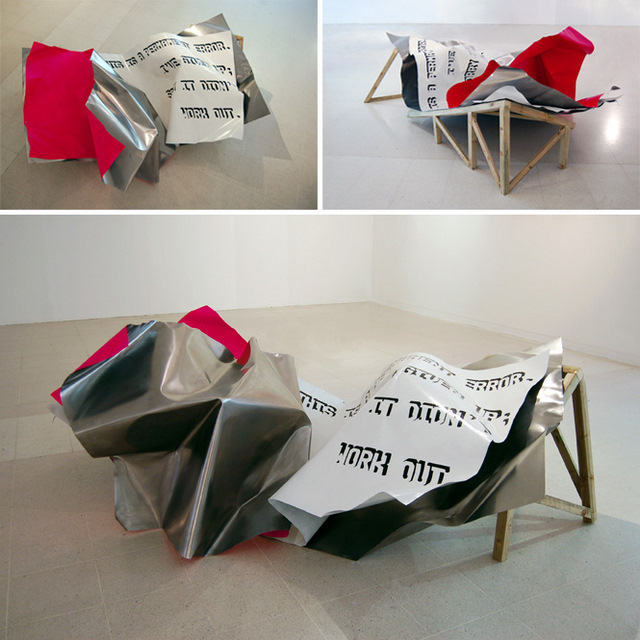 Patricia Ellis (2008 Busan Biennale catalogue), on Shaw's work:
Fiona Shaw's work encapsulates human vulnerability with a spastic ballet–like elegance, drawing from the academic rigidity of formalist and conceptual sculpture as a model to describe social exclusion and anxiety. Her works are tragicomic in their contorted gracefulness and wannabe ambition: forcing Joseph Kosuth chairs to balance torturously on sharpened pencils, comically posing Nam June Paik TV sets in parody of suicidal breakdown, re-forming John McCracken cubes to spell out "SUCKS". Almost all her pieces incorporate some form of text: a drawing desperately declares "I Got a System To Keep Me Alive", and a little wooden carved word with nails driven into it says "OUCH". A simpatico paranoia exudes from everything she makes: inferiority complex, embarrassment, frustration, fear, the foundations of modern intimacy.
For Shaw words are synonymous with inadequacy and failure. Her second-hand language, with all its disposable meaning and transient usage, is piteously salvaged from the charity bin of popular culture. A bit damaged, dog-earred, and bruised her texts contrive hand-me-down affection, recycled ill-fitting truths. Her plagiarized song lyrics (always of the breaking up variety) and greeting card-like slogans, are rendered in impoverished materials such as gift shop stationary and waning helium filled party balloons, to convey the malaise of the emotionally inept and inarticulate.
Shaw's romanticism is fraught with suspicion and neurosis: Feelings, like words, are awkwardly, cripplingly aberrant, empirical systems which are neither rational nor trustworthy. Subjected to obsessive compulsive making processes, Shaw's maudlin scripts humorously transform from hypochondriac syndrome into proud badges of (under)achievement and deficiency, made all the more empathetic through their material abjection. Like abandoned shrines her words occupy an uneasy space in the world, as traumatic, dejected, and obsolete remains of those unspeakable sentiments between us.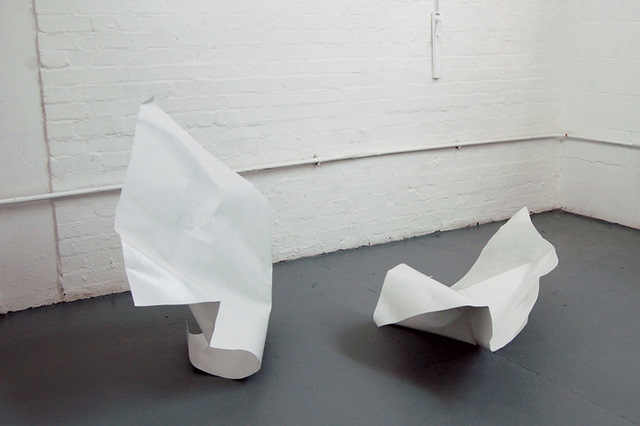 Laneia: Tell us something interesting or hilarious. Tell us a story.
Fiona: The only thing I can think of is the story of when I nearly lost a finger in the workshop in 2010. Blind drunk on free absinthe at a private view the night before, crashed at a friend's place, went to college in the morning and had one day left of workshop access in which to finish a piece that was due for temporary exhibition outside Canary Wharf tube station. I was tired, although not especially hungover. Happily cutting out plywood letters on the bandsaw until my hand slipped during an awkward curve, jamming my little finger right into the blade. I'm proud to say that I didn't faint. I was shipped off to A&E, told that I had nearly severed a tendon and had to come back for surgery after the bank holiday weekend. I got my hand all nicely sewn back together and a few days later saw my then-girlfriend whom, during the first time we slept together, I whacked in the head with the excessively large cast that had been put on ALL of my forearm. After the cast and the embarrassment I had to wear this thing for a month and a half, which made me feel like I should have them on all my fingers and dress more like Lady Gaga. My finger is now fine, fully mobile but with a cool scar.
Fiona Shaw is an internationally exhibiting artist working mainly in sculputre. She has been showing regularly since finishing her BA in 2006 and recently completed an MA in Sculpture at the Royal College of Art – one of the best art schools in the world. Fiona Shaw was represented by Galerie Alder in Frankfurt for two years.