Today I woke up to the most amazing surprise. xoJane has declared today, February 29th (a.k.a Leap Day), Say Something Nice on the Internet Day. If every four years we can elect the president of the United States, hold the summer Olympics and let those 84 year old grandmothers who happen to be born today celebrate their 21st birthday, then maybe the internet can be nice for just one day.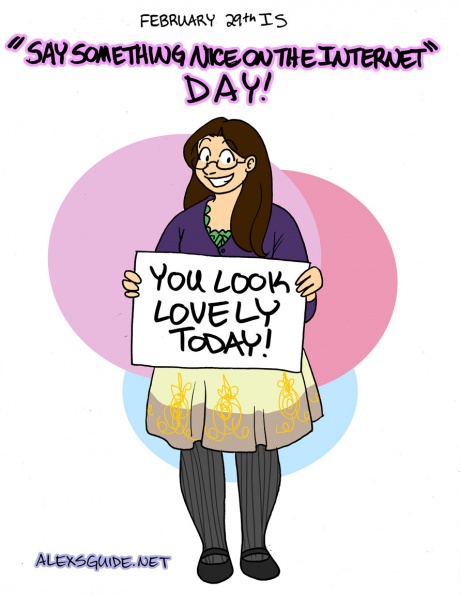 From xoJane:
There's surely a lot deserving of hatred online, but there's also plenty that deserves a ceasefire. So we're announcing the creation of a day to appreciate the stuff we actually like. On February 29th, we'll be celebrating Say Something Nice on the Internet Day. (It's Leap Day; surely the Internet can handle ONE day of niceness every FOUR years.) We're not naive enough to think we can turn the tide on the negativity trend, but for just one day, let's attempt to soothe the Internet beast with the sweet pan-flute of positivity.
So just say something nice on the internet today! Get on Youtube and tell some musician their songs are wonderful. Tweet to Nina Garcia about how amazing she is. Maybe you even want to post on one of our articles about how much you appreciate us. It's just that simple, and just that hard.
In light of this most wonderful day, we here at Autostraddle would like to say some nice things.
Your turn!