Another year, another opportunity to create a kickass calendar of smokin' hot lesbians. If you've not picked up the 2012 calendar yet, now would be the time — they're available for the post-holiday price of $10! For 2013 we did something completely different yet totally spectacular.
Are you ready to meet the 2013 Calendar Girls?

video edited by Sarah Croce and Lauren Aadland
Now, onward and upward — here's Robin!
Artist's Statement:
For the 2013 Autostraddle Calendar, we put on our bathing suits and hit the water! My goal this year was to do a black and white series that was playful, sexy, and all about the women. I sought to capture images that would reflect the models' feelings of freedom and comfort in their own skin. We chose a simple expanse of sand and water where the horizon is somewhat indistinguishable, and it was the perfect setting for a very personal and introspective look at each of these extraordinary women.
As a photographer, photographing an entire day at the beach is a great challenge. You need to maintain consistency as the light changes drastically throughout the day and the tides ebb and flow. This adds an interesting element in the images as over the course of the day, we watched them play and interact from sunrise to sunset. We closed the day with some very quiet, intimate interactions between the women who'd come to know each other over the course of those hours.
I love coming away from these shoots knowing that all of these women are now friends, and I hope that these images reflect those bonds formed.
A huge thank you to our beautiful models and our amazing crew for a job well-done. A special thank you to stylist and co-producer Sara Medd for being my partner in this project.
Robin, Photographer
Crew:
Robin Roemer, Photographer and Co-producer
Sara Medd, Stylist and Co-producer
Sarah Croce, Production coordinator and video
Lauren Aaland, video
Alex Vega, designer
Christina Natale, Make-up
Brandi Andrews, Make-up
Taylor Stevenson, Hair
Michelle McCaw, Hair
Sabrina Bringuier, Photo Assistant
Our March Lady is Ness: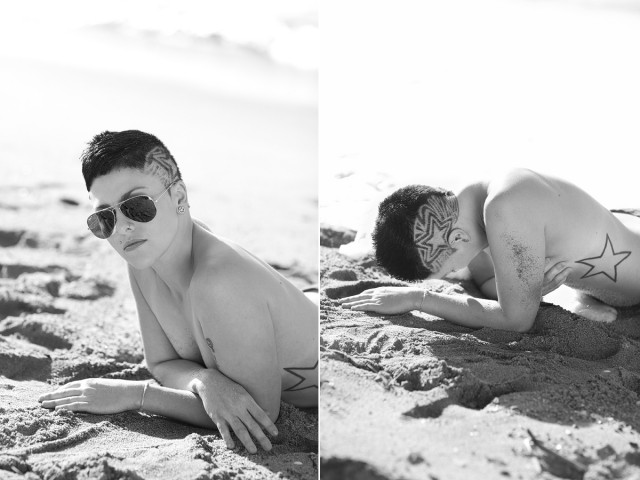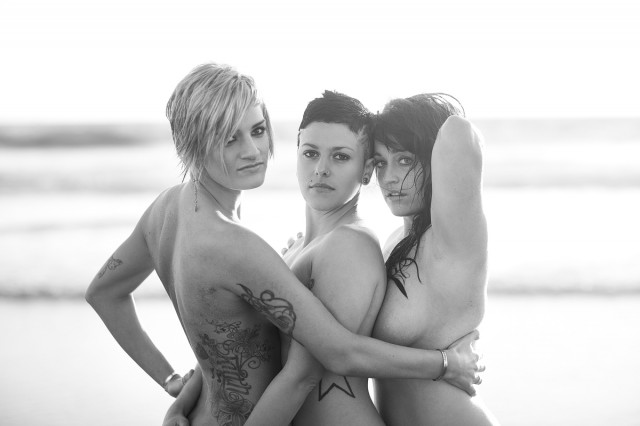 Ness in her own words:
"Hey-o! My name is Ness Star, and I am 27 fantastic years young. I'm from the East Coast, and I've been residing in badass New York City for the past 7 years. I consider myself bi-coastal and frequent L.A. as much as possible. I'm a Libra, and my birthday is the gayest day of the year – National Coming Out Day (it's a good day to celebrate)! I am easygoing, spontaneous, sarcastic, and adventurous. I love being by the water and have been sailing since I was 9. I work hard, and I play hard. I am a nonconformist and believe people should be able to be exactly who they are without being bound by labels. I drink whiskey, wear ties, cufflinks, flat-brimmed hats and makeup, carry my wallet in my back pocket, and get my hair cut at a barber. I'd rather have 5 best friends than a million acquaintances. The only food I don't like is cantaloupe. I drink espresso daily, and I love sriracha. I prefer music to television and sunrises to sunsets. Oh, and because my natural hair color is blonde the design in my hair stays a lot longer.
A special thanks to Autostraddle and the crew for giving me this great opportunity to be a part of a very amazing and inspiring online community."
Robin's Phoner with Ness
You're an artist, tell me about that.
I make money as a freelance graphic designer. I work for a handful of professional photographers doing a lot of post-production. But I started off painting and drawing, then I moved into sculpting and glass blowing. I also do murals. I did a tribute mural for 9/11. I like working in large scale — right now I'm doing a series of large scale, abstract bridges of NY.
What is something people don't know about you, something that is unique to you.
People assume I'm a lesbian. I actually don't identify as a lesbian at all. It took me a couple of years to come to terms with that, but dealing with sexual identity, I've also had to deal with gender identity. Both of those things have been ongoing in my life. Before, I didn't feel completely like myself. I was like, "I've been out for 10 years, why don't I feel true to myself yet?" It was harder to come to terms with gender identity for me and I wasn't recognizing this other side of me that I'd kept locked away forever.
So I don't really like labels, but if I had to pick one, I'd consider myself genderqueer. What you see is not necessarily what you get with me. In my brain I consider myself a boy more or less, but you know, I just want to be me. I look a certain way, and I don't feel the need to transition. I understand that some people feel the need to be one gender or the other, and I didn't necessarily want to do that. Be comfortable in your own skin and staying true to who you are, is really what I represent.
I feel more like myself than I've ever felt my entire life. Being able to be like, "Take it or leave it," is liberating. One of the reasons I did this shoot was because I was finally accepting my body as mine.
So eloquently put. What do you like to do for fun? I know you like karaoke because I've done karaoke with you.
Yeah it started because I was in the Glee club. I come from a family of singers — my mom is a singer, my sister is a singer. I sing in the shower and I competed at Carnegie Hall once. I love going to karaoke though. I went recently for four hours and sang something like 30 songs.
What kind of girls do you like?
I'm more attracted to really feminine girls. Sense of humor is definitely important to me. I like smart girls, someone I can have a conversation with. Someone who is driven and confident in themselves. Someone to have spontaneous adventures with. The ones who looks straight but aren't.
Lets talk about your turtle…
I have a turtle! His gangster name is Tiny, but his full name is Belvedere Donatello. LOVE him. I actually taught him how to high five. I put my finger up to the glass and he raises his arm, like, 'high five motherfucker' and if I put two fingers up on the glass, he does jazz hands.
He does not!
He does! There is so much love!
I was at the pet store like, "How do I make my jazzy fresh turtle's life better?" And the guy's like "Well you can get this whole playground that involves stairs and another level." So if anyone came into my room and saw that I had a mansion for one turtle, they would probably think I was such a loser.

Special Note: As of December 2010, we request that the comments on Calendar Girls posts, unlike every other post on this site, be exclusively positive. These posts exist to celebrate women, so any shit-talking or criticisms of the model's appearance will get deleted. Direct concerns about the project or website as a whole can be directed to robin at autostraddle dot com or riese at autostraddle dot com!