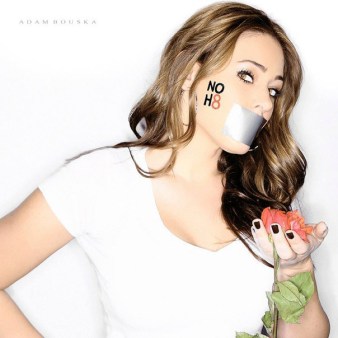 You might recall when The Bachelor's Krisily Kennedy caused the Lesbian Internet to explode back in late October by announcing her bisexuality in Life & Style Magazine. Riese's coverage of this historic event, replete with award-winning graphics, caused a mini bisexual meltdown from our readers, because the word "bisexual" has that affect on the internet.
Krisily was best known for her stint on super-hetero reality show The Bachelor. She made it to the final two in 2005, and then later went on to appear in The Bachelor Pad, described by Riese as "about what happens when your girlfriend kicks a bachelor in the nose and then uses a menstrual pad to stop the bleeding." Then, at the October 21st GLSEN Awards, Kennedy came out to the magazine, said she'd just broken up with her girlfriend of a year, and that she was open to love with people of all genders.
Here's the thing: Krisily Kennedy is a real person with a real story and a real sexuality and why speculate when we could just talk to the source. She reached out to Riese, Riese thought it would be awesome to have an interview with her and so did I and now here we are!
Honestly, I had a kickass thirty minutes or so talking to Krisily, learning about how none other than Kate Moennig inspired her gay awakening, her friendships with The Real L Word girls, how supportive the Bachelor fans have been, and why she was so hurt by our reader comments insulting her bisexuality.
So you reached out to us to clear the air on your coming out interview that exploded on Autostraddle last month.

Well, my main concern was that everybody based their opinion of me off that one interview in Life & Style. And that one interview was not completely accurate which we all know happens so many times in the press. It had some wording that I wasn't real happy with and that was one of things I heard a lot of people respond to. Specifically, it was the one line that claimed I said "kids were unnecessarily killing themselves." Like I would ever think that kids could necessarily kill themselves. Totally not the wording I used, but whatever. No one called me to verify or elaborate on that supposed statement – ever. I had read other blogs that were writing about me but for some odd reason the Autostraddle article had tons of comments – and the most of any articles you had posted that week even. So I figured maybe Autostraddle would be willing to talk one-on-one with me, rather than posting a bunch of really old pictures of me which weren't exactly recent… which was fun [laughing].  I mean some of those pictures dated back to 2002, which is hysterical. But it was fun. I took it all in fun. You can't get mad at things like that when you are in the media in any way.
What inspired you to come out in Life & Style?
I've been doing red carpet since the first Bachelor Pad last summer and I've never in my life gone to a red carpet. I had no idea what they consisted of. When I did The Bachelor we weren't famous and I still don't think that we're famous. But we do have voices and I try to use them for good once in a while. When I started doing all these interviews I started realizing that "Okay, they care what I have to say."
I've always had kind of a Facebook following, but I wasn't on Twitter. So I joined Twitter and I started seeing like "Wow. There's 7,000 people who give a shit about what I have to say." And to me that was really powerful. And so when I started doing the interviews I started, little by little, talking about different things. And whether it was like dog rescue or whatever. And I have been dating women for three years but that part of my life I have never talked about. I was dating men before that so I didn't necessarily see that it was important for me to lead with my relationships. I felt that there were other things about me that were more important. And then last year ALL those kids started killing themselves. It was literally, I'll never forget like a week where there were literally six boys. And I couldn't believe that teenagers, at any point in their life, thought that it was that bad. Because I went through stuff. We've all gone through stuff and I don't ever remember saying to myself "I'd rather be dead." So at that point it was like, "Okay, I can come out and start talking about it or I can not."
[yframe url='https://www.youtube.com/watch?v=cw0Ic_p3HVA']
When did you know you were interested in girls? Were you hooking up with girls in high school?
Oh no! I was the girl in high school that would go out with a bunch of friends and my friends would make out with each other to get the boy's attention and I'd be like, "Oh my god, you are disgusting."
If you want to make out with a girl because you like her, go for it. Go for it. But you're just making out with her for a guy's attention? I honestly didn't want any part of it and I would leave. And I was never disgusted by "gay." I mean, my cousin is gay and I've always had people in my family and friends who were out. "Gay" wasn't something that was like a disease for us. You know what I mean? I didn't grow up in a place that people didn't agree with it. It just wasn't talked about and I never, in high school or any of that, had a crush on a girl or any of those things.
So, I moved to LA five years ago.  My ex-boyfriend and I got a dog. He traveled for work and I had no friends so I went to the dog park everyday. I met a girl at the dog park who turned my world upside down is the only way to describe it. Every time I saw her I wanted to throw up —  in a good way. She used to make me nervous. I would sweat. I couldn't form sentences. I had no idea who she was. It turned out, of course, that she was an L Word actress that I had never heard of because I didn't know what The L Word was. I was a straight girl from Rhode Island.
Who was the girl?
Oh, who do you think? Come on. Who turns every straight girl on The L Word?
Wait. You met Kate Moennig in real life and this happened?
She used to frequent a dog park and I don't know how comfortable she'd be with me telling people that. But she would always keep to herself and we'd sit in the corner and my dog would play with her dog. I would sit and talk to her every once in a while. And she just turned my world upside down. I was like, "Oh my god." My best friend at the time was like "You have a girl crush." And I was like "No way! If I was going to like girls, I would have liked girls a long time ago. This doesn't happen at my age. You see it on Oprah. It's not real. They're acting." Not that I ever didn't think that it could happen I had just never seen it within me before. But there was definitely something…. [laughing] that I liked in her. Who doesn't? First of all, she's gorgeous. She's really really nice and she's so NOT that kind of celebrity that's all over the place. She's very to herself and we used to laugh about how we liked people more than dogs. I would go to the dog park EVERY day looking for her for months. But I honestly had no idea who she was until I turned on the television. [laughs]
So, wait a second. You became friends with her. You had no idea who she was. And then…
I wouldn't say "friends." We didn't exchange phone numbers. You know what I mean. We weren't like…I don't have her phone number. We didn't exchange e-mails. We would just sit and talk at the dog park. If you live in L.A. or you know anyone who lives in L.A. you know everybody who has a dog goes to the dog park. And what happens is you end up meeting dog park friends. Actually some of my best friends I've met from the dog park.
But how did…
She would sit in the corner by herself. And she had a little Chihuahua mix Pit thing and my dog would always go play with her dog. My dog was a considerable amount bigger so I just approached the girl in the hoodie at the table said, "Hey, listen if she gets too aggressive, just let me know. She doesn't usually play with small dogs." And her, she looked at me and she was like, "Well, she doesn't like any dogs so let's let them play." And then we would just sit and bullshit. I mean, literally, it was nothing more than talk on a bench over dogs.
What year was this?
God. When did I move to L.A.? Four years ago?

So The L Word was still on the air.
Absolutely. Oh god, yeah. What happened the day she left to go film I had said to her, "Hey, maybe I'll see you next week." And her reply was, "Well, I'm going to Canada for work for a little while. Maybe when I get back." And I absolutely think that I left my phone number on her car, but obviously she never called. [laughs]
Aww. So did you ever find her again at the dog park?
No, I don't go to the dog park anymore because my 285 lb dog doesn't do too well with Chihuahuas. [laughs] So we don't go anymore and I've never seen her since. Actually I'm lying. I saw her one day in West Hollywood at a juice bar in line in front of me and I couldn't form a sentence to even order my juice. It was pathetic. Absolutely pathetic.
That's so funny. That is the greatest story ever.
It IS the greatest story. Then she left to go to Canada and she walked out to her car and I remember  this dog walker came up to me and she's like "Don't you know who that is?" And I was like, "No."  And she's like, "Don't you watch The L Word? You live in West Hollywood." I was like, "I'm a straight girl from Rhode Island. What the hell is The L Word?" I then proceeded to watch every single episode within a month. [laughs]
[laughs] I'm dying.
So I called my mom. The best part was, I'm very much what you see is what you get, and I don't think most people understand that about me. And so I called my mom instantly and was like, "I met this girl at the dog park. And her name is Kate and she makes me want to throw up." And my mom was like, "Excuse me!" [laughs]
Oh my god. Okay, alright.
Never seen her since. You know a little dog park conversation. But I then kind of tested waters and decided maybe I think I want to do this. I had been in a relationship with a guy for a really long time, and he was my best friend. I told him this was going on and he didn't like it. We didn't talk for a while. So I started dating women and my first girlfriend is now my best friend. I wouldn't really call her my girlfriend, but we definitely dated. Some of my best friends… I think every lesbian is friends with their ex-girlfriends. But I've consistently dated both since then. So it's been three years where I've consistently dated men and women.
How many serious relationships have you had with women?
Two.


Pages: 1 2See entire article on one page