There's been a whole lot of hoopla in the press and on the internet surrounding hype act of the minute, Ms. Lana Del Rey. Specifically, her recent transformation from the artist we once knew as Elizabeth (Lizzy) Grant to the indie darling we're now familiar with. While some blogs and mainstream press have embraced the new talent, many critics and bloggers are dismissing her as "manufactured" – revealing details about the management team and producers who revamped her name and persona, the semi-wealthy father who funded the project, the supposed lip plumpings and Lana's sudden alt-indie retro claims to fame. So what's really good in all of this nonsense?
Lana Del Rey's recent takeover of the blogosphere reminds me of a slew of talented women before her who have made drastic changes and repackaged their brand in order to obtain their break in music (i.e. Stefani Germanotta's career in 2006 and her image reconstruction to Lady Gaga). Some call it 'selling out.' People in the business call it 'artist development.' Whatever you call it, it's easy to forget that an essential part of being an artist in the music business is the consistent evolution necessary to remain relevant in an industry where artists are cycled in and out at will.
An artist changing their image from "inauthentic folk singing girl next door" to "pouty-lipped good girl gone bad dressed in vintage singing sadcore" in an attempt to have their music heard isn't anything new. However, it can often backfire, leaving people questioning who you really are. I have no major qualms about the Lizzy-to-Lana image make-over, nor do I want to contribute to the (over)hype. But I'm not willing to hand out any fake-it-til-you-make-it free passes, either. It can be disheartening to discover an artist purporting themselves – to find out that the fabric of indie retro glamour and femininity that an artist has draped herself in to succeed may be manufactured is disappointing.
Nevertheless when I take a closer look, Lana Del Ray doesn't appear to be hiding her past. Links from lizzygrant.com direct visitors to the Lana Del Rey website. Old Lizzy Grant music videos still exist on YouTube at her own will, albeit with a note urging fans to focus on her new music. Even songs released under the Lizzy moniker have found their way into Lana's catalog ('Kill Kill,' 'Yayo'), with some slight sonic changes. Now with mainstream blogs picking up her music and the recent booking on SNL, it's becoming obvious that something is working.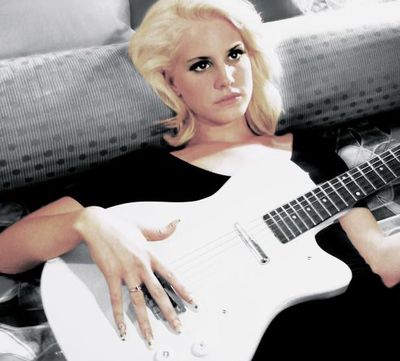 As interesting as the claims of 'manufactured' may be, they distract from an essential truth: Lana Del Rey's vocals are intriguing and the talent is there. Before teaming up with the super production team of Liam Howe (Sneaker Pimps), Chris Braide and Emile Haynie, Lizzy Grant's voice was untamed, folky and her music was wearisome at best; where Lana is well produced on lush, emotionally vulnerable-sounding tracks featuring a more jazz influenced vocal style. While her spliced collage approach to music videos remains unchanged – and the plumped up lips do raise an eye – it's the switch in lyrical content, bad girl image and the obvious change in vocal instrumentation and inflection that caught my attention. And with the recent addition of uber-producers Albarn and Womack (Blue Jeans), she's collected a solid team of musicians behind her.
Eager to hear if Lana Del Rey's voice carries as well on stage as is does in the studio, I recently headed to the Troubador in LA to see her perform; her last show in Los Angeles for a while. Surrounded by the musically hip, hipsters and the occasional music agent, I was lucky to experience the live aspect of her music and persona – and I wasn't disappointed. Upon taking the stage, Lana appeared comfortable and emitted a somewhat ethereal charm. There was an aloofness to her presence and she wasted no time putting her new vocal style display.
Within the first eight bars of "Born To Die", my thoughts instantly went to Fiona Apple channeling Anita O'Day and Nancy Sinatra. She had a brooding, haunting vocal style that swung in and out of high pitched nasal intonation with ease ("Radio", "Summertime Sadness") and floated back and forth between a sing-song and hip hop delivery ("You Can Be The Boss"). "Off To The Races" was the high point of the show and the clear crowd favorite, with Lana adding extras to her quirky little vocal tricks. In all, it was the perfect mix of songs to showcase this odd instrument. It was impressive to watch. No matter how you're feeling about Lana, I'm pretty sure you wouldn't have been disappointed in this show.
So in the battle of Lizzy Grant vs Lana Del Rey, it seems the latter is winning. Lizzy was boring and directionless. Lana is exciting and the focused result of careful planning and musical crafting. She may not look or sound like the artist she once was, but in this situation the changes she has made have equated to progress. Now we can sit back, appreciate her hotness and watch how long she can keep this up.
Troubador Set list/Good List of Music to Check Out:
Born To Die
Blue Jeans
Radio
Million Dollar Man
Summertime Sadness
Video Games
You Can Be The Boss
Off To The Races
Ericka is the woman behind one of Autostraddle's favorite music blogs, Music Nerdery. Check it out!