Some people like to detox or cleanse or eat healthy after the holidays, either to make up for everything you've ingested that you feel you shouldn't or because it's a new year, etc. Some people come home after traveling to see family and have only carrots and onions and a tub of miso that they've had since late 2009 in their fridge because they're the only things that didn't go bad. Whichever one you are, this soup is a great fit!
Carrot Soup with Miso and Sesame
originally from Smitten Kitchen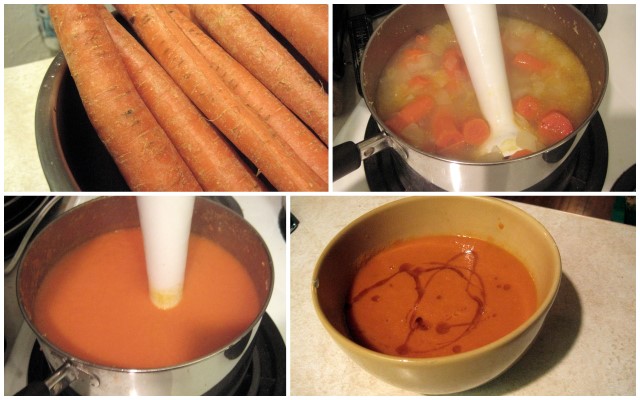 Ingredients:
2 tablespoons olive oil
2 pounds carrots, peeled, thinly sliced
1 large onion, finely chopped
4 regular or 6 small garlic cloves, peeled and smashed
1-2 tablespoons finely chopped or grated ginger, to taste
4 cups vegetable broth
1/4 cup white miso paste, or more to taste
Little bit of toasted sesame oil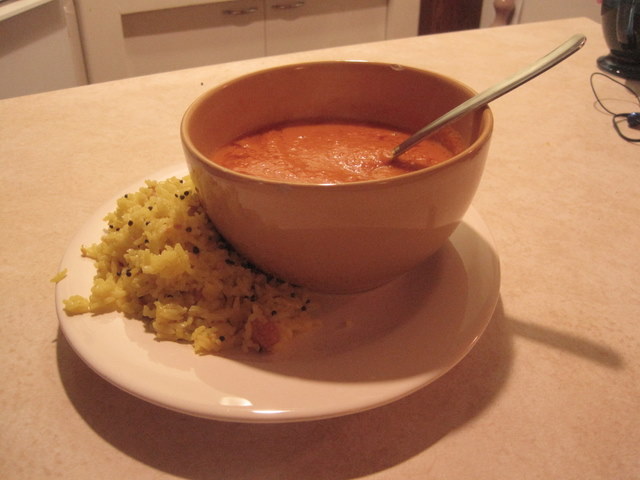 1. Peel and chop the carrots (sort of roughly, let's not get carried away with the details) and dice the onion.
2. Heat the olive oil in a 4-qt or larger pot, and throw the onion and carrot in there, along with the ginger. (Here is my secret: I actually just use ginger-garlic paste from my friendly Indian grocery for all recipes that call for both ginger and garlic. For this recipe, I put in like four heaping tablespoons, because if I could count or figure out amounts I wouldn't be a writer. But if you are not doing this, and are following the recipe like a normal human being, put the ginger in now.)
3. Once the onions are translucent, add the broth and the garlic. Simmer, covered, for about 30 minutes, or until the carrots are cooked through.
4. Now it is time to BLEND. If you have an immersion blender, this part is awesome and easy. If you don't, you will need to use a regular blender in batches. That will suck. Lesson: get an immersion blender.
5. Is it blended? Wasn't that fun? Great job. Now get your miso happening — start with a smaller amount if you're not sure how you feel about it, as miso is pretty hardcore. Measure your miso into a container, and then pour a half cup or so of soup in there with it, and mix until the miso is dissolved. Then add the miso-soup mixture back into the pot and taste. Is it not salty/miso-y enough? Repeat. Is it too salty/miso-y? Well, I guess you should have added less.
6. Lastly, pour into a bowl and garnish! The original recipe recommends scallions, which I think would have been baller. I also think some little seared (maybe marinated???) tofu cubes on top would be really good. I did not have any scallions or tofu; see first paragraph. I did have some toasted sesame oil though, and that was a great idea. Drizzle that right on there; don't hold back. Enjoy!