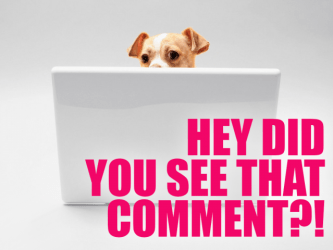 Hi there, pop-tarts! From now on Lemon and I will be guiding this comment-awarding vessel while Laura does other wonderful editor-y things. We love all your faces (okay, gravatars, but we're sure your faces are really cute too) and we read every comment anyway, so it only seemed right, right? Now let's get this ship sailing…
This week we got busy making plans to check out the nearest Fringe Festival and Renegade Craft Fair. Then you told us all of the things in the this year's reader survey and cheered us up when when we broke.  That's why we're together, you know? Plus, there are at least ten other things that break more often than Autostraddle, so. Sawyer talked about the status of gay marriage in the UK while Rachel explained that we're a long way from divorce equality and countered The Atlantic's take on feminism.
Katrina reminded us that gay rights aren't queer liberation and Herstory month continued with queering the library, what lesbians were saying about themselves in the 70s, butch/femme culture of the 1950s and what people (jk, what straight white guys) thought lesbian sex was in the first half of the 20th century.
The Voice got gayer and though Dani Shay is no longer on the Glee Project, she'll remain in our hearts (and on YouTube) forever. Speaking of music, did you check out the My Favorite Book and Songs Without Words  playlists Laura and Carmen made? They're so good you'll fall out of your chair. Also.Also.Also., Gabi gave us 7 spectacular Beyonce moments and Riese discussed the necessity (or not) of male role models. Porn star Nikki Hearts stole our heart  and our other favorite Hart co-starred with Brittani in the hilarious new episode of Words With Girls. We administered your weekly dose of fun and lesbosexy-times and new episode of No Man's Land debuted too.
Jamie talked punk rock welfare moms and Laneia told us what to do about parents, pubes and playing it cool when your girlfriend wants to take things slow. Things got sad and serious when Riese reported the tragedy in Texas and Laura told us about the plight of an Iranian refugee in Germany. But there was some good news too with SCOTUS ruling the Affordable Health Care Act constitutional and the Navy getting tough on gay bullying. Rachel simplified kombucha for those of us brave enough to work with a scoby and Carolyn grilled us a rainbow. Riese showed us things she read and loved  for the 31st time and Grace processed some feelings about Brave (which would've won "article title of the week" if we did that sort of thing).
But enough about us, look how clever and funny you were this week!
---
On 6 Special Ideas About What Lesbian Sex Is, 1900-1953:
The Beating A Dead Horse (Is Still Funny) Award to Aine: "To be fair, the cast of the Real L Word couldn't accurately answer this question either."
The Lead Singer Award to kpee: "Mutual Masturbation Petticoat Party!? … who wants to be in my band?"
On We Are Broken:
The Damn You, Schecter Award to jenny: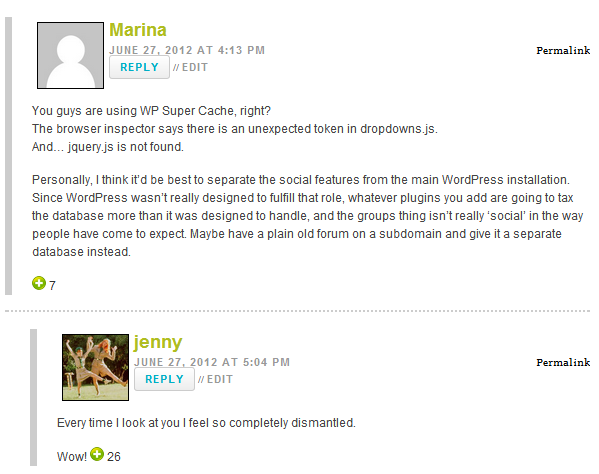 On You Need Help:
The They're Shooting Blanks Award to dizzy: "also, the targeted advertising in the side of this page just gave me a picture of a hairy man nipple before and after lasering. um."
The Good Things Come Award to Ashley Catharine "My gf wants to take it slow too. She isn't even ready to meet me yet."
On Autostraddle Reader Survey 2012:
 The Good Citizen Award to inevitably.hyper: "OH MY GOD I LOVE TAKING SURVEYS. sometimes my town mails me surveys about the water service and i'm like YES PLEASE I HAVE AN OPINION"
The My Drunk Comment Award to giles:
On Words With Girls Episode 2:
The I'm Undressing You With My Eyes Award to Laura: "I don't want to inappropriately objectify Brittani in a comment….so I'll just do it in my mind.