Violet Andrews Park stretches over about ten acres overlooking Corpus Christi Bay in Portland, Texas, where it's frequented by bird-watchers, bikers, kite-surfers and other locals. Developed for the preservation of native wildlife and the town's newest park, Violet Andrews is "more of a nature area" which attracts families during the daytime but remains quiet and unlit at night. Nobody is certain what brought 19-year-old Mollie Judith Olgin and 18-year-old Mary Christine Chapa to the park last Friday, or if the "two loud bangs" a resident heard around midnight were firecrackers or if they were the gunshots that ended Olgin's life and left Chapa critically wounded.
The young lesbian couple were found by park visitors around 9AM, unconscious in a knee-deep grassy area. Chapa was rushed to the hospital, where she remains in serious, but stable, condition, but it was already too late for Mollie Judith Olgin. Both had gunshot wounds to the head. They were both so young.
Portland Police Chief Randy Wright told reporters, "We're not really sure how they got to the point that they were found. It is a scenic overlook with a wooden deck and there is a place at the edge of the deck where you can actually go down a very steep incline into a grassy area that leads down to the shoreline and that's where they found."
Olgin & Chapa had been together for five months, but if you've ever been an 18-year-old lesbian in love, you know that five months can feel like five years. Not just any five years, but the best five years ever, really. Friends told reporters from KrisTV that the girls "never attracted any negative attention for their relationship." They described the girls as "full of love and laughter." It's just that they were both so young.
"You always hear the 'they never did anything wrong, why was it them, they were so innocent.' But Mollie and Christine were innocent," said Mollie's roommate Samantha Garret. "I've been trying to think of anyone that I know that would actually want to harm them for any reason, especially anyone for them being a couple but not one person comes to mind."
Wright said they'd recovered a bullet casing from a large-caliber gun at the scene but no weapon. Olgin's car was found near the scene. Police seem confident a third party was involved. As to whether or not the attack was related to the girls' sexual orientation, Wright told the press, "that's always something that we're looking for, but as of this point, we have not been able to establish that that had anything to do with the attack."
Regarding concerns that there might be "a dangerous person our and about in Portland," Wright offered:
"You know, we always caution people to be aware of their surroundings, be careful. Portland is a safe community but these things can happen anywhere. We have to always be alert for these types of dangers. This particular case, it does have some of the earmarks of a targeted attack. We'll know more about that as we go forward in the investigation. For the time being, we're taking some extra precautions in our parks. We're putting them under extra patrol."
It's not just the victims that seemed particularly "innocent," but the town itself: according to city-data, there's only been one reported homicide in Portland since 1999, which took place in 2007. Wright told reporters that their last murder happened two years ago. The town leans slightly right politically, and over half its residents are affiliated with either the Catholic or Southern Baptist Church. It's known to be a more "upscale" community with lots of prime beachfront property.
Mollie Olgin grew up in nearby Ingleside, where she graduated from Ingleside High School in 2011. Christine Chapa, or "Kristene" as it is spelled on her facebook page and high school graduation notice, is from Sinton, about thirty minutes from Portland, where she'd just graduated from Sinton High School ("sinton fucking high school," as she noted on facebook.) Mollie was an undergraduate at Texas A&M University in Corpus Christi, where she lived and worked at Taco Bell, and where Kristene planned to begin school this fall. Both Ingleside and Sinton are small towns near Corpus Christi, although Sinton, described as "friendly" and "charming" by Wikipedia, is more inland and its poverty rate is more than double that of Ingleside's. Both girls had big bright futures ahead of them. Hopefully Chapa still does. You see: they were both so young.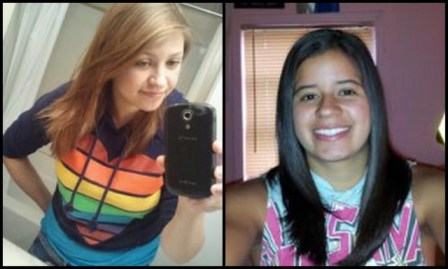 Ingleside Independent School District superintendent Troy Mircovich told The Caller that "Olgin was a model student… She was on the right track. We hate to see one that has that potential and gets taken away. It was definitely a shock for the school community."
Chapa was an accomplished athlete at Sinton High School, which boasts one of the premiere athletic programs in its Class. Friends told The Caller that she "liked to have fun" and that both girls "like to put smiles on people's faces."
Apparently Chapa has been able to communicate somewhat with police, who are guarding what they know. Mollie's parents told police that they knew the girls were "very close."
The Caller's article ends on this note:
Sinton resident Alma Suarez, a substitute teacher, said she can't think of any reason for Chapa to be targeted. And especially in a community with so many churches, she said.
"I don't understand the crime; I don't know if it was enjoyment," Suarez said. "I don't know what to say anymore."
 Me neither.