It's possible that at some point, recently or in the past few months, you've taken a good, hard look at your life and realized you don't have everything you wanted to by this time. Maybe you don't have a full-time job, or a long-term partner, or kids, or maybe you have loan debt so crushing that achieving any of the former three things feels impossible. The much talked-about piece by Anne-Marie Slaughter in the latest issue of the Atlantic purports that this is perhaps, in part, because you are a woman. And women just can't have it all.
To be perfectly honest, my first instinct upon reading Slaughter's piece was "this was not written for me." Not in a way that means I rejected it, but that it seems to address a demographic of which I am at best on the fringe of. It wouldn't be the first time — some of the Atlantic's other articles on The Modern Woman have included "Marry Him! The case for settling for Mr. Good Enough," and "All the Single Ladies," which while a fascinating piece to read focused largely on when and how to settle down with a man. Neither concern is particularly relevant to me or my community. And while reading Slaughter's piece, and trying to digest her argument that she was let down by the "feminist credo" that women can "have it all," I felt the same sense of disconnect. I was raised largely by a working single mother who sometimes didn't make it home from work til 8 pm on school nights; at no point did I ever hold to be true the notion that, as Slaughter says, someone in that position could work enough to support a family while simultaneously being "the kind of parent [she] wanted to be." Slaughter's job was the director of policy planning at the State Department; while it's an undeniably high-pressure job that takes long hours, for women who work more than one job, or for minimum wage, or nights and weekends, and especially those who don't have a co-parent at home, the idea that anyone could possibly "have it all" in terms of perfect parenting may seem at best dubious and at worst ludicrous to even entertain.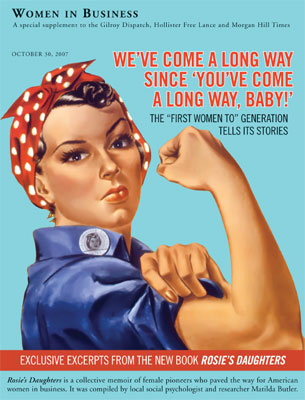 But while there's perhaps an issue of the type of work in terms of parsing this article, there's also an interesting question of generation gap. Slaughter writes:
Women of my generation have clung to the feminist credo we were raised with, even as our ranks have been steadily thinned by unresolvable tensions between family and career, because we are determined not to drop the flag for the next generation. But when many members of the younger generation have stopped listening, on the grounds that glibly repeating "you can have it allwp_postsis simply airbrushing reality, it is time to talk.
As a woman of a different generation, I was taken aback, because while I didn't pursue the same career path as Slaughter and perhaps wasn't given the same feminist advice, I had never thought of feminism as a voice telling me I could "have it all." Just the opposite, in fact. If I had to name a credo, it might be more like "You can't have it all, or even have very much at all, because of systemic oppression and intersecting patterns of marginalization, including the patriarchy. And it's going to stay that way unless we work to fix it."  Which is not to criticize Slaughter or her generation, but to note that the conversation around what it means to "have it all" and women's needs is constantly changing, and it's worth constantly asking ourselves what happiness and fulfillment really look like to us, and how feminism can be a tool for achieving those things.
When the Atlantic's caption asks (as it does in the online version) "Have feminists sold young women a fiction?" the answer would seem to be a resolute no; as Rebecca Traister at Salon writes, feminism functions as an answer to the problem of women being tasked with an impossible number of social roles and responsibilities, not the cause of it. If we're not happy with every part of our lives, personally or professionally or emotionally, it's not because feminism failed us. Instead, feminism can be what gives us license to examine why we're not happy, and then take charge of pursuing our happiness, whatever it is.
Whether or not one is able to personally relate to Slaughter's life and family, she spends a great deal of time outlining what changes she feels are necessary to the modern workplace for women to be able to be "both the parent and the professional [they want] to be." They include making sure that "women are equally represented in the ranks of corporate executives and judicial leaders," making school schedules and general work schedules more compatible, more flexible options for working from home, more expansive corporate family policies (with a more expansive definition of "family"), and perhaps most importantly, reframing our concepts of "parenting" such that women are caregivers and men are economic providers.
This last point is an interesting one. Obviously, it's not the answer to work-life balance for same-sex couples, who have to negotiate the same compromises about parenting as straight couples without relying on rigid gender roles. But while Slaughter's article talks mainly about women's relationship with work and family, it becomes clear that not being able to "have it all" isn't unique to women.
 Bronnie Ware, an Australian blogger who worked for years in palliative care and is the author of the 2011 book The Top Five Regrets of the Dying, writes that the regret she heard most often was "I wish I'd had the courage to live a life true to myself, not the life others expected of me.wp_postsThe second-most-common regret was "I wish I didn't work so hard.wp_postsShe writes: "This came from every male patient that I nursed. They missed their children's youth and their partner's companionship."
The problem Slaughter is writing about is that of women giving up professional dreams to raise a family, but when examined closely, it doesn't seem like the men in her equation have necessarily come out ahead. They're just giving up the opposite thing. And if Bronnie Ware is right, they may end up regretting it even more. As Jezebel puts it, it turns out that no one, regardless of gender, can have it all. So while there's certainly an issue of a male-centered professional world in which it's hard for women to succeed if they're not willing to give up the family commitment that men are expected to, there's also an issue of gender essentialism being harmful to everyone. Which seems like more of a confirmation of the precepts of feminism than proof against its "credo."
The problem Slaughter is looking at — how to be fully present for your family while at the same time providing for them — is a real one, especially in economic times when even being able to provide is often difficult. And she's correct in arguing that sweeping changes about how we treat workers, how we treat women, and how we treat families are necessary. Possibly no one is as aware of this as queer families, who have always had to fight for recognition and for their families to exist at all. But as many (and Slaughter herself) have pointed out, even this quandary is possible because of the progress others have made before us. And in considering this issue, we're not failing them or failing future generations; we're also making progress, in fits and starts, for women to have happier lives, and for American families of all kinds to be better off.