This was the summer that my girlfriend and I traveled all over the world. In May, we went to Bali for a wedding. In July, my girlfriend took a business trip to Istanbul, and I got to tag along. In August, I attended a friend's wedding in France. We were astounded by our luck but frustrated about the lack of information on traveling while lady-gay in any of these places. In addition to sharing our crazy summer with y'all, I'm hoping my Autostraddle write-ups can point our fellow girl-on-girls in the right direction.
In Istanbul, we listened to the call to prayer from thousand-year-old mosques while sipping cocktails in rooftop bars. We tromped up hundreds of stairs and down winding streets, which was a good thing because we ate like champs. The food is fresh and flavorful – I still long for the olives. We didn't hold hands in public, but as a couple we never felt unsafe. Many people use Istanbul as a jumping-off point for other destinations in Turkey, but I highly recommend taking time to savor the city.
+
1. All Istiklal, All The Time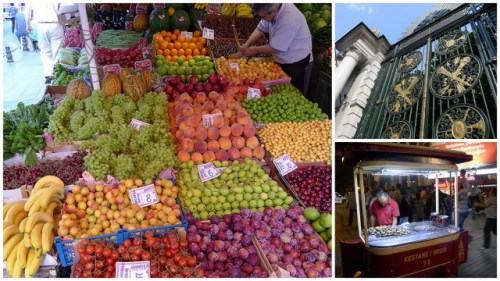 We spent the first part of our trip in a business hotel near Taksim Square, a huge traffic circle controlled by a horde of marauding taxis. The hotel had a gold staircase with crystal stairs and seemed to cater to Western business types and/or low-level sheiks. Of course, reception pulled the charming move of giving us a room with two single beds even though we'd requested a double, which meant going back down and requesting a new room with adequate bed space for cuddling/doing it, just like that story in the New York Times. The location was great, however, because Istiklal Cadessi, aka "Independence Street," runs right off Taksim Square. Imagine lower Broadway transformed into a pedestrian thoroughfare and teeming with half the population of Manhattan. Istiklal was packed all the time, even on Tuesday afternoons, and it transformed into a mighty gauntlet on Saturday night.
Here are some of the things we found on and off Istiklal: rooftop bars, bookstores in English, bookstores in Turkish, a gay cafe, a lesbian bar, a whole street that sells nothing but musical instruments, Turkish delight, Turkish ice cream, corn sellers, chestnut sellers, mysterious mussel sellers who only come out at night, junk stores, vintage stores, fancy design-heavy restaurants, simple outdoor cafes, an entire stall of pickles, and the world's third-oldest funicular railroad!
+
2. Old Things are For Tourists
With its Roman-era dome and its mixture of Christian and Islamic art, Hagia Sofia was awe-inspiring. Even the size of the doors was overwhelming. But there's not much more to do than join your fellow tourists in taking pictures and saying, "Wow, this is awe-inspiring."
Tokapi Palace was equally mobbed and costs ten million dollars to visit, but the harem, which you pay extra to see, was astonishing. Every room was intricately tiled, from the fireplaces to the stained-glass windows to the ceiling mosaics. Plus, the palace has an awesome collection of holy relics, so I got to shuffle past Abraham's cooking pot, the skull of John the Baptist, AND the beard of Mohammed.
The Grand Bazaar was cool to see, but it's full of the same tourist trinkets repeating from stall to stall — lamps, rugs, guitars, evil eye magnets. The Egyptian Bazaar was closer to a functioning market. While it was still packed to the gills with the world's most effective tourist bait, Turkish delight, it also sold cookware, produce, and spices. The guy who sold me cheese told me he thought America was "no good," a sure sign that I wasn't in a tourist trap.
Across the street from the Egyptian Market is The New Mosque, which is still older than 90% of the structures on the continental US. Unlike the more tourist-oriented Blue Mosque, they had less in the way of coverings for skin-baring women, but I had my own mosque kit with me: a kerchief and a lightweight button-down I stuffed in my bag. I got there just in time for prayers, and sat in the little tourist/visitor holding pen as Imam lead the congregation in worship. Yes, all the men were in front, and the women were behind a screen. But I grew up in an Irish-Catholic family and spent thirteen years in Catholic school. I'm no stranger to institutionalized misogyny, and whenever I travel I seek out cathedrals. It would be kind of fucked up if I treated mosques any differently. Seeing worship at a mosque made me think more than anything else of going to church with my grandparents. I never would have expected that, and neither would my grandmother, God rest her soul. I enjoyed that feeling of familiarity.
+
3. Hamam Time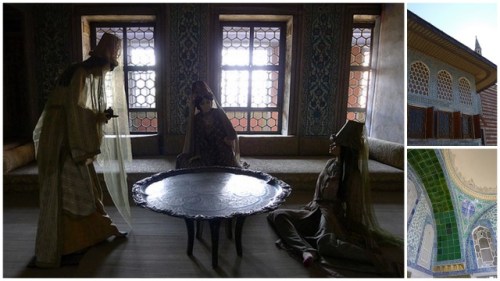 By far the best touristy thing we did was go to a Hamam, or a Turkish Bath. Hamams were social institutions for centuries, but the culture is dying out now that everyone has, you know, running water. The Hamam we went to is one of the oldest in Istanbul and unabashedly geared towards tourists. While this meant our experience was not "authentic," we got to take our scrubbing in a gorgeous, historic space.
First we stripped off all our clothes and donned a special pair of "water-resistant" modesty underwear. The steam room was topped by a stone dome with tiny star-shaped windows, and the room was lined was carved marble sinks. We laid down on a giant marble slab and waited. After a few minutes a burly Turkish woman in nothing but a black bra and panties came by and proceeded to scrub me down with a grandmotherly fury. I didn't open my eyes, but my girlfriend told me she saw dead skin coming off her body in heaps. Then there was an elaborate, foamy soaping, and equally rough shampooing, and much hot water dumped over my head. It was great.
After a confusing wait, we also got massages. When my masseuse wanted me to flip over, she smacked my butt. When we were done, she tapped my nose. That seemed to sum up the whole Hamam experience – brusque and tender, traditional and hilarious.
+
4. Istanbul Eats Good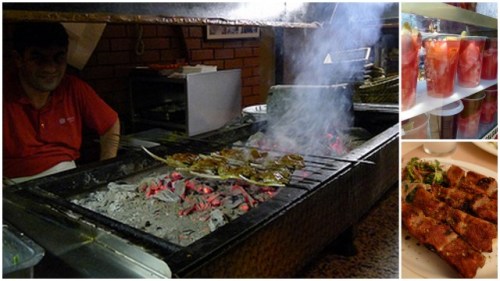 A few days after arriving, I discovered the best blog in the world, Istanbul Eats. Focused on traditional Turkish cuisines, it pointed us towards thyme-marinated olives and crispy lamb ribs grilled on an open fire. But the best thing we found was the fish.
Adem Baba lies north of the heart of Istanbul. It is along the coast of the Bosphorus, also known as the Istanbul Strait. The cab ride there is long, especially on a weekend, since the only way to get there is up a choked river road. Fish restaurants line the strip, the fanciest in old Ottoman mansions with Bosphorus views. We went down a side street to a humble building decorated with fishing nets and plastic anchors.
The food was simple. First we were served a salad of shredded up romaine and tomatoes, elevated by the superior olive oil dressing. Then came our main dishes – my girlfriend got little anchovies, I got a whole sea bass. Both had been minimally seasoned and thrown on a hot grill, then brought steaming towards us. When we put the first bites in our mouths, we actually moaned. The sea bass was light and fresh and sweet, a perfect counterpoint to the meaty fattiness of the anchovies. I have never had fish that was so fresh and perfectly prepared. We drew out our meal as long as we could, then sipped little glasses of Turkish tea. It was one of the cheapest meals we had there and one of the best.
Afterwards, we wandered along the Bosphorus, passing families and fishermen and more of the ubiquitous corn sellers. Little fishing boats and large yachts were tied up along the water's edge. Huge tankers crawled down the center of the river while river cruises slid along either side. One lone fishing boat meandered past, sitting in the water at an odd angle. Tinny music blasted out and on its back deck, blue lights flashed as a group of people danced in a circle. It was like our fish dinner – simple, stripped-down, and by far the best thing going.
+
5. Day Trip to the Islands
About a forty-minute ferry ride away from Istanbul lies the Princess Islands, so-called because some royalty was exiled there once. Maybe. Now they are a quiet retreat of Ottoman mansions, horse-drawn carriages (there are no cars), and some seriously good walking. The New York Times published an article about their charms while we were there, which two different friends promptly forwarded to me. We didn't have a friend's villa to visit, unlike Liesl Schillnger, but that didn't keep us from having an excellent time.
That excellent time involved walking. Lots of it. At the island's highest point lies a monastery, which also has a little restaurant attached. You can take a horse-drawn carriage most of the way there, but we opted to walk up, past wooden mansions and seaside views. Then we gorged ourselves on kebab while looking out at the sprawling city on the other shore. We walked back down to the ferry past an abandoned orphanage, and spent the rest of the evening eating Turkish delight and moaning about our sore feet.
+
6. Lesbian Bar
Istanbul's only lesbian bar is on the fifth floor of an apartment building, which also houses a karaoke bar and a restaurant. The lesbian bar has no sign, and no one on the street seemed to know it was there. Its entrance was marked with pictures of Victoria's Secret models in angel wings, and a pop-art style painting of a woman's finger pressed to her lips hung by the bar. The bartender was hot and butch and bemused by our ineptitude with Turkish. The place was empty when we arrived, but as we sipped on our vodka and sour cherry juice, it filled up. Groups of friends clustered around the tiny tables. Turkish songs elicited loud group singalongs. There was sporadic dancing, though only a few girls actually committed full-time. My girlfriend and I tried to dance a few times but always managed to be doing it in what turned out to be a major thoroughfare. Instead we stood off to the side, completely outside what was clearly a warm and close-knit scene, and put our arms around each other. We hadn't done this in public since arriving there, and it felt really, really good.



A few travel suggestions:
We only visited Istanbul during our stay in Turkey. My understanding is that much of the Western half of the country is tolerant, but that eastern Turkey is more fundamentalist. While we never felt unsafe in Istanbul, we were not affectionate in public, which was wearing at times. We stayed in a big hotel and then at an apartment rented through Airbnb. While the woman we rented from was a little crazy, she definitely didn't give us any hassle for being gay. It was great to have a space to ourselves and somewhere to make meals if we wanted, and we paid much less than we would have for a comparable hotel.
While you're there, definitely seek out a gay-friendly bar or two. It was so wonderful to get to feel like ourselves again, and to get to see queer culture in action. Turkey is about to pass an internet censorship law that includes words like "gay" and "lesbian" in the banned list. It will be that much harder for queers to find each other if they can't even search online, so give the gay establishments your tourist dollars when you go.
Next up: Barcelona and southwestern France! There will be more stories about food and loud group singalongs in foreign languages.