It takes a special kind of idealistic geek to really love musical theater, which means that we have lots of in-house musical theater fans. When we did The Top 10 Greatest Movie Soundtracks Ever In The Whole Entire World, some of you asked us if we could whip up a similar feature about our favorite musical theater soundtracks. Here's 17 of our favorites, please feel free to share yours in the comments!
+
Joseph & The Amazing Technicolour Dreamcoat – London Palladium Cast Recording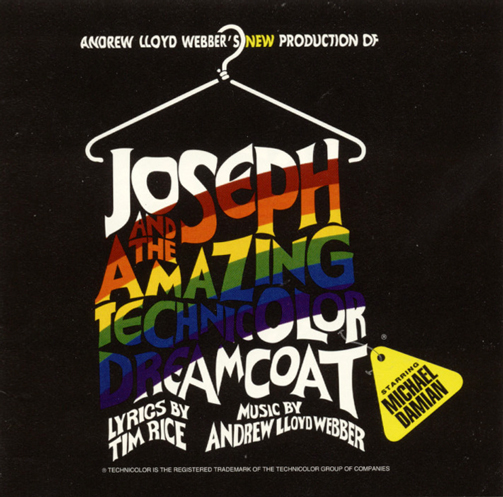 I haven't listened to this soundtrack in nearly 20 years and yet the songs get stuck in my head on a weekly basis, that's just how damn catchy they are. Andrew Lloyd Webber's Joseph was my first ever musical experience; after seeing it I insisted on spinning the soundtrack daily for a number of years, until one day it not-so-mysteriously disappeared. I downloaded it today to make sure that my 27 year-old self agrees with my 8 year-old self's previous assessment and I do, songs like "Jacob & Sons" and "Poor, Poor Joseph" are still my jam. I love every track except for "The Joseph Megamix", I don't know what's up with that.
The Phantom of the Opera – London Cast Recording (1988)
For me, the Phantom soundtrack is one of those albums that needs to be blasted real loud. Every time the Overture kicks in, Major Tom, my cockatiel, starts freaking the f*ck out, which is the exact same reaction I had when my father took me to see the musical as a child. Phantom's music is so dark and sinister, for a long time it scared the life out of me. Now as an adult I adore it.
American Idiot – The Original Broadway Cast Recording (2010)
Did you know that an album by Green Day was turned into a relatively successful Broadway musical? Weird, right? Last year I dragged some of Team Autostraddle to see the production in New York City and that inspired me to write 1,000+ words about how much I loved the musical and its music. The soundtrack's since won a Grammy for Best Musical Show Album. Fyi.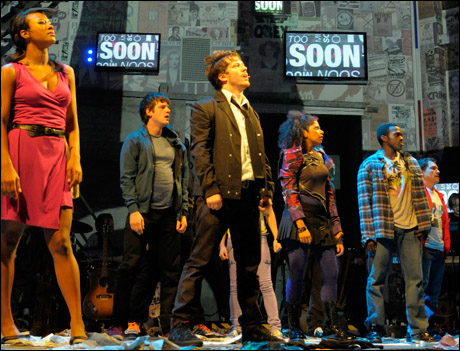 Spring Awakening (2006)
Despite 90210's continued attempt to ruin "Mama Who Bore Me," Spring Awakening remains my favorite cast album of all time. A lot of times I find there are a few songs from productions that are seated dance party worthy but the rest of them can be boring or really hold no meaning for me outside of the show itself. Not the case with Spring Awakening. I love every single song. So much that I can't pick a favorite and if I did, it would change in about five minutes. At this very moment it's "And then there were None." How could I stick to just one when I'm suddenly bombarded with "The Dark I Know Well", which is the saddest shit in the world, BUT gently massages my ear drums until all I can think is "Lilli Cooper let me love you."
Spring Awakening is the single most important reason I decided to watch Glee…the whole Lea Michele factor and what not. It's also worth noting that if it were up to me, it would be mandatory to have a Spring Awakening sing-along any and all car rides that last more than an hour. No one would be allowed to exit the car in the middle of a song. No one would be allowed to do anything other than sing along to every single word. If there came a moment when you chose to nail your assigned part in "Don't Do Sadness/Blue Wind" rather than swerve to avoid hitting a piece of debris and we get a flat tire because of it, I wouldn't even be mad. I might even salute you. I guess I should mention this alternative rock pop folk fusion won 8 Tony Awards but really what's important is I'm a black person encouraging you to listen to this cast album. As far as I'm concerned that is the most legit vouching there is when it comes to musicals.
+
In the Heights (2008)
Let's begin with the fact that Lin Manuel's rapping voice might be my favorite voice of all time. Then lets follow that with In the Heights taking everything you thought about show tunes and throwing it out the window. And let's finish with this musical making it possible for me to appear I know way more Spanish than I actually do. The hip hop and salsa-infused score produced such gems as "96,000" which is one of those all consuming songs that you have to drop whatever you're doing to fully enjoy its dopeness. I can't tell you how many times I've been loading the dishwasher only to realize I no longer am in possession of a single dish and apparently I really "want the brass ring like Frodo."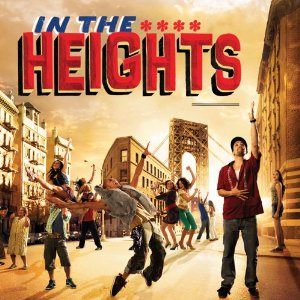 In the Heights shows it's possible to have a show about minorities or ethnic communities that's not rife with stereotypes or screaming, "look at me as I make this socially conscious point." It's a musical. It's a story. And often people forget the luxury of being able to tell a story on stage just for the sake of telling it. The characters may feel like they have the weight of the world on their shoulders but listeners doesn't. You don't feel weighted or obligated when you finish. You feel happy and free and alive.
The songs are about community and what ifs ("Carnaval del Barrio", "When You're Home"). They're about responsibility and love ("Breathe", "Sunrise"). But most importantly, they're about jamming the fuck out. The music of In the Heights is about finding a place to call home when no matter what you do or where you go, there's an uneasy whispering that you don't quite belong. All of us have probably felt that at one time or another; I've felt it my whole life. This cast album makes me feel a little better about the search. Maybe one day while listening I'll look around and realize I've found it.
+
Hairspray (2002)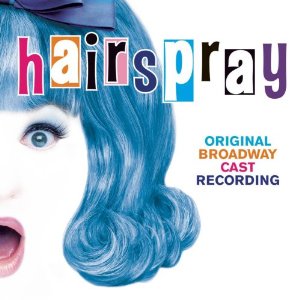 This is the happiest music you will ever hear about civil rights. Tracy Turnblad, her friends, and the mean popular kids sing and dance through issues about race, weight, age, love and any other issue one might encounter in a Baltimore high school in the 1960's. Tracy is a big girl who dreams of dancing on the "Corny Collins Show". Her optimism and talent take her beyond her dreams and pave the way for social justice and equality for everyone in her community.
Hairspray won 8 Tony Awards in 2002, including best original score. The lyrics by Scott Wittman and Marc Shaiman are clever and humorous. The music by Marc Shaiman utilizes the sounds of the '60s and ranges from bouncy to soulful. Really, it is the perfect music for dancing around the house in your underpants and singing at the top of your lungs.
+
Gypsy (1960)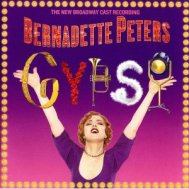 This show is based on the stripper Gypsy Rose Lee and focuses primarily on the relationship she had with her mother. The mother is the ultimate stage mother, so this role has provided a nice place for some of Broadway's biggest divas. Ethel Merman starred in the original production in 1959, Bernadette Peters in the 2003 revival, and Patti Lupone in the 2008 revival. I recommend the 2008 version as I think Ms. Lupone was born to play this role and I'm a little bit in love with Laura Benanti as Louise.
This show is a true work of art, with music by Jule Styne and Lyrics by Stephen Sondheim. It is beautiful classical musical theater, but also has Sondheim's lyrical genius. After listening to this show, you will start to recognize the music used and the show referenced in T.V. shows, movies, and commercials.
+
Ragtime (1998)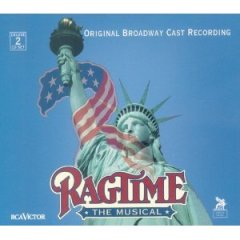 This musical tells the stories of three different groups of people in New York in the early 20th century: wealthy white folks, African-Americans in Harlem and Eastern European immigrants. Every group has its own internal problems, as well as problems with one another. Historical figures like Harry Houdini, Evelyn Nesbit and Emma Goldman make appearances throughout the musical, so you can learn all about history while listening to music! AREN'T YOU EXCITED!!!!!!!!
Lynn Ahrens and Stephen Flaherty create beautiful songs that speak of history and humanity. There are various styles of music from the early 20th century that Flaherty invokes in his songs. Ragtime won best original score at the 1998 Tony Awards. Also I recommend the original cast recording because the singers are phenomenal. You will agree after listening to Audra McDonald sing "Your Daddy's Son". I swear.
+
Sweeney Todd (1979)
This festive musical tells the story of Sweeney Todd, a barber, who decides to turn his clients into meat pies! Mr. Todd feels he has been betrayed which develops into his utter lack of faith in humanity and his need for revenge. So he slices up people's necks and gives them to his neighbor to cook into nice pies. The subject matter is dark and the music follows suit.
Sondheim's arrangements are eerie, delicate, and savage all at the same time. The lyrics are written as the character speaks and are not overly poetic. The music takes the character's words and gives them that extra flourish and poetry. Sondheim's writing makes this already dark show absolutely terrifying and captivating.
Pages: 1 2See entire article on one page