Jess, Senior Entertainment Editor
HAIR (1969) is essentially about connection, being part of a society, coming together as a people and standing up for what you believe in. Its relevancy is eerie at times, with themes of war, race, political activism and sexual freedom at the forefront, and could easily debut in 2011 as a new show as opposed to as a revival of the 1967 classic. Comparing HAIR and RENT is inevitable (Jonathan Larson was largely inspired by the original) and the new show will likely usher in the next wave of NYU students camping out for lotto tickets. It is fantastic that a new generation will have something so meaningful to call their own and, like RENT, has the potential to change a life.
The soundtrack is simply timeless, with "Good Morning Starshine" and "Aquarius/Let the Sunshine" as part of the American lexicon, the latter played regularly on classic rock stations and featured in the final dance montage of "The 40 Year Old Virgin." The music in HAIR is so fabulous in fact that its songs have been covered by everyone from Barbra Streisand to Diana Ross to The Lemonheads.
Evita (1978)
To fully appreciate the music of Evita (originally on Broadway in 1978 with a London stage revival in 2006) you must download the 1996 film soundtrack starring Madonna and Antonio Bandaras. Like RENT, Evita is a rock opera with virtually zero dialogue. The music is hauntingly gorgeous, with melodies that you hear once and fall in love with. This disc is also notable because Madonna actually took voice lessons to stretch and smooth out her vocal tone before recording the music… and this is the version of her voice you hear today on her post-Evita albums: Ray of Light, Music and Hard Candy. Just listen to any of her albums pre-Evita and you will notice the difference immediately.
Heads up: Evita is set for a 2012 Broadway revival starring Ricky Martin!
Into the Woods (1988)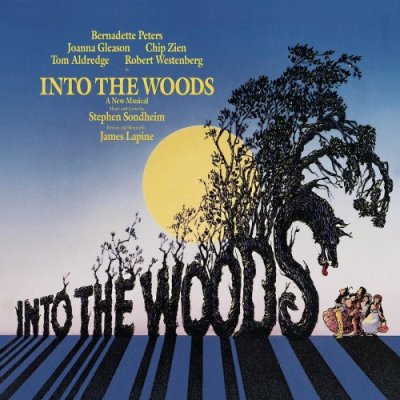 In my circle of friends, Into the Woods is like the Mean Girls of musical theater: People quote it liberally, you'd be hard-pressed to find someone who absolutely hates it, and Bernadette Peters is just as hot as Lindsay Lohan. It doesn't hurt that everything about the original Broadway cast album is absolutely brilliant. Stephen Sondheim's lyrics are about as spectacular as they come, filled with wordplay and ridiculous rhymes, like the classic "I sort of hate to ask it/ but do you have a basket?" and "we've no time to sit and dither while her withers wither with her." Like, seriously. Who thinks of shit like that? Just you, Stephen. Just you. (See also: A Little Night Music)
There was a revival in 2002, but I don't think it holds up very well in comparison to the original. I like Molly Ephraim as Red and LAURA EFFING BENANTI as Cinderella, and there are moments that I prefer in the revival cast ("it JUST-ifies the beans," being a big one), but overall, you can't beat the original. Listen to them both anyway, though.
What makes Into the Woods really stand out, in addition to the talent behind it, is that the themes of the show ring so genuinely. At its core, the show is a fairy tale for people who have outgrown fairy tales. It discusses the relationship between parents and children, accepting responsibility for your actions and what it means to get what you wanted. It's just so good, you guys.
+
Next to Normal (2009)
Do you love Alice Ripley? I do. She's fierce.
Sometimes in musical theater, it's difficult to keep your show grounded in reality, mostly because most people don't pepper their days with original songs and dances. The best writers are those who can make the story feel organic and identifiable while still keeping their show full of engaging music. This is why Next to Normal is so successful: The music and the story unite in such a way that it's almost impossible not to identify at least a little with the characters. You might not know someone exactly like Diana or Natalie or Henry, but you might recognize their fear or uncertainty or earnestness in yourself, and that's good writing.
Overall, the show is about a family and their attempt to deal with the mother's mental illness. There is a great twist partway through Act I, and I don't want to ruin it for you, but when I got to that part of the recording, I literally gasped. The writing is very tight, and the cast is strong the whole way through. The cast recording is about as flawless as they get, from the orchestrations and mixing to the songs that are perfect for singing as loudly as possible when you're feeling angst-y ("I Am the One," "Superboy and the Invisible Girl," and "Wish I Were Here" are all good ones for that).
Also, Aaron Tveit made me confused about my sexuality at a very pivotal time in my life. Although we all know how that ended.
+
[title of show] (2006)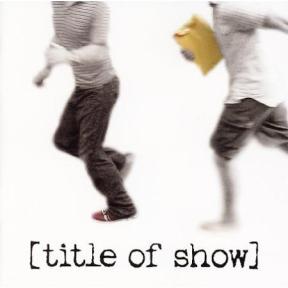 If you enjoyed this post, you would enjoy this cast recording. It's almost exclusively musical theater in-jokes.
Self-described as "a musical about writing a musical about writing a musical," [title of show] is almost certainly the most clever musical to premiere in the last ten years. The four actors play themselves, and a lot of the dialogue is taken directly from their conversations with each other. There isn't a single song I don't like, and they're all so packed with witty lines and smart pop culture references, it's hard not to laugh the whole way through. They even made a helpful "What is Title of Show?" video, just for you! I want to be their friend so much.
One of the most notable lines from the show sums it up really well (and kind of became my life philosophy): "I'd rather be nine people's favorite thing that a hundred people's ninth favorite thing." The show was never a runaway success, although it played more than 100 performances on Broadway. If you bring up this show in any musical theater circle, you will probably get an audible reaction from people, but if you talk about it to anyone else, you're a dirty hipster. But I mean, the show includes the line "Wonder Woman for president," and it's hard to argue with that.
Riese, Editor-in Chief
+
RENT (1996)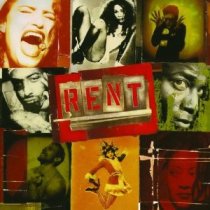 I speak at excessive length about my RENT-related feelings in this post right here, so I'll be brief and completely personal and therefore slightly, perhaps, off-topic here. But this is about the soundtrack, right? And at any given moment of any given car ride I would be happiest singing along to RENT. Take Me Or Leave Me, obviously, although I didn't really identify with Maureen or Joanne, I just liked the energy of the song. I felt like Mark, the guy who hid from life behind his camera with big lofty dreams.
My Mom gifted me the RENT soundtrack in early high school, maybe sophomore year — two of my best friends had seen it on Broadway in New York and wouldn't shut up about it, so I tried really hard to hate it in order to not be too jealous but it grew on me and then invaded. At Interlochen Arts Academy, where I started my junior year of high school, RENT was just about everywhere. We all had the soundtrack, we were all singing it, we all wanted to see it live. We all related to "I'm looking for baggage that goes with mine." We filmed ourselves singing it all the time and when I hear Today For You, it's my gay best friend I think of, not Angel.
I saw the touring company in Detroit in '98, it kinda sucked, but I saw it in NYC in '01 and in '06 and was blown away. I often wile away the twilight hours watching RENT videos on YouTube. Seriously.
It'll always be go-to for long road trips — it was so back and forth from Interlochen and it was so last summer driving from LA to Vegas, when me and two other relatively grown-up persons belted the fuck out of that shit. TWICE. I WILL COVER YOUUUUUUUUUUUU.
My favorite songs are Take Me Or Leave Me, I'll Cover You, One Song Glory and Another Day.
Cabaret (1967)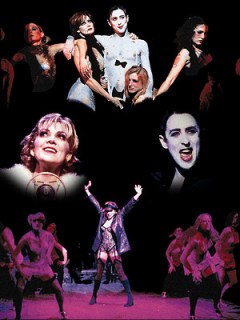 This show is so layered and complicated and dark and heartbreaking and sexy and queer. It's heavy. It's not like an ordinary musical. Like there's this cabaret — The Kit Kat Club. This American Novelist visiting Berlin. Then Nazis. I don't think they ever say the word "Nazi" though. Nor do they directly address the sexual economy of The Kit Kat Club. The Nazis come in slowly and suddenly your friends are Nazis and the girls in fishnets are being told to wear new clothes and sing differently and it stays really small and local while telling a giant story. Every song they do is on the surface about one thing but it's really actually about another thing!
I actually only really got introduced to it 'cause it was The Musical my senior year at arts boarding school and I was dating an actor who played a lead and there was a lot of drama around the casting.
But I liked it so much I saw it twice (stoned the second time) (don't tell mama) and then I saw it on Broadway during a NYC visit in 2002. The guy I was with didn't like it so I decided that I didn't like him anymore.
My favorite song is hands down totes Maybe This Time — it's a ballad, I think Lea Michele sang it on Glee first season, for all ye Megawatt Nerds out there. I love Tomorrow Belongs to Me –how in the reprise, it becomes 3,000 times more ominous. I find Perfectly Marvelous quite fun.
I'm just writing this paragraph because I want someone to comment that they also like Cabaret so we can chit-chat. I don't even know how to begin to talk about it but I think it's one of the ones that even if you're not into musicals, you'd like it.
Laneia, Executive Editor
+
Annie (1977)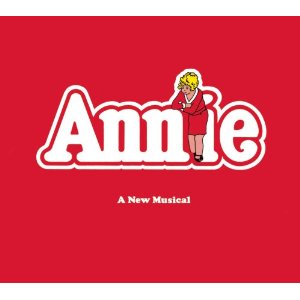 It's entirely possible that my love for Annie is only the result of a mind-numbing advertising campaign for the movie in the early 80s. Maybe if I'd been introduced to the story by way of a different medium or at a different age, I would've been so uncomfortable with the idea of Daddy Warbucks (so uncomfortable) that I wouldn't have been able to pull up the 8 year-old part of me who just wasn't ready to believe that the whole world couldn't be fixed with a positive attitude and a song about the future sung at the top of my lungs.
I mean, I don't know if this is actually a well-written musical or if the songs or themes were groundbreaking — they probably weren't. But damn do I love "Maybe" and "I Think I'm Gonna Like It Here" and oh! and "You're Never Fully Dressed Without a Smile" — love that one. One year my tap/jazz class did a really amazing interperative dance, with props, to "Hard Knock Life" for a recital and when I was given the part of Molly — I lived in a town the size of your thumb and we didn't have theater, so I knew this was as big as it was gonna get, you know? — I was SO AMPED. Proudest moment.
I don't care how weird the Daddy Warbucks element is, my Annie album never fails to make washing dishes 100% more fun.


Others we thought about writing about but then didn't:
+ Chicago – The Musical (1996)
+ The Who's Tommy: Original Cast Recording (1992)
+ Dreamgirls (1982)
+ Wicked (2003)
+ The Wild Party (LaChiusa) (2000)
+ Company (1970)
+ West Side Story (1957)
Pages: 1 2See entire article on one page