In The Bay Area of all places, Obama was doing a fundraiser when the subject of the Republican presidential debates came up. Los Angeles Times, take it from here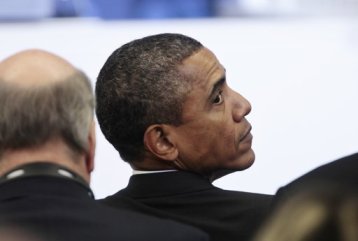 :
President Obama, speaking at a fundraiser in the Bay Area on Sunday night, said the behavior at the Republican presidential debates was at odds with core American values.
"Has anybody been watching the debates lately?" the president said at the home of John Thompson, chairman of Symantec.
In a reference to the GOP front-runner, Texas Gov. Rick Perry, Obama said: "You've got a governor whose state is on fire denying climate change. It's true."
"You've  got audiences cheering at the prospect of somebody dying because they don't have healthcare and booing a service member in Iraq because they're gay.
"That's not reflective of who we are," Obama said.
When I finished reading this article, I laughed to myself, and then thought, god, won't it be really fucking awesome if he just keeps going like this? This is How He Lives, Several Outstanding Fucks to Give. Now that we've recognized that the job creators aren't creating jobs and proposed "The Buffet Rule," things are looking, as I think I said earlier this week, increasingly rad.
Obama made four campaign stops yesterday — two in Seattle, the Bay Area visit and then to Silicon Valley, where Lady Gaga attended as a paying guest, wearing very tall shoes. Today, he's expected to cause a traffic jam in West Hollywood later today, where he's going to attend a fundraiser at The House of Blues (but probably he just really wants to be on The Real L Word).