In a lot of ways, the only constant in India is change. The subcontinent that's home to one of the oldest civilizations in the world is also becoming a global technology hub; it's a nation that encompasses a lot of contradictions, rocketing forward into the future while still considered a developing nation in a lot of senses by the rest of the world.
For gay people, India's a complicated place to live. Homosexuality was decriminalized in Delhi's high court in 2009, but it's still not necessarily feasible to live openly as a gay person, especially in the more conservative southern half of the subcontinent. Like everything else in India, though, that's always changing, and progress is happening in fits and starts but can't be ignored.
This week, the Times of India has taken note that (at least in Kolkata) there's been a "sudden increase in same sex relationships among schoolgirls." Specifically, the article says that female students are increasingly seeking out counseling services around their relationships, implying that this is more of an identity claimed with agency than a problem to be fixed, as was more common in the past — the "occasional case where parents hesitatingly came with the "queer" girl." That doesn't mean the Times is ready to use the world "lesbian," though.
Mind doctors do not wish to typify such bonding among schoolgirls within the lesbian frame just yet. They say from experience that girls often get into deep bonding with the same sex because at that young stage, it is difficult to get close to members of the opposite sex, considering the traditional social conditioning that binds us. The excitement of their sexual awakening, coupled with biological changes happening inside their bodies need to be channelized, say psychiatrists. In many cases, this happens in girlie bonding with sparks of physical closeness and should not be confused with sex just yet, feel counsellors.
This view may be at least a little less outrageous than it sounds to Americans. Schoolchildren in India do live a very gender-segregated day-to-day life; the observation that "it is difficult to get close to the opposite sex" is certainly true, even if it doesn't explain why that would suddenly result in an out-of-nowhere uptick in lesbionic attraction. It's also true that platonic same-sex affection is much more common in India than in the West — a pair of same-sex friends holding hands wouldn't raise an eyebrow. For counselors who likely have little training in how to respond to or care for kids (the article claims that counselors are dealing with girls as old as 16-18 but as young as 9-10), the conclusion that young girls might be transferring their confusion and anxiety about sex onto their friends is probably an easy one to draw. Given the lack of discussion on sex and relationships in school or the home, it's not an unreasonable to assume that kids are at least somewhat confused.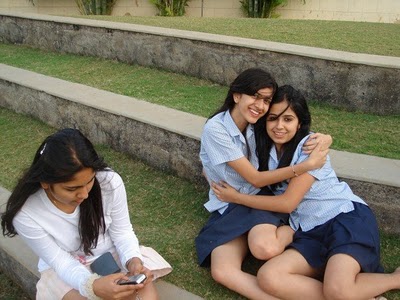 At least one counselor, even if she doesn't necessarily validate these girls' identities, sees the recent trend as a step forward — someone at least making part of the conversation more public.
" After getting into a relationship like this, fear often sets in and young girls start asking questions about whether such bonding means they are lesbians. It is this fear that brings them to counsellors. The fact that same sex relationships are taboo in our society plays on their minds and depresses them," [counsellor Saloni Priya] said.
But based on what's happened with queer issues in India in the last few years, it might make more sense to guess that these students are responding to having more information than before, not a lack of it. Media representation of Indian lesbians at least exists now, which isn't saying much, but is a huge improvement over the previous radio silence. The recent plight of a lesbian couple from Gurgaon captured the attention of the media worldwide, shedding light on the fact that same-sex couples do live in India, and also that they face being ostracized from their home communities and sometimes terrible danger. Now, for the first time, an Indian high court will rule on not just the criminal status of homosexuality, but the legality of same-sex marriage. The Punjab and Haryana High Court has been asked to rule on the case of Baljit and Rajwinder Kaur, who consider themselves to have been married for the past year and want their union recognized under  the Hindu Marriage Act of 1955. Justice Rajan Gupta has "directed the government to consider the women's request, observing that the "state is duty bound to protect life and liberty of citizens under Article 21."
There's no indication the Kaur couple will win their case; it's entirely possible (and given the strong traditions around family and marriage, maybe probable) that the counselors in the Times' article are right, and many of the girls who are now coming for support in their same-sex relationships will end up marrying men. But it seems like the schoolgirls in Kolkata are maybe less of a shocking surprise development and more part of a narrative that's been unfolding for years and which will only bring more freedom and social mobility for the queer community of India.