A few months ago, my lovely little brother sent me a copy of Bloc Party's not-even-close-to-new-but-new-to-me album Intimacy. And so last week while I was listening to it, I kind of freaked out when I realized that the words to "Ion Square" were from an e.e. cummings poem. I love it when literary references show up in songs I love. It's that extra bit of, "Hey, not only do I write killer music and spot-on lyrics, I'm also smart enough to casually allude to my favorite authors" that really gets me. And I started thinking: there are probably a lot of great songs that make allusions to books and poems and authors that I've never noticed before. After a little research and a lot of listening, I came up with 15 of my favorites.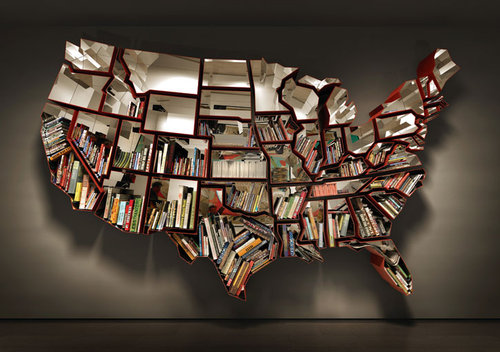 I Have Heard the Mermaids Singing, Each to Each [on 8tracks]
Ion Square – Bloc Party
"i carry your heart with me (i carry it in
my heart"
+e.e. cummings
To The Lighthouse – Patrick Wolf
"Build your castle stop collecting stones
and the river bed shall not be your home"
+Wolf on Woolf
Amie – Damien Rice
"I'm yours. I'll be whatever you want me to be"
+O: The Story of O
Strange & Beautiful (I'll Put A Spell On You) – Aqualung
"Fetch me that flower; the herb I shew'd thee once:
The juice of it on sleeping eye-lids laid
Will make or man or woman madly dote
Upon the next live creature that it sees."
+Oberon: A Midsumer Night's Dream
You Got Me – The Roots feat. Erykah Badu
"But I can trust you. I know it as I look at you."
+Chinua Achebe: Things Fall Apart
Golden Slumbers – The Beatles
"Golden slumbers kiss your eyes,
Smiles awake you when you rise ;
Sleep, pretty wantons, do not cry,
And I will sing a lullaby"
+Thomas Dekker
La Tortura – Shakira
"Do not give dogs what is sacred; do not throw your pearls to pigs. If you do, they may trample them under their feet, and then turn and tear you to pieces."
+Matthew 7:6
It's Time To Dance – Panic! At The Disco
"Give me lust, baby.
Flash.
Give me malice.
Flash.
Give me detached existentialist ennui.
Flash.
Give me rampant intellectualism as a coping mechanism."
+Chuck Palahniuk: Invisible Monsters
Morning After Dark
– Timbaland feat. Nelly Furtado and SoShy
+If you think I'm going to find an excerpt from Twilight you are dead wrong.
Hey Juliet – LMNT
"O, she doth teach the torches to burn bright"
+Romeo: Romeo and Juliet
This Charming Man – The Smiths
"A jumped-up pantry boy who never knew his place"
+Henry Green: Loving
Baobabs – Regina Spektor
"One runs the risk of crying a bit if one allows oneself to be tamed."
+The Little Prince
Peng! 33 – Iron and Wine
"Curiosity far greater than the fear. It felt so simple, so prodigious, at the same time. Incredible things are happening in the world. Across the river there are all kinds of magical instruments, while we keep on living like monkeys."
+Gabriel Garcia Marquez: One Hundred Years Of Solitude
Shores of California – The Dresden Dolls
"Calonice, it's more than I can bear, I am hot all over with blushes for our sex."
+Lysistrada
Tristan – Patrick Wolf
"Apart the lovers could neither live nor die, for it was life and death together; and Tristan fled his sorrow through the seas and islands and many lands"
+The Romance of Tristan and Iseult
Feature image via Underground New York Pubic Library
Want to suggest a playlist theme? Hit Crystal up on Formspring and someone on the team will make it for you.