I was making this for a ton of people and there was a lot of it, so as always, use however many vegetables you want and adjust the seasoning accordingly.
I also started off making skewers and switched to using tinfoil trays when I realized I didn't have enough prep time. To use skewers, toss all the vegetables with the dressing, put them in a plastic ziplock bag (or a covered bowl, or whatever they fit in), and let them sit in the fridge for an hour. If you're using wooden kabob skewers, let them soak in water while you wait. Arrange the vegetables on the skewers, making sure not to overload them, and grill over a medium high flame, turning occasionally, for about 10 minutes or until done.
Grilling vegetables properly also involves placing them directly on the grill, which, you will notice in the photos, I did not do. (To do what I did, throw all the ingredients in some tinfoil pans and cook for 12 minutes while making conversation about your girlfriend with your grandmother and trying not to light a pepper on fire. What I should have done is below.)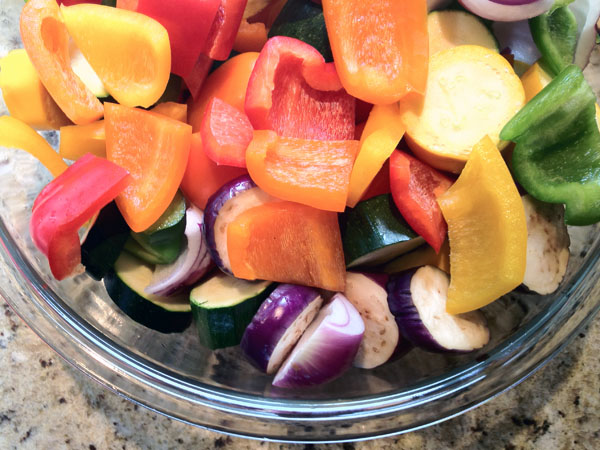 Grilled Vegetable Rainbow
Ingredients
red pepper, halved, with the middle and stem scooped out
grape tomatoes
orange pepper, halved, with the middle and stem scooped out
yellow pepper, halved, with the middle and stem scooped out
yellow zucchini, sliced lengthwise into quarters
zucchini, sliced lengthwise into quarters
green pepper, halved, with the middle and stem scooped out
Japanese eggplant, sliced lengthwise into quarters
red onion, sliced horizontally into 1/4-inch-thich discs
1/4 cup + 2 tbsp olive oil
3 tbsp balsamic vinegar
4 garlic cloves, minced
3 tbsp fresh basil, thinly sliced
1 tbsp fresh rosemary, chopped
Kosher salt
black pepper
Directions
1. Prepare all of your vegetables. You might have done this already, but there are a lot of them, so it bears repeating.
2. Brush the vegetables with 1/4 cup of the olive oil. Sprinkle them with some salt and pepper. Separate them according to cooking time: the peppers in one pile; the zucchini, eggplant, and onions in another; and the tomatoes in a third. Heat the barbecue (or grilling pan).
3. Grill the vegetables in batches, flipping them once, until the outsides start to charr and the insides are tender. If you need to adjust them on the grill go ahead, but if you don't you wind up with those fun grill lines that scream "I am good at paying attention when I do things." Use about 10 minutes for the peppers, 7 minutes for the zucchini, eggplant, and onions, and 4 minutes for the tomatoes. As you finish, transfer everything to a large bowl.
4. Whisk together 2 tbsp of olive oil, 3 tbsp of balsamic vinegar, garlic, basil, and rosemary. When they're cool enough to handle, cut the vegetables into bite-sized pieces. Toss and serve.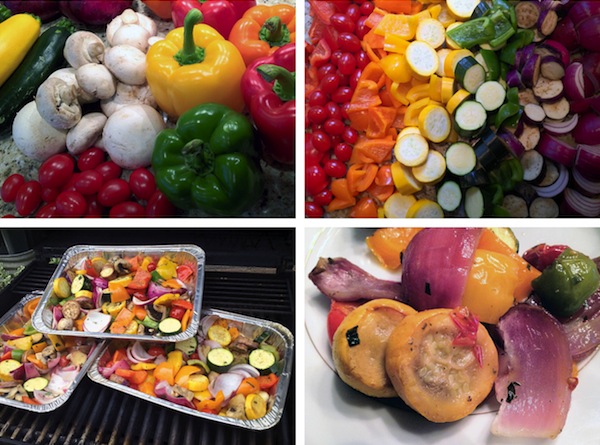 ---
Before you go!
It takes funding to keep this publication by and for queer women and trans people of all genders running every day. And A+ members keep the majority of our site free for everyone.
Still, 99.9% of our readers are not members.
A+ membership starts at just $4/month.
If you're able to, will you join A+ and keep Autostraddle here and working for everyone?
Join A+