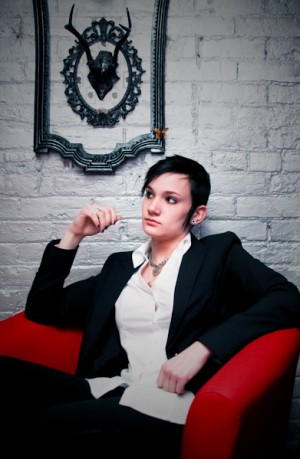 It never really hit me that one of my closest friends (and former roommates, to be exact) was a real live porn star until I was browsing in Columbus's local sex store and found her featured on the case of Hotel. Besides it being a "Whoa, where the hell have I been?" moment, I felt a genuine swell of pride – Juicy Pink Box, the studio that produced 'Hotel,' is responsible for the artistic, aesthetic, genuine brand of lesbian porn that doesn't make you want to drown in a bathtub of shame after watching it. Not a bad place to start one's porno career. I met up with Nikki right before she left for the 2012 Feminist Porn Awards to chat about life, sex, and where her brand-new career is taking her.
What gave you the initial push to go from watching porn to making it? How did this whole thing get started?
I started watching a lot of porn when I was 18 mostly because I wanted to find something that was real lesbian porn, or at least had real lesbians in it. It was surprisingly hard to find. Then I moved into this big feminist house where one of the roommates introduced me to queer porn. She showed me Crash Pad, No Fauxxx, stuff like that, and then I finally saw one called 'Strap On Motel' starring Dylan Ryan, and seeing that really inspired me – I wanted to make porn that looks like that. Eventually I met Jett Bleu, who I didn't know was a porn star at first. She's actually a pretty big name in the industry. Anyway, she said I was cute enough and that she would recommend me, so that's how I started working with Juicy Pink Box.
But wait, didn't you originally want to be a musician? How does one go from rock star to porn star?
Obviously as a kid I wasn't an aspiring porn star, who does that?! But I knew who porn stars were because of the rock stars they associated with. Nikki Sixx [of Mötley Crüe] was a major influence, I started playing bass because of him and started playing in bands because of him. I'd like to pick that back up eventually, but as a porn star I'm still basically living out my dream – traveling, performing, meeting new people, and doing something artistic.
Who exactly is Nikki Hearts? How is your personality on film different from real life?
Nikki Hearts is pretty much completely me with all the daily boringness cut out! I mean sex and porn are a decent part of my daily life anyway [she also works as a romance consultant], but I feel like in order to be successful you have to let it fully become a part of your life. And I feel that the more that I do, the more this character becomes more of me. Nikki is just a different part of who I am and I'm getting to know her better.
'Nikki' is obviously from Nikki Sixx, but where did the 'Hearts' come from?
I went to the casting call for the first movie I did and first thing, they asked what my name was. I didn't have a name picked out at all! So I panicked and said 'Hearts' because that's my girlfriend's last name.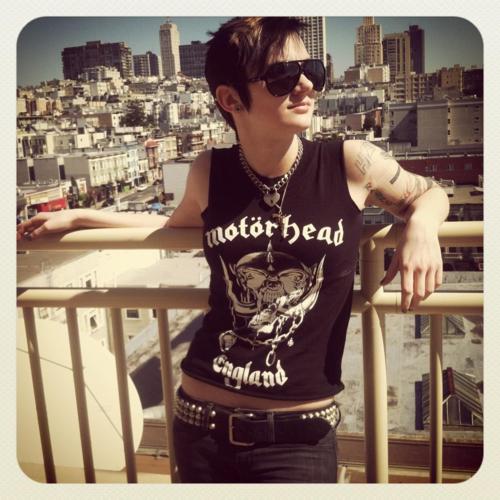 Tell me more about her. A lot of women don't let their girlfriends go to the bar alone, let alone have sex with other people on film. What's the most important aspect of your relationship? How do you keep jealousy a non-issue?
We've both been cheated on, and we know how damaging that can be. And we know that neither of us would ever cheat on the other because we care about each other and we're happy. She knows it's different when I have sex with her versus when I'm performing. And she usually comes with me when I travel, which is a fun thing for us because otherwise we wouldn't get the chance to travel so much together. But ultimately it's a matter of having a fully trusting relationship. A lot of other stars do have jealousy issues with their partners, and the ones who do have supportive partners know it's rare and they're lucky to have that. So yeah, I consider myself lucky.
On a scale of one to breaking out in hives, how nervous were you before your first shoot?
Hives, basically. I had this moment of standing outside the building before the shoot and contemplating leaving. I knew I didn't have to do it, but if I did it once it would be out there. And even once I got in there I wasn't comfortable. I sat in hair and makeup for a really long time, and then we moved on to photo stills, which is the first time you're naked and trying to look good. I was really nervous until we started filming, after which the initial fear went away and got replaced by "Do I look ok? Am I doing this right?" But I didn't decide to do another scene until 'Hotel' came out.
Why?
Well, I heard I didn't do my best job during the editing process. I wasn't exactly getting positive reinforcement. But then the film came out and it was way better than I expected. Granted, it was a short scene – they had to edit out a lot of my nervousness – but it turned out good for what it was and made me realize that I'm not going to like everything I do, but I can control how I perform. It's definitely a learning process.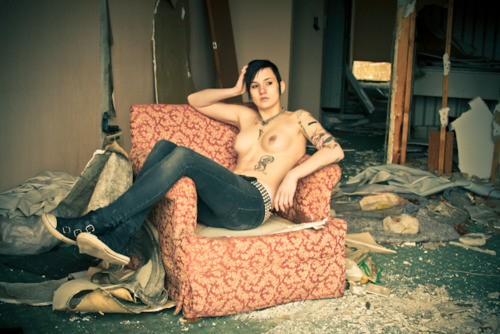 Top three women on your to-do list?
Christ, I meant to think about this question. I'm in a monogamous relationship so this is purely hypothetical, but let's put Emma Stone first. She's a babe. My teenage crush was Brody Dalle from The Distillers – pre-baby, mind you. Oh, and Katy Perry. I want her to sit on my face.
Actually I meant what porn stars you would like to work with…
Oh! Well Dylan Ryan was my #1 since she inspired me to make porn, but I just shot my last scene with her so I can cross that off the bucket list. Besides her, I'd like to work with Kleio Valentien, or any of the Burning Angel girls, really. I'd really like to get involved with that company. I'd also love to work with some of the other queer porn greats like Jiz Lee, of course.
Any future plans? Projects?
I'm working on developing my own website that will focus on queer androgyny set in visually creative settings, so that's taking a lot of my time. I haven't really released any info on that yet, though! I've also been doing G Spot workshops, and I'd like to really get good at that; helping to educate people on sex. As far as future films go, I am traveling to San Francisco in September to shoot for QueerPorn.tv and some other trade work.
Can we get some tips for good sex from a porn star?
Don't be afraid to experiment! Watch porn with your partner, maybe you'll both learn something. I've certainly learned a lot from porn. Most importantly, communicate as much as possible and… use lots of lube!
You've mentioned before that if you weren't doing porn, you'd be in culinary school. Favorite food?
I can't go a day without eating Thai food! And tacos of course. I love a good taco truck.
NikkiHearts.com
Nikki Hearts on Crash Pad Series