At the conclusion of 2017, which occurred approximately two decades ago, I declared that "although most Quality of Life indicators for LGBTQ people and civilization in general nose-dived this year, one thing got notably better: television for queer women." We saw remarkable gains between 2016 and 2017: less death, more queer women on prestige television, more compassionate and complicated coming out stories and increased visibility for bisexual women and queer women of color. Many of the year's most talked-about shows had LGBQ women front-and-center, like One Day at a Time, The Bold Type, The Handmaid's Tale and Master of None. There were more LGBTQ women leads than ever before, on shows including Wynonna Earp, One Mississippi, Transparent, American Horror Story: Cult, The Good Fight, Gypsy and How to Get Away With Murder. There was so much good stuff closing out 2017 and opening 2018 that we were able to host our first-ever Gay Emmys in 2018.
Still, there was a lot of room for improvement: butch representation remained devastatingly inadequate, QPOC rep was plentiful but uneven in execution — with black women specifically almost always receiving small roles, problematic storylines, cancellations, no girl-on-girl romances or being killed off. And, as usual, trans women characters — queer or straight — were few and far between.
So, what got better and what got worse in 2018? Let's dig in.
The Numbers on Lesbian and Bisexual TV Characters in 2018
In 2018, there were 128 scripted shows with regular and/or recurring lesbian, bisexual, pansexual or otherwise queer women characters. (Henceforth, I will abbreviate "regular/recurring" as "R/R.") This is up 12% from 114 shows in 2017, which was up 36% from 80 shows in 2016. An FX study suggests that the number of overall scripted original shows in 2018 was up between 7%-9% from last year's number, 487. So we are outpacing growth overall, due to our immense charm, rabid fandom and generally being on the cutting edge of everything that matters in this strange broken culture.
In addition to those 128 programs, there were two queer-inclusive anthology standalone episode shows, Electric Dreams and High Maintenance. Because each queer woman only appeared in one episode each in 2018, they didn't qualify as R/R. However, it's worth noting that well over half of High Maintenance's episodes included queer characters. Three additional shows had trans women or non-binary characters but no lesbian, bisexual or queer women characters: Pose (five trans women R/Rs), Heathers (one non-binary regular) (and one advertised "black lesbian" who turned out to be straight and also died) and Billions (one non-binary regular).
Some notes on methodology: we got our numbers from the database I built last year and have continued updating this year, which contains entries for every English-language television program to feature LGBQ female characters in all of recorded history. This year, I personally watched 57 of 2018's queer-inclusive shows, and other team members bring the "Autostraddle saw this show" count to 113. For the rest of the shows in the database, I relied on recaps, reviews from other sites, GLAAD reports, YouTube clips, Wikipedia, show-specific wikis and the LezWatchTV database. There's some subjectivity in these numbers — I noticed that some of the characters the LezWatchTV database qualified as "recurring" we had as "guest" and vice versa.

Some big differences between last year and this year on the network level:
The CW more than doubled its count of queer women characters. Now almost all of their original programming has at least one! Thanks Greg Berlanti.
Hulu also doubled its count, thanks to new shows Light as a Feather, The First and The Bisexual; as well as adding even more queers to Harlots and Marvel's Runaways.
Amazon Prime took a major nosedive due to Transparent's hiatus and the cancellation of One Mississippi and I Love Dick. Plus, the shows Amazon still earned points for included three queer-coded but not explicitly-queer characters (on Forever and Mrs. Maisel) and two minor characters from The Man In The High Castle.
Another noted change was in genre, as the world begins to notice that in addition to being very dramatic, as a people, we're also very funny: we showed up in 42 comedies and dramedies this year, up from 28 last year.
Lesbian and Bisexual TV in 2018: Highlights
Here are some of the many programs this year that centered lesbian, queer or bisexual women: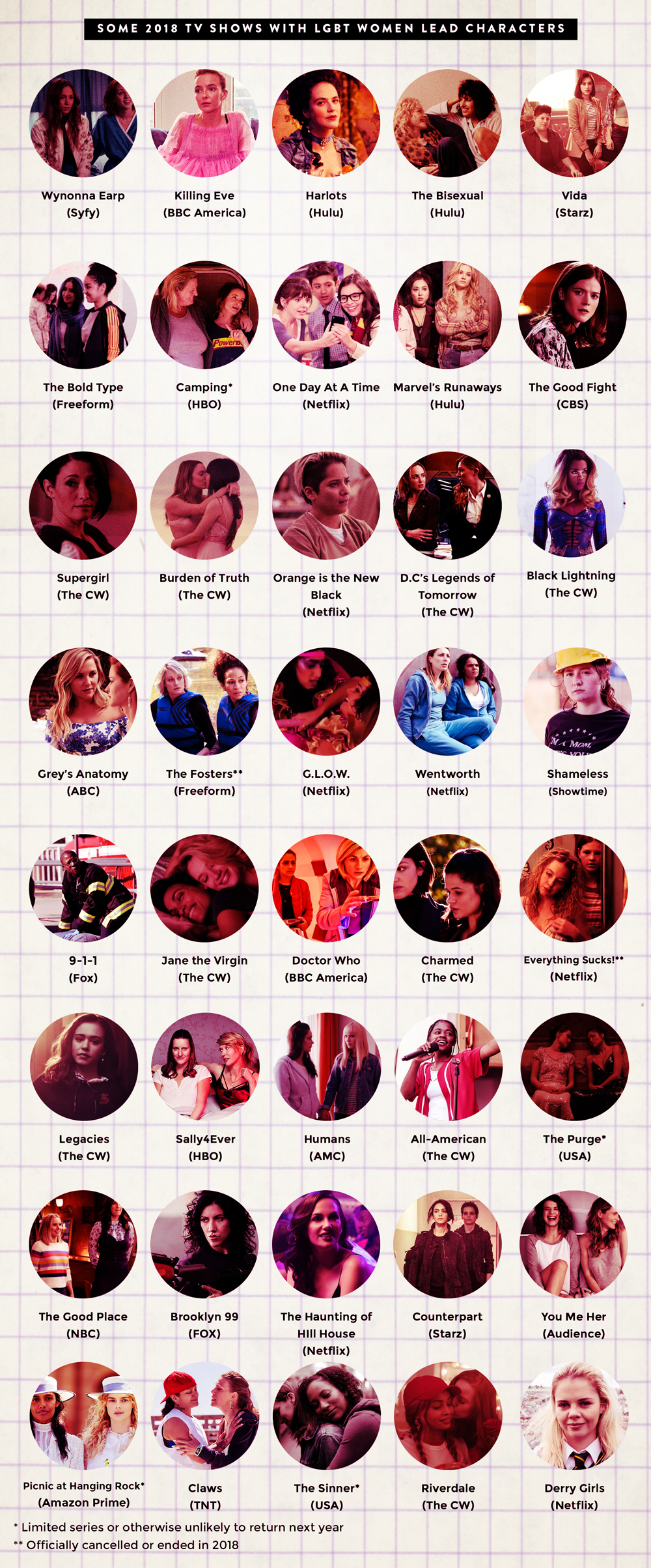 New Shows and New Gays
A whopping 108 of the characters we counted were new this year, and another 22 were existing characters who came out this year. (I've got some theories about the appeal of late-in-life lesbian revelation storylines in a culture growing increasingly skeptical of men!)
Jane the Virgin, Riverdale and Crazy Ex-Girlfriend all made the smart choice of turning their assertive strong-minded badass hellions — Petra, Cheryl and Valencia, respectively — into bonafide lady-lovers. All of these moves, but Petra's specifically, reflected showrunners' growing awareness of what fans want. Specifically, we would like everybody to be gay. "The wildest thing keeps happening this year on television," wrote Valerie in March. "Characters I wish were queer keep… being queer." Even Once Upon a Time finally did some real gay shit before fading into the dark woods forever. Law & Order SVU has yet to do the right thing and Make Olivia Gay, but they did finally introduce a recurring lesbian psychiatrist character. We also correctly predicted who would turn out queer on This is Us, witnessed The Flash giving in to The CW's gay agenda and with two new queers, and, as per our request in that same "Make It Gay" Roundtable, Doctor Who has a new sexually fluid female doctor and one of the people fighting alongside her is a bisexual Pakistani Muslim woman.
2018 opened with a slate of new queer-inclusive shows that took fresh approaches to familiar genres. The team of first responders in Murphy/Falchuk's enjoyable (if often ridiculous) procedural 9-1-1 includes Hen, a black lesbian played by Aisha Hinds (married to one of three black lesbian characters played by Tracie Thoms this year!). Black-ish's socially conscious college dramedy spin-off, Grown-ish, dropped on Freeform with a bisexual Jewish Nomi Segal in the lead ensemble and Starz debuted Counterpart, a spy thriller with a dreamy masculine-of-center lesbian assassin hiding in dark alleys while wearing a leather jacket. The unfortunately ultimately cancelled Everything Sucks! was a charming, hopeful teen drama set in the '90s with a lesbian coming-of-age front-and-center. Black Lightning brought us network television's first lesbian superhero in a grounded CW series with a supernaturally-gifted black family at its center. Then, of course, we have the year's most-talked-about most-beloved televised experience: Killing Eve, which "subverted every male-centered trope of espionage thrillers."
Over the summer, G.L.O.W. finally put some homosexuals where its homoeroticism was and Dear White People compensated for a problematic 2017 with Lena Waithe and a cute coming out storyline in 2018. Bisexual badass Sara Lance became the soul of Legends of Tomorrow and got her first post-Arrow woman-on-woman relationship with Ava Lance.
Then autumn came and with it, so many more LGBTQ women than we even expected. And we had some expectations, like the Charmed reboot with a Latinx lesbian lead and Bre-z playing a masc black lesbian in All-American. But there were surprises, too: lesbian Theo was central to Netflix's buzzy remake of spooky drama The Haunting of Hill House, somehow half the cast of Camping ended up queer by the end and raunchy, delightful and hilarious Derry Girls crossed the ocean and landed upon Netflix just in time for Christmas!
Supernatural and sci-fi has always been a hotbed of queers, existing as it does outside of actual society and its unfortunate ideas about homosexuals and our recreational activities and how the Bible feels about us. That remained true with this year's new sci-fi shows. Pretty much all of them debuted with gay spirit, including but definitely not limited to Legacies, Siren, The First, The Chilling Adventures of Sabrina, Star Trek Discovery, Krypton, The Innocents, Light as a Feather and Nightflyers.
Getting Real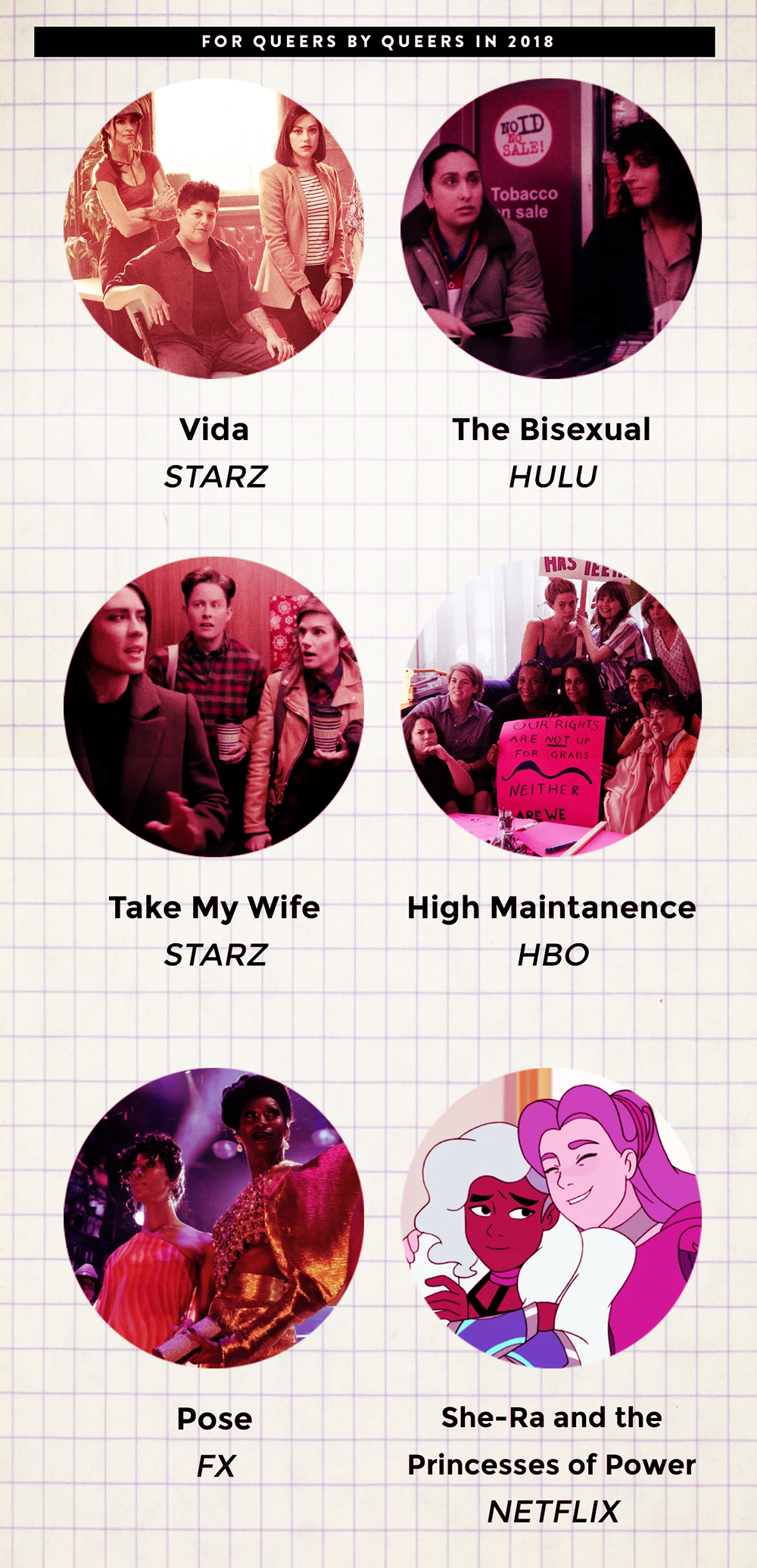 The most resonant queer stories, the ones that reflect the specific quirks and references and behavior of Our People are often written or, even!!, acted by actual queer people. We lost a lot of those this year (One Mississippi, Sense8, I Love Dick, Take My Wife), but we got some new ones too: Pose didn't factor in to most of our charts 'cause all the women on it are ostensibly straight (which we really hope changes in Season Two) but it's clearly the pinnacle of this trend — trans women of color playing trans women of color written by trans women. Pose has changed the landscape entirely and it's brilliant.
On Hulu, Desiree Akhvan's The Bisexual gave us a full, thriving ensemble of queer characters, and Akhvan herself noted her program is "the only show on TV where you can watch two Middle Eastern women in a car, talking, taking up the screen with their different bodies and different ethnicities." Vida was an actual revelation, boasting a diverse writer's room telling heartfelt, sexy stories set within East Los Angeles' queer Latinx subculture. Co-creator Katja Blichfeld came out between Seasons One and Two of High Maintenance, and 2018's stories were thus imbued with even more rapturous affection for contemporary queer culture, with Season Three looking to be more of the same.
Bisexual non-binary writer Rebecca Sugar is behind Steven Universe's groundbreaking youth-oriented queer content which continued testing the ground's ability to be broken with a lesbian wedding episode. Lesbian showrunner Noelle Stevenson delivered a She-Ra reboot that pissed off all the right people. While haters were lamenting the de-sexualized protagonist, Heather applauded the show for its "gender equity, legitimate racial diversity, body diversity, a variety of gender presentations, and so much casual queerness I could hardly believe it."
Fresh off the Boat, with queer showrunner Nahnatchka Khan, continued delivering resonant storylines for Nicole, and the queer women on One Day at a Time's writing team bestowed Elena with non-binary girlfriend Syd. Brooklyn Nine-Nine and Madam Secretary have also earned praise for involving their queer actresses in shaping their queer characters' storylines and coming out arcs.
What Got a Little Bit Better for Lesbian & Bisexual TV Characters in 2018
More Women of Color — Not Enough, But More

All of the above factors united this year to provide us with more queer characters of color than ever before. "2018!! I don't know if you've felt it yet, but we certainly have," wrote Carmen this summer. "This is the year where lesbian, bisexual, queer, and trans women of color are taking over your television screens. Not just in terms of volume (though it does feel like more of us are getting our time on screen), but in terms of quality and depth and agency."
GLAAD found that for the 2018-2019 TV Season, LGBTQ characters of color (50%) actually outpaced white (49%) characters. Our numbers, which looked exclusively at women in the year 2018, weren't quite that high, but were encouraging nonetheless. The number of Latinx characters more than doubled. As Carmen wrote, "Across almost every platform, some of the best and most beloved performances of the year came from queer Latinx characters." Black characters were up 36% and Asian/Pacific Islanders by 50%. Indigenous representation went from zero to two, and Middle Eastern characters from four to seven.
Historically, television has preferred its POC characters to date white people. According to our database, only 27% of all romantic situations ever involving QWOC on television included two POC characters, but this year 45% of them did. Notable relationships include Anissa and Grace on Black Lightning, Yolanda and Arthie on G.L.O.W., Kat and Adena on The Bold Type, Emma and Cruz on Vida and Patience and Coop on All-American.
But one trend with respect to POC characters remains troublingly stalwart…
R.I.P.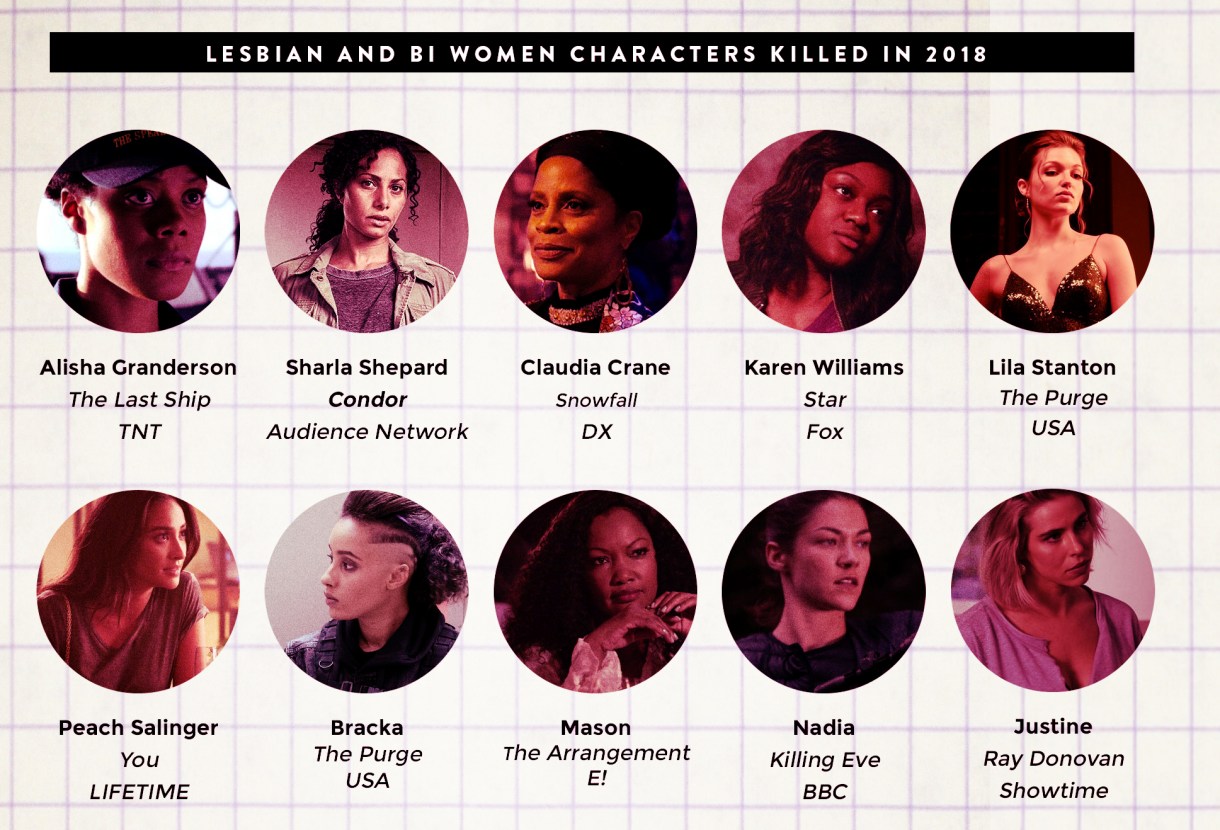 The campaign that began when Lexa died has been, by all accounts, a resounding success. Showrunners have been made aware: it's impossible to plead ignorance of the cultural context or potential unconscious bias around killing lesbian characters.
This year's deaths mainly took place on violent, death-ridden shows, like The Purge, Killing Eve, The Handmaid's Tale and Condor. It's hard to take issue with that. But, as the above graphic suggests, it remains profoundly messed up that the few queers television still does feel killing off are almost always black. The Last Ship, The Arrangement, Star and Snowfall win the award for Most Frustrating Lesbian Character Deaths of 2018. You is only exempt from this trophy 'cause the queer woman died in the book it was based on, too. The Purge gets an honorable mention, as discussed here.
What Didn't Get Better for Lesbian & Bisexual TV Characters in 2018
Masculine-of-Way-Out-In-Centerfield
We got more gender non-confirming lesbian and bisexual characters than we have in years past — and more Latinx butches specifically — but that's not saying much. Here they are, the very soft and semi-soft and imprisoned butches of television: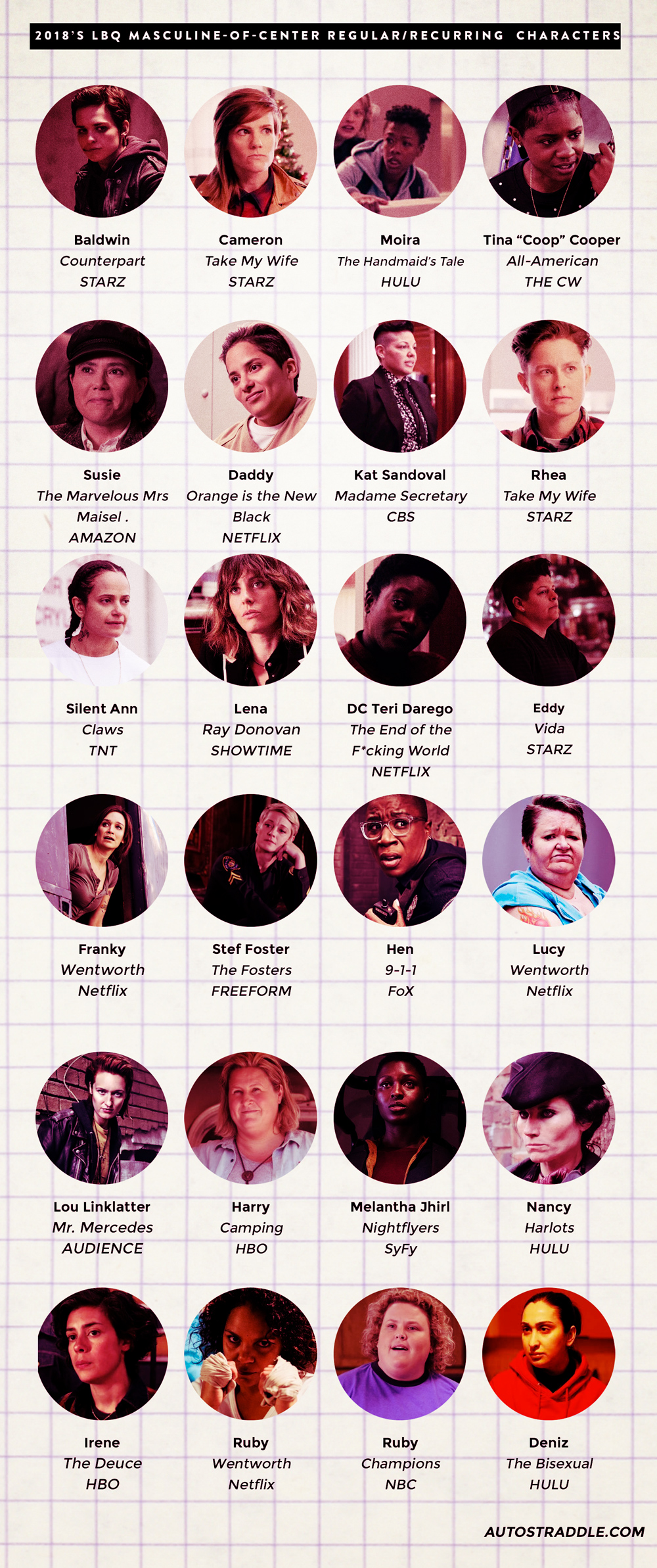 Being a masculine-of-center or otherwise gender-non-conforming actor in Hollywood results in a lot of typecasting but, more often, it results in never getting cast at all. So we applaud the few cases in which we've got mascs playing mascs: Bre-Z in All-American, Ser Anzoategui in Vida, Vicci Martinez in Orange is the New Black, Samira Wiley in The Handmaid's Tale (on the very very soft end of this spectrum), Roberta Colindrez in The Deuce, Fortune Feimster in the (swiftly cancelled) Champions, Kate Moennig in Ray Donovan, Sara Ramirez in Madam Secretary, Cameron Esposito and Rhea Butcher in Take My Wife and Lena Waithe's guest spot on Dear White People. Lea DeLaria only appeared briefly on our screens this year, grabbing a few seconds of screen time in Orange is the New Black and a few minutes as Lip's sponsor in Shameless. 
What's particularly interesting is that it seems masculine-of-center women rarely appear as normal civilians. We've got five prisoners; one lesbian who just murdered somebody and will therefore be a prisoner if she returns next season; three cops and five characters who are involved, to some degree, with a criminal or otherwise-suspect-underground enterprise. In fact, all but two of the masc characters who are not criminally-adjacent, cops or prisoners, are the ones played by queer actors. In some cases, this might mean the characters only seem masc because of the actors who play them — not because anybody intentionally wrote them that way.
Still, just 25 slightly masculine queer women — including one who's yet to actually come out — is a paltry percentage, and likely due to Hollywood's persistent reluctance to cast female actors who are not sexually appealing to cis men.
Following Best Actress Emmy Awards for The Marvelous Mrs. Maisel and Godless, Mariella Mosthof wrote in Into, "Awarding straight, feminine actresses Emmys for playing butch characters in the same year that we've seen the devastating cancellations of TV shows that feature butch actors contributes to a problem long suffered by queer performers." The problem is, of course, "queer actors losing work while straight women ascend to queer roles." I'd argue another problem is that there's nobody on set who understands the importance of making these characters openly queer. Alex Borstein is incredible as Susie Myerson, but my heart yearns to see what Julie Goldman could've done with the role.
I don't think gay roles need to be played by gay actors, but much like the situation with trans actors, it's frustrating to see masculine-of-center and non-binary actors struggle to find work while straight women get haircuts.
Transgender Women: More Please
Pose made 2018 a very big year for trans women of color and is simply revolutionary. It's incredible. Supergirl broke ground too, with TV's first trans superhero, Nia Nal, played by trans actress Nicole Maines. Those are only small gains because so much more is deserved.
Without a new season of Transparent, Sophia Bursett and Nomi Marks were the only explicitly queer trans women on television this year, and with Sense8's cancellation and Sophia's early release, it's unclear if we'll see either again. The vast majority of trans women on television, whether guest spots or regulars, are straight, despite the fact that 77% of trans people are not straight. Furthermore, as GLAAD wrote in their 2018 report, "in some instances it appears that the series creators and producers haven't given much thought to the fact that trans people also have sexual orientations."
Although R/R trans characters remain rare, there is a rising consciousness around the importance of casting trans folks in trans roles and we are seeing slightly more trans women working, in general, even in non-trans-specific roles. Alexandra Billings had a major role in Season Two of Goliath, Hari Nef was in Camping and You and Jen Richards showed up in Take My Wife and Blindspot and will be in Tales of the City next year. There were also some memorable guest spots with trans actresses playing trans roles on shows like Grey's Anatomy and The Good Doctor.
Still, in the U.S., Jamie Clayton's Nomi in Sense8 remains the only trans woman regular character played by a trans actress in a relationship with a cis woman regular character. That's… really bad.
Looking Forward at Lesbian and Bisexual TV
Late last year it felt like every three days there was a new queer woman or revelation on television — Manifest! God Friended Me! The Sinner! Detroiters! American Vandal! Wanderlust! Sally4Ever! Fuller House?!?! — somebody new to plug into the database or with which to update the Fall/Winter TV Preview, and surprisingly few new gay men. Most of the new shows slated for 2019 have new gay or bi male characters, but not so much for the ladies.
In addition to 26 cancellations, there are quite a few shows that were ambiguous structurally regarding a seasonal schedule and have yet to announce additional episodes being shot: Forever, The Bisexual, Camping and Sally4Ever. Of course, YMMV on which of those shows you'd like to see more of.
Next year will unleash a dashing lesbian Batwoman upon us, played by lesbian heartthrob Ruby Rose. She will be the icing atop a multi-layer cake of lesbian and bisexual women showing up on programs focused on highly talented human-shaped creatures who can fly or turn into luminous iridescent visually fluid aliens with waves of rainbow-like light flowing out of their bodies or whatever.
We're also eager for the Tales of the City reboot from lesbian showrunner Lauren Morelli, starring Ellen Page and Jen Richards. Barbara Garrick is returning to play lesbian character DeDe in a show that dared to portray LGBT relationships before most of you were born. Other great expectations for 2019 include Fosters' spinoff Good Trouble, Monica Raymund's turn as a queer detective in Starz' Hightown, Lena Waithe and Halle Berry's Boomerang on BET, and a queer Two-Spirit character on the much-anticipated and tumultuous Season Two of American Gods.
It does seem networks have come to depend on websites like ours to track their inclusivity and promote their efforts, but it bears mentioning that none of these programs ever purchase advertising on our website, Netflix still won't give us access to screeners or their online press room, and we still often struggle to get interviews. (However — Vida, which not coincidentally has a queer showrunner, gave us tons of access.) Often our heads-ups about upcoming queer-inclusive programs come from friends who work in mainstream media. Online media is a tough business, especially now, and it would be a mistake for networks to continue take our existence for granted or to overlook our ability to reach LGBTQ audiences. If you value us, invest in us.
In conclusion — I said it last year and I'll say it again this year — with so many white cis men recently fired for misconduct and abuse, the television industry has a major opportunity right now to elevate the voices of women, LGBQ people, trans people and people of color. We're damn good at telling our own stories, and we've got so many left to tell.