It's Friday and I have some tips for you: 1) Watch Jane the Virgin tonight, 2) There's a queer lead on Netflix's new show Everything Sucks!, which lands next week. We will have you covered on both of those things right after they happen!
Also: The teaser for Vida is here. This week's Black Lightning was something special and Carmen recapped it. And Valerie was super hyped that Supergirl headed into its hiatus with such strong episodes.
Here's what else!
---
The Good Doctor Episode 114: "She"
Written by Heather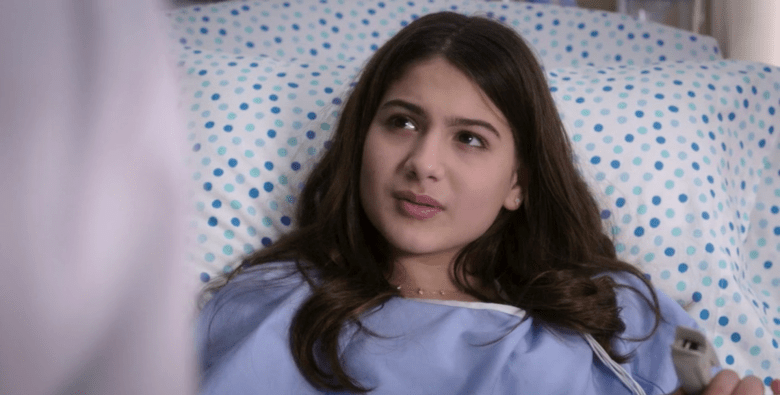 It was a really surprising week for trans people on TV. Three different trans characters showed up on three different primetime shows and all of them were played by trans actors. No one on our staff was keeping up with The Good Doctor, besides Valerie — and only then for Jasika Nicole — but she's fallen behind because of all the other gay watchin' and gay recappin' she has to do. I watched this week's episode, "She," after we read it featured a trans storyline. I expected to hate it, and it definitely wasn't without its problems, but it was something new and wonderful in its way. The trans character is named Quinn and she's played by Sophie Giannamore, who you may remember as the actress who wowed every critic with her portrayal of young Maura on Transparent. She's exceptional in "She," too; in fact, she has no issues holding her own beside Freddie Highmore, whose portrayal of autistic savant Dr. Shaun Murphy has earned him a zillion award nominations.
Quinn shows up at the hospital with abdominal pains and once Shaun realizes she has a penis he starts misgendering her and insisting that genitals determines gender. He also asks a lot of questions that would honestly probably get him sued at most hospitals. Does she wear dresses? Does she play with dolls? Does she like the color pink? Throughout the whole thing, Sophie calmly and patiently explains things to him: about what it means to be trans and what it felt like for her, specifically, to finally have her gender confirmed by her parents. (Also: yes she wear dresses but sometimes leggings; she does play with dolls but is hardcore into mermaids; and she's more of a purple girl.) Her pains are actually due to a tumor on one of her testicles and she's also having bone density issues because of her puberty blockers, which she's going to have to come off of because of it. She begs her parents to allow her to have both testicles removed to stop the onset of puberty fully but after conversations with several different surgeons they decide to do only what's medically necessary.
Quinn is bereft when she wakes up and finds out that's what her parents decided and then brilliantly and beautifully says to the doctor who keeps insisting she might want to have kids one day: "Cis people are always so worked up about having bio kids! If I want kids so badly when I grow up I'll adopt them!"
This episode features a much more nuanced and multi-layered conversation than most hospital shows do around trans patients. Quinn's grandmother doesn't really accept that she's trans — until maybe right at the end when she brings Quinn pink roses and Shaun says she's more of a purple girl. And Shaun asks a lot of questions, although they're not framed as mean-spirited, just genuinely curious. Everyone else including her parents and all the other doctors are respectful of her gender and her pronouns; you can tell a lot of research went into the episode.
Still, though, at the end of the day, the trans woman's struggle serves to help a man understand himself better and it leans on a trope Sadie Edwards wrote about during the third season of Transparent:
"The trope that hormones and surgery are inherently dangerous and ultimately secondary to other so-called 'life threatening conditions' has been played out time and time again. Almost every single television show to feature trans women in a medical setting will have some pasty white doctor tell her that she's sick and that she has to go off her hormones and that if she doesn't they will kill her.

I understand these situations happen in real life. I also understand that the show has to make some sort of decision in regards to the fact that Jeffrey Tambor is not going to start hormones or get surgery. But at the end of the day, we're talking about a fabricated story line and a fictional universe. Juxtaposing the fact that hormones could kill the main character, and that all choice is taken away from her in that situation, lends credence to the real world association that hormone replacement therapy and the treatments trans people choose to go forward with are themselves life-saving procedures."
In fact, Quinn almost does die on the operating table, but Shaun saves her (that's his thing). One very good thing to come out of the episode is more recognition for Sophie Giannamore. She's going places.
---
Grey's Anatomy Episode 1412: "Harder, Better, Faster, Stronger"
Carina noticed that Arizona has been absent the last few days at Grey Sloan Memorial. She thought that maybe Arizona has been preparing for the new medical contest everyone's excited about, but actually Arizona has been off licking her wounds after losing Karina Taylor, the patient who died due to complications from preeclampsia two weeks ago.
She's been in bed, wrapped up in warm blankets, with organic Oreos, Whole Foods 365 popcorn, her leg beside her, and her hair in a messy top-knot bun. Her eyes glaze over as she just keeps clicking back and forth on the TV. For me, I'd say this is a perfect Saturday. But I think we are supposed to take from it that Arizona is depressed, or at least not her usual self.
Arizona tries to commiserate with Carina, it's hard losing a mother in childbirth, you know? But Carina can't relate. She has no real experience losing moms, which shocks Arizona. How is that even possible for an OB-GYN? Well, it turns out that the United States has one of the worst rates of maternal mortality among their peers; 26.4 out of every 100,000 mothers in the United States die during childbirth, compared to Italy's 4.2. The episode doesn't go into this particular detail, but those statistics are even more stark for black women and women of color in this country. Arizona knows that can and should change. It finally clicks for her, and she's inspired!
She comes barreling in to April's office, already past the contest application deadline, with both guns blazing. Karin Taylor was only 33 years old. She gave birth to a gorgeous, 6 lb, 7 oz baby. She was healthy, and now she's dead — from an entirely treatable condition. She maybe couldn't save Karin. But she's not going to rest until she saves a lot of other Karin's in her future.
April, our poor, dark, broken-in-her-soul-right-now April, looks at Arizona with the passion of a thousand fires in her eyes. She tells her to put the proposal in writing. We are off to the races!
Arizona walks into Joe's bar triumphant! She's sparkling; her gold blouse and blonde hair and bright smile look like sunshine itself. She wants Carina to be her partner on the study.
Carina takes it all in. She smiles slow and fierce, Arizona wants her to be her partner… "Just on the study?"
Arizona answers by grabbing her face by both hands and wrapping her up in a movie style, big romance, nothing to lose romantic kiss! Oh, these crazy kids, I can't help myself. I hope they work it out.
Also entering the Grey Sloan Surgical Innovation Contest? The mother-son team of Jackson and Catherine Avery, who are working with Dr. Michelle Velez (played by out trans actress and legend in her own right, Candis Cayne) to revolutionize gender confirmation surgery for trans women. The current surgical norms have a lot of downsides for patients. Dr. Velez wants to take a piece of the peritoneum, the skin that lines our organs and abdominal cavity, and harvest it to reconstruct the vagina. This will not only allow for a better options for those trans women who choose to undergo the procedure, but also cis women who were born with congenital defects or lost their vaginal canals to cancer. On top of all of that, Dr. Velez suspects the surgery will allow for an even better orgasm — which Catherine AMENS loudly as definitely speaking her language!
At first Jackson minimizes the new procedure as an elective, cosmetic surgery (also, he's embarrassed by his mother and her voracious sexual appetite). But Catherine calls him on all of his bullshit, reminding her son that the rate of attempted suicide in people with gender dysphoria is 41%. This surgery won't just change lives, it will save them.
Jackson decides to join the women on their project, as long as his mother promises to keep the orgasm jokes to a minimum. But, that's a pipe dream. She won't. If she did then she wouldn't be our Catherine Avery.
Post-Op Thoughts:
According to Hung-Over April (my new favorite April!), the rules of the Grey Sloan Surgical Innovation Contest are as follows: It takes a three paper proposal to apply. 25 proposals will be selected and given $100,000 in seed money. From those 25 projects, five will be selected and awarded $1 million, until one project is deemed the winner and ultimately given $5 million in funding.
Meredith entered the contest with Jo, but not just as a lowly resident assistant, instead now a full-fledged partner. Jo still can't believe that Paul is dead. She keeps pinching herself, leaving bruises, to remind herself that this isn't a dream. Meredith believes in her, she wants her to know that this is real life— she is free. Jo decides to publish under a new name Dr. Josephine Brooke Wilson. A poetic end and a new beginning.
Candis Cayne is joining us as a part of a major multi-episode arc. I can't freaking wait!!
---
Quick Hits
The Young and the Restless: It's feeling like one step forward and two steps back on The Young and the Restless. One moment, Mariah and Tessa exhibit some new found closeness — whether its Mariah finding Tessa a new place to live or Tessa defending Mariah when she gets insulted — and the next, Tessa talking to her ex-boyfriend about reconciling. It's hard to know where Y&R's going with this storyline or what Tessa's motivations are and I'm hoping the show sorts it out soon. — Natalie
Coronation Street: It's been a tough week for Rana on the Cobbles as news of her affair starts to spread. Zeedan callously outs his wife to her disapproving parents, promising to name Rana and Kate when he files the divorce papers. Determined to maintain his family's honour, Rana's father (Kriss Dosanjh) makes his son-in-law an offer he can't refuse: funding for the cafe Zeedan's long dreamt of, as long as he stays married for another year. Rana's despondent to learned that her parents have reduced her life to a business transaction but the guilt she feels for having wronged Zeedan leaves her powerless. She finds an unlikely ally in Zeedan's grandmother, Yasmeen (out actress Shelley King), who pushes Zeedan to decline the deal. Ultimately, he agrees to it — with an extra £10,000 because Zee refuses to work with Kate — but he and Rana are forced to stay in the Nazir house, after a threat from Yasmeen.
Meanwhile, Kate is wrapped up in her own world. She's kept the secret about her sister's kidney failure from her family and her new girlfriend, Sophie (Brooke Vincent), even as she's tested to be a donor, but has to do some damage control when Carla (Alison King) collapses at the Rovers and the secret comes out. It's jarring to have Kate continue going through the world, seemingly unbothered by the dissolution of her relationship with Rana or without consideration for what her former…whatever they were…is going through. Maybe if Carla ends up needing Kate's kidney, the surgeon can figure out what's causing the out of character behavior we've seen from Kate since she's come back from Devon. — Natalie
The Fosters: This week The Fosters tackled a really important storyline about the difficulties faced while being trans in prison. Aaron is arrested for obstruction of justice. He was helping in a counter-protest to an ICE immigration raid at a local high school. He's absolutely terrified of being strip searched and outed as trans while in a men's facility. He calls Callie, who calls Stef, and Stef is there to support him while he discloses his gender identity to the guards in the interest of safety. By the end of the hour, Aaron is freed and home safe. He tells Callie that the experience helped him decide that it's important to come out publicly. Overall it's a really good storyline, and you should absolutely read out actor Elliot Fletcher's (Aaron) interview about the episode, but I also felt frustrated that most of what the audience deals with is filtered through Callie's reactions. I would have liked to have more time in Aaron's own headspace during this arc, apart from his on-again/ off-again cis girlfriend. Whenever possible, trans people should be allowed the to be the vehicles of their own stories.
In other Fosters news, Tess is separating from her husband as she works out her new gay feelings. Stef's panics are getting worse, and she is trying to hide them from Lena. In a surprise move, Brandon once again isn't The Worst and convinces his mom to get help in his own way. She's ends the episode finally seeing a therapist, ready to confront what's been haunting her. — Carmen
Crazy Ex-Girlfriend: Josh's (other) ex-girlfriend, Valencia, came out as bisexual during last week's episode, revealing that she's dating her new party planning business partner! They kissed each other on the mouth! Valerie's going a little deeper with Crazy Ex-Girlfriend's bisexual characters next week in a longer article, but I didn't want you to miss this bit for now! — Heather