Feature image from Animals Australia
Happy Friday – or Saturday if you're like me and live on the other side of the International Date Line! Right now it's peak Pride season in my part of the world: Melbourne just wrapped up Midsumma and Sydney is in the midst of Mardi Gras, which has the largest Pride parade in the Southern Hemisphere. It's particularly celebratory this year as it's the first bunch of Pride events since Australia legalized marriage equality, so there's a lot of weddings amongst all the partying.
This year I got to march at Midsumma Pride for the first time! Having marched in Sydney Mardi Gras and SF Pride before – both times with South Asian LGBTQ group Trikone, we have the best music – it's way more fun to be in the march than watching it from the sidelines. The paparazzi can be a little intense, and my god the 39C/102F weather that day wasn't helping, but the waiting area for marchers is a big party of really fun queermos all proudly representing various aspects of their identity.
I got to march with Mama Alto's Glitterati – and listen, I love this woman to bits. She's not just a highly talented gender-diverse WOC jazz chanteuse who brings up politics in her performances, she's also a community organiser and artistic Fairy Godmother who's pretty much adopted almost all the queer/radical/POC artists and activists around town, many of whom I've become good friends with since I moved here and got into her orbit. She's down to earth and often silly and is prone to sending you links to resources to help what ails you.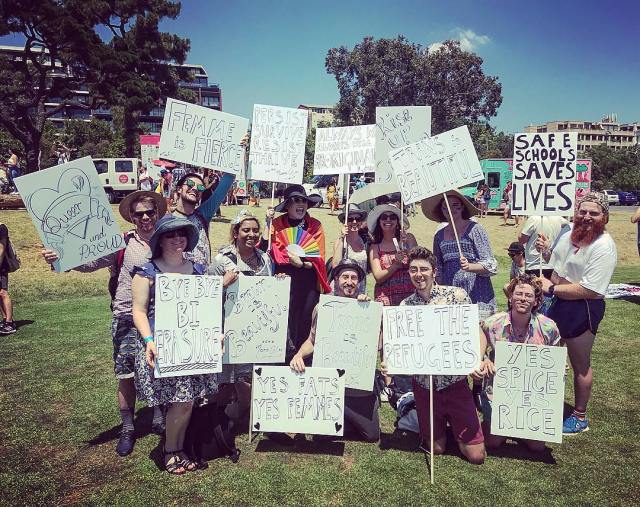 Midsumma, Mardi Gras, and most other Prides in Australia aren't just the marches – they're multiple weeks of art, community events, performances, parties, and so on, sort of like a really queer Fringe festival. In the last two weeks I've seen a queer take on classical Indian dance, a punk rock feminist cabaret, a space-age semi-religious experience that reminds you that you are divine whatever your gender or sexuality is, and so much more that I've lost track already. I even co-produced a cabaret of all-disabled super-queer performance art, which went really well! It can be overwhelming, especially when almost everyone you know has a show on, but it's also heaps of fun.
What does Pride look like where you live? Is it just a one-off march or are there a lot of auxiliary events as well? Have you ever participated in a march? Does your local queer scene also have its own Fairy Godmother figure? Share your stories, pictures, and videos! And if you don't feel like talking about Pride, just tell me how your week has been!
---
How To Post A Photo In The Comments:
Find a photo on the web, right click (on a Mac, control+click), hit "Copy Image URLwp_postsand then…
code it in to your comment like so:
If you need to upload the photo you love from your computer, try using imgur. To learn more about posting photos, check out Ali's step-by-step guide.
How To Post A Video In The Comments, Too:
Find a video on YouTube, copy the URL, and paste the link on its own separate line in your comment. You no longer need to use the "embedwp_postscode!