Unless otherwise indicated, summaries were written by Riese. This preview will be indexed in our top menu bar so you can check in throughout the season as we get more info about upcoming shows.
As time continues its relentless march towards our ultimate ruin, we find ourselves once again facing the approach of "Autumn," a season known for its flattering foliage and a slate of new and returning television programs who offer us the chance to retreat from the slings and arrows of everyday life into the soothing embrace of a fictional story.
This definitely isn't the most impressive slate of new shows we've ever seen, but the vast majority of new queer characters are women of color, which is pretty rad!
---
September
The Purge (USA) // September 4th // NEW
The pilot of The Purge features a flashback to a boy / girl / girl threesome between three lead characters, which means we've got at least two sexually fluid ladies on the radar. There's also some heavy girl-on-girl action between those two women, Jenna and Lila, in in the post-pilot season-ahead trailer. Furthermore, lesbian actress/model AZMarie looks REAL GAY in this show but it's unclear if her character is gonna be explicitly gay (currently, it seems most likely that her character won't be developed at all) — regardless, I wanted to mark this occasion just in case. AZ Marie plays an assassin hired by Jane, who the showrunner describes as the story's most relatable character. Jane is a black finance professional whose career advancement is held back by racism and sexism. She takes the Purge as an opportunity to eliminate what's between her and the glass ceiling, only to feel immediately conflicted and terrible about it due to, you know, morals. 
Mayans M.C. (FX) // September 4th // NEW
watch the "Mayans M.C." trailer
After a year-long delay, Mayans M.C., the Kurt Sutter and Elgin James helmed spin-off of Sons of Anarchy, finally makes its way onto FX's fall schedule. Like SOA, Mayans is heavy on motorcycles, drugs, violence and machismo, but its inaugural season will also feature a recurring lesbian couple. Alexandra Barreto — who played Jesus and Mariana's birth mother, Ana, on The Fosters — will play Antonia Pena, the mayor of Santo Padre, a small town near the California and Mexico border. While her wife tries to navigate the mindfields between the MCs, the Mexican cartels and the community, Katrina Pena (Efrat Dor) will keep on a brave face and manage the couple's young family. – Natalie
Wentworth Season Six (Netflix) // Wednesday, September 5th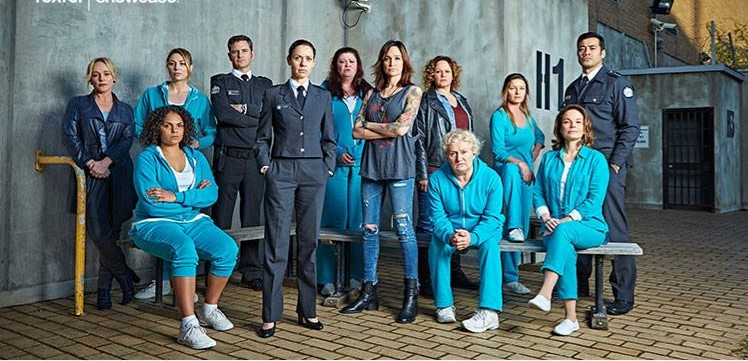 Wentworth has already aired in Australia, and I've done very good at avoiding spoilers, so don't ruin it for me! The pre-season info available indicates that Franky has escaped successfully, and is on the run but also reunites with Bridget Westfall. There are some new characters: Rita, an Indigenous woman and an affiliate of the Conquerer biker gang (played by an Indigenous actress!); Ruby; a black hot-headed charismatic boxer; Marie, a criminal matriarch who heads up a sex-trafficking and prostitution industry, and her loyal conduit, Drago. Due to being listed as romantic links to another Wentworth lesbian character, it seems both Marie and Ruby are lesbian or bisexual or sexually fluid in some way.
Cable Girls Season Three (Netflix) // Friday, September 7th
watch 'the cable girls' teaser
Season Three will take a time-jump to 1930 so we can enjoy some fantastic flapper costumes, as well as the ongoing situation between Carlota Rodríguez de Senillosa, a bisexual married woman, Carlota's husband Miguel, and their partner Sara Millán, a bisexual trans person who fell in love with Carlota.
You (Lifetime) // Sunday, September 9th // NEW
watch "you" trailer here // read heather's review here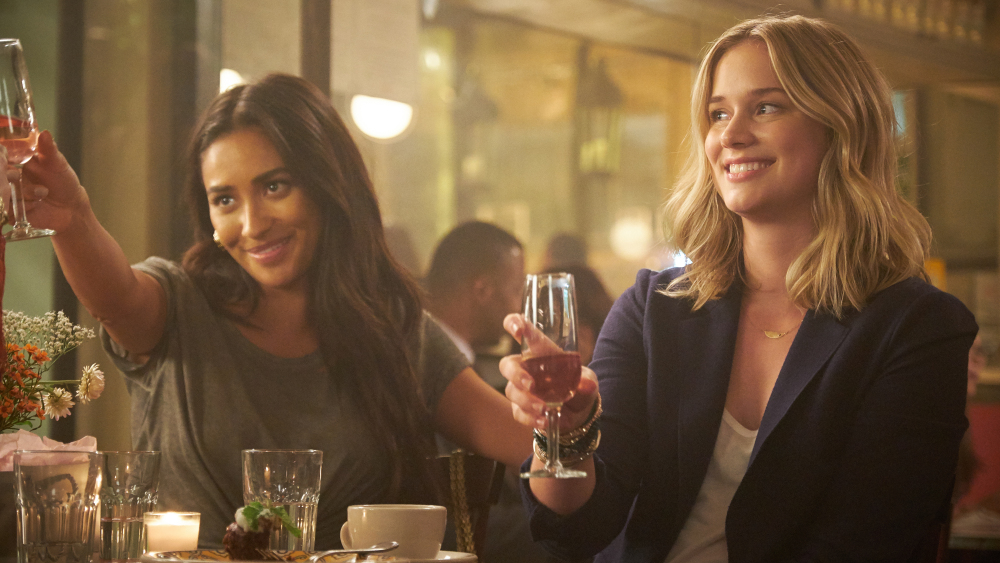 Penn Badgley stars as Joe Goldberg, who "exploit's today's technology to win the heart of Beck amid the growing suspicions of her best friend Peach." Peach, played by Shay Mitchell, is spotted kissing Beck in the trailer. In the novel upon which the series is based, Peach is a wealthy closeted lesbian who fits neatly into the Predatory Lesbian stereotype as well as a few other unfortunate tropes, which is… concerning. But we'll see! Trans actress Hari Nef will play Blythe, "a talented and competitive peer in Beck's MFA program."
The Last Ship Season 5 (TNT) // Sunday, September 9th
Season Five of this drama, which focuses on the crew of a naval ship who survived a virus that wiped out most of the global population, returns for its final season which will involve Lieutenant Alisha Granderson, a lesbian. If the past is any promise for the present, it's unlikely she'll get any romantic storylines. But there will be um, lots of ships and explosions and patriotism.
Shameless Season Nine (Showtime) // Sunday, September 9th
watch the shameless season 9 trailer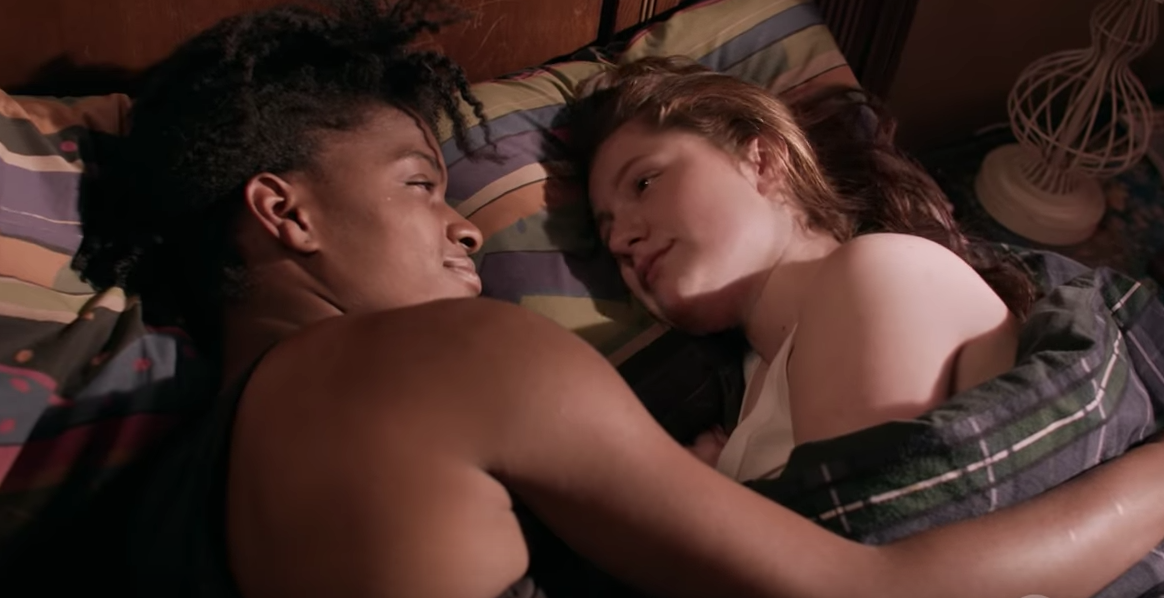 Shameless's first seven episodes will air from September 9th – October 21st, and the back half (for an extended 14-season order), will pick up in January 20th. However, I regret to inform you that our girlfriend Svetlana will not be returning. Shameless pretty reliably has queer women characters in it every season even if they're rarely front-and-center — and this year it looks like Debbie's gonna be the one hit with the queer bug, getting involved with a black tradeswoman who's taken to passing as male in order to get paid fairly for her work.
The Deuce Season Two (HBO) // Sunday, September 9th
Big news: my girlfriend Devon from I Love Dick, aka Roberta Colindrez, will be playing "Irene," a lesbian, although it's unclear how many episodes she'll be around for. (h/t to LezWatchTV) Queer sex workers Melissa and Barbara are set to return for Season Two of this HBO series, which tracks a transformative time in the sex industry in New York City. Maggie Gyllenhall stars. James Franco is, unfortunately, also involved. Several casting calls for The Deuce have been for transgender women, including one for a "1970s fabulous transgender woman for a disco club scene."
American Horror Story: Apocalypse (FX) // Wednesday, September 12th
American Horror Story: Apocalypse, set in October 2019, includes a cross-over between its two most lady-gay-deficient seasons, Coven and Murder House, and many returning actors are reprising their Coven roles, including Emma Roberts and Gabourey Sidibe. Connie Britton and Dylan McDermont will reprise their Murder House roles, as will Jessica Lange (but just for one episode). Sarah Paulson will be playing her Murder House and Coven characters and a new character named Venable, who likes old-fashioned power suits and might be involved romantically with her butch pal Miriam, played by Kathy Bates.You can read more about what to expect here.
Ingobernable Season Two (Netflix) // Friday, September 14th
watch the season two trailer here
María Urquiza had her entire life snatched away from her in Season One of Ingobernable: her father, the President of Mexico, is dead and her mother, implicated in the murder, is forced to run. She can't rely on Daniela Hurtado, the woman she's been having an affair with, because she's working to prosecute her mother, so instead she self-medicates with pills. And then (!!) she goes and gets herself and Daniela kidnapped!
Season One ended with María being held hostage in the United States while Daniela… well, let's just hope that she was rescued along with María's mother and won't be another dead lesbian to add to the list. – Natalie
The First (Hulu) // Friday, September 14th // NEW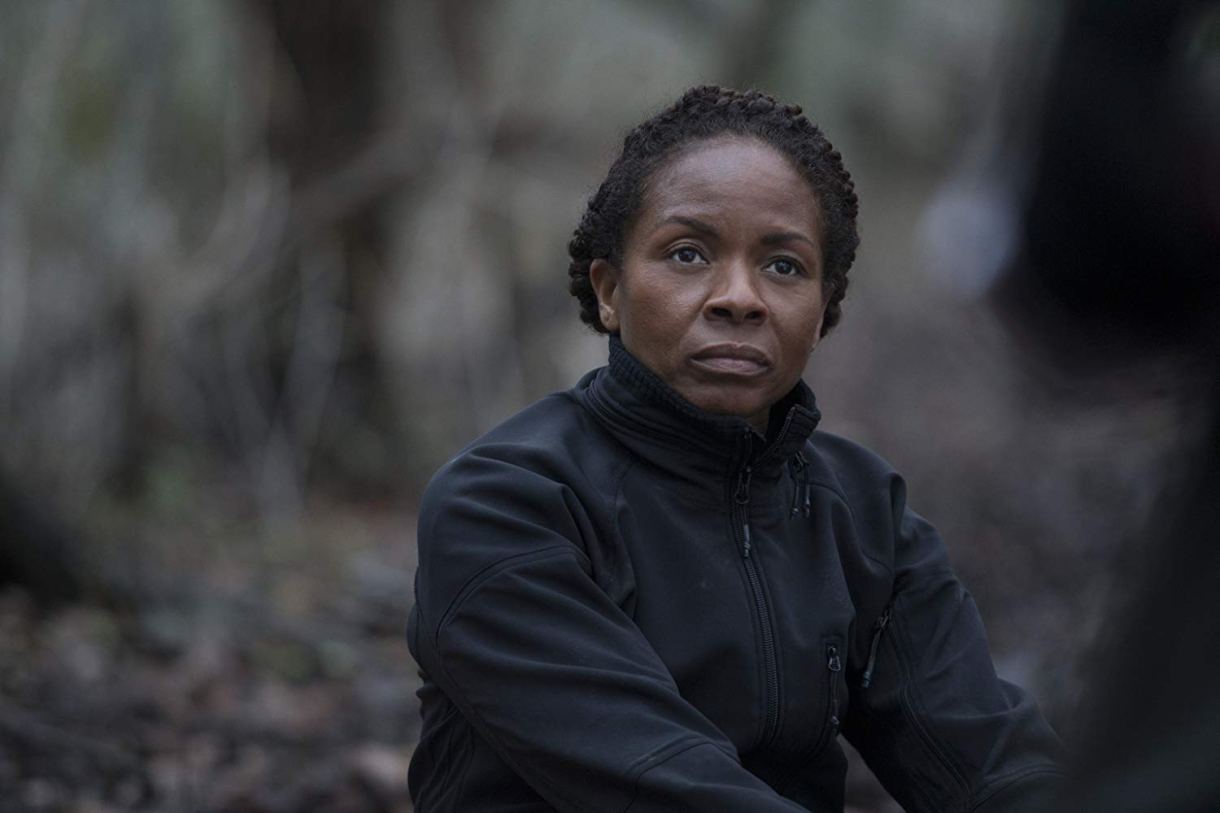 This series, that follows an effort to send the first crewed mission to Mars, features Lisa Gay Hamilton as an astronaut working underneath Sean Penn's character. She confronts a lot of racism, sexism and homophobia at NASA. Her wife, Nancy, is played by Tracie Thoms, who designs wood furniture and are, according to Carmen, "very loving, domestic black lesbians who enjoy snuggly sweaters and dinner parties."
Bojack Horseman, Season Five (Netflix) // Friday, September 14th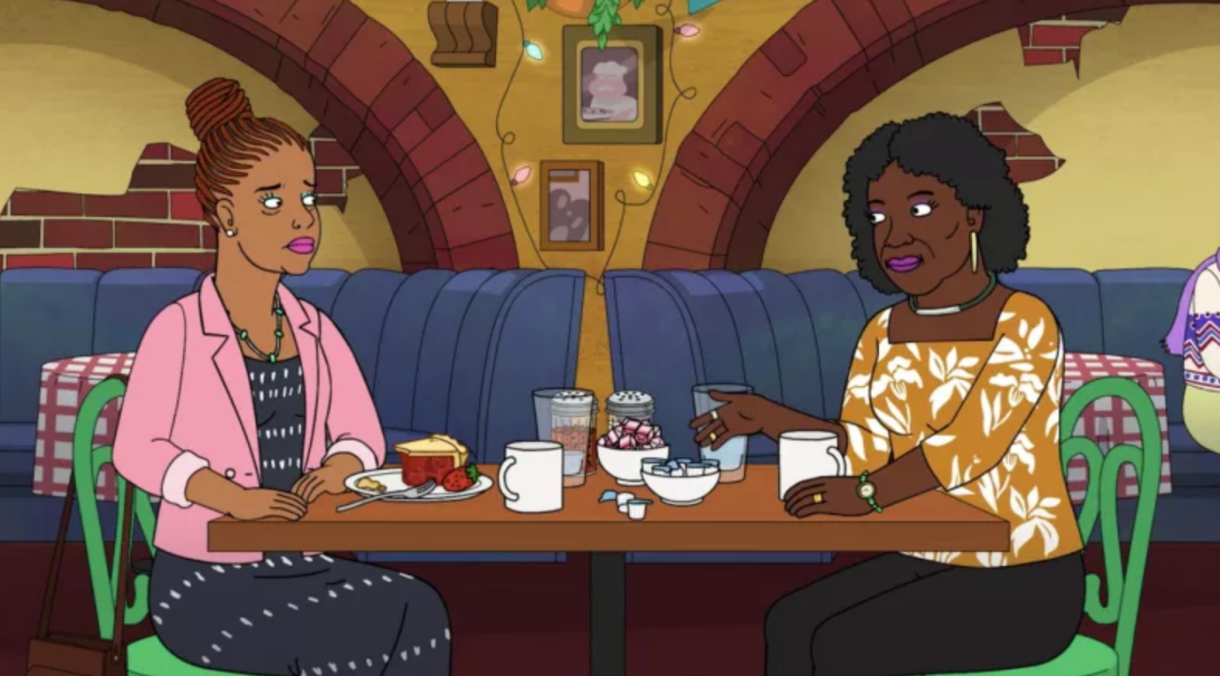 Wanda Sykes and Issa Rae turn up in the seventh episode of Bojack Horseman's fifth season… playing lesbians! Issa plays a therapist who appears in several episodes.
American Vandal, Season Two (Netflix) // Monday, September 14th
The second season of this brilliant mockumentary series covers an investigation of a mass poisoning and several other feces-related incidents at a private Catholic high school. One of the students under suspicion, Jenna, is a pretty lesbian from a rich family who yearns to be understood for who she is and not the family she's from.
9-1-1 Season Two (Fox) // Sunday and Monday, September 23rd and 24th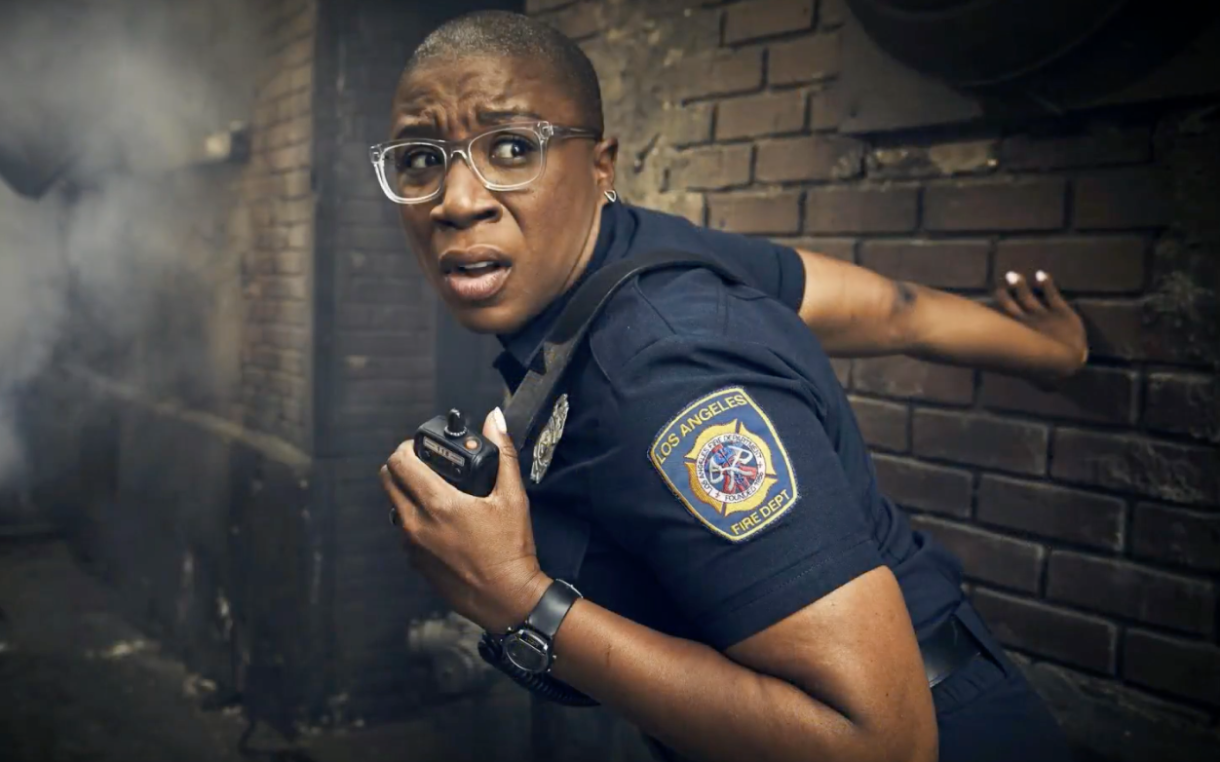 9-1-1 will return for its second season with an EARTH-SHATTERING PREMIERE guaranteed to play into all of my worst fears about our tender futures on this strange planet — an EARTHQUAKE IN LOS ANGELES episode! Previews suggest that this event will, like the entirety of the show thus far, continue with its depiction of Los Angeles as a city with NO TRAFFIC. Aisha Hinds returns as Hen, a lesbian firefighter/paramedic who's working to rebuild her marriage after some unfortunate decisions. Jennifer Love Hewitt will replace your wife Connie Britton, who was only under contract for one season.
Star Season Three (Fox) // Wednesday, September 26th
Star comes back to us after one heck of a Season Two cliffhanger which pitted 90s R&B star Brandy against Queen Latifah in a guns out brawl. Neither of those characters are gay (even though Queen Latifah's always gay even when she's not), so let's check in on bisexual teenager Simone. She's still heartbroken over the death of her girlfriend last year, and subsequent arrest of her husband by ICE outside of the funeral for her dead mentor (I told you, this show is a lot). Trans actress Amiyah Scott continues to deliver one of the finest performances in primetime soaps. You really should check out this show for her performance alone! – Carmen
American Housewife Season Three (ABC) // Wednesday, September 26th
Carly Hughes returns as Angela, Katie Otto's lesbian neighbor who displayed a knack for seducing local Mommis in Season Two.
Grey's Anatomy Season 15 (ABC) // Thursday, September 27th
Last season we lost television's longest-running lesbian character, Arizona Robbins. I'll be honest with you, I'm not fully prepared to enter a Post-Arizona/Post-Callie/Post-Calzona Grey's Anatomy World. Luckily for everyone, Intern Hellmouth is here to ease our transition. What do we know about Hellmouth – other than she has the world's greatest nickname? For starters, I'm pretty sure she's a regular Autostraddle reader, because she loves herself a Mommi. Last year, her crush on Meredith Grey provided much needed comic relief. Let's see what kind of romps she gets into this time around!  – Carmen
The Good Place Season Three (NBC) // Thursday, September 27th
The four leads of The Good Place have been given another shot to earn a rightful spot in heaven, via being good people on earth. Kirby Howell-Baptise, who played Elena in Killing Eve, will play Simone, a recurring role as a neuroscientist helping Chidi figure out if there's something wrong with his brain. Mike O'Malley (aka Kurt's Dad) has been cast as the doorman, who literally guards the door connecting the afterlife to Earth.
Last we saw Tegan Price, she was signing onto an anonymous immunity deal that sent Laurel's dad to prison. We feared it would be the last we saw of her and that we'd have to forever lament never getting the Annalise/Tegan hook-up we deserved. But Tegan will be back for season 5, this time as a series regular. Bring on the courtroom and bedroom meetings between Shonday's two queer women of color! – Natalie
S.W.A.T. Season Two (CBS) // Thursday, September 27th
Chris Alonso will return as a bisexual S.W.A.T. team member on this surprisingly addictive show that also starts Shemar Moore, a man even a lesbian (or at least one lesbian I know of) (me) enjoys to look at and think about. For a law enforcement procedural, S.W.A.T. maintains a pretty progressive social justice bent, overseen by Black Executive Producer Aaron Rahsaan Thomas, whose other credits include Southland, Friday Night Lights and The Get Down.
---
October
Station 19 Season Two (ABC) // Thursday, October 4th
It's not unusual for a Shondaland show to end a season with a massive cliffhanger. At this point, we've just come to expect it. Still, Station 19 took it to a whole other level in their inaugural season finale. Sent out to battle an inferno in a downtown skyscraper, the entire crew of Station 19 found themselves in peril, including bisexual badass Maya Bishop. Simply put, everyone could be dead.
Fingers crossed that Maya emerges from the flames, though, because we haven't learned nearly enough about this former Olympian turned firefighter for whom "lots and lots of sex functions" as self-care. – Natalie
Will & Grace Season Ten (NBC) // Thursday, October 4th
Comedian Chelsea Handler has been cast as a power lesbian for the tenth season of Will & Grace. Her character, Donna Zimmer, is a client of Grace's who begins dating Grace's sister, Janet. Janet, played by Mary McCormack, first appeared on the show in March, and was touted as her "screwed up" sister Janet who "used to live in a van and sell jewelry. In the original seasons of Will and Grace, Janet was played by Geena Davis.
Fresh Off the Boat Season Five (ABC) // Friday, October 5th
Newly syndicated Fresh Off the Boat returns for its fifth season but in a new Friday night timeslot. While we'll surely get to see Jessica Huang sipping some free drinks at the local lesbian bar this season, it's still TBD how often we'll see Nicole this season as the actress, Luna Blaise, is starring in a new show on NBC. Nicole's story was one of our favorites last year so – fingers crossed – that she'll find our way back to FOTB. – Natalie
Madam Secretary Season Five (CBS) // Sunday, October 7th
With Madam Secretary's Elizabeth McCord (Téa Leoni) prepping for potential presidential run this season, there's going to be lots of work to go around for Sara Ramirez's Kat Sandoval. Natalie's current theory is that Kat's going to become her campaign manager, and I am so here for it. Let's be real, I'm so here for Kat as long as she shows up every week with that haircut and those perfectly tailored suits. It was enough pull me through me last season, and it will be enough for me until the end of time. It almost goes without saying, but the fact that she comes packed with Sara Ramirez's talent doesn't hurt much either! – Carmen
The Walking Dead Season Nine (AMC) // Monday, October 8th
Nobody on our team wanted to write about this show or knows anything about it, but maybe you do! Tell us!
Black Lightning Season Two (The CW) // Tuesday, October 9th
Already one of the year's most impressive and captivating debuts, Season Two of Black Lightning cannot come soon enough. We barely saw Anissa Pierce's love interest Grace Choi in Season One, but she will be back for Season Two — and Anissa's getting another love interest, too. Earlier this summer it was reported that the show was casting for "Zoe B," a "twentysomething young woman with social media savvy and filled with confidence and edge." Nafessa Williams promises that in the upcoming season, one of Anissa's central challenges will be "maintaining a love life. She needs to understand there has to be a balance between her love life, her career, and her work as a superhero in the community." Our resident Black Lightning recapper Carmen couldn't agree more!
All-American (The CW) // Wednesday, October 10th // NEW
watch all-american trailer here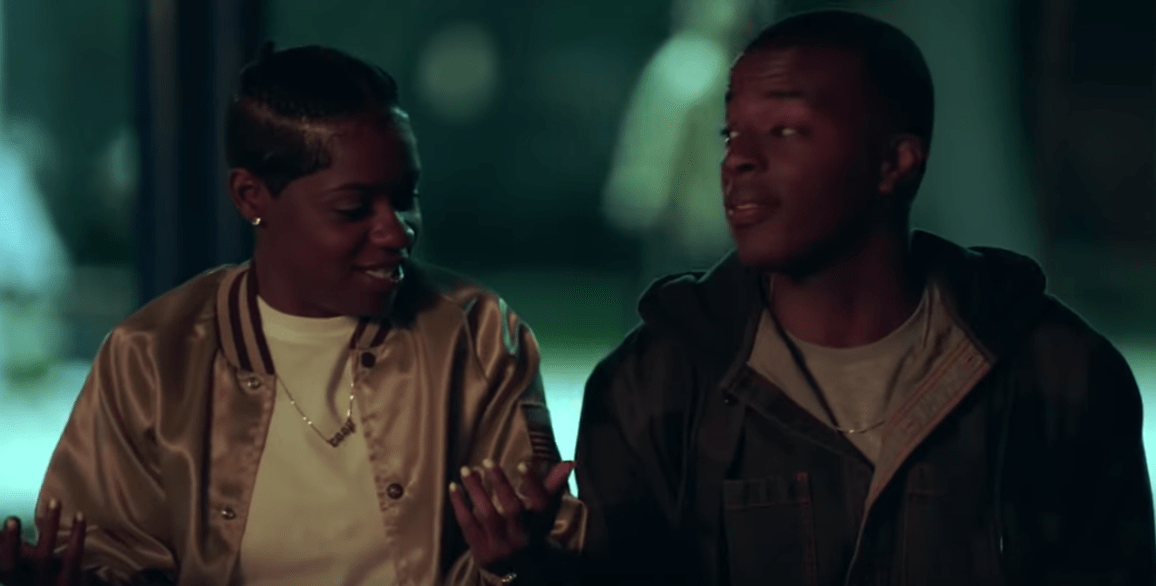 Lesbian rapper Bre-Z (Empire) returns to the small screen in this fish-out-of-water football drama based on the life of NFL player Spencer Paysinger, produced by, of course, Greg Berlanti, about a young player recruited out of Crenshaw to play for Beverly Hills High. He's forced by his coach Taye Diggs to have a positive attitude about all the rich white kids being asshole bullies bent on sabotaging his opportunity! Wheee!  Bre-Z plays Tiana "Coop" Cooper, his Black masc lesbian buddy who's got a homophobic Mom and a crush on a gay girl from church. That alone is reason to turn out, AND WE WILL.
Riverdale Season Three (The CW) // Wednesday, October 10th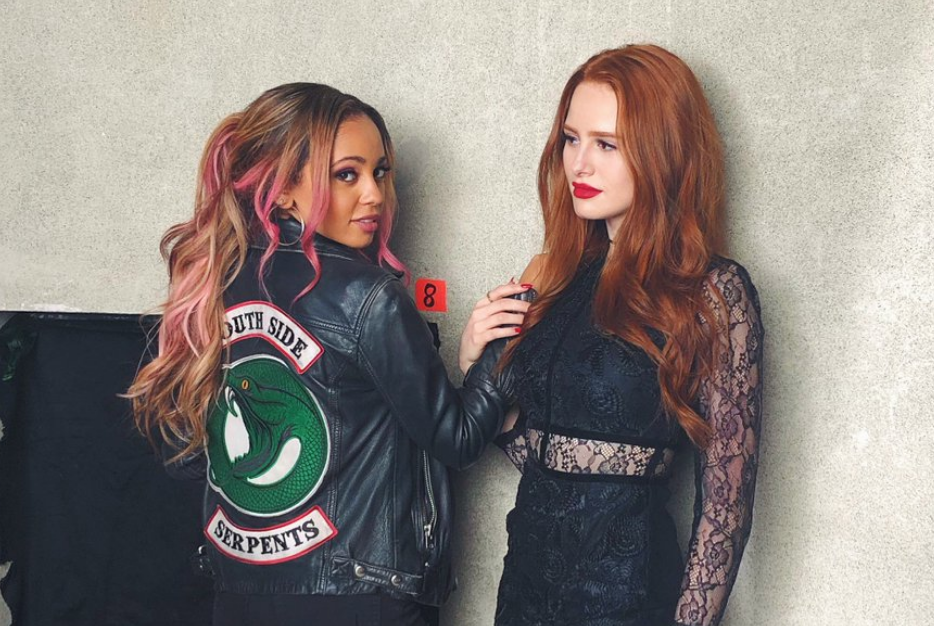 Showrunner Roberto Aguirre-Sacasa recently informed us all on twitter that #Choni fans have a lot to look forward to, sharing the above pic from Episode 303 showing Cheryl and Toni looking hot and definitely together. Toni's gonna be a series regular and Cheryl will indeed remain a Serpent. In addition to the bizarre cult ritual type situation featured in the last frame of this creepy teaser at San Diego Comic-Con, Season Three promises a "parents flashback episode" in which the parents will be played by the actors who play their children on the show. Other tidbits: two new characters, an oddball teenage girl with dark secrets and a "new age health guru" grown-up, were cast for Season Three, Penelope Ann Miller will play the district attorney going after Archie, and lesbian Jughead's mother will be coming to town. Also, there will be ANOTHER MUSICAL EPISODE.
Crazy Ex-Girlfriend Season Four (The CW) // Friday, October 12th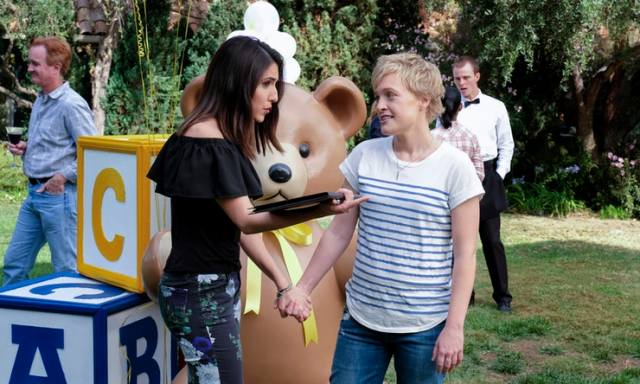 When Valencia and Beth got together last season, it was subtle. We saw how it began — with a meeting to kick-off Valencia's party planning business — and then we fast forwarded to them being firmly ensconced in a love bubble. And while there's something refreshing about seeing a character discover their sexuality and having it not be a big deal, it was weird that something this monumental would happen on this show and it didn't become a big production. After all, Crazy Ex-Girlfriend's bread and butter is the big production; subtlety is not its strong suit.
Hopefully when Crazy Ex-Girlfriend returns for its extended fourth and final season, we'll see more of Beth and Valencia. With a possible prison sentence for Rebecca Bunch looming, the show doesn't need to pop that love bubble just yet; instead, maybe just invite the rest of us in. – Natalie
Light as a Feather (Hulu) // Friday, October 12th // NEW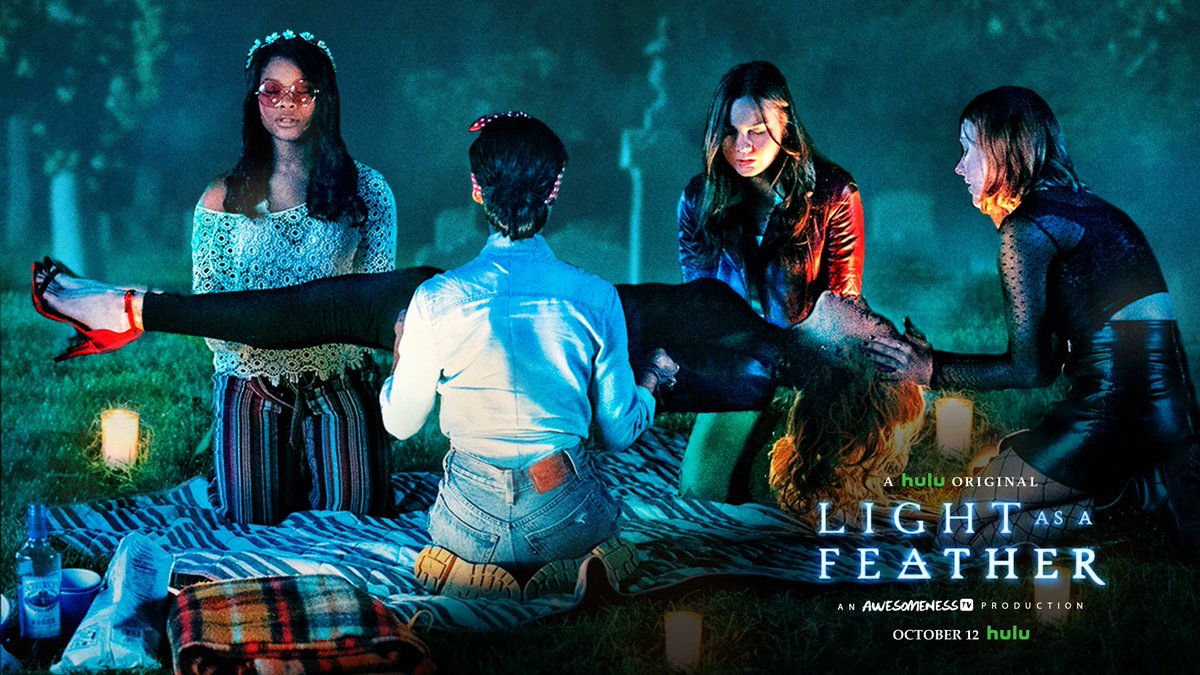 Brianne Tju plays lesbian character Alex Portnoy in this new horror thriller about five teenage girls dealing with the supernatural fallout, including a lot of death, stemming from an innocent game of "Light as a Feather, Stiff as a Board." Tju previously played a queer woman in the go90 series "Love Daily," also produced by Awesomeness TV.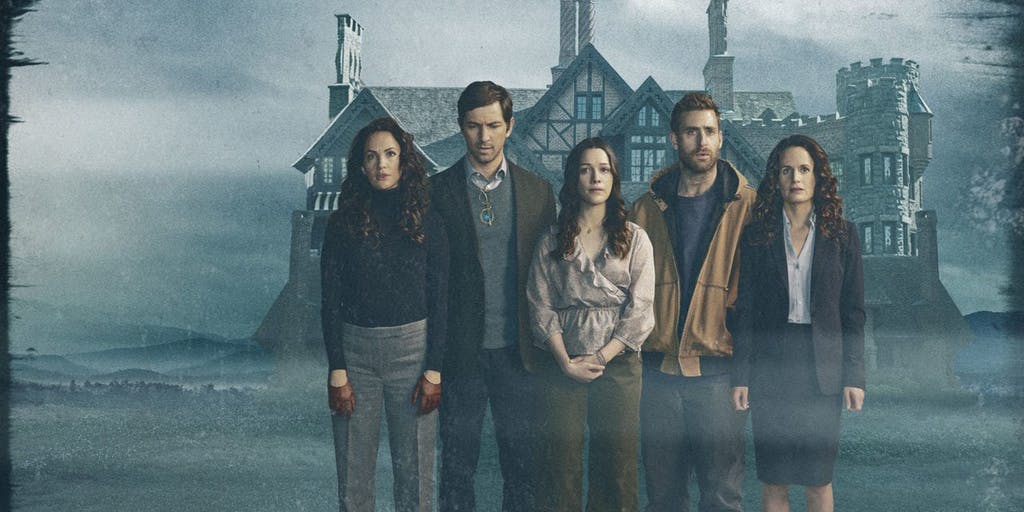 The latest adaptation of Shirley Jackson's novel is creepy, brilliant, artistic and best of all — has a lesbian who lives!
Camping (HBO) // Sunday, October 14th // NEW
Girls' Lena Dunham and Jenni Konner are the producers behind Camping, which stars Jennifer Garner ass Kathryn and Doctor Who as her husband, Walt, for whom Kathryn is throwing a "Back to Nature" 45th Birthday Party weekend in the woods that doesn't go as planned. Bridget Everett will play "Harry," the "tough-talking, nature-loving queen of the campsite who came out as a lesbian at age 3," according to TVLine. "Her passion for her wife Nan is only beaten by her passion for all other women and an assortment of guns."
Charmed (The CW) // Sunday, October 14th // NEW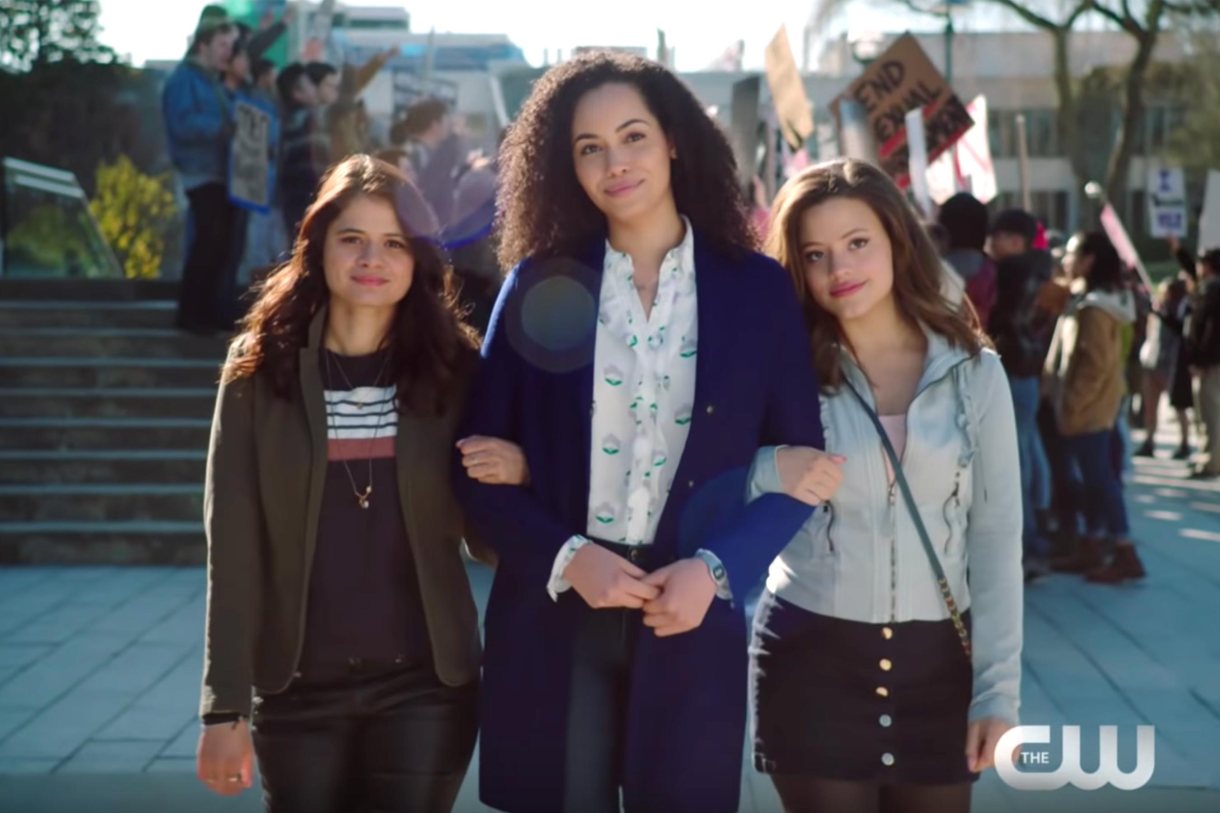 After the death of their mother at the hands of an unknown demonic force, Mel and Maggie Vera discover they have an older half-sister and also MAGICAL POWERS. Welcome to the much-contested, racially diverse, queer-inclusive edition of Charmed, everybody! Mel, played by Melonie Diaz, is a strong-willed feminist getting her Master's in Women's Studies and engaging in an off-again on-again thing with Niko Hamada, a smart and determined police detective played by Ellen Tamaki. You may remember that Carmen  got her hands on an press screener for the pilot. She's already a fan.
Supergirl Season Four (The CW) // Sunday, October 14th
Season Four will see lesbian supersister Alex Danvers begin her new role as head of the DEO, hopefully putting her relentless quest to be a single mom on hold. Kara's ex-boyfriend is potentially truly, really, finally gone, meaning maybe we'll see the old Kara we know and love again. And, most excitedly, Nicole Maines will be joining the team as transgender superhero Nia Nal, who worked with Cat Grant and will be mentored by the long-lost reporter side of Kara Danvers. —Valerie Anne
Arrow Season Seven (The CW) // Monday, October 15th
It's truly unclear how straight or not straight the next season of Arrow will be. They say Roy Harper will be back as a regular, and last we saw him he went off on an adventure with lesbian assassin Nyssa al Ghul, and bisexual badass Sara Lance pops up now and then, but I think the queer-lady content will be pretty low without the appearance of a new character. —Valerie Anne
Loudermilk (Audience) Season Two // Tuesday, October 16
Sam Loudermilk, an alcoholic in recovery who counsels other addicts, took young bisexual addict Claire under his wing in Season One, and she'll be back along with this show itself for another Season!
Legends of Tomorrow Season Four (The CW) // Monday, October 22nd
Season Three of Legends of Tomorrow saw Sara really embracing her role as Captain, and embracingn the idea of having a steady girlfriend when she went toe-to-toe with Time Bureau agent Ava Sharpe. Jes Macallan was upped to series regular for Season Four, so while Beebo only knows if AvaLance is endgame, we know we'll have at least two queer women at the helm of this season. Also, despite her character Amaya deciding to leave the Legends at the end of the last season, out queer actress Maisie Richardson-Sellers will be back as a brand new character. —Valerie Anne
Legacies (The CW) // Thursday, October 25th // NEW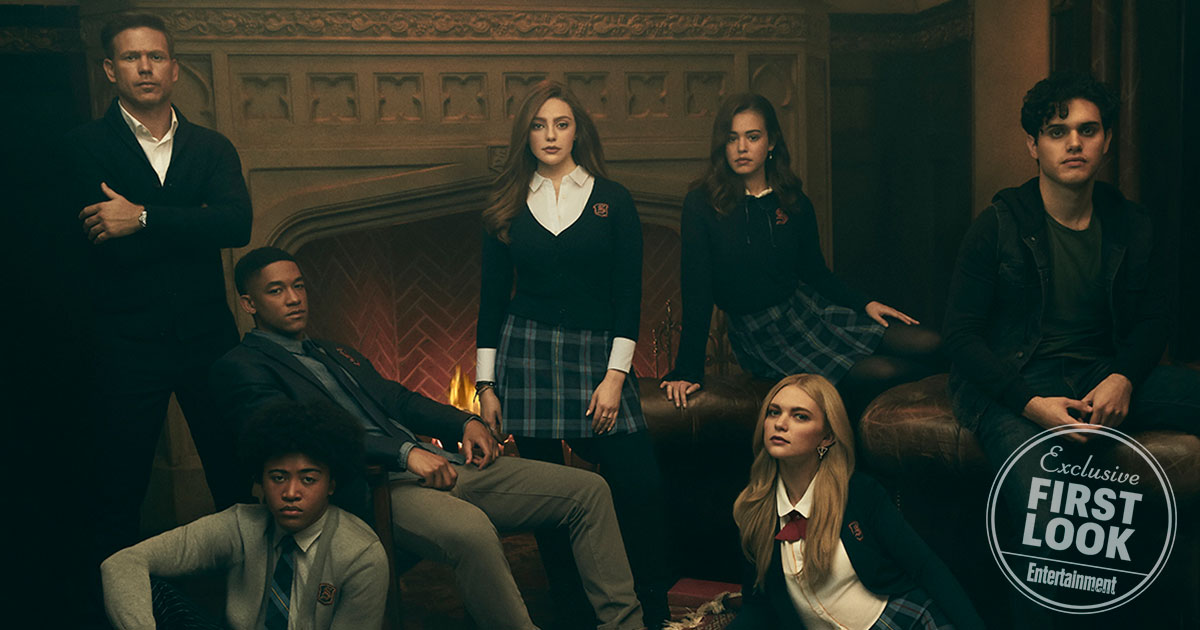 The latest addition to the Vampire Diaries & Originals universe of Mystic Falls is Legacies, set at the Salvatore Boarding School for the Young and Gifted. "What's most compelling about the romance on Legacies is how the new series takes a fresh and honest look at how many teens approach sexual identity," writes an IGN review. "The new spinoff takes place somewhere in the near future (the timeline on Vampire Diaries and Originals got a little murky towards the end, but it landed somewhere 4-9 years from now) and the sociopolitical attitudes are refreshingly progressive: The teenagers at the school are all sexually fluid and don't feel the need to label themselves." At ComicCon, Valerie confirmed that the cast includes at least two women who date other women.
---
Ray Donovan Season Six (Showtime) // Sunday, October 28th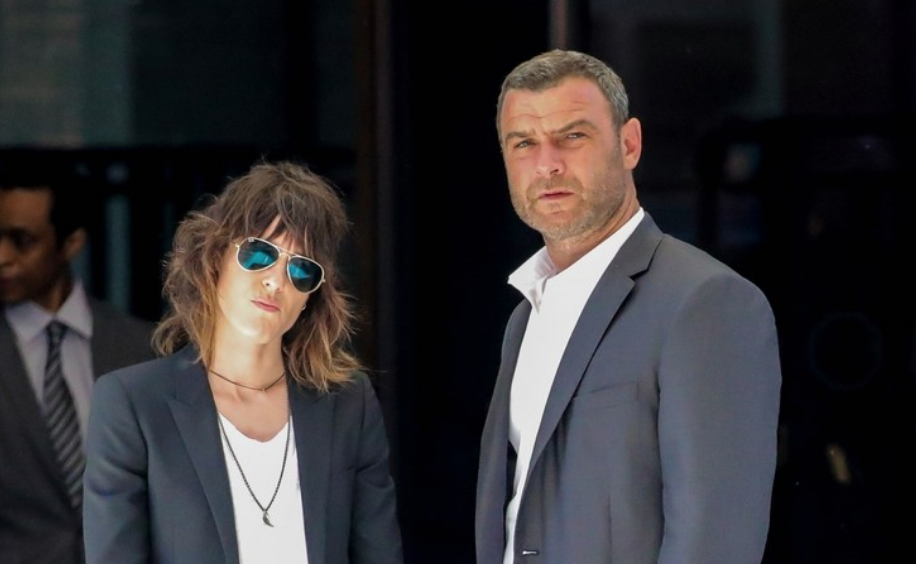 Kate Moennig will return to play Lena in Season Six, which takes place in New York City.
---
November
Sally4Ever // Thursday November 1st // HBO // NEW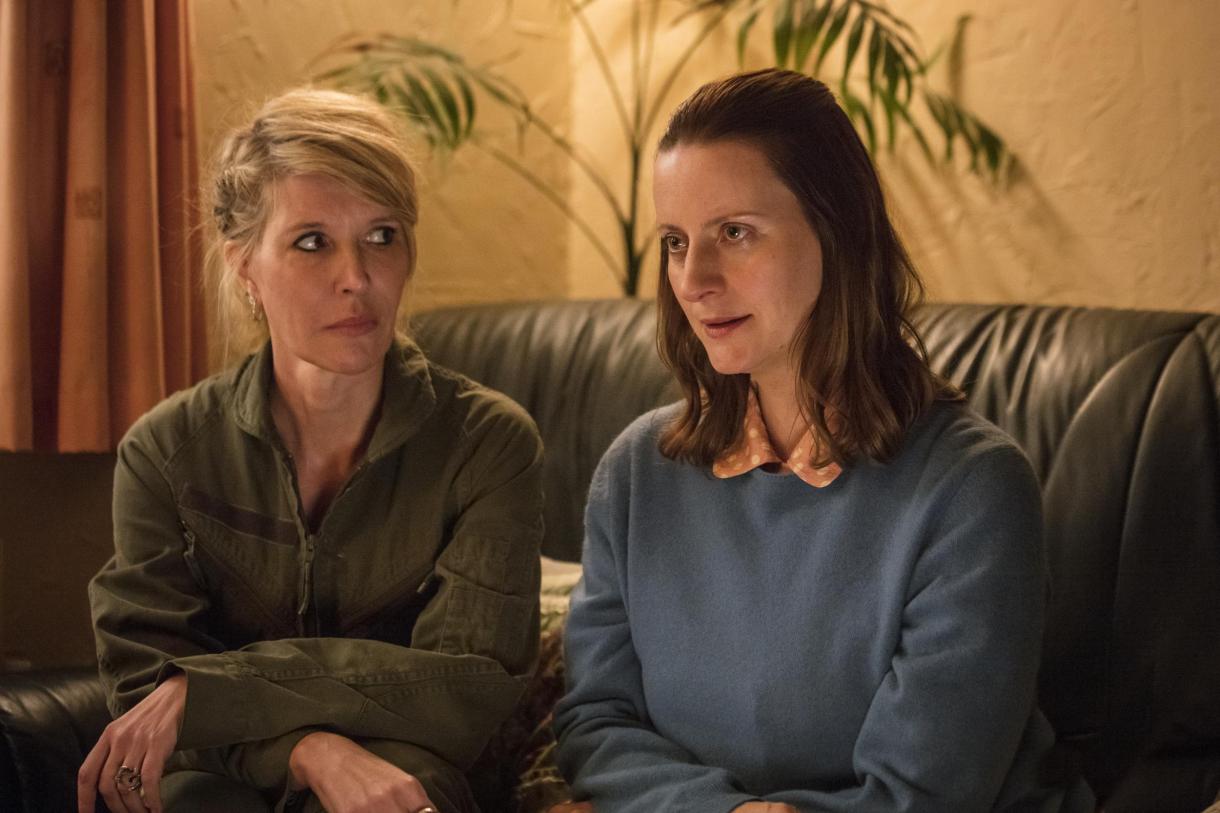 This British seven-part comedy series sees Sally, a meek office worker, getting swept off her feet by a manipulative, charismatic woman named Emma, leading her to dump her insufferable fiancée David for what will be a very wild and destructive ride ahead.
The Bisexual (Hulu) // Friday November 16th // Hulu // NEW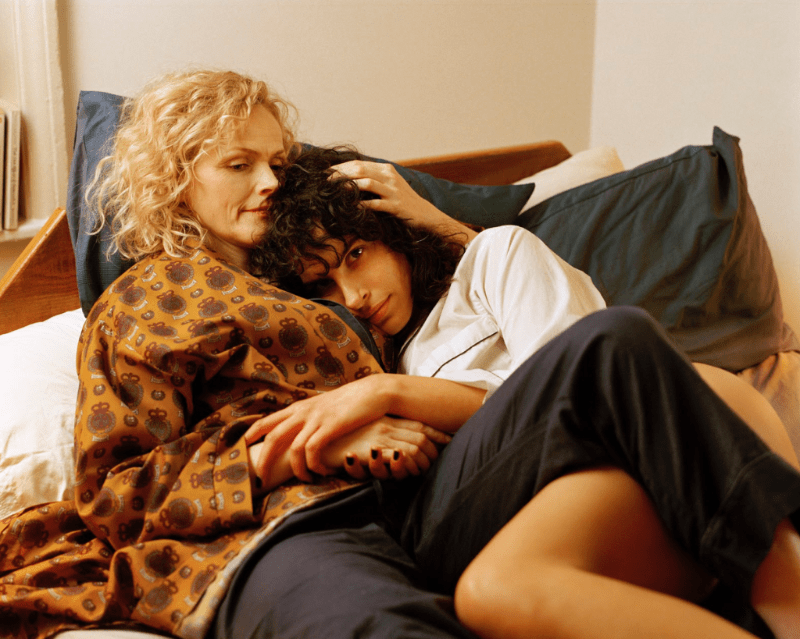 Desiree Akhvan, the incredible creator of Appropriate Behavior and The Miseducation of Cameron Post, stars in, directs and co-writes The Bisexual, "a six-part dramedy which offers a raw, funny, unapologetic take on bisexuality and the comic misconceptions surrounding it." The plot begins with Leila (Akhvan) going on a "break" from her relationship with her girlfriend/business partner Sadie, who she still has to work with every day. She starts sleeping with men, while struggling to come out as bisexual to Sadie and her queer friends. Gabe, her new roommate, becomes her unlikely wingman in her journey. "Skewering stereotypes and unpacking them," writes the press release, "The Bisexual explores the differences between dating men and women from the perspective of someone who finds herself – for the first time – doing both whilst examining the funny, painful, complexities of realizing that the one you love, and the life you need, may be two very different things."
---
December
Arrowverse Crossover Event (The CW) // December 9th, 10th & 11th

This year's crossover will only happen on Arrow, Flash, and Supergirl, instead of all four shows in the franchise (though that doesn't mean Sara Lance won't show up), but the big pull is that it will be the first time we see Ruby Rose as Batwoman, joining Anissa Pierce, Sara Lance, and Alex Danvers in the slow-but-sure queer women takeover of the CW DC universe. —Valerie Anne
Marvel's Runaways Season Two (Hulu) // Friday, December 21st
The second season of Marvel's Runaways will premiere on Freeform, with the entire season dropping all at once on Hulu just before Christmas. We'll surely talk more about this as the exciting date approaches!