In yesterday's Pop Culture Fix, Riese let you in on the little secret that the Heathers reboot pilot is available on Paramount's website. We've felt every sort of way since hearing that one of our most favorite '80s movies was being remade with a genderqueer character and a black lesbian for teevee, so of course we devoured it immediately. But the original reboot had a queer director at the helm — director and playright Leslye Headland — which changed at some point in the development process. It looks like Leslye directed one episode, but showrunner Jason A. Micallef (writer of Butter, a pretty cool movie that Riese genuinely recommends) and four other men are credited with writing the show.
The original Heathers, of course, is a 1989 cult-classic high school comedy starring Winona Ryder as Veronica Sawyer, Christian Slater as "J.D." Dean, and Shannen Doherty as Heather Duke. It's an indictment of wealth and popularity and cliques. We went in to the TV show knowing the new Heathers were not going to be the be vapid, thin, blonde, white mean girls like the originals, but instead: a "fat Heather," a "black lesbian Heather" and a "genderqueer Heather." Which, you know, seemed kind of problematic right out of the gate. Making traditionally oppressed minorities into the persecutors of popular kids is an… interesting move in 2018.
Riese and I have both seen the original movie a lot, and we've both seen a lot of TV, and this was a new experience.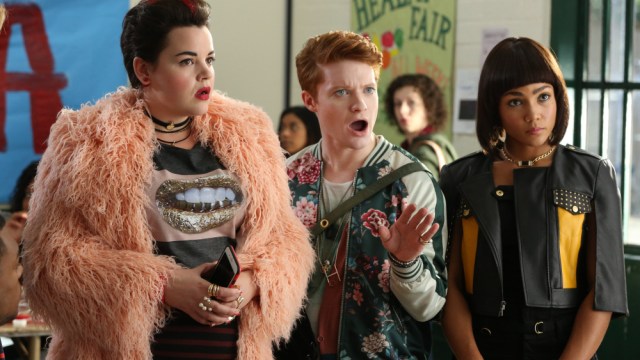 ---
Warning: Spoilers for the Heathers pilot (and slightly beyond) below.
Riese: Okay, here's my top two feelings about this show so far — 1. Heathers hates teenagers, 2. Has there ever been a moment that needed this version of Heathers less than the present moment?
Heather: Yep! The whole time I was watching the pilot I was thinking, "If you distilled the soul and songs out of Glee you'd be left with this caustic, highly stylized sludge and that sludge be the show Heathers." There's no affection behind any of the clowning on #youths, no depth to it. It's just an acerbic, self-congratulatory rant.
And you're absolutely correct about this moment in time. I mean this exact literal moment in time. As soon as I finished watching this pilot, I turned on CNN's Parkland Town Hall where actual socially conscious teens had used the power of social media to force the country into paying attention to their calls for gun control. They spent hours speaking up and out and over these politicians and spokespeople who've sold their souls to the NRA. The look on Marco Rubio's face last night: just one of countless politicians who wrote off and underestimated this generation of teenagers. Heathers feels as wrong about them as the GOP is.
Riese: And I get it — it's girls like Heather Chandler that often make our lives upon this fair internet a living hell, they're not wrong that people use social justice principles as an excuse to just be really terrible bullies. But I'm not sure what the point of that point is in this context at this moment. This show is punching down in a really nasty, brutal way. Having an amab genderqueer character kick women out of the women's restroom? SORRY NOPE, NOT HERE FOR THIS while trans kids are being so aggressively legislated out of bathrooms every damn day. Heather Chandler's bullying is also pretty absurd and not well thought out — like targeting the athletes wearing their high school mascot t-shirts instead of actually dealing with the school itself to challenge their employment of a racist mascot. Maybe that's the point, her activism is more about "going viral" than it is about genuine change — but, and I guess I keep repeating this about Heathers, if that is the point then: 1. It's not very clear, 2. WHY.
Heather: Right! There's real truth in that one thing — the toxicity of purity tests and callout culture within social justice communities. And the thing where plenty of people do "build their brands" by exploiting that culture. But what's the larger thing the show's trying to say about it?
Riese: "KIDS: THEY'RE SO QUEER AND MISGUIDED BUT ON BRAND LOL SNAPCHAT MEMES CULTURAL APPROPRIATION HAHAHA ABLEIST"
Heather: So yes, that's one miss. Just roasting teens for no clear reason. And another miss is the minority rep. There were already grumbles about this show casting "a fat Heather, a black lesbian Heather, and a genderqueer Heather" because the point of the original Heathers is that they were all straight white thin blonde popular assholes who made the lives of minorities a fresher hell than the already fresh hell that's just the fact of being a teenager. I don't usually see you get really mad about TV — we've both been doing this so long, there's some desensitization — but you were fired up about the black lesbian Heather.
Riese: Right. I was stoked for a black lesbian character and it turns out that she's… something else? After we broke that particular slice of news to the lesbian internet, I never saw it mentioned in subsequent showrunner-informed articles about the show and I couldn't figure out why. Was that element of her character changed when they swapped showrunners? I guess I know why now.
For starters, Heather McNamara is characterized as a vapid airhead, a truly shitty choice for the show's only Black character. Then, in the middle of the pilot, Heather Duke spots Heather M in a car hooking up with a male teacher. They snap a pic, aghast that she is a "fake lesbian." When you do the work that we do, the term "erasure" is slung at us in different contexts so often that it starts to sound like Charlie Brown's teacher. But holy shit Heathers! This isn't just bisexual erasure, it's that and really bad writing! 
Not only do we have no sense of the history of her lesbian identification — did she have girlfriends? Girl crushes? How long has she identified this way? If it wasn't true, then why did she do it — for Heather Chandler's approval? Was it a faux-liberal-status thing, like a poor reboot of what turned out to be an actually successful device for Faking It? Why, when Heather Duke saw her in the car, did they jump to "fake lesbian" instead of "bisexual"? I get why they'd say she's lying about being a lesbian specifically, they're an asshole and it's technically true, but then later in the pilot, they say that Heather Chandler would rather have her eulogy given by a "real member of the LGBTQIIA community," and um, if she said she was a lesbian but seems to be hooking up with a man (and the teacher aspect is not even raised!)… pretty sure the "B" still applies. Unless we're missing some information, which if we are — bad writing. And SORRY SPOILERS but from seeing the second episode I can tell you that this issue is never cleared up or expanded upon, "she lied about being a lesbian and is not queer at all" seems to be the last we get on this topic. It gets actually worse, if you can believe it.
What was your reaction to those scenes in the pilot?
Heather: I agree with you completely. I want to reiterate what you said about the white noise of "erasure!" because it's a pretty big deal that both you and I had an almost visceral reaction to that level of erasure. We spend so much time defending ourselves against people yelling at us for this and that erasure that I feel like we're hyper cautious about tossing out that word. We have to mean it. And we both really do mean it here. It's 2018, for one thing. If your vocabulary for describing the sexuality of women only toggles between "straight" and "lesbian," you gotta get out of that hole you're living in. But these writers are obviously not in a hole! They're throwing around plenty of other words and phrases about the queer community and internet culture and social justice movements that indicates they know what they're talking about! The word "bisexual" is not a mystery to them!
I guess my most generous reading here would be an indictment, again, of purity tests within minority communities. Like maybe Heather was bi but said she was a lesbian because she felt like there was more queer cred in saying that? But I don't think the writers were on that page.
Riese: Right, 'cause also — it's not accurate! It seems like, amongst LGBTQ teenagers with social justice inclinations, "queer" is considered the hippest label of all. So if that's what they're going for, their parody of "social justice warriors" isn't very well-informed.
Heather: That's absolutely true, yes. Another real miss I want to talk about are the victims of Heather Chandler's bullying. I think when you're portraying the victim of harassment as a jacked, straight white jock who's wearing a culturally insensitive mascot on his shirt, you've completely misread the culture you're putting your story into. If this happened in real life, Reddit and Breitbart would be all over that shit defending that guy and villainizing Heather Chandler as an unhinged SJW. You're essentially making your most sympathetic character a little TrumpBro, a Drudge poster boy.
Riese: Eek, yeah, I didn't think about that but you're right. They're making Brietbart's case for them! Again, it's not necessarily unrealistic, but it's not necessary, either. Like some people murder cats but I don't need to see cat murder on my teevee, no matter how allergic I am to cats. I think the far more interesting and complicated dynamic is how "social justice warriors" bully each other, rather than cis white straight guys, but I wouldn't trust this team to write that show, so.
Heather: Yes, I completely agree.
Riese: I did keep thinking about Faking It, though. When the premise for Faking It was revealed, we were similarly horrified — a show that implies it's not only easy to be a lesbian in high school, but cooler than it is to be straight? Yet somehow it worked. It was the Obama era rather than the Trump era, for starters. But regardless, they pulled off a story set at this uber-liberal enclave where it was cooler to be "different" in a way that Heathers could not, and I think part of it is that the kids in Faking It were well-intentioned, kind, and generous. It was a parody of do-gooders and bleeding heart liberals, but an affectionate one. In Faking It, Karma and Amy are embraced for coming out, and "school spirit" requires promoting diversity and other liberal values. In Heathers, Amy would still be a lesbian and Karma would still be a pretend lesbian — but the reason they'd have embraced those identities to begin with would've been as an excuse to bully and antagonize straight people and to prove how much more evolved they were than the normies. Which would've been a terrible show.
Riese: On the upside, I thought it was visually outstanding — Heathers the film had a very specific ocular feel, and this feels like an appropriate and compelling update of that aesthetic. Did you like how it looked or did that fall flat for you too?
Heather: Oh yeah, I mean, it looks like the original Heathers and Riverdale had a baby. The sets, the directing, the cinematography: It's a really smart-looking show. In fact, if the writing were as slick as the visual aesthetic, I'd be plowing through this with a box of popcorn.
When we first heard about this remake we were both very excited. What were you hoping this would be when you first read about it?
Riese: I was scared that I was going to like it even though everybody else hated it and I'd have to pretend to hate it or else have to spend another day muting people on Tweetdeck. The movie had created such a specific world with such a distinct style and vocabulary, and generally I see no point in rebooting anything ever if you won't be adding lesbians, so I was tentatively excited to see that world rebuilt but with queers! Everything else about the reboot was troubling. But I hoped it'd at least qualify as a guilty pleasure. Instead watching it was downright unpleasant, an honor I'd also bestow on many late-season episodes of Glee. Where all the elements are there to delight me — singing! dancing! costumes! funny comebacks! Santana! — but the meat of the thing is too rotten to consume. What were you expecting, did you have any positive hopes at all for it? Do you think it has any objective value outside of our political/cultural opposition to it?
Heather: Yes, that's the exact correct analogy. As you know some of my favorite TV characters are your Mona Vanderwaals, your Cheryl Blossoms, even Santana Lopez in her way. These over-the-top villains with their bananas outfits and breathtaking one-liners and the ability to bring the show's Schuesters and Ezras and Archies to their knees. I guess that's what I was hoping for. A Heather like that who was explicitly gay, instead of someone who just feels queer. But the reason those characters work is because the writers peel back their layers and you learn the pain and justified rage underneath them. You sympathize with them and root for them to do their destruction because they've been through enough already! There's absolutely none of that here.
I actually don't see the value in this show and I'm not sure it has what it takes to catch on. People our age who loved the original Heathers aren't going to be drawn to this remake, and younger people who are probably only peripherally aware of the original Heathers are the ones getting mercilessly mocked by it. What fun is that for them?
Will you finish the season?
Riese: I'm curious about it, but after finishing the second episode last night I had no desire to keep going. The way that episode ended was unacceptable! This is the exact genre of show that I generally can endure in any ideation, but I don't think I will. Will you?
Heather: I actually have to watch the next five episodes for [non-Autostraddle] work purposes but I'm not looking forward to it. I guess if I were happy every day of my life, I wouldn't be a human. I'd be a gameshow host.
Riese: Of all the Heathers I've thought about in the last 24 hours, you are definitely my favorite. You remain my #1 Heather.