When my dad comes to visit me in North Carolina, we do the usual things: I show him around the nearby campus, I re-introduce him to my kitten, Dr. Yang, and I take him to a queer-owned vegan restaurant downtown — and then, that night, we do face masks.
He and my partner sit on opposite sides of the couch in our new apartment, and I stand in the space between them, explaining the rules of the fairly expensive face masks I got for free because of my job: Okay, so you peel the back of the mask off, but you have to peel the front, too. Otherwise, you miss out on the serums. It can't soak in the same way.
They hold the masks out in front of them, peeling the back, and then the front, as if holding alien oranges; I watch, their proud teacher. They hold the skins and I reach out, careful to cup my hands and catch the entirety of the mask lest the serum drip on the sofa, stain it, poison the kitten.
Then, I sit between them, following the same formula. Back. Front. Lightly press into face. I turn to the left, adjusting my partner's mask over her chin; I turn to the right, adjusting my dad's mask so it's not bunched on his forehead. We laugh, and take selfies, and then the novelty wears off and we're watching a sitcom about Black people and letting it all sink in.
A week ago, my mom texted me: I used to always tease you for your skincare routine. Now you're getting paid for it! I don't explain to her that I don't actually get paid to review skincare products, instead I am just sent a slew of them on a regular basis. I guess this is a kind of pay. I send her a laughing emoji and thank her and say I love her. We haven't really talked since the holidays when I told her it broke my heart that she could date a Trump supporter knowing everything I am. I know this text is an offering of a sort of peace.
Today, I send her a picture of a new cream I'm trying. It's for aging and dry skin, I say. Then I send her a picture of a balm I'm using. It comes in a heavy red tub and looks cheap but isn't. I say, For your ears. For the last three or so years she's had a sort of eczema-like condition that has caused her ears to itch, producing thick chunks of skin. She picks at her ears constantly. When I go home and see her picking, I threaten to get a spray bottle and spray her, training her like we've trained the kitten. She both laughs and looks like she resents me for being there, catching her bad behavior, calling her on it.
I don't have the condition, but sometimes I find myself picking at my ears, causing scars and thickened skin and placing myself in a loop where I'm creating a problem that wasn't there before.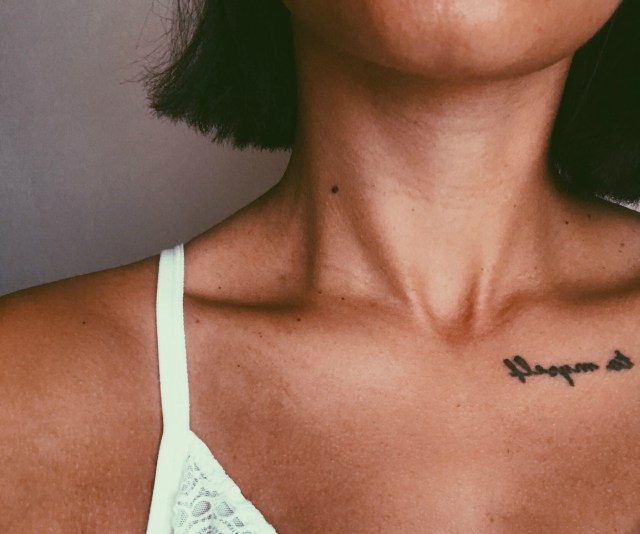 My partner doesn't always let me press oils into her face. For me, it's how I slip back into my body. Sometimes my mental health is just so shitty that I need it, that moment to just press things into my skin and press my loosened soul back back back, connecting self to muscle or bone. Her anxiety exists in a different form than mine, the kind where I say How are you? and she pulls her lips back, grits her teeth, and says, Fine. It's a form of breaking-point-comedy and it's how she tells me she's hurt. She knows I'm feeling less sane than usual when I wear soft socks and soft shorts and a soft t-shirt to bed and surround myself with oils, and lotions, and serums, and begin to press. It's the softest I am to myself.
Some days, though, she watches me hydrate my body and then scoots close to me and tilts her head up, waiting. I ask if she's been moisturizing and she says sometimes. I slide my ring finger across a miniature tub of blue and lightly push beneath her eyes. I ask her if she wants me to spray her and she nods. She closes her eyes. She won't stop flinching. I say, like I do every time we do this, I'm not going to trick you. We've both had the shitty kind of partner who would take pleasure in tricking you. Hers was worse. I hold the amber-colored spray bottle six inches from her face, say, Ready? and, when she nods and tightens her eyelids, I spritz the rose water on her skin. Wait, I say, knowing her instinct: flight, escape. She stays as still as she can, anxious ankles bouncing beneath the comforter but her face unmoving as the rose water finds its way from bottle to air to face.
I'm still getting to know myself. Someone sent me a magnifying mirror and I've been trying to look at myself differently. Sometimes being queer and black, bisexual and biracial, feels like contradiction, like too many things, and sometimes sometimes feels like always, and sometimes I'm not sure that I'd recognize myself if I walked by. I don't know if I'm just more fucked up than I know or if everyone feels like this. I don't know if I need to just breathe deeper or get a therapist. I don't know who I am, but I'm trying to be kinder to whoever that is, to touch myself with intention and kindness, to find that point of connection, even if it's only skin to skin.