When Channel 4's sitcom, Derry Girls, landed on Netflix over the holidays, I clicked on it instantly because a reader from the UK had already told me it's gay and also that I wouldn't be able to understand the accents. I'm pleased to report that it is gay — in fact, it features one of my favorite coming out scenes ever — and that watching Lip Service, Skins, and Coronation Street completely prepared me to understand every word that came out of every character's wee mouth. (Did I get that right? Do you just say "wee" in front of everything you like, you real live northern Irish pals?)
I can't help but compare Derry Girls to Skins and Everything Sucks because it's a coming of age series, set in northern Ireland, in the '90s, and there's a lesbian character — but I wouldn't stop at that comparison. This is is a show centered on four young women, created and written by a woman, and instead of ignoring the politics of the day, it puts the conflict between Irish nationalists and British loyalists in the middle of everything, even opening the series by diverting a school buses around a bomb threat on a bridge. (And Aunt Sarah's tanning bed appointment.)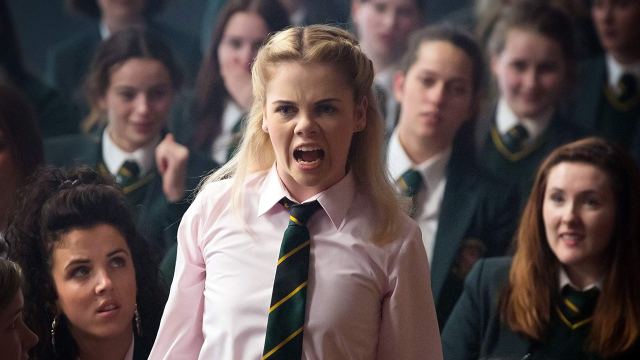 Erin Quinn is a fifth year at her local all-girls Catholic high school where she spends most of her time hanging out with her flighty same-age cousin, Orla, and their two best friends: antagonistic world-class swearer Michelle and high-strung do-gooder Clare. Oh, and Michelle's cousin, "the wee English fellawp_postsJames, who isn't tough enough to go to the all-boys school. Every episode, their hijinks start innocently enough: they don't want to sit at the front of the bus so they try to bully some first years, they're not prepared for their exams so they try to get out of them, they want to take the school trip to Paris but they don't have any money — but by the second act, things have always unraveled in the most absurd ways (death, fires, divine miracles) and they can't sidestep consequences of their actions no matter what schemes they concoct. Their ever-present conscience and comeuppance takes the form of Sister Michael, played with such deadpan irreverence by Siobhan McSweeney I couldn't get enough of it.
The series explores the girls' relationships with each other, their parents, their hormones, their popularity, their attitudes about growing up in the middle of a serious military conflict, and most especially their town. Nearly every way they rebel is accidental. They won't even ditch their school blazers for jean jackets. "I'm not being an individual on me own!wp_postsClare shouts in the first episode.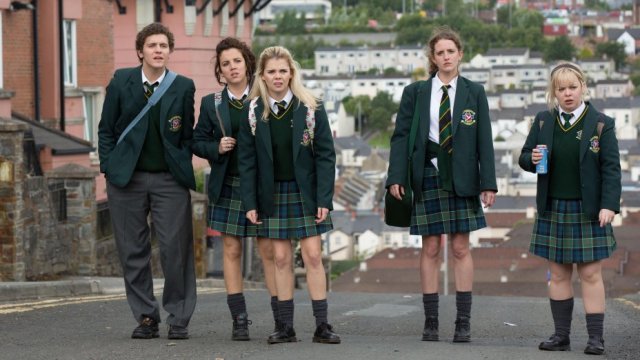 Shows about teenagers often either treat the characters like adults, saddle them with the writers' sentimentality about their own childhoods, or patronize them with grown-up judgment. Derry Girls writer and creator Lisa McGee sidesteps all of those traps, managing to capture the fresh, frenetic, wacky energy of being in high school and allowing the characters to be in on every joke. And oh, there are so many jokes. Visual gags and affectionate digs at northern Ireland and less-than-affectionate digs at England and cutting dialogue that no one's safe from, especially not the church. It's genuinely, rawly, categorically funnier than any show I've mentioned in this article or watched in ages.
I don't want to tell you who's gay because I don't want to ruin the surprise of the aforementioned coming out, but I will tell you the reveal takes place in the final episode and by the time it does, you'll be able to say, "Classic Derry Girls!"