As Autostraddle's TV Team started to gather up statistics and critic's opinions for our 2018 End of The Year posts, I realized a trend that I didn't want us to lose track of: across almost every platform, some of the best and most beloved performances of the year came from queer Latinx characters. In particular, butch or masculine-of-center Latinxs were finally stepping into the TV spotlight. This isn't a small blip. Before summer 2017 there had only been three Latinx butches in all of television history. In the last 18 months alone, that number has more than doubled to eight! They are being found everywhere from prestige dramas and critical darlings like The Deuce or Vida, to summer cult favorites like Claws, or Sunday evening comfort television like Madam Secretary.
I became curious about what new trends were popping up with these characters. What could we gleam or learn from their representation on television? That interest lead me to creating this – a brief, but hopefully satisfying, deep dive into the ways that gender, sexuality, and race have been playing out on television screens. Our Editor-in-Chief Riese is currently hard at work writing Autostraddle's annual big, overarching end of the year analysis about queer women on television.  Please consider what you're reading a supplementary introduction.
(For a while I considered titling this article "Latinx Butches 2018: Welcome To The Thirst Trap," but that didn't seem very professional, you know?)
---
Nuestras Raíces: We Can't Get Anywhere Without Knowing Where We Come From
As I mentioned, according to Autostraddle's research, before summer 2017 there had been just three Latinx Butches on Television: The L Word's Eva "Papí" Torres (Janina Gavankar), East Los High's Daysi Cantu (Ser Anzoategui), and I Love Dick's Devon (Roberta Colindrez).
Probably in no small part due to the The L Word's indelible effect on generations of queer women, Papí has become an iconic character in her own right, despite airing as a reoccurring character for less than a single season. After all, she's slept with more women that Shane! However, her history is not without complications. In many ways, Papí is a poorly drawn caricature based in the centuries old "Latin Lover" stereotype designed by white storytellers to exoticize, sexualize and ultimately belittle Latinx people.
To add insult to injury, Janina Gavankar – the actress playing Papí – wasn't even Latina. To quote Autostraddle's former Senior Editor Yvonne Marquez, L Word showrunner "Ilene fucking Chaiken could not find [any] Latinas to be in her show. If you're filming a show based on a group of lesbians who live in LA — which half of its population is Latino — there is absolutely no excuse not to incorporate Latinas into the show!" I couldn't have said it better myself. This doesn't even get into the badly portrayed aspects of Chola culture written into Papí's character, all of which read more like an offensive Halloween costume than any genuine form of authenticity.
It was seven years before another Latinx masculine-of-center character found their way to television, Daysi Cantu in Hulu's East Los High. A welcome respite and breath of fresh air! Written, produced by, and starring Latinxs, Remezcla called the little known East Los High "a vanguard show when it comes to Latino representation." Teen pregnancy, domestic violence, peer pressure, immigration – they really went there. Unfortunately, even though they were on a show that was a stand out in its class, Daysi was not used to their full potential on-screen. Beyond a brief flirtation with Jocelyn Reyes, the show's other resident lesbian, Daysi was never given a full backstory or centrally incorporated into the cast. However, Daysi remains the only "teen character" on this list, helping to combat the starved representation for queer Latinx youth.
Daysi's appearance on television overlapped with I Love Dick's Devon. Riese described Devon as "a dreamy romantic, a dedicated artist with a compelling backstory and a unique perspective on the world. Also, she takes her shirt off a lot and I love her." Unlike Papí, Devon's sexuality was purposeful and delightfully subversive, as opposed to a punch line. They were also crafted by Roberta Colindrez as non-binary: Colindrez referred to Devon with "she" and "they" pronouns interchangeably.
Devon served as the necessary bridge in the history of butch Latinxs on TV. I Love Dick premiered just five weeks before Claws gave viewing audiences Quiet Ann and just five months before Madam Secretary premiered Kat Sandoval. While Devon was a well-fleshed out character, they were ultimately still a character conceived and written by white people (Transparent's Jill Solloway produced the show). Really, Devon's biggest problem was that we don't get enough of them! The character didn't remain central throughout the series' eight episodes.
Recognizing the very real risk of oversimplifying, this is the starting block of our history: stereotyped, sidelined, or marginalized! Not great!
It's noteworthy that Ser Anzoategui and Roberta Colindrez, both talented queer actors, each found second roles continuing to play Latinx masculine-of-center characters in the "new class" listed below.
---
What's Changing
There's a lot of new energy afoot in queer Latinx television over the last two years, even more so when it comes to butch representation. I don't want to paint an overly optimistic picture, because let's be real with each other – an increase from 10 to 23 Latinx television characters (or 16 to 24 butches) isn't ideal. The trend is on the right track; the raw numbers themselves unfortunately leave a lot to be desired.
According to our database, this year there were 226 regular or reoccurring lesbian, bisexual, pansexual or queer women characters on English-language television accessible in the United States. There were an additional five non-binary or gender fluid characters, bringing the grand total to 231. Out of those numbers, only 23 characters were Latinx (including two straight Latina trans women characters, Blanca and Angel Evangelista, on F/X's Pose). These characters are overwhelmingly represented on cable or streaming platforms, as opposed to broadcast network television, which further limits their access and audience. Latinxs are the largest people of color population in the United States, but our representation on television barely reflects a sliver of that reality.
Still, the amount of butch Latinx representation on television has more than doubled in just the last 18 months and the year-to-year increase of queer Latinxs on TV jumped an enormous 130%! Granted, it's easy to make such large gains when you are starting with low numbers to begin with. It's also about more than the numbers; the quality and depth of representation in the last few years is unparalleled. Just taking a quick look at Autostraddle's team of lesbian, bisexual and queer television critics – despite their comparatively small size in number, queer Latinx characters topped our Best Episodes, Best Television Shows, and Best Characters lists by a significant margin in 2018 (including multiple rankings in the top 10 for both episodes and television shows). They also made up 8 out of the 18 of the winners in our critics' (and fan-based) Gay Emmys, that's roughly 45% of all winners! These highlighted examples point to the evocative, thought-provoking, and resonant writing and performances for queer Latinxs on TV. I'm going to talk more about that in a little bit.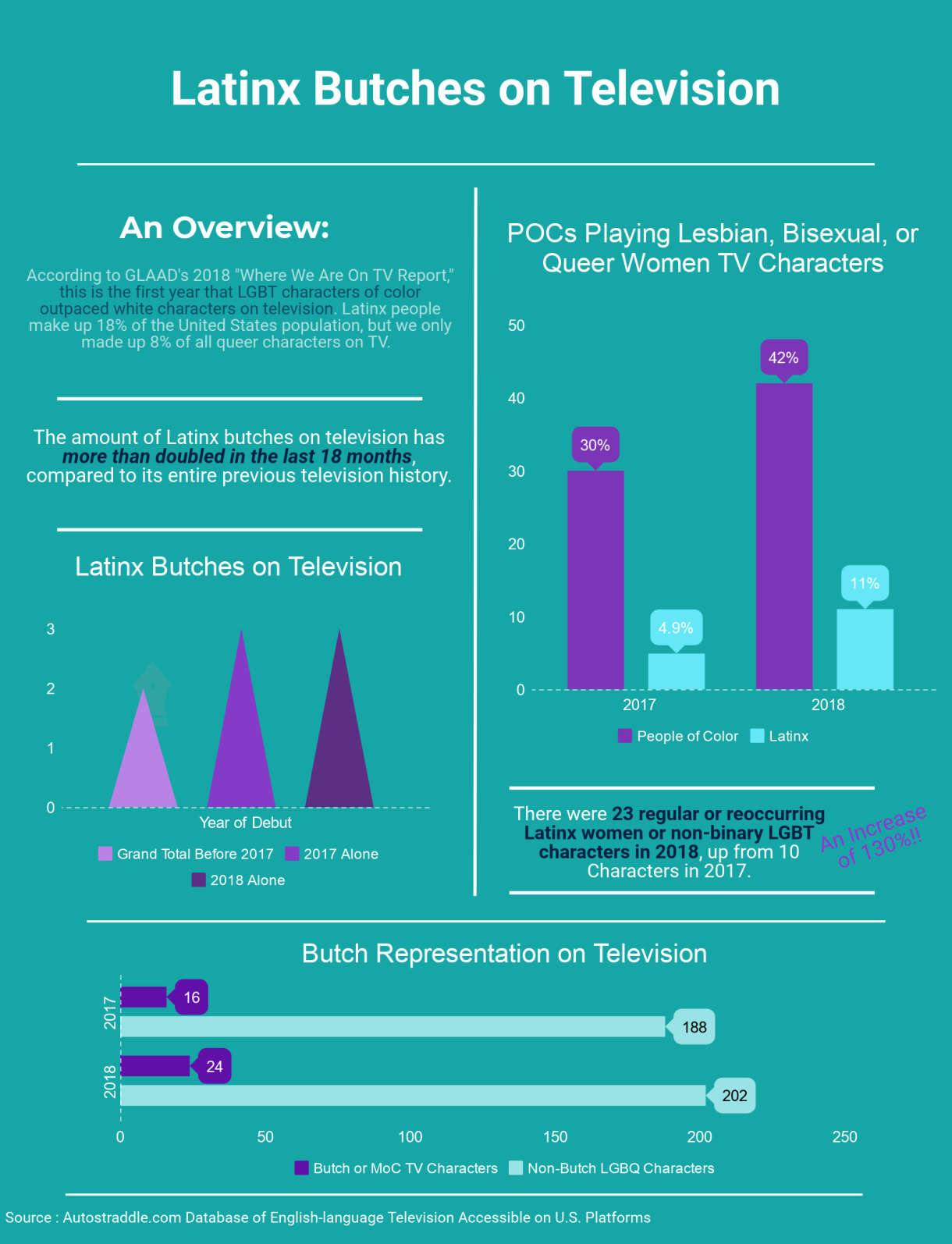 A full size of the infographic can be found here. 
---
A New Day
The quality of stories currently being given to butch Latinxs is unlike anything that's come before. They're brimming with richness and intricacy. Actors are not being asked to play a one note character who is never seen again. Each is internal to their show's respective plots and/or given significant screen time. The majority of them are being conceived by — or at least in consultation with — queer Latinx people. While we are zeroing in on Latinx butches for the purpose of this short study, the quality of representation has risen across the board for LGBT Latinxs on television over the last two years — ranging from Brooklyn 99′s Rosa Diaz, to One Day at a Time's Elena Alvarez, to Angel Evangelista on Pose.
Latinx butches are no longer being forced into a narrow and thinly veiled "Latin Lothario" trope. Though Orange is the New Black's Daddy uses her sexuality for manipulation, even she is not without pathos. Daddy, along with Claws' Quiet Ann, has a history of crime. Meanwhile Daddy and The Deuce's Irene are both involved in the sex work industry. This tracks with Autostraddle's previous findings that butches on television are more likely to be involved in either illegal activities or criminal justice than other queer women on television. While there's an obviously uncomfortable (to put it mildly) association being created on TV by correlating gender non-conformity or "butchness" with criminality, this trend is especially troubling for Latinxs. In 2017,The Hollywood Reporter found that half of all Latinxs and Latinx immigrants on television were portrayed as criminals. It nearly goes without saying, but this type of fear mongering in American storytelling has harmful real life consequences.
Madam Secretary's Kat Sandoval bucks these trends as a highly educated White House policy official. She exists in the upper echelons of U.S. government in ways that we have yet to see reflected in our real life en masse. Vida's Eddy is a local business owner and community leader. She's an empathetic soft soul like so many butches that we personally know and love.
This is not meant to simplify Latinx butch stories into categories of "good" or "bad" representation; very few of these characters are that clear cut or easy. What makes this new class so effective is that, taken collectively, they largely eschew the didactic and instead push for three-dimensional storytelling. Every one of them is allowed space to be vulnerable, experience sensitivity or fear or doubt, to display their humanity. We get to know their families and learn their histories. Adding to that intimacy, four out of the five of these characters are played by out queer Latinx actors. There's a danger that being masculine-of-center in Hollywood might result in typecasting, especially for folks of color, but these actors are mining their own experiences to add much needed layers to the characters their portraying.
Perhaps the greatest feat is that none of these characters exist in a vacuum or by themselves. By belonging to a cohort of five, no single character is burdened with the unnecessary (and unfair) pressure of being "the only one." Daddy is incarcerated, Kat is in the White House. Both are standing in their truth.
We are everywhere.
Welcome to the New Class: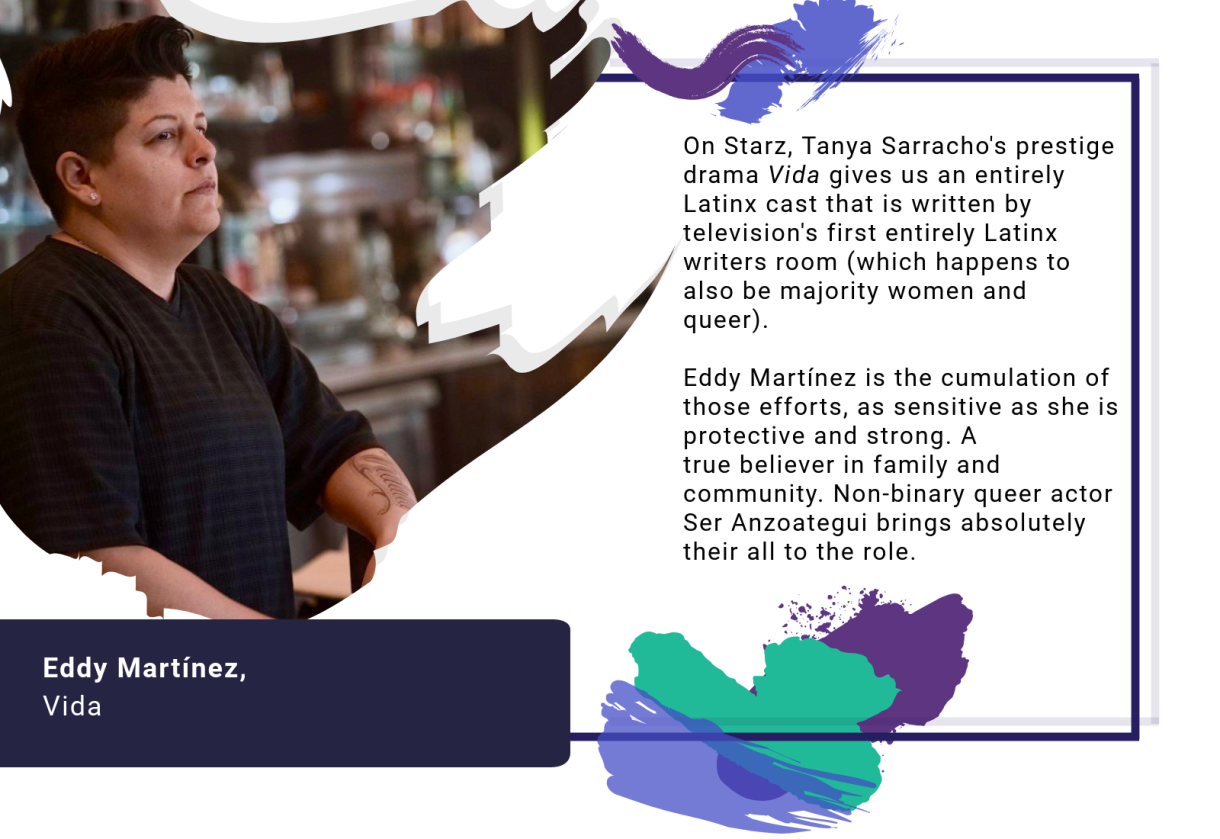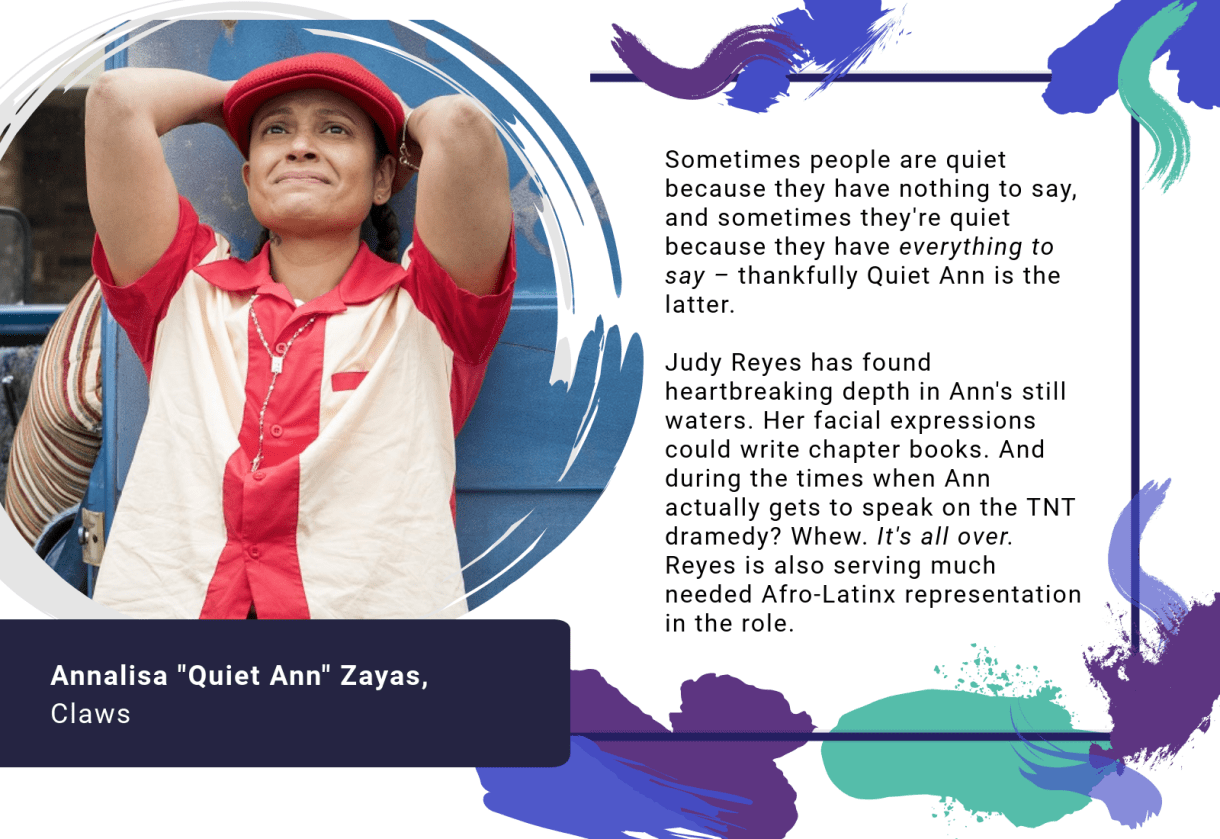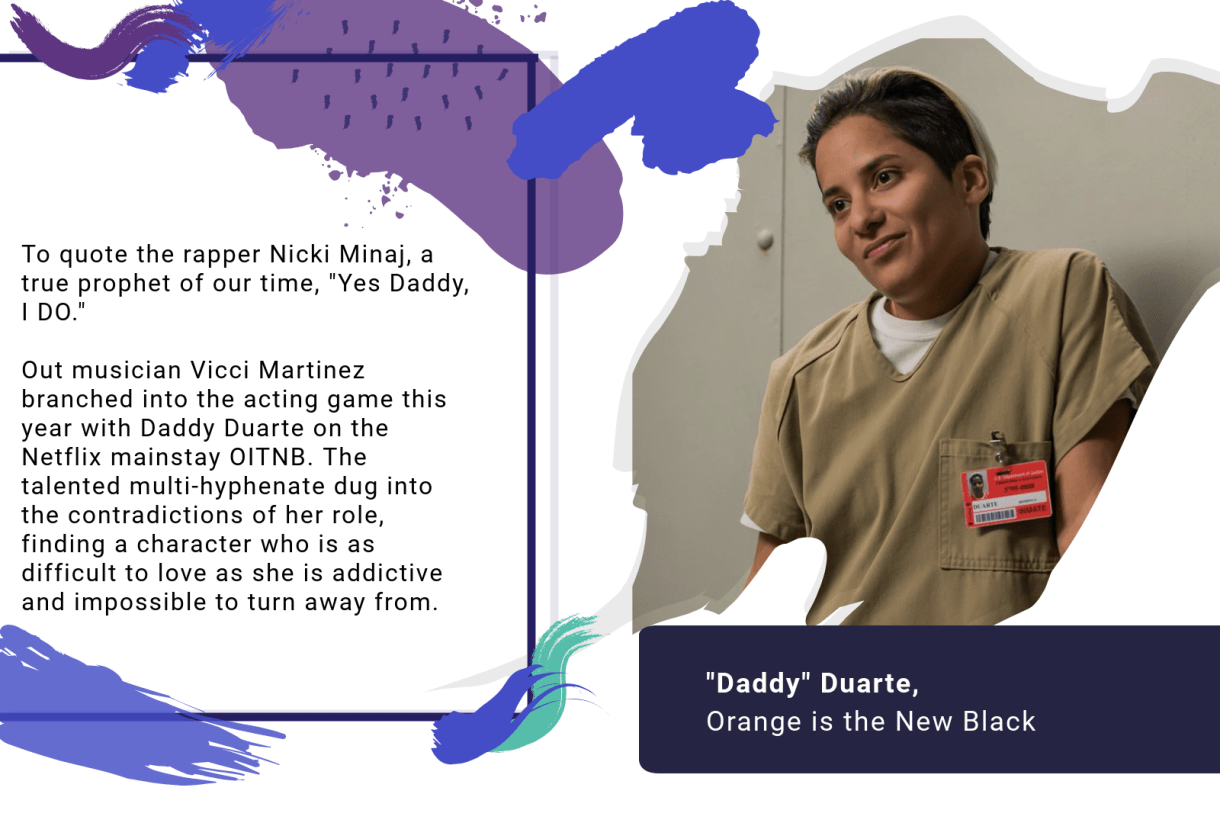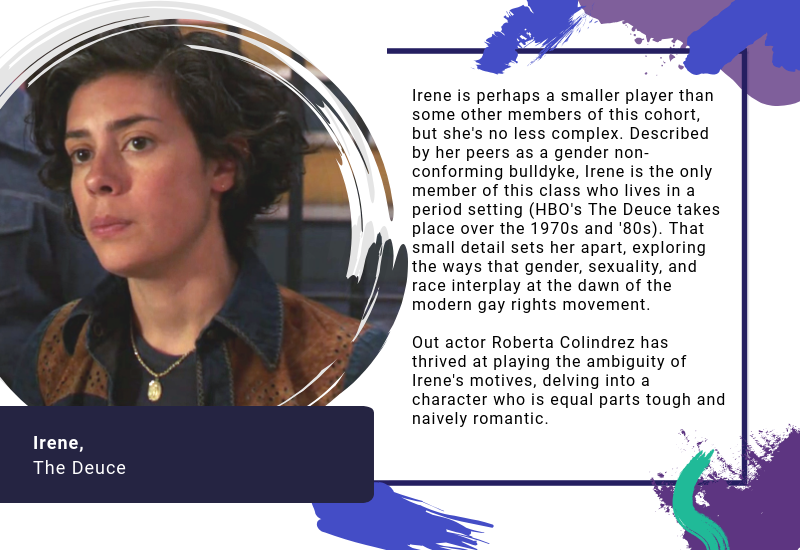 ---
We've certainly come a long way.